You may come across several Cavapoo breeders in Pennsylvania, but before you choose one, you must understand the difference between a genuine breeder and those running a puppy mill.
Cavapoos are a remarkably intelligent small dog breed. They are an absolute delight because of their cuddly and affectionate nature. Not only do they love being held, but they love showing affection to their owners.
They thrive on activity. With medium exercise requirements, Cavapoos are fairly active dogs that love being outdoors and having proper playtime. They are easygoing dogs that are easy to train and do not have massive needs. All they need from you is your love and care.
This little buddy is a great source of joy, but this shouldn't be your only thought. Read about the breed before you decide, and If you think a Cavapoo puppy is the right choice for you, make sure to check out our guide:
Before you scroll further down this guide, check out these other animal-related articles: Best Aussiedoodle Breeders in Pennsylvania and Best Rabbit Rescues in Pennsylvania.
1. Pequea Valley Puppies
Our first pick is Pequea Valley Puppies, a family-run small breeder that sells Cavapoo puppies in Pennsylvania and NY, NJ, MD, and DE areas.
This breeding program pays special attention to temperament and the socialization of their puppies in their two-and-a-half-acre facility, located in the countryside.
At the facility, the puppies are exposed to small animals, children, and nature, which adds to their adaptability and makes them lovely pets to have in your house. Each puppy has a one-year health guarantee and is up to date on their necessary vaccinations.
All the puppies are already on a deworming schedule before being picked up. To hold a puppy, you must make a $500 non-refundable deposit by the time a puppy is seven days old. If you are based outside PA, they are ready to meet you and bring the puppy to you.
Moreover, they ship their puppies through a flight nanny service, but that will be an additional cost and with additional guidelines (will be disclosed upon request).
They will be ready to answer all your questions and ensure that their puppy is going to a house that will care for them.
Pequea Valley Puppies Details:
2. Lapark Cavaliers
LaPark Cavaliers are one of the experienced Cavapoo breeders in Pennsylvania, breeding Cavaliers and Cavapoos for over 15 years.
They are a small family breeder who mainly sells their puppies in Pennsylvania, MD, and DE tri-state areas.
All their puppies have a health guarantee and age-appropriate vaccinations and are on a deworming schedule.
They raise their puppies in a country setting that ensures they are easygoing and can adjust well in a house.
Since they have limited puppies available each year, you must reserve a spot on their waiting list and make an initial deposit to reserve the puppy. Before they give their puppy, the breeders ensure that they go to the right home and are raised in a safe and happy place.
If you are in the state, they welcome you to visit their facilities. If you are far away, they can ship your puppies by air and land. They offer flight nanny service if you have to fly your puppy.
They can deliver your dog to your doorstep if you're in NYC, Boston, Baltimore, and DC, but such services will cost additional.
Lapark Cavaliers Details:
3. Whistle Hill Puppies
Whistle Hill Puppies is an ethical dog breeder facility specializing in breeding small to medium dogs.
They ensure you pick a puppy that fits your home and will support you throughout the process to make a pick that fits your needs.
The house their puppy goes to is the number one priority at Whistle Hill Puppies, as they only give their puppies to homes that are in the best interest of their puppy.
Hence, this makes Whistle Hill Puppies a careful breeder, as such a practice reflects how much they love their puppies.
To reserve a puppy of your choice, you must make a $300 non-refundable deposit.
You can choose a puppy between 2-6 weeks of age, and the puppies are ready to go to their homes once they are at least eight weeks old. This could go up to 10 weeks if the puppies are not 2 lbs of weight.
The puppies receive a complete health check-up at seven weeks by a vet at Conestoga Animal Hospital.
The puppies come with a 14-day guarantee against infectious diseases. There is an additional two years health guarantee against genetic or congenital issues.
In case your puppy turns out to have any genetic disorder, the breeder will refund you the cost of the treatment till the purchase price is covered.
All the puppies at Whistle Hill have been vaccinated according to age and have received the necessary parasite-control medications.
They feed their dogs high-quality dry kibble, 'Paw Tree,' which is their blend and can be bought with their puppy.
Whistle Hill Puppies Details:
4. Puppies By Chris Martin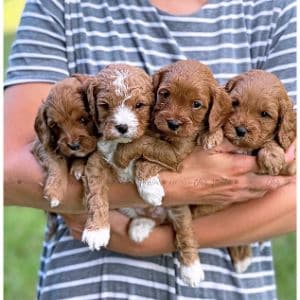 Puppies by Chris Martin is a small breeder with Cavapoo puppies for sale in Pennsylvania.
They sell their puppies after only carefully planning out the litters to ensure they are born healthy and well taken care of.
Since there are only limited puppies, they do not accept any advance deposits or have a waiting list. Each of their puppies has a difference in its price.
The puppies are listed on their website when they are 5-7 weeks old. Depending on the first come, first serve basis, they take a non-refundable $500 deposit on the puppy of your choice.
Each puppy has had a clear health check from a licensed vet and comes with a 10-day health guarantee against viral or infectious diseases. They also offer an extended health guarantee against genetic or congenital issues for 180 days.
Each puppy is up to date on their vaccinations and comes with a toy, a blanket with the mother's scent, and a small bag of puppy food to ensure that their puppies are easily settling in their new homes.
This small puppy bag is to facilitate their puppies and help you understand more about your puppy's behavior.
If you are based outside their area, they can meet you at the airport with the puppy for an additional $250, which covers the cost of a vet flight certificate and a flight-approved carrier.
They do not ship their puppies through cargo or any other way.
Puppies By Chris Martin Details:
5. Sadie's Doodles
Last on our list of Cavapoo breeders in Pennsylvania is Sadie's Doodles, which specializes in breeding Cavapoos and other doodle breeds. All their puppies come with a one-year health guarantee.
To save a spot on their waiting list, you will have to make a $200 non-refundable deposit, and if you choose to have a puppy later than you planned, the deposit can be transferred to another litter.
The deposit will last up to a year from its receiving date, but if you cancel buying the puppy, it will be forfeited. Before you make a pick, you can schedule a visit to their facilities and meet the puppies.
Cavapoo puppies in Pennsylvania at Sadie's Doodles have been vaccinated according to age. The list of immunizations will be given to you so that you can determine what your puppy needs and at what time.
All the puppies have received their necessary deworming protocols and are also microchipped. Their purebred puppies come with AKC registration.
The price point for their Cavapoo puppies is slightly higher than their standard-size dog's total adoption and is $2500.
Each puppy has been examined before they are handed over and comes with a bag of puppy food, a leash, a collar, a chew treat, and a toy.
They also give a blanket with the scent of its mother and the rest of the litter, making it easier for their puppies to settle without experiencing separation anxiety.
Sadie's Doodles Details:
Frequently Asked Questions
Is a Cavapoo an indoor dog?
Your Cavapoo can play outside, but you shouldn't leave them out in the heat or in the snow for too long.
Do Cavapoos always sleep?
Cavapoos sleep for around 15 hours a day, usually split into naps.
How long can Cavapoos go without peeing?
Most dogs, including Cavapoos, should never go for longer than six hours without peeing.
Where Are the Best Cavapoo Breeders in Pennsylvania?
On our list of Cavapoo breeders in Pennsylvania, we have featured breeders that live up to the standards, each of which has its special features.
Before you pick the best breeder that fits your requirements, ensure you have all your questions ready that you would want to know the detail on.
Visit their facilities, meet the puppies, and if you are content that a Cavapoo puppy is the right dog for you, only then go ahead.
We wish you luck in choosing a friend fur-ever.
If you find this guide, "Best Cavapoo Breeders in Pennsylvania," informative and helpful, you can check out these other dog-related articles from our team:
Before you find a Cavapoo puppy for sale in Pennsylvania, you can learn more about this dog breed by watching "Cavapoo – The Ultimate Top 10 Pro's and Cons Guide" down below: