The cavapoo is another in the line of designer dogs crossed with poodles. The cavapoo cross is the adorable result of crossing a Cavalier King Charles Spaniel with a poodle.
The cavapoo or cavadoodle is a curly teddy bear of a puppy with the sweet and gentle temperament of the Cavalier King Charles Spaniel and the intelligence and savvy of a poodle. 
Cavapoos are small, usually under 20 pounds. The most common cross for the cavapoo is that of the miniature poodle. This is the most size-compatible pairing; the result is that Cavapoos can easily fit into just about any housing situation. They don't take up much space and are comfortable companion animals as long as they have a lap or a cushion to lay on next to their favorite person. 
These little curly darlings are enthusiastic, eager to please, and easy to train. They possess the natural intelligence of the Cavalier King Charles Spaniel and the Poodle.
They can be quite sensitive, so positive reinforcement with food, praise, and toys are recommended to teach obedience and tricks. 
There are not too many cavapoo breeders in New England, but our search did turn up a couple in Massachusetts and New York.
We rejected those kennels that might be puppy mills and pet stores, and puppy matching services that source their dogs from puppy mills.
We don't support puppy mill practices and are looking only for small hobby or home breeders passionate about producing healthy, happy, and well-adjusted cavapoo puppies for you to bring into your life and family.
While this list is short, we hope to add more cavapoo breeders as we learn about them. Here are the cavapoo breeders we found in New England and New York.
Before you scroll further down this guide, check out these other Cavapoo-related articles: When Is a Cavapoo Full Grown Size? and Are Cavapoos Hypoallergenic?.
1. Red Castle Cavapoo
A fairly new breeder in New England is Red Castle Cavapoo. Based on the information provided on the website, Red Castle Cavapoo is partnered with Brookside Cavaliers to produce these amazing litters of cavapoos.  
Because Red Castle is a small hobby breeder, they only produce a few litters yearly.
They mention on the website that they are looking for another female to breed, but as of now, they have one, so you'll need to be patient. 
The issue of pricing is not addressed on the website. Generally speaking, cavapoo puppies can sell for anywhere between $1,200 to $2,000 and up.
This cavapoo breeder prefers to deal one-on-one with the interested parties involved regarding pricing for their available puppies.
Prices will vary, and you must contact the breeder to express interest in a Red Castle cavapoo. There's a waiting list for puppies, so you must act quickly. 
Look at the gallery of adorable curly and hypoallergenic cavapoos on the Red Castle Cavapoo website. Wouldn't you love to have one of those darling fur babies as a part of your family? 
Red Castle Cavapoo Details:
2. Poodles and Doodles, LLC
Poodles and Doodles, LLC claims to be New England's premier breeder of poodles and doodles.
They are planning upcoming cavapoo puppies litters based on the previous litters' photo gallery. There are some adorable cavapoo puppies in your future. 
This cavapoo breeder does not require a deposit. They ask that you contact them via email or the contact form on the website.
The breeder will respond within 24 hours and discuss the particulars of adopting a cavapoo fur baby from Poodles and Doodles, LLC. 
There are photos in the gallery of the previous litters, and those puppies were priced at $3,600. This gives you an idea of what a cavapoo puppy from Poodles and Doodles, LLC may sell for. 
This cavapoo breeder will allow pick-up of your puppy on-site in Somerville, MA, or you may make arrangements to have your new baby shipped to your location at your expense. 
Your new cavapoo puppy will go home up to date on vaccinations and deworming and ready to join your family. 
The Poodles and Doodles, LLC website has a lot of great information about your new puppy, so take some time and learn more about potty training and care and feeding your cavapoo puppy. 
Poodles and Doodles, LLC Details:
3. Mulberry Farm
Not far from Massachusetts, a little less than three hours' drive, is Mulberry Farm in Pleasant Valley, New York.
They are a breeder of cockapoos and cavapoos. They breed for pleasing appearance as well as healthy and happy temperaments. 
Their puppies require a non-refundable $500 deposit and are priced from $2,500 – $3,500 and up with an additional 8.25 % New York sales tax added. Your deposit is applied to the final price of the puppy. 
This cavapoo breeder does not ship puppies. All cavapoo puppies must be picked up by their 8th week, or the buyer will be charged a daily boarding fee of $30 per day.
This breeder's website has a great deal of information for you as the potential buyer, and we recommend that you read up on everything before you commit to purchasing a puppy.
They restrict the number of existing dogs you may have, children under six years of age, and the hours you spend away from home. 
That being said, there are some great informational articles on the website and photos of adorable cavapoo puppies on the Mulberry Farm website. One of those cavapoos might be the one you've been dreaming of.
Mulberry Farm Details:
4. Rivers Edge Cavapoos
Less than five hours drive from Massachusetts is Rivers Edge Cavapoos in Lowville, New York.
They are cavapoo breeders that produce F1 and F1b cavapoos on their second-generation dairy farm in New York. 
The website for Rivers Edge Cavapoo has minimal information, but the adoption contract is downloadable, and there are photos of past puppies.
This cavapoo breeder keeps a waiting list for future breedings and requires a $250 deposit to reserve a puppy, then another $250 deposit when a puppy is chosen.
The non-refundable $500 will be applied to the final price of the puppy, which is listed as $3,500. 
Take a look at the gallery of breeding girls and available puppies on the Rivers Edge Cavapoos website, and you can get an idea of the care and love that go into breeding these adorable curly darlings.
Get your deposits in quickly because those cavapoo pups will be snapped up immediately.
This breeder requests that you call or text them at the number listed below to get a callback and start adopting a sweet cavapoo puppy from Rivers Edge Cavapoos.
Rivers Edge Cavapoos Details:
Frequently Asked Questions
Are cavapoos easy to potty-train?
Cavapoos have small bladders, so they are frequently at risk for an accident. Make sure to put your cavapoo puppy on a potty schedule.
How big is a full-size cavapoo?
Cavapoo size and weight can be around 9-14 inches, and weight averages around 8-25 pounds.
What is the best time to train a puppy?
The best time to train a puppy is around 7 to 8 weeks.
What to Look For in a Cavapoo Breeder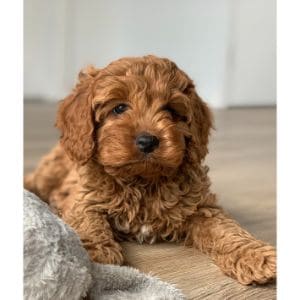 When you're searching for a designer puppy from a breeder, it's easy to get lost in the weeds or led astray if you're not sure exactly what you're looking for and what an ethical breeder looks like.
Plenty of people will call themselves dog breeders of a certain breed or crossbreed, but they're not professionals.
They fall under the category of "backyard breeders," and you want to avoid them. They do not breed up to the standard you want when you are investing in a new family member in the form of a cavapoo puppy. 
There are also breeder lists, puppy matching services, and pet stores that source their puppies from puppy mills.
These puppy mills breed and raise their dogs in poor conditions, and the health of the dogs is far less of a priority than the profit these businesses make off of the puppies they sell.
These puppies are often bred without genetic testing and sold without health checks, vaccinations, or deworming, leading to sub-par health and risk of death.
Any puppy site or matching service that claims to be able to get you any breed of dog you want is most likely attached to a puppy mill. It's buyer, beware. Learn how to spot evidence of puppy mills and stay away! 
What you're going to be looking for when you're on the hunt for a cavapoo puppy is a small home breeder, family, or hobby breeder that specializes in the breed you're searching for.
While they are small operations, these dog breeders are professional and take their passion for their dog breeds very seriously. 
Developing designer dog breeds is all they want to do, and their work shows in the quality of the dogs they choose to breed and the puppies they produce.
Ethical breeders will do extensive genetic testing on their breeding pairs. They're looking for any genetic anomaly that might be passed along to the puppies.
Many breeders will give a genetic health guarantee for your new puppy that will cover any genetic defect from 1-5 years of age.
They will also have a veterinarian do regular checks on their puppies and give a certificate of health at the time that puppies go home at 8-10 weeks of age.
Most dog breeders require a deposit to reserve a puppy from current or future breeding. Many of them keep waiting lists and will let you choose a puppy based on your position on the list.
This is common practice, as there are almost always too few puppies and many interested buyers. 
A cavapoo puppy is a big investment, both in money and time.
So you want to be sure that the cavapoo is the breed you want, that a cavapoo will fit easily into your lifestyle and home, and that you're set up and ready to bring a puppy into your family. 
If you find this guide, "Best Cavapoo Breeders in Massachusetts," informative and helpful, you can check out these other dog-related articles from our team:
Before you find a Cavapoo puppy for sale in Massachusetts, you can learn more about this dog breed by watching "5 REAL Reasons You Should Get a Cavapoo 🐶 | What You Need to Know" down below: