If you're considering adding a Cavapoo to your family, it's important to research and find a reputable breeder who prioritizes the health and well-being of their puppies. That's why you'll need to find the best Cavapoo breeders in Iowa and learn what makes them stand out.
Cavapoos are a popular crossbreed between Cavalier King Charles Spaniels and Poodles, and their friendly and affectionate nature makes them an excellent companion for families and individuals alike. Fortunately, Iowa has several top-notch Cavapoo breeders dedicated to producing healthy, happy puppies with excellent temperaments.
Whether you're looking for a specific coat color or want to find a breeder who puts their puppies first, you will find some excellent options on this list. So, let's start exploring the world of Cavapoo breeders in Iowa!
Before you scroll further down this guide, check out these other Cavapoo-related articles: Cheap Cavapoo Puppies for Sale Under $1000 and Best Cavapoo Breeders in New England.
1. Butler's Charcoal Ridge
Butler's Charcoal Ridge is a well-established kennel on a 170-acre farm where the breeder and his family raise adorable Cavapoos.
With over 13 years of experience in breeding Cavapoos, the breeders at Butler's have mastered the art of producing well-trained and adaptable puppies that fit easily into any lifestyle.
The kennel is state-licensed, and all the dogs live together in harmony, playing and bonding with one another.
At Butler's Charcoal Ridge, the puppies receive ample love and care and are socialized from an early age by routinely interacting with the breeder's family members. The key to their training lies in consistency and maintaining a regular schedule.
As a result, the breeder recommends sticking to their designated feeding, potty, and crate times to ensure the puppies remain well-adjusted.
Butler's Charcoal Ridge offers high-quality Cavapoos that make wonderful family pets.
Butler's Charcoal Ridge Details:
2. Squaw Creek Kennels
Squaw Creek Kennels, located in Barnes City, Iowa, is a reputable breeder of Cavapoo puppies. They have strict policies to guarantee that their puppies go to only qualified homes.
Interested families must fill out qualification forms, which are then reviewed for approval. Once approved, families receive an email containing the necessary documentation for the adoption process, including the puppy's price, personal and vet details, references, and other relevant data.
Squaw Creek Kennels takes great care to protect the health of their puppies before adoption. Vet doctors come once a week to inspect and check the dogs and administer vaccines.
However, new owners are expected to take their puppies to a vet within 72 hours of purchase for a wellness check at their own expense.
Failure to comply with this rule voids the health and other guarantees. Squaw Creek Kennels offers a one-year health guarantee for congenital or genetic defects.
Their puppies are like babies and require responsible care and attention. It is the new owner's responsibility to provide for their well-being.
Squaw Creek Kennels sets these policies to ensure their puppies go to the best homes possible and become happy four-legged family members.
While they only post pictures of their puppies online at about five weeks, interested families can contact them to start the adoption process.
Squaw Creek Kennels Details:
3. Golden Valley Puppies
Located in Southeast Iowa, Golden Valley Puppies is ideal for anyone searching for a healthy and adorable Cavapoo companion.
This family-run business takes pride in treating its dogs with utmost love and care, with a strong desire to place them in safe and responsible homes.
Before adopting any of their Cavapoos, Golden Valley Puppies requires prospective owners to be willing to provide regular veterinary checkups, vaccines, and appropriate shelter for their new puppy.
At Golden Valley Puppies, the breeding of Cavapoos is done with a focus on producing healthy and robust puppies without any severe health issues.
To achieve this, all parent dogs undergo testing for over 200 genetic diseases, ensuring their litters are healthy and strong.
One exciting feature of adopting Golden Valley Puppies is the variety of colors available for Cavapoo puppies.
Golden Valley Puppies Details:
4. Everbrook Puppies
Everbrook Puppies is a dog breeding business run by two passionate families specializing in breeding both Cavapoos and Goldendoodles.
Their top priority is ensuring that all puppies are healthy and in good condition when adopted.
They require new owners to provide their pets with approved dog food, proper shelter, and routine veterinary care, including neutering and vaccinations.
Everbrook Puppies also offers a Super Dog Training program to help socialize and stimulate the puppies' brains before they go home, resulting in healthy and trainable Cavapoos.
If you want to adopt a Cavapoo from Everbrook Puppies, you can contact them by phone or message to be put on their waiting list. Additionally, you can browse their available Cavapoos for sale on their website.
Everbrook Puppies Details:
5. Premium Cavapoos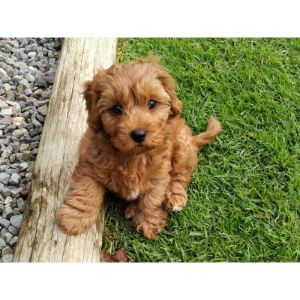 Premium Cavapoos is dedicated to breeding and nurturing high-quality Cavapoo puppies in a healthy and loving environment.
The breeders prioritize the health and well-being of the dogs and follow strict breeding and health standards to produce stable and healthy puppies.
The result is a loving and well-balanced temperament, making Premium Cavapoo puppies of premium quality.
The breeders at Premium Cavapoo maintain the standard health of their puppies through regular veterinary checks, top-notch pet meals, and regular exercise and socialization with other dogs and people.
They have over a decade of experience in breeding and have perfected the art of breeding puppies for temperament, health, and conformation.
Premium Cavapoo only releases their puppies to approved homes and ensures they receive up-to-date vaccination shots before going to their new families.
The breeders also take special steps to ensure healthy puppies, such as feeding the mothers vitamins before breeding and feeding them Royal Canine puppy meals and plasma to enhance their health.
Suppose you're interested in adopting a Premium Cavapoo puppy. In that case, you can rest assured that you're getting a high-quality and healthy companion who will bring joy and love to your family for years to come.
Premium Cavapoos Details:
6. Doodle Corner
Doodle Corner, located in Eastern Iowa, is a reputable breeder specializing in Cavapoos and Mini Sheepadoodles.
They have over 20 years of experience breeding Doodles, and all their adoptable puppies come from genetically tested parents.
Doodle Corner greatly emphasizes treating their dogs with love and care, and they expect the same from their forever homes.
When you adopt from Doodle Corner, you can choose from different types of Cavapoos.
Including first-generation Cavapoos, which result from a purebred Poodle and a purebred King Charles Cavalier, and backcross Cavapoos, which are 75% Poodle and ideal for people with dog allergies.
Doodle Corner is known for their ginger-colored Cavapoos; you can find puppies with red coats or a combination of red and white.
Don't forget to check their listing to see what puppies are available for adoption.
Doodle Corner Details:
7. Willow Ridge Farm
In northern Iowa, Willow Ridge Farm is a small breeder specializing in breeding healthy and sound Cavapoo puppies.
With more than three generations of experience with this breed, their puppies are raised in a loving and social environment by all family members.
The breeders at Willow Ridge Farm take great pride in producing balanced temperaments and overall healthy puppies.
They are excited about the Cavapoo breed due to its hypoallergenic characteristics, making it an ideal pet for dog lovers prone to allergies.
Willow Ridge Farm offers intelligent, affectionate, loyal Cavapoo puppies that will surely steal your heart.
The health and wellness of their puppies are of utmost importance, and they guarantee that their puppies are bred with love and care.
Moreover, the breeder goes above and beyond in providing a two-year replacement guarantee for genetic defects in their puppies, ensuring a stress-free and safe adoption process.
Although rare, the breeder is willing to provide support if needed.
Be sure to check out their available puppies if you want to adopt a Cavapoo from a trusted and experienced breeder.
Willow Ridge Farm Details:
8. Poodles 2 Doodles
Poodles 2 Doodles is a reputable breeder that offers a variety of Poodle mixes, including Cavapoos and other breeds such as Sheepadoodles, Bernedoodles, Goldendoodles, and Irish Doodles.
The well-being of their dogs is their top priority, and they work hard to raise healthy and happy puppies.
What sets Poodles 2 Doodles apart from other breeders is their delivery services, making it easy for families across Iowa to welcome one of their adorable Cavapoos into their homes.
Additionally, they provide a health guarantee that promises to replace puppies with genetic illnesses. Vaccinations are also given to all puppies before adoption.
When you adopt a Cavapoo from Poodles 2 Doodles, you receive a "Go Home Bag."
That includes essentials such as a blanket or toy, puppy food, a microchip card, and a vaccination and worming schedule. These bags can help give your puppy a great start in life.
Poodles 2 Doodles Details:
Frequently Asked Questions
What are the disadvantages of the Cavapoo?
Cavapoos may develop cataracts, hip dysplasia, skin issues, and epilepsy.
Are Cavapoos hard to potty train?
Cavapoos are pretty intelligent, so while they aren't hard to potty train, they do have small bladders. They will need to go more often than a bigger dog.
Are Cavapoos very needy?
Cavapoos do suffer from separation anxiety, so its important to keep them socialized and busy.
Where Are the Top Cavapoo Breeders in Iowa?
Cavapoos are a delightful breed of dogs with adorable curly coats, loving personalities, and exceptional intelligence.
Fortunately, finding a Cavapoo puppy in Iowa is easy, as there are many reputable breeders in the area.
By adopting from one of these featured breeders, you can rest assured that you are getting a healthy and well-raised puppy.
However, before adopting a Cavapoo, it's essential to make sure that you are ready to provide them with the care they need.
In addition to regular veterinary check-ups and quality food, these dogs require lots of love, attention, and playtime to thrive. So, make sure you're prepared to give your new puppy the love and care they deserve!
If you find this guide, "Top Cavapoo Breeders in Iowa," informative and helpful, you can check out these other dog-related articles from our team:
Before you find a Cavapoo puppy for sale in Iowa, you can learn more about this dog breed by watching "10 Facts About the Cavapoo | Poodle Mixes World" down below: