If you are considering adding a dog to your home, many things will impact your final choice. Consequently, there are several great resources for dog lovers in the mid-west region to find free puppies in Iowa.
Unfortunately, the unwanted animal population is steadily growing, making Iowa dog rescue agencies an incredible resource for obtaining a new puppy.
Although they come with adoption fees, this cost typically covers all veterinarian checks, vaccinations, and sterilization surgery.
Other articles you would like: Letting Your Puppy Explore The Outside World Safely and When Do Labradoodle Puppies Lose Their Puppy Coat?.
Best Dog Rescue Agencies for Free Puppies in Iowa
Finding free puppies in Iowa may take some time, especially if you want a specific breed, color, or sex. However, dozens of resources in and around Iowa can match you with your new best friend.
For dog lovers ready to add a four-legged friend to their home, check out these options for finding puppies for free in Iowa.
1. Free Pets In Iowa – Free Means Free Facebook Group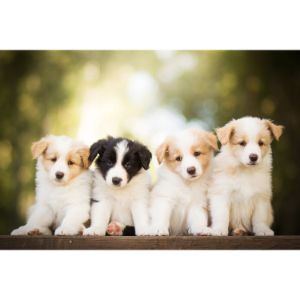 Although this Facebook group covers all animals, you can often check to find puppies for free in Iowa. This private group adheres to free animals, so individuals looking to rehome a pet will not charge for the dog.
You will need an active Facebook account and join the group to view available puppies.
Naturally, there will be dogs of all ages on this platform to browse, sometimes accidental litters of puppies happen, and owners are desperate to find suitable homes for these new ones.
They do not promote breeding with the listed animals and are working to help keep more unwanted animals out of shelters and rescue agencies.
Free Pets In Iowa – Free Means Free Facebook Group Details:
2. Craigslist
Craigslist is a basic online classifieds community where anyone can post items, including pets, for rehoming.
It's simple to choose your location and the proximity of your search to include the entire state of Iowa, neighboring communities, or towns in your local area.
You may have to wade through other pet rehoming posts, but there are plenty of ads for dogs and puppies for free in Iowa, depending on the time of year.
If you are patient and check back regularly, you are sure to find the perfect puppy to suit your lifestyle through this platform.
Craigslist Details:
3. ClassifiedAds.com
ClassifiedAds.com is another web-based database where anyone can post pets for rehoming. Many of their current ads list free puppies in Iowa, but you may have to narrow your search criteria to select Free To A Good Home from the Pets drop-down menu.
Alternatively, potential dog owners can select Dog from the menu and scroll through the available classifieds for posts that stipulate they are free. Both methods will bring you some great listings for free puppies in Iowa.
ClassifiedAds.com Details:
4. AmericanListed.com
As another online classified ad platform, AmericanListed.com includes a database of active posts for rehoming all types of pets, including dogs and puppies.
It's easy to browse search results by city or specific breeds, depending on your location or preference. However, you will find both puppies for sale and free ones, so you might need time to sift through the many ads.
Although plenty of private breeders use AmericanListed.com to post their litters, free puppies in Iowa are also prevalent here.
You can view them by choosing the side menu, classified by their city or town, and exploring the search results from there.
AmericanListed.com Details:
5. Pet Finder
Pet Finder is an animal-specific classified platform where individuals, private breeders, and rescue agencies can post dogs and puppies for free in Iowa.
If you have your heart set on a distinct breed, you can narrow your search results by filtering the drop-down menus and selecting only the ones you want to see.
This online database is an extensive collection of dogs and puppies in the state, but you can search beyond these boundaries if you are willing to travel.
Sometimes the perfect puppy might be available just outside Iowa in Nebraska, Illinois, or elsewhere.
Pet Finder Details:
6. Adopt-a-Pet
The Adopt-a-Pet platform connects potential dog owners with rescue agencies, shelters, and private owners looking to rehome their pets.
This website makes it simple to browse for free puppies in Iowa by selecting Dogs from the available pets and entering your current location.
If you don't see any available puppies while searching, you can sign up for an email alert to notify you when they add new puppies to their database.
This way, you can be sure to get a chance to see recent posts quickly rather than manually checking back daily.
Adopt-a-Pet Details:
7. Animal Rescue League of Iowa
If you've exhausted the other options to find puppies for free in Iowa, exploring rescue agencies like the Animal Rescue League of Iowa (ARL) is an excellent place to search next.
Although they regularly have adult dogs in care, dogs often come into the rescue pregnant or with a new litter.
Finding your new best friend through ARL can help reduce the number of unwanted animals in care while providing you with a healthy, happy puppy.
These little ones come with all vaccinations and vet checks and are spayed or neutered for a minimal adoption fee.
Animal Rescue League of Iowa Details:
8. Furry Friends Refuge
The Furry Friends Refuge is open seven days a week, with shorter weekend hours. You can browse their webpage for available dogs and puppies, fill out an adoption form, and book an appointment online to meet their four-legged friends.
Although their animals require adoption fees, these costs are low when compared to what many dog owners pay for purchasing a new pet through a reputable breeder.
Furry Friends Refuge Details:
9. Animal Lifeline of Iowa
If you have a soft spot in your heart for special-needs dogs, the Animal Lifeline of Iowa could be the place to find your new best friend. They are a no-kill shelter that gives dogs with special needs another chance at a happy life in a forever home.
For over 35 years, Animal Lifeline of Iowa has been saving dogs with medical conditions, injuries, and handicaps and finding suitable, loving homes for each one.
Animal Lifeline of Iowa Details:
10. Iowa Dog Rescue
The Iowa Dog Rescue is a terrific online resource if you reside in Iowa and are searching for dogs and puppies to bring home. They are part of the RescueMe.org community, helping to find homes for unwanted, stray, or surrendered pets.
They include photos of available pets, their location, and details about their circumstances to help match their perfect family.
Unfortunately, they don't have a central location, but potential pet owners can apply to adopt or request more information through the website on the dog's profile.
Iowa Dog Rescue Details:
11. Second Chance Dog Rescue
Another terrific Iowa rescue agency is the Second Chance Dog Rescue. They operate as an open housing rescue where the animals in care live in packs of 12 or fewer.
This living situation helps socialization so new puppies and dogs can receive the attention and training they need to acclimate to their new home.
Second Chance Dog Rescue is a licensed, no-kill shelter. They require potential dog owners to fill out an adoption application for approval before being accepted and matched with a new pet.
Second Chance Dog Rescue Details:
12. Raccoon River Pet Rescue
The Raccoon River Pet Rescue is a licensed, non-profit shelter to provide care for animals in Perry, Iowa, and its surrounding communities. They have a wide range of pets available in care, including dogs and puppies waiting for their new forever homes.
Potential owners must fill out an adoption application as the first step in finding their new puppy.
Next, you and all household members, including existing pets, will meet the dog to ensure it is a perfect match. Once adoptive homes are approved, they submit the adoption fees and bring home their new pet.
Raccoon River Pet Rescue Details:
Conclusion For "Where Can You Get Free Puppies in Iowa"
Finding free puppies in Iowa can take time, but these 12 resources can quickly help you choose your new best friend with the click of a button.
It's terrific when you can bring home a new puppy that needs a home due to an accidental pregnancy or is sitting in a shelter or rescue.
Remember that it's up to you as a pet owner to research where the puppy is coming from and if there is any medical or behavioral history you should know before bringing them home.
This way, you and your new puppy are sure to transition well, and you can provide the love and care they need throughout their life.
You will also like:
Before you bring home a puppy from a rescuer in Iowa, you can learn more about puppies by watching "OWNING A DOG | Things to Know Before Getting a Puppy! | Doctor Mike" down below: