If you're looking for a loyal, affectionate, and adorable companion, then a Cavapoo might be your perfect dog. In this article, we will take a closer look at the top Cavapoo breeders in Missouri and provide you with all the information you need to make an informed decision when bringing home your new puppy.
These cute pups are a mix between a Cavalier King Charles Spaniel and a Poodle, which results in a friendly, low-shedding, and hypoallergenic breed.
Finding a reputable breeder is crucial when looking for a Cavapoo puppy in Missouri; luckily, plenty of breeders specialize in this charming crossbreed.
In this article, we will take a closer look at the top Cavapoo breeders in Missouri and provide you with all the information you need to make an informed decision when bringing home your new puppy.
From health testing to socialization and training, we will cover all the essential aspects of finding a trustworthy and ethical breeder in Missouri to help you find the perfect Cavapoo puppy for you and your family.
Before you scroll further down this guide, check out these other animal-related articles: Best Cockapoo Breeders in Missouri and Best Horse Rescues in Missouri.
1. Indian Creek Ranch
Indian Creek Ranch, located in Northeastern Missouri, is a highly recommended destination for anyone searching for a Cavapoo puppy.
This small family-owned breeder is spread out across 44 acres of well-maintained farmland, and their facilities have been professionally inspected and licensed.
All parent dogs at Indian Creek Ranch are registered with the American Kennel Club to ensure the best health for their puppies. The breeder takes pride in treating their parent dogs and puppies as family members.
The parent dogs have a large area to explore and maintain their physical health, while the puppies are well-socialized with humans and other dogs.
The litters are kept together with the parent dogs until adoption time, allowing the puppies to become comfortable with other dogs and humans of varying ages.
At Indian Creek Ranch, taking care of the health of their puppies is a top priority.
Each puppy is de-wormed, vaccinated, microchipped, and vet-checked before adoption, and each comes with a one-year health guarantee against congenital heart defects.
All up-to-date health records for your puppy will be provided at the time of pickup.
If you want to adopt a healthy and happy puppy from Indian Creek Ranch, simply contact them today to get on the waiting list for your future puppy.
Indian Creek Ranch Details:
2. Angel Wing Pets
Angel Wing Pets is a home-based breeding operation on a stunning 10-acre farm in Southwest Missouri. This breeder takes pride in providing their customers with healthy and affectionate Cavapoo puppies.
The parent dogs at Angel Wing Pets are registered with the American Kennel Club or American Pet Registry, ensuring that the puppies come from high-quality parents.
Sometimes, the parent dogs may be hybrids and cannot be registered due to their mixed breed.
The breeder lists the parent dogs that are currently expecting on their website, along with information on potential new and planned litters, including their weights and names, giving a clear idea of what size the puppies will grow up to be.
At Angel Wing Pets, each puppy comes with up-to-date vaccinations, a microchip, dewclaws removed, health certifications, and a one-year health guarantee to make sure that the new family member is healthy and happy.
The breeder requires a deposit to hold the puppy of your choice, so contact Angel Wing Pets today to take the first step in adopting your angelic new puppy.
Angel Wing Pets Details:
3. Countryside Puppies
Countryside Puppies is the third dog breeder on our list. It specializes in breeding Corgis, Miniature Rottweilers, Bernedoodles, and Cavapoos.
This breeder is known for its high-quality puppies that are healthy and well-socialized and make excellent family pets.
The Cavapoos are bred with the utmost care and attention at Countryside Puppies. The parent dogs are carefully selected and undergo extensive health testing to free them from genetic health problems.
This means the puppies are likelier to be healthy and free from health issues. In addition, the puppies are vaccinated, dewormed, and microchipped before they leave Countryside Puppies.
This confirms that the puppies are protected from common diseases and parasites and have a better chance of living a long and healthy life.
Moreover, the microchip provides a form of identification that can help locate the puppy if it ever gets lost.
At Countryside Puppies, the puppies are also well-socialized before they are adopted. They are introduced to various noises, people, and environments to prepare them for life with their new families. The puppies also receive basic training, such as potty training and obedience commands.
The breeder also offers a one-year health guarantee against genetic health defects for their Cavapoos.
If the puppy develops a genetic health problem, the breeder will provide a replacement puppy or a refund. This shows the breeder's commitment to providing healthy puppies to their customers.
Countryside Puppies Details:
4. Davis Family Doodles
Davis Family Doodles is a dog breeder that prioritizes the health of its puppies. They believe that starting the puppies with proper nutrition is essential, so they feed their dogs and puppies Purina Pro Plan to make sure they get a healthy diet.
To ensure the dogs get everything they need, they work closely with a vet and would be happy to provide a vet reference if needed.
When you adopt a puppy from Davis Family Doodles, you can expect it to arrive with various health and safety measures.
These include a two-year genetic health guarantee, a microchip, a full vet check, regular dewormings, first vaccinations given by the vet, first heartworm, flea, and tick treatment, and a puppy gift.
The breeder provides continued support and is always available to answer any questions that you may have.
They also have a private Facebook group just for their puppy parents.
This group provides a fun way for the breeders to keep up with the puppies and gives families the joy of seeing littermates and other pups from Davis Family Doodles grow and live great lives.
It's important to note that all puppies are sold with a spay and neuter contract unless other arrangements are made with an approved breeding program.
If breeding interests you, then the Davis Family Doodles breeder is certainly a club you should check!
Davis Family Doodles Details:
5. Hot Water Farm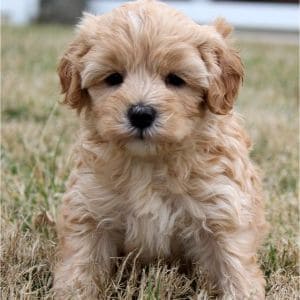 Number five on our list is Hot Water Farm, a family-owned farm in Southwest Missouri. It has been breeding healthy Cavapoos, English Bulldogs, and Corgis for over 21 years, making them one of the best Cavapoo breeders in Missouri.
Their parent dogs are registered with the American Kennel Club to prove you receive a healthy puppy.
Each puppy is de-wormed, vaccinated, and vet-checked for good health before being sold, and they offer a one-year health guarantee to ensure that your new family member is in top condition.
Their website features an "Available Puppy" page, where you can view available and claimed puppies, showing that their quality puppies are adopted by families across the United States.
If you're interested in adopting a puppy from Hot Water Farm, you can fill out a contact form on their website or call or email them for more information.
However, these perfect little puppies are adopted quickly, so it's best to contact them today to get on the waiting list for upcoming litters.
Hot Water Farm Details:
6. Riverside Puppies
Riverside Puppies is a Cavapoo and Maltipoo breeder in Missouri, and they are committed to providing healthy and well-socialized puppies to their customers.
All of the puppies at Riverside are born and raised in a family home, ensuring they receive early exposure to humans and develop great socialization skills.
The puppies at Riverside are trained early on in life, starting with housetraining at five weeks old and crate training at seven weeks old. This training makes the puppies well-behaved and intelligent.
Additionally, each puppy comes with a microchip, spaying/neutering, deworming, a professional vet exam, registration papers, vaccinations, and a health certificate.
You will also receive a "puppy pack" to help you with all the important information about your puppy.
All dams and sires at Riverside Puppies are in excellent health, and you will receive four generations of pedigree information for each parent dog to assure you that they are of great bloodlines.
If you want to adopt a puppy from Riverside Puppies, you can check out their prices on their website and be added to the waiting list for your new best friend.
Riverside Puppies Details:
Frequently Asked Questions
How much should I expect to pay for a Cavapoo?
These dogs can cost anywhere between $1,000 and $4,000, depending on the type of breeder.
Do Cavapoos bark a lot?
Cavapoos are not known to bark regularly, but every dog is different.
How often do you bathe a Cavapoo?
Since Cavapoos have longer coats, they will need baths every four weeks or so.
Where Are the Top Cavapoo Breeders in Missouri?
You are in the right place if you are a Missouri resident looking for an affectionate, amiable, and devoted puppy to become a part of your family.
The aforementioned breeders are experts happy to answer any inquiries about Cavapoos.
They are dedicated to supplying you with the ideal puppy, so don't hesitate to contact them today and begin the process of bringing home your very own Cavapoo puppy.
If you find this guide, "Top Cavapoo Breeders in Missouri," informative and helpful, you can check out these other dog-related articles from our team:
Before you find a Cavapoo puppy for sale in Missouri, you can learn more about this dog breed by watching "Cavapoo – Top 10 Facts" down below: