Floridian dog lovers love the Samoyed breed, which is why you will find many reliable Samoyed breeders in Florida. The dog was initially bred as a Siberian sled dog, but today they are prized companion animals.
Luckily for you, this guide will list some of the best breeders in Florida and tell you precisely what you need to know to purchase from them.
The Samoyed breed is unique and known for its grace and the unique thick coat that protects it from cold and heat.
It is a pack animal bred to be a sled dog in some of the harshest weather conditions of Siberia; needless to say, it is a confident dog, and owners need to establish who is boss early on.
They are intelligent dogs with a side of mischievousness. Therefore, they are more suitable for experienced and disciplined owners.
The Samoyed doesn't like to be restrained or left alone for long periods; if you do so, it will lead to destructive behavior. Hence, these beautiful dogs are suitable for those with the time and energy to spend with their pets.
If you are that person, here is a list of well-vetted breeders offering Samoyed puppies for sale in Florida:
Before you scroll further down this guide, check out these other animal-related articles: Best Basenji Breeders in Florida and Best Rabbit Rescues in Florida.
1. White Magic Samoyeds
White Magic Samoyeds has over 30 years of breeding experience. So if you are looking for a trustworthy and responsible breeder who knows the Samoyed breed well, White Magic Samoyeds is the breeder for you.
While White Magic Samoyeds are experienced with dogs, they don't seem experts at digital marketing because their website could be more customer friendly.
If you are having trouble understanding the information on the website, let us break it down for you.
First and foremost, note down the 'puppy line' number 352-360-8300; call this number to find out the availability of puppies and the criteria you must fulfill to adopt one.
Next, you must complete an online puppy application to purchase a puppy, along with a $700 deposit.
White Magic Samoyeds breeds show quality dogs that conform to the highest AKC standards. Most of their puppies are reserved for showings; only about 50-75% are sold to customers.
Therefore, you can rest assured that you are receiving a healthy, high-quality puppy.
White Magic Samoyeds conducts regular deworming sessions, vet checks, and vaccinations to ensure their puppies' health. It also gets its puppies checked for OFA, cataracts, and other genetic diseases.
White Magic Samoyeds provides dog delivery services to those located outside Florida, but you should be prepared to pay an extra $550 for shipping.
The actual cost of the puppy is not listed on their website, but you can call to find out more details.
White Magic Samoyeds Details:
2. Sunshine Samoyeds
Located just north of Tampa, Florida, Sunshine Samoyeds is a favorite in the community due to its high-quality customer service. It is a small home-based breeder that developed a love for the Samoyed breed.
The breeder behind Sunshine Samoyed first came in contact with a Samoyed in 1988 when they got their first Samoyed named Jesse.
Jesse made an everlasting impact on the breeder, and soon they knew he needed company, so they got him a companion. And the rest, as they say, is history.
The love for the Samoyed breed prompted the owner to take up dog breeding. It is a small setup, as the breeder does it more out of love for the breed than monetary gains.
This outfit takes a personal interest in anyone who visits them and is interested in purchasing a puppy. They don't let their puppies go to just any home! All applicants are thoroughly vetted.
The love for the breed and attention to detail are visible as their puppies show signs of quality breeding and excellent health.
Shiny fur coats and bright eyes are a testament to the breeder's commitment to ethical and loving breeding practices.
Sunshine Samoyed dogs are well-socialized and some of the region's best with respect to their temperament.
If you are looking for a well-adjusted puppy with a great temperament, Sunshine Samoyeds should be the breeder of choice.
To purchase a puppy from Sunshine Samoyeds, you will need to download a form, complete the application, and submit it electronically to get the process started.
At the moment, they have puppies that are available from a recent litter. Call them to find out how many are still left. You can see pictures of the puppies on their litter page.
Sunshine Samoyeds Details:
3. Seaside Samoyeds
Seaside Samoyeds is located in Hudson, Florida, and, as the name suggests, is on the beautiful gulf overlooking the sea.
Seaside Samoyeds is a home-based breeder that believes in providing its customers with the best quality puppies.
They have a great Facebook page filled with pictures of their puppies and how they are bred and brought up in a very homely environment.
You must complete their application form to purchase a puppy from this establishment. Once you have submitted it, you should call or email to ensure they received the form.
The form goes over any other pets you own, if you have any allergies and your living environment.
These are all critical questions and pertain to issues that the breeder knows can be important when making the final decision, so it is essential to fill out the form honestly.
Seaside Samoyeds have a Puppy litter page where you can see many pictures of their newborn puppies and those they have sold previously.
Looking at what previous puppies have been born and bred by the breeder is a great way to see what kind of puppies you should expect.
All breeders will vary in color and specific other physical characteristics, and this is something you should expect and accept.
Seaside Samoyeds Details:
4. Rhapsody Samoyeds
Rhapsody Samoyeds is located in Brooksville and are a small hobby kennel. Their dogs are from a family of champions, and they take pride in the pedigree and show the quality of their dogs.
If you are looking for a good quality puppy that will provide you with a healthy dog, then Rhapsody Samoyeds is an excellent choice.
The breeder is a member of the Samoyed Club of America and is a breeder of merit as determined by the American Kennel Club.
Breeders that have memberships or are recognized by the American Kennel Club are great to buy from because they have already been vetted, and you can feel more confident about your purchase.
If you want to check and see if a breeder is a member, you can check the AKC website to verify.
To purchase a puppy, you must submit a puppy inquiry form. Again questions pertain to how you will treat the dog and whether anyone in your family has allergies.
Answering the questions honestly and straightforwardly will help the breeder determine if the Samoyed breed would be a good fit for you and your family.
Other than that, there is very little information regarding the price and deposit for the puppies.
Call the breeder directly to get any of those questions answered if you are interested in buying Samoyed puppies in Florida from Rhapsody Samoyed.
Rhapsody Samoyeds Details:
5. White Gold Samoyeds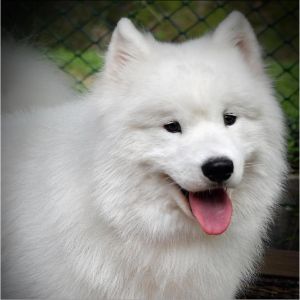 Last on our list of Samoyed breeders in Florida is the White Gold Samoyed, located in Central Florida.
Although they are a reputable Samoyed breeder, their website is cluttered and difficult to navigate due to a small font and a glittering background, making it difficult to focus on what is written.
We will help you determine the critical information you need if you want to purchase from them. First, they breed champion dogs; the breeder has produced this specific breed for the last 20 years.
Purchasing from a breeder with that much experience with raising champion dogs is a sure shot that you will be getting a healthy puppy.
You can tailor your search towards only show dog breeders by reading the About Us section on their website to see what kind of dogs they breed and for what purpose.
The breeder is a Samoyed Club of America and Samoyed Fanciers of Central Florida member. Furthermore, all their dogs are OFA and DNA tested, including hips, elbow, and eye tested.
All dogs have been well-socialized and potty trained before they leave home. They are brought up inside the home, and the breeder refers to them as their kids showing the affection and connection they have with their puppies.
Fill out this application if you want to adopt from White Gold Samoyed.
It is indicated at the top that this breed does not do well in apartments, so if you live in an apartment, you should ask if they will even consider you before filling out the application.
White Gold Samoyeds Details:
How to Choose Samoyed Breeders in Florida
When looking for Samoyed breeders, you should research the breed first. It is not a common breed, but in certain areas in the US, you can find quite a few of this specific breed.
Ironically, Florida is one of those places since it is so warm, and the Samoyed was initially bred to be a Siberian sled dog.
Physically you should know what kind of coat and features a Samoyed dog should have. This will help you when you see the puppy at the breeding facility.
Knowing what characteristics a Samoyed show dog should have can also be helpful. This can assist you in purchasing from a breeder that breeds show dogs, as many of the breeders listed above do.
Conclusion For "Best Samoyed Breeders in Florida"
With a sizeable number of breeders selling Samoyeds in Florida, you can find exactly what you are looking for.
Our guide provides you with the essential links for each breeder so you can save time looking for the information on their website, which in some cases can be almost impossible.
Here's hoping you find that perfect Samoyed puppy for your new home.
If you find this guide, "Best Samoyed Breeders in Florida," informative and helpful, you can check out these other dog-related articles from our team:
Before you find a Samoyed puppy for sale in Florida, you can learn more about this dog breed by watching "10 Things Only Samoyed Owners Understand" down below: