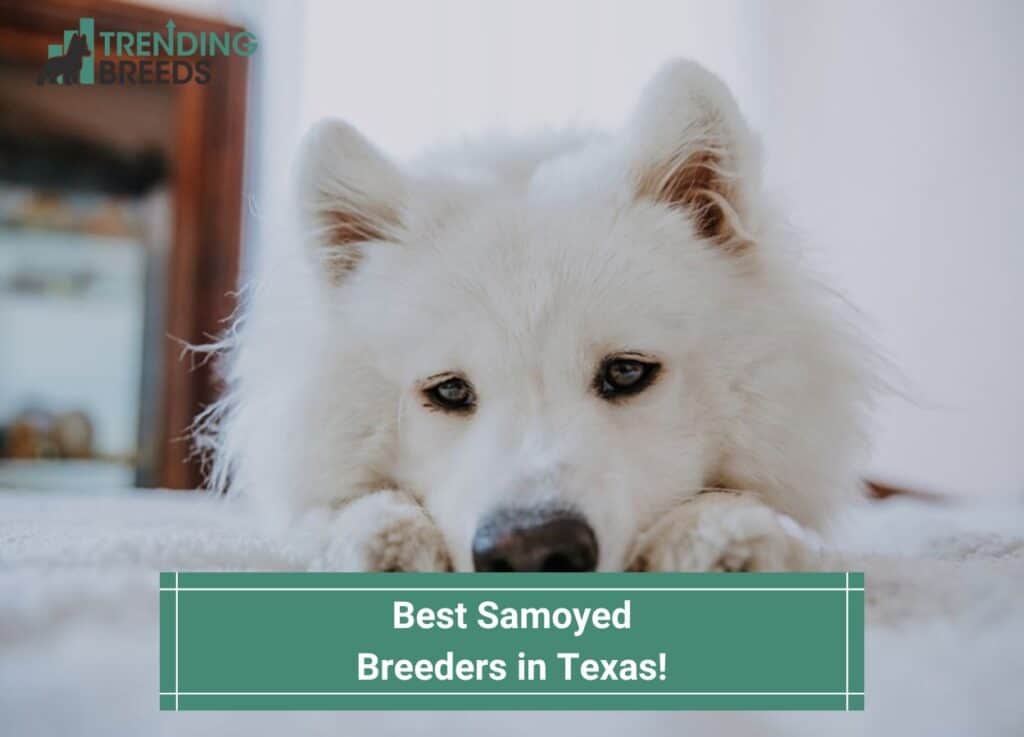 With their long and thick white fur, Samoyeds may seem out of place in the predominantly hot Texas, but that hasn't discouraged their availability! In fact, you would be surprised to know that there are plenty of reliable Samoyed breeders in Texas!
While Samoyeds are Siberian dogs that thrive in the cold, they can live in hot weather. Interestingly, their thick white fur protects them from the heat and cold!
So much so that Samoyeds are likely to be better protected from the heat than their short-haired counterparts in hot climates.
Bred to be a hunter and a herder, this medium-sized dog of stocky build is intelligent and graceful. Standing around 19 to 23 inches tall, this dog is just as easily playing catch with you in the backyard as it pulls sleds.
Samoyeds love running in open spaces and don't care about being confined. They make the ideal pet for those who enjoy an active lifestyle, have a big yard or live near a dog park, and have the skills to handle a confident dog.
If you are one such person, here are our top 5 recommendations for breeders offering Samoyed puppies for sale in Texas:
Before you scroll further down this guide, check out these other dog-related articles: Best Cane Corso Breeders in Texas and Best Cockapoo Breeders in Texas.
1. TNT Samoyeds
TNT Samoyeds, led by Tom and Toni Maurer, is Texas's most well-known dog breeder, especially in San Angelo.
This couple specializes in breeding healthy and well-socialized Samoyeds. With over 30 years of dog breeding experience, the Maurers are the most experienced Samoyed breeder in the region.
Tom and Toni love their dogs and take pride in breeding high-quality dogs. The couple has invested in creating a great website for visitors and potential dog purchasers with all the important information they need.
Puppies for sale are easily found on their homepage, including pictures of their parents.
In addition to breeding dogs for showing and companionship, they raise therapy dogs. Over the last ten years, some of their Samoyeds have become certified therapy dogs with Therapy International.
If you want to purchase a puppy from them, you must fill out a puppy application and contact the breeder to ensure they have received it.
Their phone number and email address have been provided, so you can always drop them a line to learn more about the price, services, eligibility, available litters, and more.
Their questionnaire indicates that if they do not have a puppy currently, they can connect you with another breeder that might would you be open to that.
TNT Samoyeds Details:
2. Wild Spirit Samoyeds
Wild Spirit Samoyeds is a breeding facility run by a couple passionate about breeding show-quality Samoyeds. This home-based breeder got their first Samoyed in 2000 and fell in love with the breed.
Enamored by Juno, their pet Samoyed, they soon got him a female companion and started their breeding program.
Ever since then, the couple has been busy producing high-quality Samoyed puppies that have found their forever homes all over the USA.
This breeding operation only plans 1 or 2 litters yearly as they value the health of their parent dogs, especially dams.
With only a few litters a year, you can rest assured that you are receiving a healthy puppy that has been socialized well and has a good temperament.
The couple takes significant measures to ensure puppies are loved, socialized and brought up with the 'Puppy Culture' program.
Puppy Culture believes in respectful socialization, i.e., the puppy should lead the learning and not be pushed to adopt pre-determined behaviors.
Fill out and submit their online puppy application to purchase Samoyed puppies for sale in Texas from Wild Spirit. The breeder will contact you if they have puppies available for sale.
Wild Spirit Samoyeds Details:
3. Metak Samoyeds
Metak Samoyeds started breeding in 1979 when their paths crossed with a Samoyed dog that needed rescue. They fell in love with their new rescue dog and eventually with the Samoyed breed.
The obsession with the breed carried on, and the owner of the breeding facility took a personal interest in learning more about characteristics of the Samoyed breed, like herding, pack hiking, conformation, and dog training.
Metak Samoyeds are on a mission to breed Samoyed puppies that are true to this fantastic breed's heritage and conform with the AKC's standard for the breed.
Above all, they want their dogs to be healthy canines that adapt to any living situation and bring limitless joy to their owners.
This is the breeder if you are looking for a puppy that conforms to the standard. Metak Samoyeds describes itself as an active show kennel and take the entire process of breeding show dogs very seriously.
The breeders at Metak Samoyeds believe that breeding should only be done selectively, but at the end of the day, any show dog is still part of their family and should be shown love and affection no matter their show quality.
If you want to purchase from Metak, you can visit their do we have puppies page.
This page indicates that they only produce one litter per year, so if you want to purchase from them, you may need to put your name on their waiting list.
You can do this by filling out their puppy application form, which may be hard to find since it is under the do we have puppies page under their questionnaire tab.
The average price of a Samoyed is $3,300 and upwards if you plan to purchase from this breeder.
Metak Samoyeds Details:
4. UAKEA Samoyeds
UAKEA Samoyeds is a breeder in central Texas that has been breeding dogs for the last 14 years.
The breeder also rescues and fosters Samoyeds within Texas if possible. They are true dog lovers committed to the Samoyed breed's well-being and longevity.
Contact the breeder by filling out their contact form to ask about available puppies. Unfortunately, this is the only way to contact them as they have yet to list a phone number or email address.
UAKEA's website doesn't explain the breeder's journey as a breeder, but they have pictures of their male and female dogs, which will give you a good idea of what the puppies would look like all grown up.
On their breeding page, you can find the matches they made between male and female dogs. Each dog profile has complete information about the dog's health, pedigree, and physical characteristics.
You can use this information to make an informed choice when choosing your puppy.
Adopters must sign the puppy contract to purchase a puppy. The cost of the puppies varies from litter to litter, and the breeder will apprise you of the cost upon initial contact.
If you are interested in buying Samoyed puppies in Texas, then UAKEA Samoyeds is an excellent choice; contact them for more information.
UAKEA Samoyeds Details:
5. XnO Samoyeds
XNO Samoyeds is owned by another dog-loving couple, Nancy and Lance Rankin, who is fascinated by Samoyeds.
Their breeding program focuses on raising Samoyeds for the home; they are friendly, healthy, and easy to train.
The breeders proudly display pictures of their dogs on their website. Each picture is accompanied by detailed information about the dog; read up and decide which is most suitable for your household.
Not sure what your puppy will look like all grown-up? Looking at the images of the parents on this page will give a clear picture.
You can also look at their breeding page to see the male and female dogs that mated, the offspring they produced and the timeline of when the litters are expected.
They have a general information page about the Samoyed breed, ad they recommend all potential adopters read the information before getting their dog. This will also give you an idea of what the breeder expects from you and may refer to when asking questions.
The puppy application or questionnaire can be accessed from their website and should be filled out if you want to purchase a puppy. This way, you will be considered a potential owner whenever a litter arrives.
Reach out to this breeder and the other Samoyed breeders in Texas listed above if you are serious about owning an adorable puppy today.
XnO Samoyeds Details:
How to Choose Samoyed Breeders in Texas
Is it a scam or the real deal? How will you know when you are ready to dole out thousands of dollars to purchase a Samoyed puppy?
Well, a few red flags should alert you and indicate that the breeder you are interested in is not legitimate.
They should not have a pay now button on their website and should not be asking for the total amount of money upfront.
Watch out for scam breeders who use pictures and credentials of other professional breeders. If you need to double-check, go to the Samoyed Club of America page and search for the breeder's name.
The American Kennel Club recognizes this organization as the Holy Grail for the Samoyed breed, and you can also ask for a three-generation pedigree certificate to look into further.
Most Samoyed breeders show their dogs at reputable shows, so you should be able to Google the breeder to find them online. Insist on seeing the parents when you come to pick up your puppy.
Frequently Asked Questions
Can Samoyeds live in Texas?
Believe it or not, Samoyed fur actually protects them from extreme heat. Make sure they get plenty of water in the hot Texas weather.
What city in Texas is the most dog friendly?
Austin, Texas is considered one of the most dog-friendly spots in Texas.
What is the dog capital of Texas?
Houston has more dogs per 100 people than any other U.S. city.
Where Are the Best Samoyed Breeders in Texas?
Samoyeds are spitz-style dogs that make excellent family dogs. Their beautiful white fur and friendly personality will win you over quickly!
The breeders listed above offer the most well-bred Samoyeds in Texas, and with this excellent breeder list, you will surely find an adorable Samoyed puppy.
Contact the breeders to find out when you can take your puppy home!
If you find this guide, "Best Samoyed Breeders in Texas," informative and helpful, you can check out these other dog-related articles from our team:
Before you find a Samoyed puppy for sale in Texas, you can learn more about this dog breed by watching "10 Important Facts about Samoyed Every New Mom Should Know" down below: