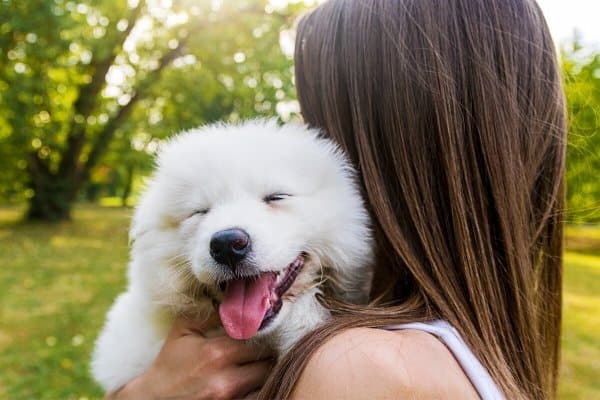 If you are considering getting a Samoyed, adoption is a great option. Samoyed are rehomed fairly often, so you have a great chance of finding a wonderful dog for your family at a rescue organization.
Wherever you are in the United States, there is a rescue available nearby to help you find the perfect Samoyed for you.
Where can you find a Samoyed for adoption? National rescue groups such as the National Samoyed Rescue or the Samoyed Rescue Alliance with affiliate groups across the nation can help locate a Samoyed up for adoption near you. There are also state-based rescue organizations for Samoyeds as well.
Although there are many rescues and shelters nationwide that can help you find a Samoyed to adopt, you should know what to expect from this beautiful breed and be prepared to be peppered with questions throughout the adoption process.
We'll provide you with a list of rescues across the United States and show you what to anticipate on your journey.
National Rescues
National Samoyed Rescue – Works with affiliate rescues and shelters across the country to serve Samoyeds in need and strives to establish new rescue groups where needed.
Samoyed Rescue – A group of volunteers who take in Samoyeds from shelters and those who can no longer care for their dogs.
Samoyed Rescue Alliance – An association of Samoyed rescue organizations and independent rescue volunteers.
SaveASam – Korean Samoyeds – Rescues Samoyeds directly from Korea and places them in U.S. homes.
State Rescues
Arizona
California
Samoyed Rescue of Southern California
Colorado
Illinois
Northern Illinois Samoyed Assistance
Mid-Atlantic
MidAtlantic Samoyed Rescue – Serves Delaware, Maryland, New Jersey, Pennsylvania, Virginia, parts of West Virginia, and Washington, D.C.
Missouri
New York
Minuteman Samoyed Club – Also serves New England.
Northwest
Northwest Samoyed Rescue – Serves Washington, Oregon, and Northern Idaho.
Ohio
Texas
Samoyed Rescue of Texas, Inc. – Also serves Arkansas, Louisiana, New Mexico, and Oklahoma.
North Texas Samoyed Rescue, Inc. – Partners with shelters in Arkansas, Kansas, Louisiana, and Oklahoma.
Utah
Wisconsin
Playing Again Sams – Wisconsin Samoyed Rescue
Why Do People Surrender Samoyeds?
It isn't hard to fall in love with a Samoyed. These dogs are absolutely adorable puppies, and they grow into magnificent dogs with charming smiles.
Unfortunately, these dogs are not necessarily the easiest dogs to own. There are a number of reasons why a Samoyed may find himself being surrendered by his owners.
Impulse Buys
Unfortunately, irresponsible breeders are too often happy to sell Samoyed puppies to impulsive buyers.
Samoyeds are not a good pick for a first-time owner and may have a difficult time settling into many families when they were not purchased with careful consideration.
Training
Samoyeds are intelligent dogs who have their own minds. They are not necessarily focused on pleasing you.
These dogs live closely with their people, but that doesn't necessarily mean that they obey commands consistently.
Samoyeds may be difficult to train and are likely to respond poorly to harsh training techniques.
Climate
Samoyeds evolved in cold climates, which means they may not do well outside in hotter weather.
If people move from a colder climate to a warmer one, they may decide to surrender their Samoyed.
Those who get a Samoyed without thinking about how to provide exercise in hot weather may find themselves overwhelmed by the dog's energy when stuck indoors due to the heat. 
Energy
Samoyeds may look like big teddy bears, but they are rarely content to lounge with you on the sofa unless they've had plenty of exercise.
These are energetic dogs who need an equally energetic family to keep them happy.
Because of their independent nature, Samoyeds cannot be trusted off leash. Owners who intend to exercise their dog indoors or on leash may find themselves overwhelmed by the task.
Upkeep
The Samoyed's gorgeous white coat requires a lot of maintenance. It sheds profusely throughout the year and especially intensely twice a year.
The coat can easily become matted if it isn't brushed regularly. Coats vary depending on size and gender as well as the individual dog.
Some dogs may take many hours a week to maintain. Because this is a double-coated breed, it is not advisable to shave a coat. 
For more information about owning this gorgeous breed, head over to our Samoyed section.
Adopting a Samoyed
If you have made the decision to adopt a Samoyed, be ready to prove to adoption agencies that you are prepared to own this challenging breed.
Remember that rescue organizations get dogs from people who thought they were prepared and weren't. 
This may make rescues critical of whether you really are a good fit for the breed or not.
Here are a few things that reputable rescue organizations are likely to ask you about when you want to adopt a Samoyed.
Fenced Yard and Indoor Space
Some rescues may consider a fenced yard an absolute essential for Samoyed ownership, while other rescues may look at the square footage of a prospective adopter's indoor space.
Whether outdoor or indoor space is important may depend on the climate. In general, rescues are looking for plenty of room for this large, active dog to get adequate exercise. 
Kids
Samoyeds generally love their children, but they can sometimes be insensitive about their size.
These large dogs are energetic and they forget themselves, which can put smaller kids at risk of accidental injury.
Some rescues may prefer not to adopt Samoyeds out to families with small children.
Other Pets
Samoyeds tend to be very dog friendly and usually get along with other dogs in the family.
That said, these dogs sometimes have a strong prey drive and may not get along well with smaller dogs or other pets like cats.
Depending on the individual Samoyed, some rescues may choose not to adopt out to you if you have other pets.
Commitment
Don't be surprised if a rescue inquires at length (and even perhaps gets a bit invasive) about your willingness to commit to this dog.
Many Samoyeds in rescues come from difficult pasts and may have been rehomed once or several times before.
The rescue will want to make sure that you are completely committed before they give the dog to you.
Additional Considerations
Beyond what the rescue is likely to ask you, be sure to ask yourself the above questions as well as carefully think about any other important aspects of your life that will affect your ownership of a Samoyed.
Know that owning one of these dogs might prevent you from living in some places. 
Your Samoyed is likely to remain quite energetic all the way up until old age, and these dogs easily live to be 14 years old despite their large size.
Be sure that you are ready to commit to exercising your dog regularly as well as maintaining training for the next decade or more of your life. 
Talk seriously about owning a Samoyed with your partner, family, and friends. Listen to their feedback about whether they think the breed is a good fit for your lifestyle.
If you are on the fence, speak with a rescue organization about fostering a Samoyed before you make the commitment to adopt. 
Fostering can help you to get acquainted with owning this challenging breed and help you to decide whether you are ready to make the commitment.
Fostering is also a great way to get to know individual dogs, which could help you decide which dog you want to be yours.
Adopting a Samoyed from Asia
Samoyeds tend to be popular in China and Korea. Rescues give these dogs health checks and ship them to America to find new homes.
If you are considering adopting a Samoyed from Asia, be even more committed to doing your research. 
You cannot return the dog once he has made the trip to you. Many of these dogs will be family pets who were no longer wanted or could not be kept any longer.
Others may have been kept as yard dogs or breeding animals. Some will have undergone a lot of trauma and neglect.
Adopting any Samoyed means that you will need to be ready to meet the dog on his level and adapt to the individual needs of the animal.
This may be even more applicable to Samoyeds from Asia.