Are you looking for Vizsla breeders in Michigan? If so, then you've come to the right guide.
Vizslas have recently become popular as pets in the United States, and it's no wonder why. Vizslas are a unique breed used as gun dogs for centuries.
Vizslas are also known for being highly affectionate and having an easy-to-train nature. They're energetic dogs that need extensive daily exercise. Moreover, they are reliable with children if they've been socialized well from a young age.
If you're sure a Vizsla is the right pet for you and your home and have decided to adopt one, the next step would be to finalize a breeder. In this article, we've listed some of the best Vizsla breeders to make finding a breeder easier for you in Michigan and the surrounding areas.
Many dog owners find it overwhelming to find a dog breeder they can fully trust. To find a physically and mentally healthy dog, you will need to pick a breeder that's reliable and can be trusted to follow a specific code of ethics in their practices. Dogs bred and raised by irresponsible breeders can come with health and behavioral issues that you do not want to deal with, particularly as a novice pet owner.
Before you scroll further down this guide, check out these other dog-related articles: Cavapoo Breeders in Michigan and Best Cockapoo Breeders in Michigan.
1. Midnight Run Vizslas
One of the best options to consider for Vizsla puppies in the state of Michigan is the Midnight Run Vizslas.
The breeder is dedicated to producing and raising healthy puppies with excellent temperaments and conformations that would make a great addition to your home. All litters are planned, and all dog parents have had their hips tested and cleared by OFA for hip dysplasia. The dogs also receive on-field training and have succeeded in field trialing and hunting.
All dogs under the care of midnight run Vizslas are raised in a breeder's home in a safe and comfortable environment where they have fun and receive all the comfort and warmth possible. Moreover, all the pups undergo the early neurological stimulation program the first two weeks after birth and are handled regularly.
The puppies are well-socialized with children and other pets and have plenty of space to run around, play, and exercise daily. If you find a puppy at Midnight Run Vizslas, they will come to you with their AKC registration papers, litter-specific information, and training booklets.
You can view the currently available puppies at Midnight Run Vizslas here. To know more about the adoption process, you can contact the breeder through the contact details mentioned below.
Midnight Run Vizslas Details:
2. Sunrise Vizsla
Sunrise Vizsla is another family-operated business with excellent Vizsla puppies in Michigan.
Sunrise Vizslas is not a commercial breeder and only breeds their female once a year to maintain good health and fitness for the dog parents and their puppies.
All puppies under the care of Sunrise Vizsla are raised with the utmost affection and are regularly socialized. So, if you're looking for a Vizsla for a home with children or other pets, look no further than a Sunrise Vizsla.
All puppies at Sunrise Vizsla also come with a 30 days guarantee against major medical problems from their pickup date. There is also a 2-year guarantee on the pup's hips and eyes. If you find a puppy you'd like to adopt at Sunrise Vizsla, you must make a deposit to reserve your future four-legged BFF.
Moreover, you must contact the breeder directly to discuss the adoption process and the steps required to bring your puppy home.
Before you go ahead and adopt your puppy from any breeder, inquire about the necessary details, such as whether the puppy has been vaccinated, de-wormed, and received regular vet checkups.
Sunrise Vizsla Details:
3. Gaffke's Gun Dogs
Gaffke's Gun Dogs is another reliable breeder breeding exceptionally healthy Vizsla puppies in Michigan.
Located outside Midland, Michigan – Gaffke's Gun Dogs have been breeding dogs for 19 years and continue doing whatever possible to breed and raise healthy, intelligent, and socialized puppies.
The breeder is dedicated to producing healthy and happy puppies that would make a great addition to every home.
The adult dogs at Gaffke's Gun Dogs enjoy upland and waterfall hunting, going on trial rides with horses, running around, exploring, and hiking. These activities keep the dogs physically fit and provide much-needed mental stimulation for the highly-active Vizslas.
You can view the currently available puppies at Gaffke's Gun Dogs here. The breeder offers two puppy visits throughout their seven weeks so that you can see the parents and litter for yourself.
When you finalize the litter you'd like to adopt, the breeder will schedule a pickup time for your puppy. After the 7-week mark, you can decide the puppy you'd be taking home. After you've picked your puppy, the breeder will go over the necessary paperwork with you so you can finalize the adoption.
Gaffke's Gun Dogs also offer a health guarantee against major genetic defects so that you can be sure you're taking a healthy and fit puppy home as your pet.
You can contact the breeder for more information regarding the adoption process and available litters through the contact details mentioned below.
Gaffke's Gun Dogs Details:
4. Paradox Vizslas
Paradox Vizslas is a reputable breeder in Michigan, breeding and raising puppies that are physically and mentally healthy, fit, and socialized.
Vizslas at Paradox Vizslas are dual-styled dogs that successfully compete in the show rings field for AKC championship titles.
You can view the puppies Paradox Vizslas has bred in the past here. The high-quality puppies at Paradox Vizslas will make a great addition to your home.
However, ask Paradox Vizslas whether the puppies are up-to-date on shots, de-wormed, and regularly vet-checked, as their website does not mention the details.
To contact the breeder for information regarding the adoption process, you can contact the breeder through the contact details mentioned below.
You can also fill out this form for any queries and wait for Paradox Vizslas to reply.
Paradox Vizslas Details:
5. Clinton Oaks
Clinton Oaks is another option worth considering if you're looking for Vizsla puppies for sale in Michigan.
They breed high-quality puppies and have significant experience breeding them from the best pedigrees.
Moreover, Clinton Oaks will also help you match your ideal puppy that suits your lifestyle. You or the puppy do not get any adjustment issues.
All parent dogs are vet certified and undergo several health screenings before entering a breeding program. You can rest assured you will only get a fit and healthy pet and adopt without any concerns. They also warranty their puppies' temperaments under normal circumstances of stress.
All puppies under the care of Clinton Oaks are up-to-date on their vaccine shots, de-wormed, and have undergone a vet checkup.
Clinton Oaks Details:
6. Northwood Vizsla
One of the best Vizsla breeders in Michigan – Northwood Vizslas, is another breeder breeding high-quality Vizsla puppies for sale. The puppies under the care of Northwood Vizslas are healthy, fit, and regularly socialized.
They're also raised in a secure and comfortable environment where the breeder ensures all their needs are met adequately so the puppies can grow up to form special bonds with their owner and make the ideal addition to whichever home they go to.
Their dogs Jasper and Clyde recently stood 2nd and 4th in the Vizsla Club of America annual competition. Contact the breeder to learn how to apply and their eligibility criteria.
Northwood Vizsla Details:
How to Choose Vizsla Breeders in Michigan
With every breeder in the market claiming to breed the highest-quality puppies, how do you decide which one to pick?
It's highly important to pick a reputable and reliable breeder that would not compromise on the health and fitness of its puppies.
Here are some factors we recommend looking out for whenever you're choosing a breeder for your puppy:
Encourages Visits: a breeder you can trust to follow the necessary ethical guidelines in their breeding program would always encourage you to visit the facility where the dogs are born and raised. Even if they do not encourage it, they will permit it. Ideally, both the puppy parents should also be on site. However, it's not uncommon for the male dog to not be around. Nevertheless, the parents should still be healthy with stable temperaments, and the facility should be clean with sufficient space for the dogs to roam around.
Puppy Only Available After Eight Weeks: Studies suggest puppies should not be separated from their parents at extremely young; otherwise, they will likely display behavioral problems such as aggression. A good breeder would know this and refuse to adopt the puppies under their care until they're at least eight weeks old.
Prioritizes the Puppies' Health: Make sure the breeder you pick vaccinates and de-worms its puppies and provides a minimum 12-month health guarantee against genetic defects.
More Information About Vizslas Breeders in Michigan
Before you go ahead and bring a Vizsla home, there is some information you must know about the breed that will help you to care for the breed in the best possible manner:
Grooming Needs: Since Vizslas have a short coat with no undercoat, they do not require excessive or complicated grooming. However, since they do shed, brushing your Vizslas coat now and then with a grooming brush is enough.
Exercise Needs: Your Vizsla must get at least two hours of exercise every day. You can split this time into a morning walk, playtime, or other activity where your Vizsla can burn off its pent-up energy, such as swimming.
Socialization: Vizslas need to socialize with children and other pets from a young age. This will require introducing them to new people daily and ensuring they have positive interactions with them. If this isn't done promptly, your Vizsla will likely become antisocial and frightful.
Frequently Asked Questions
What should I look out for when buying a Vizsla?
Vizslas need to be socialized from an early age, so make sure that your breeder has a method to socialize them immediately.
Do Vizslas need to be bathed?
Vizslas do need a bath every two months. However, if they smell, have been out hunting or in the mud, or just obviously need a bath, then don't hesitate.
Where should Vizslas sleep?
Vizslas can be trained to sleep in the bedroom with you, but they do well in their crates at night.
Where Are the Best Vizsla Breeders in Michigan?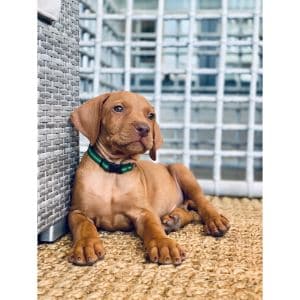 All the above-listed Vizsla breeders are trusted breeders that ensure the highest quality puppies.
So, you can view the currently available puppies with every breeder in our list and choose the puppy of your dreams without any concerns.
We wish you the best of luck in bringing your Vizsla home.
If you find this guide, "Best Vizsla Breeders in Michigan," informative and helpful, you can check out these other dog-related articles from our team:
Before you find a Vizsla puppy for sale in Michigan, you can learn more about this dog breed by watching "Vizsla Dog Breed: 7 Amazing Facts You Must Know" down below: