Are you ready to unleash your love for Belgian Malinois? These four outstanding Belgian Malinois breeders in Indiana have all you need to fulfill your furry fantasies if you're looking for the greatest breeders in Indiana.
But first, let's pause to appreciate the origins and evolution of this lovely breed. As implied by its name, the Belgian Malinois is a breed of dog that was first founded in Belgium.
These magnificent canines were originally bred for herding sheep, but their intelligence, athleticism, and loyalty soon caught the eye of law enforcement and military personnel.
Today, Belgian Malinois are known for their fierce work ethic, unwavering loyalty, and sharp minds.
They're a favorite among police and military forces worldwide and individuals who enjoy an active lifestyle and need a canine companion to keep up with them.
It's time to investigate the top breeders in Indiana now that you are a little more knowledgeable about the Belgian Malinois.
These breeders have been carefully selected based on their excellent and ethical breeding practices, dedication to the breed, and enthusiasm for all things Belgian Malinois.
So let's start and choose the ideal breeder for you and your future pet!
Before you scroll further down this guide, check out these other dog-related articles: Best Cavapoo Breeders in Indiana and Best Cane Corso Breeders In Indiana.
1. S & S Kennel
S & S Kennel is nestled in the beautiful town of Fredericksburg. They are a breeder passionate about responsibly raising top-quality Belgian Malinois puppies in Indiana.
So if you're in the market for a loyal, intelligent, and playful pup, look no further than S & S Kennel, the paw-fect Belgian Malinois breeder in the state!
S & S Kennel is the brainchild of Shelby Sandlin, a true-blue dog enthusiast committed to bringing up well-rounded and top-quality Belgian Malinois pups.
In addition to being undeniably adorable, these puppies are perfect for police enforcement and search and rescue operations.
And if you're just looking for a loyal companion to cuddle up with on the couch, S & S Kennel's got you covered too!
Shelby treats her puppies like family; you can be confident that they all receive the love, care, and attention they require to live long and healthy lives.
What's more, all breeding dogs undergo head-to-tail medical checkups and genetic testing to ensure healthy puppies.
But that's not all, folks! S & S Kennel goes above and beyond to ensure each puppy is well-socialized and ready to take on the world!
These little bundles of joy leave the kennel with a solid foundation of training and socialization, including basic manners, potty training, sound stimulation, socialization with adult dogs and other animals, and exposure to various surfaces.
Plus, you won't have to worry about microchipping or vet visits because S & S Kennel takes care of all that for you.
And if that's not enough to wag your tail, S & S Kennel offers a 1-year health guarantee to ensure you and your furry friend are both happy and healthy.
So what are you waiting for? Apply for a puppy today. Prices range from $1,200 to $2,000, depending on whether you want a loyal working dog or a companion.
S & S Kennel Details:
2. Burr Oak Malinois
Are you ready to meet the team at Burr Oak Malinois? This family-owned breeder in Indiana knows a thing or two about Belgian Malinois, and they are happy to share their passion for this magnificent breed with the world.
Burr Oak Malinois has a history with this amazing breed, and they understand the value these loyal, agile, attentive, driven, and smart dogs bring to their owners' lives.
Belgian Malinois is truly remarkable whether they are used for protection, agility, scent detection, herding, obedience, or other activities.
But what makes Burr Oak stand out from other breeders? For starters, it's their family dynamic. They run this business alongside their other full-time jobs, and their dedication to their dogs is second to none.
They invest an incredible amount of time and resources into breeding for quality, and they carefully evaluate each puppy's future forever home to ensure a good match.
And let's not forget about the paperwork! All of their dogs are registered with the AKC as purebreds. So, you can rest easy knowing you are getting a high-quality, registered pup.
If you are looking for family-ready Belgian Malinois puppies for sale in Indiana, then Burr Oak Malinois is the one for you.
These pups are more than just pets; they are members of the family and lifelong friends. So, if you want to add a loyal, smart, and loving companion, apply today and join the Burr Oak family!
Burr Oak Malinois Details:
3. Mohawk's Malinois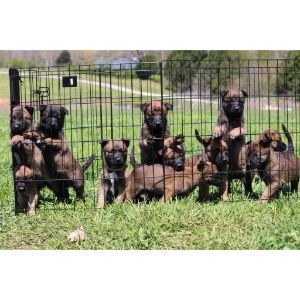 Welcome to Mohawk's Malinois – the ultimate destination for top-notch Belgian Malinois! They are not in Indiana, but they offer shipping from Kentucky!
These pups are intelligent, proud, and energetic dogs that make fantastic protectors and companions.
At Mohawk's, they have a passion for breeding and competing with Belgian Malinois, and their 24k likes and followers on Facebook speak for themselves!
They pride themselves on breeding and raising healthy and happy Malinois that excel in both work and play.
Not only do they offer puppies for sale, but they also train dogs and offer private training services. From basic pet obedience to high-level Schutzhund training, they've got you covered.
Mohawk's Malinois dogs come from working lines from the finest dogs in Europe and the United States. They are raised in a home environment and socialized from an early age giving them an ideal start in life.
These high-drive pups have a stable temperament and an aim to please, making them the perfect working or sport dog.
And if you want a well-rounded dog that's also part of the family, Mohawk's Malinois puppies are raised in the house, and they are brought in contact with the residents, children, strangers, and animals from birth.
Check out their Planned Breeding page or browse their Facebook page for upcoming litters. A puppy at 8 weeks old will cost $2,000, with a $500 non-refundable deposit required to be put on a waiting list.
So what are you waiting for? Get ready to add a new furry friend to your family and get the job done with a Mohawk's Malinois pup!
Mohawk's Malinois Details:
4. Chien Policier
Chien Policier is the last breeder on our list of Belgian Malinois breeders in Indiana! While based in Reidsville, North Carolina, they also offer shipping to Indiana.
This breeder is skilled at what they do, having trained, imported, and bred Belgian Malinois for over 30 years.
Born and raised in Germany with Belgian Malinois and German Shepherds, this breeder came to the United States in 1995 and has been providing dogs for law enforcement nationwide.
But unlike some commercial breeders, Chien Policier is all about health and temperament, no genetic defects or temperament issues here!
Their main goal is to breed healthy and stable Belgian Malinois that are great working dogs and make excellent family companions.
All puppies are fully vaccinated, wormed, and microchipped and come with full registration and a health/hip guarantee. Plus, they're socialized daily and treated like part of the family!
Chien Policier breeds Malinois with the right genetics for a great personality and temperament.
So don't be put off by those horror stories you've heard about Malinois – a well-bred and raised one is not fearful or aggressive for no reason.
And if you're a public service worker, Chien Policier offers a $100 discount. So what are you waiting for? Put down a $300 deposit and pick up your new furry friend today!
Chien Policier Details:
More Information About Belgian Malinois in Indiana
Are you ready to add a four-legged, furry companion to your life in Indiana? Are you considering the powerhouse breed of Belgian Malinois?
These intelligent, loyal, and energetic dogs are great for families, working professionals, and everyone in between.
Belgian Malinois are a versatile breed of dog that originated in Belgium. They are known for their intelligence, loyalty, and high energy levels that will make every moment a joy.
Due to their exceptional trainability and work ethic, Belgian Malinois are often used as working dogs in law enforcement, military, and search and rescue operations.
In addition to their working abilities, Belgian Malinois puppies in Indiana make excellent family pets for the right owners. They are protective of their family and can be great with children when properly socialized and trained.
It's important to note that Belgian Malinois is not for everyone.
They require significant exercise and mental stimulation daily to prevent destructive behavior. They also have a strong prey drive and may not be compatible with small pets such as cats.
If you're considering bringing a Belgian Malinois into your household, research and choose a reputable breeder who emphasizes raising healthy, well-mannered dogs – this is essential.
Understanding the breed's needs and being prepared to put in the required time and effort are also essential for providing a Belgian Malinois with the correct care.
With the right training and care, a Belgian Malinois can be a loyal and loving companion for years to come.
Conclusion For "Best Belgian Malinois Breeders in Indiana"
Congratulations on making it to the end! You've just learned all about the best Belgian Malinois breeders in Indiana, their commitment to breeding healthy and stable Belgian Malinois.
And how they can make great family companions with the right breeding and training.
Remember, not all Malinois are created equal, so it's important to do your research and choose a breeder like Chien Policier or S & S Kennel, who prioritize health and temperament.
And if you're in Indiana, don't worry; all out-of-state breeders listed above offer to ship, so you can still bring home one of their amazing Belgian Malinois puppies!
So, what are you waiting for? Take the first step in welcoming a new furry friend into your family today. Your future four-legged companion is waiting for you!
If you find this guide, "Best Belgian Malinois Breeders in Indiana," informative and helpful, you can check out these other dog-related articles from our team:
Before you find a Belgian Malinois puppy for sale in Indiana, you can learn more about this dog breed by watching "8 Things You Must Never Do to Your Belgian Malinois" down below: