The rabbit population in Florida is declining, and many of those that remain are neglected, abused, or abandoned. Luckily for these little creatures, many rabbit rescues in the state are working hard to save their lives.
If you adopt a rabbit from a rescue group rather than a pet store or breeder, you'll be helping an animal who probably needs it most. Here's our list of the best rabbit rescues in Florida.
Other articles you would like: Rabbit Rescues in the USA and Rabbit Rescues in California.
1. Southwest Florida House Rabbit Rescue
The Southwest Florida House Rabbit Rescue mission is promoting respect for rabbits. The rescue work to raise domestic rabbits' standing in the community to that of other pet animals.
The organization collaborates with the local humane society, community members, and other rehabilitation partners to save adoptable rabbits undergoing neglect.
Southwest Florida House Rabbit Rescue is committed to preventing domestic rabbits' extinction by providing high-quality education, advocating for their rights, and facilitating adoption.
The organization does not have a single facility but relies on a group of foster families across the Southwest Florida area.
Individuals seeking to adopt rabbits from the rescue must submit an adoption application and have a preliminary phone interview. They'll also ask for photographs of the space you've set up for the rabbit.
Furthermore, the staff will arrange a brief home visit during which one of their volunteers will offer a training session.
Southwest Florida House Rabbit Rescue Details:
2. Gainesville Rabbit Rescue
Since its inception in 1998 by two University of Florida students, Gainesville Rabbit Rescue has been rehabilitating and adopting rabbits.
They strive to educate present and future rabbit owners about the importance of owning and caring for these small creatures.
The rescue doesn't discriminate against any rabbit regardless of age, health, disposition, or impairment and will accept any of them. Before being made available for adoption, they give rabbits the medical care they need to regain their health.
The organization's priority is the well-being of the rabbits in its care, so it carefully evaluates adoptive families to ensure each bunny goes to a safe and caring home.
In addition to the main facility, their bunnies receive care in foster homes run by devoted volunteers. The foundation presently provides care for more than 90 rabbits, and its waiting list continues to increase.
Gainesville Rabbit Rescue Details:
3. Penny and Wild Smalls of South Florida
The no-kill small animal rescue organization focuses on guinea pigs and rabbits. They take in rabbits given up by owners who help local sanctuaries and humanitarian groups.
Their top priorities are strays rabbits, those on euthanasia lists, hoarding situations, and needing medical treatment. Penny and Wild Smalls of South Florida aim to provide safe, permanent homes for as many rabbits as possible.
In addition, they offer refuge to select rabbits who, for various reasons, including physical and mental health issues, cannot be adopted.
Their rabbits are spayed or neutered, medically examined, and given time to adjust to the human company in temporary homes before being available for adoption.
Since the rescue relies on foster homes, the number of rabbits they're able to rescue every year depends entirely on how many people are willing to take in rabbits in need of temporary shelter until they find permanent homes.
Penny and Wild Smalls of South Florida Details:
4. Luv a Bun Rabbit Rescue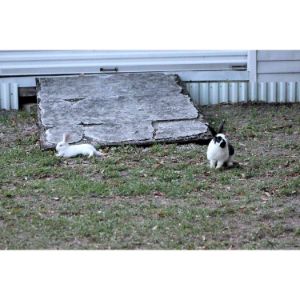 The charitable organization saves abused and mistreated rabbits. Luv a Bun Rabbit Rescue houses every bunny in a loving foster home where they receive medical attention, rehabilitation, socialization, spaying or neutering, and litter box training.
To guarantee that each rabbit is adopted into a loving home, the rescue conducts interviews with prospective adopters and provides thorough training.
Their mission is to spread awareness about how to provide the best possible care for a pet rabbit in the hopes of improving every rabbit owner's life.
Because they prioritize providing high-quality care over quantity, they only take in a specified number of rabbits at any given time.
Luv a Bun Rabbit Rescue Details:
5. Fort Wilbur Rabbit Rescue
The organization's primary mission is to care for critically injured rabbits brought to them by other rescues. After recovery, Fort Wilbur Rabbit Rescue send all rabbits back to their original shelters to be up for adoption.
However, not every rescued rabbit makes a full recovery and must remain in the facility. Depending on their requirements, some will be available for adoption to qualified families who can meet their needs.
Fort Wilbur Rabbit Rescue also offers training programs for the general public to teach them how to care for rabbits properly.
The number of participants in each program might range from one person to ten. During the workshops, participants learn how to maintain rabbits' habitats and provide them with medical care.
Fort Wilbur Rabbit Rescue Details:
6. Floppy Ear Rescue
Floppy Ear Rescue provides a haven for rabbits undergoing neglect and abandonment. It is a rescue center run by a family that helps rabbit owners find new homes for their pets.
The rescue steps in to help when a family can no longer provide adequate care for their rabbits.
The no-kill rabbit rescue collaborates with foster homes to care for their rescued rabbits. In addition, the organization provides volunteer opportunities and fosters to help the rescue by caring for their animals.
Floppy Ear Rescue also has education programs that teach people how they can help rescue rabbits in their community by either fostering pets or adopting them out.
Floppy Ear Rescue Details:
7. Orlando Rabbit Care and Adoptions
Orlando Rabbit Care and Adoptions organization rescues and rehomes abandoned rabbits. The organization provides a forum for those who love rabbits and want to learn more about keeping them healthy and happy as pets.
Orlando Rabbit Care and Adoptions regard pet rabbits as family members who deserve the same care and consideration as any other family member.
That includes being kept in a clean, warm environment, eating balanced food, and undergoing any necessary veterinary treatments.
The rescue's mission is to connect people with a passion for rabbits with resources to better care for their pets. In addition to providing bunnies for adoption, they also instruct people on adequately caring for rabbits as pets.
Orlando Rabbit Care and Adoptions Details:
8. Tampa Bay House Rabbit Rescue
Tampa Bay House Rabbit Rescue aims to spread information about properly caring for pet rabbits.
The rescue tries to spread education about the plight of pet rabbits, save rabbits from abuse and neglect, and help other sanctuaries deal with the problem of rabbit overcrowding.
Furthermore, they have adoption programs for individuals who want a new rabbit pet. Tampa Bay House Rabbit Rescue needs you to complete a foster agreement and take care of the rabbit for a month or two.
The rescue ensures you get a chance to know the bunny's character. Without running the risk of assuming complete ownership, you get some experience taking care of the bunny. If everything goes smoothly, they proceed to finalize the adoption.
Tampa Bay House Rabbit Rescue Details:
9. A New Beginning Pet Rescue
The organization commits to helping rabbits find their forever homes in South Florida. They rescue bunnies from death row in high-kill animal shelters and owners who can no longer care for their pets.
A New Beginning Pet Rescue provides them shelter, veterinary attention, and love until they can find a permanent home.
The rescue believes that no life is disposable. Since each rabbit has a unique personality and special needs, they thoroughly evaluate each and place them into approved foster homes.
In addition, they strive to place each rabbit in the most appropriate home based on their needs and family lifestyle.
A New Beginning Pet Rescue Details:
10. Humane Society of the Treasure Coast
The rescue's mission is to provide compassionate care and protection for homeless rabbits.
They envision a future where every pet rabbit is guaranteed a loving home. The Humane Society of the Treasure Coast protects pets from suffering, abuse, and exploitation.
The rescue is willing to take in any animal, whatever its age, disposition, or health condition. The Humane Society of the Treasure Coast also has a foster program where you can volunteer to care for a rabbit until it finds a home.
Furthermore, they strive to educate the public about the need to care for their pets and collaborate with local sanctuaries to improve the lives of domestic rabbits.
Humane Society of the Treasure Coast Details:
Conclusion For "Best Rabbit Rescues in Florida"
If you're looking for a way to help bunnies in Florida, consider checking out one of the above rabbit rescues in Florida.
They all do great work rescuing rabbits and could appreciate your support, whether adopting a bunny or spreading the word about how wonderful rabbits are. We hope our list of 10 rabbit rescues in Florida will assist you in rabbit adoption.
You will also like:
For more information about Rabbits, check out the video down below: