It might surprise you to learn that there is a large population of rabbits in the US that need adopting.
Dog and cat rescues are the largest animal rescue networks in most of the world. However, there are many more species of animals that need our help, and that includes these lovely bunnies.
Other articles you would like: Best Rabbit Adoption Agencies in the USA and Rabbit Rescues in California.
Adopting Rabbits
Each Easter, rabbit rescues attempt to raise awareness of the importance and uniqueness of rabbits as socially and behaviorally complex and fascinating animals that need long-term families and care.
Like any other pet, they are a commitment as they can live quite long lives in captivity. Some even live for up to two decades.
The rabbit rescues in Arizona listed below save rabbits in need and other animals in some cases and educate the public about rabbit care.
1. Brambley Hedge Rabbit Rescue
Brambley Hedge Rabbit Rescue has been around since 1986, and they have around 100 rabbits in their care at any one time, including rabbits that currently live in their shelter and those rabbits being fostered.
If you would like to sign up as a bunny foster parent, you must commit to at least two months of regularly volunteering at the shelter before they can add you to the roster of foster parents.
At BHRR, rabbits that need foster families typically have social, behavioral, or health needs that the shelter needs to know that you can handle, hence the two-month shelter volunteer requirement.
These rabbits may have been hoarded or otherwise abused or need to heal from a medical condition. They need safe foster homes where they can learn to trust people and other animals again.
Brambley Hedge Rabbit Rescue does not accept surrendered or abandoned rabbits directly from the public.
Instead, their intake comes from area animal shelters, especially ones where perfectly healthy rabbits are at risk of needless euthanasia due to overcrowded shelters.
Every Saturday, adoption events occur at My Pet Market on Tatum Boulevard in Phoenix, and you can get involved by volunteering at these events. These rabbit adoption events promote rabbit awareness and health for potential adoptees.
The adoption process at BHRR can take around four weeks of vetting and discussions. The adoption fee for one rabbit is $100, and for a pair, it's $175. These fees help BHRR keep taking in rescue rabbits, covering the cost of spays and neuters.
Brambley Hedge Rabbit Rescue Details:
2. Furrytail Life Rabbit Rescue and Sanctuary
Furrytail Life Rabbit Rescue and Sanctuary, or Furrytail Bunny Rescue, exists because of the problem of abandoned and neglected domestic rabbits in parks and playgrounds or anywhere else people may come across them.
These domestic rabbits end up abandoned because inexperienced and ignorant pet owners think that once they don't want to take care of their rabbits, they can place them in the wild without any consequences.
Domestic bunnies are not suited for life in the wild, and Furrytail Bunny Rescue aims to get to them before predators or other dangers do. They used to take bunnies into the shelter that people called about or brought in, but at the moment, their rescue is at capacity.
They currently care for 250 bunnies, keeping them happy and healthy with their robust team of volunteers and supporters.
Volunteering opportunities with Furrytail Bunny Rescue include:
Cleaning out bunny pens

Make sure the buns have fresh hay and water

Playing with the furry residents
Fostering doesn't seem to be an obvious part of what they do at Furrytail but perhaps experienced volunteers can better connect with the staff to see about fostering bunnies that need to be adopted to make room for more rescued buns.
Furrytail Life Rabbit Rescue and Sanctuary Details:
3. Humane Society of Southern Arizona
Although the Humane Society of Southern Arizona also assists other animals (cats, dogs, horses, etc.), they help rabbits extensively.
HSSAZ exists to serve pets in need, whether rescuing rabbits from no-kill shelters, hoarding situations, abuse, and neglect, abandonment, or dire medical situations.
Their mission is "compassionately serving pets and the people who love them" to realize their vision, "a community in which all pets are cared for and loved."
And, of course, this includes rabbits. HSSAZ has rescued more than one million pets of all shapes and sizes since its foundation in 1944.
One especially unique fact about the Humane Society of Southern Arizona is that it is as locally run as possible.
It is not affiliated with any national or international humane society, so it governs itself and can run the best way for the animals it rescues. These cases come from all over southern Arizona.
They run on funds from grants, sponsors, donors, and support from ordinary people who want to make a difference. One of the many ways you can help out bunnies rescued by HSAAZ is to foster. The adoption fee for one rabbit is $40.
Humane Society of Southern Arizona Details:
4. Tranquility Trail Animal Sanctuary
Tranquility Trail Animal Sanctuary doesn't only cater to rescued rabbits, but they sure do take care of rabbits in every way! Tranquility Trail's mission "is to rescue, shelter, rehabilitate and find a forever home for every animal that finds its way to us."
According to its website, Tranquility Trail focuses mainly on rescued bunnies. They run fully on donations as they are not affiliated with any government entity, federal or state.
They have a boutique where you can purchase pet supplies and adorable animal-themed gifts. Part of their support comes from this shop, and the rest comes from donations and fundraising programs.
Currently, the Sanctuary is not open to the public for visits, but this restriction may be lifted in the future.
Tranquility Trail works tirelessly to prevent euthanasia for treatable and adoptable rabbits all over Arizona. When a bunny comes to the Sanctuary, they are vaccinated and spayed/neutered if they haven't been already.
This rabbit rescue has amazing youth programs to teach children how to care for animals and all about animal rescue and rehabilitation.
Their youth leadership training can help younger kids carry on the work of raising awareness of adoptable rescued animals and the care they need.
The Tranquility Trail Animal Sanctuary also runs programs to help kids who need therapy for fear of animals, social anxiety, or other conditions bunnies can help with. They also do internships and job training in the animal rescue and care sectors.
Tranquility Trail Animal Sanctuary Details:
5. Quail Cottontail and Wild Rabbit Rescue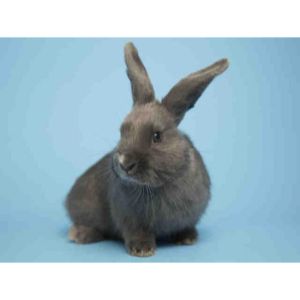 Quail Cottontail and Wild Rabbit Rescue is an outlier in our list because they mostly rescue, heal, and rehabilitate wild animals before releasing them back into the wild.
They mostly work with quails (especially quail chicks), jackrabbits, squirrels, cottontail rabbits, and other small mammals.
In some cases, these animals have usually been abandoned by their mothers, or the mother did not return due to predation.
In other cases, they are too young to care for themselves or have suffered an injury that would leave them vulnerable out in the wild.
Quail Cottontail and Wild Rabbit Rescue is always open for calls and to take in small wild animals needing medical care and rehabilitation.
Which can include dehydrated baby bunnies and broken limbs, bunnies or quails with wounds from predators, or newly hatched/born babies without parents.
The ultimate goal is to release these animals back into the wild, as they are wild animals. This center does not adopt rabbits out because these animals are meant to live wild and free outside.
However, there are special situations in which domestic rabbits come to them, in which case they do work with other rescues and adoption centers to find these bunnies a home.
In addition, some of the wild rabbits they rescue can never be released back into the wild because of life-altering injury, in which case they are taken to sanctuaries or raised by QCWRR.
Quail Cottontail and Wild Rabbit Rescue Details:
Location:

Scottsdale, Arizona

Phone Number: 480-532-1945
Social Media:

Facebook
6. Arizona Humane Society
The Arizona Humane Society has been serving areas all over Arizona since 1957. They are a no-kill organization.
They specialize in rescuing and adopting animals, but they also have an excellent track record of reuniting lost pets with their owners and microchipping pets so they can always be found.
As a humane society, they also accept feral/unowned cats for spay or neuter surgery so they can be released back into their colonies. They provide rescue for animals in crisis situations and those needing emergency medical care.
There are currently about a dozen rabbits at the Arizona Humane Society just waiting to be adopted.
Although the Arizona Humane Society does have foster families, the need for new adopters is always there. Finally, the bunnies are spayed, neutered, and ready to head to their forever homes.
The Arizona Humane Society fosters and provides medical treatment and rescues. They also have educational programs about animals and their needs and how important sterilization is to keep pets happy, healthy, and in safe homes.
Arizona Humane Society Details:
Conclusion For "Best Rabbit Rescues in Arizona"
If you are interested in adopting rabbits, these rabbit rescues in Arizona are a great place to start. Make sure you are reading for the commitment of a long-term pet and can provide a loving and safe home to these fluffy friends.
You will also like:
For more information about Rabbits, check out the video down below: