Maybe your friends all have rambunctious dogs or slinky cats, but you don't have to be a cat or dog person. You can be a rabbit person!
If you want a soft and snuggly pet to bring home and care for, consider adopting a sweet bunny.
In Colorado, there are several rabbit rescues and online organizations where you can find the perfect bunny. Check out the seven best rabbit rescues in Colorado who may have your new cuddly best friend!
Other articles you would like: Rabbits For Adoption in the United States and Rabbit Rescues in California.
How Do Rabbits End Up in Rescues?
While it's commonplace to see dogs and cats in shelters and animal rescues, you may wonder how rabbits wind up in these places. You probably see happy wild rabbits hopping around your neighborhood, so how do some end up in a shelter?
The sad answer is most rabbits in shelters or on adoption websites have been abandoned by their owner. Sometimes owners leave their adult rabbits behind or set baby bunnies free.
However, once domesticated and accustomed to food, water, and shelter from humans, a rabbit can not fend for itself outdoors.
Tragically, this results in many unnecessary deaths. Stray rabbits, meaning abandoned domestic rabbits, not wild rabbits, are more likely to stay in populated areas and try to interact with humans.
Some owners surrender their pet rabbits to a shelter or rescue if they cannot or do not want to care for them anymore. The reasons a rabbit ends up in a shelter vary, but the result is the same: they need a new home.
A shelter typically offers the bare minimum of care, as that is all they have the resources to provide. But these rabbits want love, snuggles, and a cozy home to live the rest of their life in, not a cage.
The 7 Best Rabbit Rescues in Colorado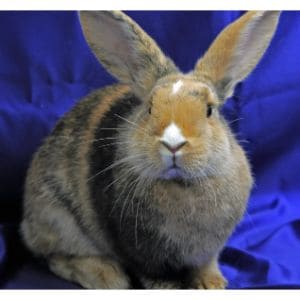 If you want to rescue one of these doe-eyed, big-eared fluffy creatures, you can find a few rescues and organizations in Colorado ready to give you a bunny. Check out these organizations and rabbit rescues in Colorado to adopt a rabbit!
1. Rocky Mountain House Rabbit Rescue
Kicking off the list is the Rocky Mountain House Rabbit Rescue, which is a subdivision of the national House Rabbit Rescue. This Colorado-based chapter is a non-profit with the sole purpose of finding homes for their rabbits.
The rescue has adoptable rabbits that live on the premises and listed rabbits whose owners want to rehome them.
Standard animal shelters often have more dogs and cats, so finding a rabbit can be hard. But this rescue has rabbits only. And the adoption process is simple, as you fill out a comprehensive questionnaire and head to the shelter with pictures of your home.
When the volunteers determine your home environment suitable, they help you find the ideal rabbit for your situation.
This shelter does more than peddle rabbits to people; they help owners find the perfect bunny and teach them how to properly care for these sweet animals. If this is your first time adopting a rabbit, this is a wonderful rescue.
Rocky Mountain House Rabbit Rescue Details:
2. Rabbit Track Trail
Rabbit Track Trail focuses on rescuing rabbits and rehabilitating unwanted domesticated rabbits. This rescue takes the worst of the worst, sheltering injured or malnourished rabbits and helping them get healthy.
If you want to rescue a rabbit and know you're making a huge difference in its life, save one of the abandoned souls from this shelter. But any bunny in need you adopt will mean the world to them, no matter where you get it!
The Rabbit Track Trail has a long list of adoptable rabbits you can meet! The adoption process is straightforward, requiring an application, fee, and contract.
There is also a brief phone interview, and if you are approved, you can arrange a meet-up to get your new fluffy friend.
Rabbit Track Trail Details:
3. Colorado Animal Rescue
One of the best rabbit rescues in Colorado is the Colorado Animal rescue, which shelters many adoptable pets, like cats, dogs, birds, guinea pigs, and rabbits!
The rescue takes top-notch care of every animal who comes in the door, no matter how big or small. But their goal is always to find these creatures forever homes with good people.
Their adoption process can be slightly intense, as you must provide plenty of paperwork to prove you have the resources to care for this rabbit and a suitable home environment.
The rescue uses a careful process to pair people with the ideal pet, so there are many reasons they may reject your rabbit adoption request. It can also be pricey, as they require an adoption fee and certain fees concerning procedures and vaccines.
But don't let this dismay you from visiting and filling out an adoption form! The rescue only makes the process more complex because they want to ensure owners are committed and caring.
If you're adopting a rabbit with the best intentions and are prepared to care for a bunny, you have nothing to worry about.
Colorado Animal Rescue Details:
4. Rabbits Life
Rabbits Life is not a physical shelter but a robust resource of rabbit adoption listings. When adopting a rabbit, this website is a helpful place to start looking.
The site does not have its own shelter, but it can help connect you with adoption centers with available bunnies or individuals who want to rehome their rabbits.
The best part of Rabbits Life is that many adoptable rabbits on the site are free, so you can skip the adoption fees.
This site seems to have endless bunny listings, so you can scroll through until you see a sweet rabbit who makes your heart melt.
The Rabbits Life website also has a library of rabbit resources, helping people learn how to properly feed and care for rabbits, including understanding behavior and recognizing symptoms of diseases common in rabbits.
Rabbits Life Details:
5. Rabbit Essentials
The Rabbit Essentials organization is, first and foremost, a bunny sanctuary that provides a healthy and loving place for unwanted rabbits to live for the rest of their life.
They care for these rabbits as if they were their own pets, but they have many they aim to adopt out.
Typically, they wait until they have younger rabbits to open adoption. Older rabbits remain in the sanctuary, so they don't have to undergo any drastic changes and can remain in the experienced care of the organization's staff.
Rabbit Essentials focuses on educating people who adopt their bunnies, ensuring every rabbit goes to a loving and safe home.
Rabbit Essentials Details:
6. Colorado Rabbit Rescue
The Colorado Rabbit Rescue is not a shelter; it is a bulletin where people can post adoptable rabbits across Colorado. While it isn't technically a rescue, it is a superb resource for finding a new long-eared friend.
The website listings briefly describe the rabbit and its temperament, location, gender, approximate age, vaccination status, and other relevant information.
You can call or email the people in possession of the rescue rabbit to arrange a meeting or begin the adoption process!
This website is an excellent option if you want to find younger bunnies or siblings, but you don't get to meet several rabbits as you would at a rescue location.
Colorado Rabbit Rescue Details:
7. Longmont Humane Society
The Longmont Humane Society is a stellar shelter where you can adopt cats, dogs, rabbits, guinea pigs, rats, hamsters, and even birds. This non-profit organization dedicates all its resources to the welfare of any animals brought to its door.
The society is a socially conscious shelter, meaning they make every effort to give the animals a comfortable and content life while in the shelter, with the primary goal of finding them a forever home.
The adoption process can be somewhat lengthy, as the staff needs to ensure your home is safe and appropriate for the bunny. But after the adoption, they're helpful and available to you if you have any questions or need help.
The downside of this rescue is they don't always have rabbits, unlike the Rocky Mountain House Rabbit Rescue.
Longmont Humane Society Details:
Conclusion For "Best Rabbit Rescues in Colorado"
Like adopting a dog or a cat, rabbit adoption is a serious responsibility, so make sure you're ready to care for one of these little creatures.
Rescuing a rabbit can be more challenging than a cat or dog, as they're considered exotic animals, and many shelters don't have them.
The shelters and rescues that provide care for rabbits show love and affection while these fluffy, long-eared loves await adoption.
Hopefully, this list of rabbit rescues in Colorado can help you find a bunny who fits into your life and you can love and care for!
You will also like:
For more information about Rabbits, check out the video down below: