Because they're not as common as rescues for cats or dogs, many people aren't aware that rabbit rescues exist. This article will look at some of the top rabbit rescues in America and tell you how to reach them.
Other articles you would like: Rabbit Rescues in Florida and Rabbit Rescues in California.
Rabbits as Pets
From the stories of Beatrix Potter to the heartwarming tale of the Velveteen Rabbit, bunnies have always captured the hearts and minds of humans. These fluffy creatures come in various shapes, sizes, and colors.
They're quiet, relatively easy to feed, and can be indoor or outdoor pets.
Temperament-wise, they vary a lot, but in most cases, rabbits are calm animals that enjoy peaceful, low-stress surroundings.
However, they are also fast, sly, and proud, surprisingly intuitive animals. If you have good intentions toward a rabbit, they'll know and consider you part of their family.
Rabbit rescues across the country are filled with bunnies who need loving forever families. These rescues provide rabbits with everything they need to be safe, healthy, and happy until they are adopted into a permanent home.
Unfortunately, for various reasons, pet bunnies frequently find themselves without homes.
Why Do Rabbits End Up at Rescues?
Rabbits become wards of rescues for the same reasons other animals do.
The family can no longer care for the rabbit due to a change of lifestyle, whether a move or a financial crisis.

The rabbit's owner was abusive, and someone called the SPCA

The owner got sick or passed away
More often than other animals, rabbits are surrendered to a shelter because people simply get tired of them.
A family buys a cute, young bunny for their kids for Easter, and it wasn't a well-thought-out decision because they did it on a whim.
Within a few weeks or months, the family is no longer interested in the rabbit, or is not prepared to deal with things like proper feeding, pet-proofing, or waste cleanup, so they drop it off at a shelter or rescue.
This is known as Easter Bunny abandonment .and it is one of the top reasons rabbits end up needing a new home.
Notable Rabbit Rescues In The United States
Here are some of the standout rabbit rescues in the United States.
1. Rabbit Rescue and Rehabilitation
This New York non-profit organization helps keep rabbits safe in multiple ways. Not only do they find homes for bunnies, but they also provide vet care and rehabilitation services for sick and injured rabbits.
Their community outreach services help educate the public about proper rabbit care and safety and encourage people in the market for rabbits to make informed decisions.
Rabbit Rescue and Rehabilitation Details:
2. Hug-a-Bunny Animal Rescue
Because rabbits are sometimes viewed as wild or outdoor animals, some people think letting their pet rabbit loose outdoors is okay when they no longer want it.
This is a cruel and sad thing to do to a rabbit who is accustomed to being an indoor pet. Thankfully groups like Hug-a-Bunny Animal Rescue exist to help rabbits in that situation.
The New Jersey-based group is doing its best to ensure that bunnies come in from the cold and are given the medical treatment, nutrition, and love they need.
Hug–Bunny Rescue Details:
3. Hopalong Hollow
This small east-coast rescue is dedicated to helping pet rabbits find their perfect forever homes. They also do outreach and education, providing information about care for rabbits and other small animals at pet stores and events.
Hopalong Hollow Details:
4. Eastern Shore Rabbit Rescue and Education Center
Since 2015, ESPREC has been finding homes for abandoned pet rabbits all over Maryland's Eastern Shore. They manage a foster home network that temporarily cares for newly found bunnies until they can find permanent families.
They recently expanded their shelter to include more cages, and they also participate in education programs around the local area.
Eden Shore Rabbit Rescue Details:
Location:

5718 N Main St, Rock Hall, MD 21661

Phone Number: 410-639-7535
5. Rabbit Habit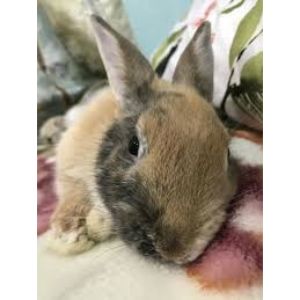 This Pennsylvania-based rescue not only helps bunnies find new homes; it also helps existing rabbit parents with their bunnies' care needs.
Low-cost nail clipping, incisor trimming, and other grooming services are available through the organization.
The most interesting thing about this rescue? They sometimes employ the services of an animal communicator – sort of like a psychic – to help determine their four-legged residents' emotional states.
Rabbit Habit Details:
Location:

Pennsylvania

Phone Number:

215-517-7067

Website: Rabbit Habit
6. Ohio House Rabbit Rescue
This Columbus, Ohio-based rabbit rescue has been in operation since 2009 when founder Beverly May rescued nine abandoned rabbits and learned how many more rabbits are abandoned or left in the wild each year in her region. Today, the organization is thriving.
They have strong community connections and a healthy donor base, and they're the host of the annual MidWest Funfest.
Ohio House Rabbit Rescue Details:
7. Great Lakes Rabbit Sanctuary
Great Lakes Animal Sanctuary is an animal rescue located in Michigan. It specializes in rabbits but also helps pet pigs and other animals.
The organization has been living its mission since 1995, rehabilitating and placing unwanted rabbits and providing a peaceful place for unadoptable rabbits to live out their lives.
They also do community education on rabbit care and help promote a vegan lifestyle.
Great Lakes Rabbit Sanctuary Details:
8. IndyCLAW aka Recycled Rabbits
IndyCLAW is another sanctuary that takes in rabbits plus other domestic animals. It was founded in 2009, and today have a thriving shelter that employs volunteers to ensure their bunny residents have all they need.
Everyone at IndyClaw is dedicated to bunny well-being, from cleaning cages to providing stimulating play.
IndyClaw aka Recycled Rabbits Details:
9. Friends of Rabbits
Friends of Rabbits is the Washington, DC, area's biggest rabbit rescue. The group, formed in 1997, rescues hundreds of rabbits per year. They come from shelters or are rescued from abusive or hoarding owners.
With donations and volunteer assistance, Friends of Rabbits is able to provide adoption services, medical care, and owner education that makes life better for bunnies.
Boarding services and advice on how to bond with your bunny are available. They also offer other services to pet parents and prospective pet parents.
Friends of Rabbits Details:
10. Magic Happens Rescue
Since its founding in 2004, Magic Happens Rescue has saved over 2,000 rabbits! That's 2,000 bunnies that were either able to find loving homes or who lived out the remainder of their lives in a warm, loving sanctuary.
They also offer services for pet parents in their community by offering free grooming and nail trims. They also have Care Days, where people can volunteer to visit the sanctuary and spend playtime with the rabbits.
Magic Happens Rescue Details:
11. Brambley Hedge Rabbit Rescue
Brambley Hedge is one of the older rabbit rescues on our list, having been on the rescue scene for 36 years! In that time, this no-kill non-profit shelter has helped over 3,500 rabbits!
They're still going strong today, adopting bunnies, hosting events, and making sure prospective pet bunny parents know exactly what they're getting into when choosing the rabbit life.
Brambley Hedge Rabbit Rescue Details:
12. Heartland Rabbit Rescue
Fewer rabbits would end up in shelters if more people understood rabbit adoption, care, and behavior.
That's one of Heartland Rabbit Rescue's goals. They are dedicated to spreading the word about the unique experience of owning a rabbit and giving people tools to deal with common complaints that come along with raising a pet bunny.
They also take in unwanted rabbits in their two "warrens," aka buildings. One of these warrens is for healthy, adoptable rabbits, while the other is for rabbits who are undergoing medical treatment or rehabilitation.
Heartland Rabbit Rescue Details:
13. Rocky Mountain House Rabbit Rescue
They say it takes a village to raise a child. How many people does it take to raise a bunny? If you ask the Rocky Mountain House Rabbit Rescue staff, they'll tell you it takes dozens!
Bunnies need love and care from everyone who comes into contact with them, and RMHRR has a long line of volunteers just waiting to give their time and devotion to a wiggly-nosed pal.
Rocky Mountain House Rabbit Rescue Details:
14. Bunny Buddies
Bunny Buddies has been uniting rabbits with loving adoptive families since 1996.
The organization has been in the trenches for over two decades, rescuing, rehabilitating, and placing unwanted and abandoned rabbits, and they appreciate all the help they receive from their donors.
In addition to rehabilitation and adoption services, Bunny Buddies also offers opportunities for rabbit owners to connect with other rabbit owners in their own communities, have bunny playdates, share pet care tips, and enjoy each others' company.
Bunny Buddies Details:
15. All About Rabbits Rescue
You may not think of New York City as a place full of rabbits, but plenty of house bunnies enjoy a cozy, happy life in the city thanks to All About Rabbits Rescue.
This Queens-based non-profit matches eligible adoptive homes with waiting-for bunnies to create happily-ever-after stories.
They believe that rabbits deserve the same care and consideration as cats and dogs, and they actively engage in advocacy that ensures rabbit safety and well-being.
All About Rabbits Details:
16. MidWest Rabbit Rescue
As a place that finds homes for rescued bunnies, MidWest Rabbit Rescue knows what's best for their furry creatures.
One of their core beliefs is that rabbits are happiest when they're part of a bonded pair.
The idea of two rabbits may daunt some prospective adopters, but having two isn't much more challenging than having one because they share almost everything!
Of course, you can adopt a rabbit from MidWest Rabbit Rescue – all loving adopter prospects are welcome! – but when you see how cute the bunnies are, you may not be able to pick just one!
Midwest Rabbit Rescue Details:
17. Special Bunny
If you're looking for a rabbit rescue in the Seattle area, check out Special Bunny. This organization rescues all types of house rabbits, but their focus is on rabbits with special needs.
Sick, older, and disabled rabbits have just as much right to be loved and cared for as any other, and Special Bunny's mission is to make sure that happens.
Special Bunny Details:
Location: Seattle
Phone Number:

425-788-8148

Website: Special Bunny
18. Gainesville Rabbit Rescue
Gainesville Rabbit Rescue reaches out to save rabbits and help people in the community better understand bunny care and safety.
The 5013C provides rabbits with a cute, cozy dwelling while they wait to be adopted into their forever homes. They also actively seek out and rescue rabbits that are abandoned on the streets.
Gainesville Rabbit Rescue Details:
19. Triangle Rabbits
Triangle Rabbits is all about the community! The North Carolina-based organization wants people to get involved in bunny rescue however they can, whether donating, volunteering, or attending events.
Some of the events at the sanctuary include Hoppin Bunny TAlk and coffee meetups – online and in person.
Looking for an adoptable rabbit is an exciting yet anxious experience. You want to make sure you pick the right one for you! Triangle Rabbits is dedicated to helping prospective adopters make the right decision and find a rabbit who suits their lifestyle.
Triangle Rabbits Details:
Location:

Triangle Rabbits, 501 W Williams Street #1727, Apex, NC 27502

Phone Number:

919-999-2211

Website:

Triangle Rabbits
Conclusion For "Rabbit Rescues in The U.S"
Rabbit rescues wonderfully serve the animal community, rescuing rabbits and rehabilitating and finding new homes for abandoned rabbits.
Most also do a great deal of community outreach and education. If you're interested in adopting a rabbit or have questions about a rabbit you currently have, these organizations might be able to help.
Just a note: These organizations deal only with pet rabbits. Wild rabbits are very different from domestic rabbits and need a different kind of care. Please call your local wildlife office if you find a wild rabbit in distress.
You will also like:
For more information about Rabbits, check out the video down below: