Black cats are sweet animals with solid black coats. Their black color leads to many people seeing them as bad luck. This superstition leads to people putting more of these pets in shelters and fewer people adopting them than other cats, which is why we have a list of the best black cat rescues in the USA for you.
Every year, almost 3.4 million cats enter animal shelters, and through cat adoption programs, you can help rescue these cats.
Other articles you would like: Top Horse Rescues In Maine and Best Horse Rescues In California.
Why Do Black Cats End Up in Shelters?
Black cats can end up in shelters for a few reasons, including typical cat and breed-specific issues.
First, black cats have a long history of superstition attached to them. Many people see these cats as bad luck, so they might abandon black cats or mistreat them.
There is no truth to black cats being unlucky, and they have Ancient Egyptian ties to the lucky and prosperous goddess Bastet.
In addition to superstition, people might also put their black cat in shelters because of reasons other cats are, like:
No matter what, these animals are dealing with stress, and it's usually not their fault. Cat adoption can be a fantastic way to give these animals a second chance to live a happy life with a new family.
If you plan on receiving a cat through a black cat rescue, plan ahead on what to expect for cat behavior and how you can adjust it with training techniques.
The Top 9 Black Cat Rescue Options in the USA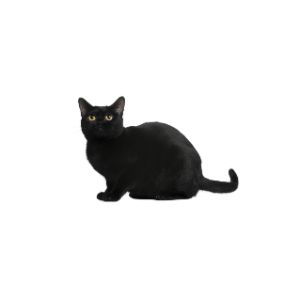 There are many different options when searching for a black cat rescue, and this is just the first step of the cat adoption process.
Usually, reputable cat shelters will ask you to fill out extensive applications. Sometimes, you may even need a house check or to take current pets to the vet.
Volunteers and employees will work with you to find the best pet for your needs. Expect your new cats to be a bit standoffish as they adjust to the new home.
Here are the top nine black cat rescues for your next companion.
1. Binx's Home for Black Cats
Binx's Home for Black Cats is a nonprofit in North Carolina specializing in black cat rescues. This cat adoption program is entirely through fosters, allowing the cats to live in homes and relax before you adopt them.
Fostering can be beneficial for several reasons, as it also allows them to accurately tell you about the cat's personality before adoption.
If you're local, you can also help black cats by fostering for the organization.
All the workers are dedicated to black cats and love helping these misunderstood pets find their forever homes. They often have multiple black cats up for adoption on their site.
Binx's Home for Black Cats Details:
2. PetFinder
Next, PetFinder is a massive online system that helps connect you with over 11,000 animal shelters in the United States, Canada, and Mexico.
PetFinder strives to stop pet euthanasia by using the internet to allow people to connect with shelters and animals they may not have found otherwise.
This system lets organizations and individuals list pets that need homes and widens the audience so they can find their new families. This isn't a strict black cat rescue, as you can search for dogs and cats on the website.
Still, black cats usually make up a significant portion of free cats and cats up for adoption. You can filter your results by the color of the coat, as well as factors like age, behavior, gender, and other traits.
You can search for local black cats to rescue or widen your search area if you're willing to travel for the right pet.
PetFinder Details:
3. Jagger's Journey
Jagger's Journey is another specialized black cat rescue and nonprofit organization. This cat rescue began 17 years ago when the founder adopted a black cat named Jagger, who would inspire her to start helping cats find homes.
This cat rescue is in Eugene, Oregon, and adopting from them has multiple benefits.
First, they ensure that all their cats are ready to go to the new home. This process means that your cat will already be neutered or spayed, fully vaccinated, microchipped, and parasite and disease free.
You can find multiple cats up for adoption on their website. If you are local, you can also visit the shelter for primary care like nail trimming, vaccinations, pet sitting, and medication.
Clearly, this adoption center was built with a strong sense of love and care for these animals, and you will hopefully find your next friend from this cat rescue.
Jagger's Journey Details:
4. ASPCA
The ASPCA is a national organization dedicated to ending animal cruelty in all forms. In their progress towards that mission, they offer multiple cat rescue options.
ASPCA is an impressive organization that has been a nonprofit running in North America since 1866. It's a trusted name in animal rights.
You can search for local cat rescues on their website. It helps to connect you with adoptable cats in your area that you may not find otherwise.
This program promotes small shelters. You can narrow your search by looking for specific cat breeds or other traits.
Black cats typically make up a significant portion of cats that are up for adoption, so you're likely to find multiple on the website.
If you live in New York City, ASPCA offers additional options with their local shelters.
ASPCA Details:
5. Black Cat Holistic Rescue
Another specialized black cat rescue, the Black Cat Holistic Rescue, is a nonprofit organization in Los Angeles, California. They focus on saving black cats in the Los Angeles area from high-kill shelters and street situations.
If you choose to rescue a cat from this agency, you can expect a cat familiar with a home from living in a foster situation. There is no one location for Black Cat Holistic Rescue, as they only operate through fosters.
The adoption process includes a chance to meet the cat at the foster home. You'll have to agree to a vet or home visit before you can adopt a cat.
This organization has a dedication to rescuing cats, and they only want black cats to live happily. They offer services to help you rehome your cat if necessary.
You can also consider applying to be a foster if you live in the Los Angeles area.
Black Cat Holistic Rescue Details:
6. Tabby's Place
Next, Tabby's Place is a unique cat rescue focusing on cats with special needs. This organization was born after the owner's cat Tabby, passed away from cancer in 1999.
Afterward, founder Jonathan Rosenberg decided to dedicate himself to helping cats in need. Tabby's Place seeks to provide a welcoming and comfortable place for cats with chronic health conditions or who come from abusive and street situations.
When cats are at Tabby's Place, they can expect the best medical care, and the facility acts as a location for cats to live and an adoption agency.
You can visit cats at the physical location in Ringoes, New Jersey. Inside, you can experience their unique shelter with no cages for a stress-free experience.
Locals to New Jersey can also spend time volunteering with Tabby's Place. You can also take community stray cats to be spayed and released to cut down on feral populations.
Tabby's Place Details:
7. Philly PAWS
Philly PAWS is one of the largest animal adoption agencies in Philadelphia, Pennsylvania. This expansive network has multiple locations in the city that help rescue animals from shelters and the streets.
This organization isn't black cat exclusive, but you can find many black cats on the website. You can also visit their locations within the city, including a cat cafe with adoptable cats.
Usually, Philly PAWS focuses on rescuing cats at high risk, like pregnant cats or adult cats with issues. These animals are the least likely to be adopted and most likely to be euthanized.
By supporting Philly PAWS, you help end unnecessary pet euthanizations by helping a no-kill shelter.
Your cat may come from various backgrounds, as Philly PAWS hosts cats in their shelter and through local fosters. Regardless, volunteers and employees will ensure your cat is friendly and ready to enjoy a new home.
Philly PAWS Details:
8. Black Cat Rescue
In Boston, Massachusetts, you can find the Black Cat Rescue, an organization to provide homes for black cats. They're a no-kill program, and volunteer fosters take care of the cats.
Black Cat Rescue began in 2007 when the co-founder fell in love with a black cat she adopted but was stunned to find out that black cats have half the chance as other cats to be adopted.
Since then, the organization has been working as a cat rescue to help provide a safe space for these pets. You can search through their many black cats to find a match that may be right for you.
Alternatively, Black Cat Rescue understands that occasionally things happen that can lead to owners needing to surrender their pets. They're willing to help you with this process to ensure all black cats remain safe and happy.
Black Cat Rescue Details:
9. Adopt-a-Pet
Finally, Adopt-a-Pet is another internet organization that helps shelters, rescue organizations, and individuals rehoming pets connect with potential adopters. You can search through a selection of pets on their website that is local to your area.
While you search for a cat, you can narrow the results according to multiple traits, including coat color. This feature allows you to find black cats.
Pets from this website come from multiple sources, meaning you may have to pay adoption fees for some, while others may be free cats.
No matter what, there are usually many cats in your area looking for a forever home. These cat adoption programs can help you find the black cat for you.
Adopt-a-Pet Details:
Conclusion For "Best Black Cat Rescues in The USA"
Adopting and owning a cat can be a serious commitment but also a fantastic reward. Black cats are friendly companions who offer love and playfulness.
Black cat rescues allow these pets to receive the love and care they deserve.
Take your time researching cat shelters in your area and perusing local cat selections to find the perfect cat to adopt for you.
You will also like:
For more information about Black Cats, check out the video down below: