People don't generally view horse adoption the same way as adopting dogs or cats. Although adopting horses is less common, the reality is the same. Adopting a vulnerable animal gives a second chance at life with a safe and healthy home.
If you're searching for a rescue organization to pair you with the next equine member of your family, look no further. Here is a list of reputable horse rescues in Wisconsin that seek to rehome horses ready for their second chance.
Other articles you would like: Best Horse Rescues in the United States
List of Best Wisconsin Horse Rescues in Wisconsin
You can further check out the credibility of horse rescues by their Global Federation of Animal Sanctuaries verification, their non-profit status, and their standing within the Rescue Network.
1. Midwest Horse Welfare Foundation
The Midwest Horse Welfare Foundation in Pittsville, Wisconsin, is a non-profit organization that finds horses new homes.
The foundation's primary goal is minimizing the number of horses that go to slaughter by safeguarding their futures through thoroughly vetting potential caretakers.
This charity has no staff, so volunteers keep it fully operational. That is a sure sign that everyone involved has only pure motives and intentions that prioritize the horses' wellbeings.
MHWF's cause is to take innocent horses out of unsafe situations involving abuse or neglect and also prevent those situations from happening again. The foundation also takes in horses from owners unable to continue providing the care they need.
Many regard this organization highly because of the authentic rescue work of the volunteers. They provide quality rehabilitation, medical and emotional treatment, and training to their rescue horses.
This work ensures that the animals receive proper care during their stay with the foundation and also prepares them for transitioning to a new home. Having each horse safely adopted is the goal.
Aside from the immediate care of the horses, Midwest Horse Welfare Foundation also provides education and outreach surrounding horse ownership and adoption.
This rescue has horses of various ages and backgrounds and offers exhaustive reports on the history, nature, medical needs, behavior, and training status of each adoptable animal.
There's also tons of information available on their website about past adoptions, discussion forums, updates on community events, and links to all of the application or donation forms you'll need.
One of the most notable features of this non-profit is that it is a no-kill organization that never euthanizes horses due to a lack of space.
Midwest Horse Welfare Foundation Details:
2. Pony Tales Refuge
Considering all of the horse rescues in Wisconsin, Pony Tales Refuge in Colfax is unquestionably one of the most ardent organizations that exist. Pony Tales Refuge provides a wide range of rescues, care and adoption programs, and education.
Something about this non-profit that sets it apart from the rest is its slaughter pipeline rescue mission. Pony Tales Refuge members seek out slaughter auctions to buy and save horses rather than see them sold to kill buyers who use them for meat.
Pony Tales Refuge purchases these adoptable horses and shelters them until they can find their new home. It's an expensive and difficult rescue process that not many organizations can do.
It also saves horses from neglectful or abusive homes and rehabs them until they are healthy and sound enough to reach adoption.
An adoption specialist works with potential new owners to facilitate a healthy, safe, and mutually beneficial adoption for the horse and owner. Another unique offering from this group is their continued support after the adoption is complete.
The adoption specialist also provides education to potential new owners to ensure that they have the skills and understanding necessary to give appropriate care to the horse they will take home.
The organization has a professional training team that evaluates each horse to determine behavioral and medical standings so that training and veterinary care proceeds accordingly. All trainers have experience specific to the unique circumstances of a rescue horse.
Pony Tales Refuge Details:
3. Spirit Horse Equine Rescue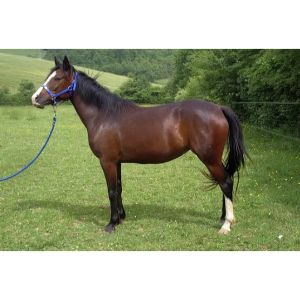 Spirit Horse Equine Rescue in Janesville, Wisconsin, is a volunteer-only organization that operates out of foster homes to rehab horses with abuse or neglect histories.
Its focus is saving slaughter-bound and unwanted horses intending to restore their physical and emotional wellbeing. The rescue hopes to find new homes for each horse but always maintains space for their continued care should they be unable to find one.
Spirit Horse Equine Rescue has also published several educational guides about horsemanship, training, and care that center on natural philosophies to help horse owners foster their relationship with their horses.
The volunteers here teach classes and clinics about Natural Horsemanship to engage the horse community in a gentle mindset when addressing horse behaviors.
The rescue members take matching adoptable horses with the best-fitting owner extremely seriously. The adoption process includes an application, a meet-and-greet, and a visit to the potential new owner's barn property.
Each team member has a long and passionate history with horses, and most have a professional standing in the horse community. Everyone involved focuses on adopting horses to safe and well-matched homes.
Spirit Horse Equine Rescue Details:
4. Fenway Foundation
The Fenway Foundation for Friesian Horses in Hortonville, Wisconsin, is a foundation that focuses rescue efforts on the Friesian breed. Since this is a breed-specific organization, its rescue efforts are limited.
However, this organization is open to saving, rehabilitating, and rehoming Friesian horses all across North America. It offers medical advice and financial support to locations outside its transfer radius. Fenway Foundation members will travel if necessary.
This foundation is highly selective with who receives its adoptable horses and continues to track their wellbeing after the horse adoption process is complete. Restoring and preserving the health of the Friesian breed is this non-profit's goal.
Fenway Foundation Details:
5. Amazing Grace Equine Sanctuary
This non-profit organization is a hub for horse adoption second and a haven for abused horses first. The mission is to rehabilitate horses that suffer from medical and psychological damage due to abuse or neglect.
Once the horses' dietary, medical, and behavioral needs are met, the organization reviews them for possible adoption. Achieving optimal health and wellness is the primary focus.
There's also a resource on the organization's website for reporting neglect. This is the only horse rescue website on the list that features links to Wisconsin's Animal Welfare laws, as well as information on how to proceed when you witness a case of horse abuse.
Additionally, the non-profit offers a surrender application if someone needs to give up their horse, and if it can't take another animal in, it has a list of more options and resources so that no one is left high and dry if unable to continue caring for their horse.
AGES is responsible for successfully placing over 200 horses into new, qualified homes. The accredited sanctuary is in Elkhart Lake, Wisconsin. The charity's mission lies in a deeply personal connection between the founder and her family.
Amazing Grace Equine Sanctuary Details:
6. American Standardbred Adoption Program, Inc.
In De Soto, Wisconsin, ASAP, Inc. rescues and rehabilitates horses so that they can find safety in a new home. This non-profit organization operates as a permanent placement service in the Midwest.
Aside from rescuing and facilitating horse adoption, ASAP, Inc. also provides horse education and training through youth programs.
The organization focuses on working with at-risk and disabled youth to empower their community through building horsemanship skills.
The program is run fully by volunteers who provide transportation, shelter, and care to the horses they rescue until they can transition them into new homes.
American Standardbred Adoption Program Details:
7. Beyond the Fence Line Equine Rescue
In Redgranite, Wisconsin, Beyond The Fence Line Equine Rescue dedicates itself to rescuing horses in trouble. This non-profit runs a re-training and rehab program to help horses readjust to safety before transitioning into a new home.
Beyond The Fence Line Equine Rescue also leads a series of educational programs that teach people how to keep, work with, and ride horses from a place of natural understanding and compassion.
It offers a comprehensive approach to promoting the relationship between horses and humans.
Beyond the Fence Line Equine Rescue Details:
Reasons to Adopt a Horse
Now that you've gotten a list of horse rescues in Wisconsin, here are several reasons why it's beneficial to adopt horses instead of buying from breeders.
Lower Cost
Horse rescues want to encourage people to adopt the horses they've worked so hard to save and rehabilitate. One of the ways they encourage adoption is by keeping adoption fees considerably lower than breeding purchase fees.
Life-Saving Chain Reaction
By adopting a horse from a horse rescue, you open space in that organization for another horse who is in trouble and needs sanctuary. You give not just the horse you take home a second chance at life but open the opportunity for many more to follow.
Genuine Fulfillment
There is a deep level of pride, accomplishment, and satisfaction that comes with rescuing an animal that you don't get with buying from a breeder.
You'll also have a much more genuine experience with the members of the organization by offering a new home to a previously abandoned or abused horse.
Both you and the rescue members share the common goal of finding lasting care and love for the animal.
Strong Partnership
The bond between a horse and its owner can be very intense and emotionally layered. This relationship deepens through the development of respect and understanding that grows when a rescue horse finds a new owner to build trust.
Conclusion For "Best Horse Rescues in Wisconsin"
Horse rescues in Wisconsin devote time and resources to the rescue, rehabilitation, and adoption process of horses who have suffered neglect, abandonment, or abuse.
Choosing to adopt horses from one of these passionate rescues leaves a profound impact on the animals and people involved.
You will also like:
For more information about Horses, check out the video down below: