Today we are going to talk about Goldendoodle breeders in Wisconsin. Goldendoodles come in various colors and sizes – mini, medium, and standard.
This breed's stunning looks, friendly temperament, fun personality, and trainability make them ideal family pets and service dogs.
A recent study by The National Center for Biotechnology Information in Maryland shows that owning a dog can help speed up recovery and minimize the chances of disease.
Pairing that up with the awesome traits and benefits of owning a Goldendoodle, you cannot ask for a better dog breed.
In addition to having a very cute appearance and loving personalities, these dogs have hypoallergenic, non-shedding coats. Hence, they are one of the best dog breeds for people with asthma or allergy.
Other articles you would like: Dog Food For Goldendoodles For Optimal Nutrition/Health and US Goldendoodle Breeders – A Complete List By State
Goldendoodle Puppies In Wisconsin
So, where can you find the ideal Goldendoodle puppy in Wisconsin? Finding a breeder is not hard. What is challenging is an authentic breeder who cares about the health and overall well-being of their dogs.
To help you find the right breeder, we have conducted a lot of independent research and compiled a list of the best four Goldendoodle breeders in Wisconsin.
We only referenced breeders from the GANA because they conduct thorough health and DNA tests for their dogs before breeding. Here are the best places to buy the Goldendoodle of your dreams.
1. Goldendoodle Acres
Goldendoodle Acres is a Blue Ribbon GANA breeder with a lot of experience. Good Dog also recognizes them as a "Responsible Breeding Program" because of their exemplary health practices and resilience to keep improving this breed.
Goldendoodle Acres also has the seal of the Orthopedic Foundation for Animals (OFA) because all their breeding dogs are health tested and pronounced clear/normal for various health conditions.
Bob and Janece Schommer are the proud owners of this great breeding program. Blessed with two wonderful kids, this couple has been married for over 35 years.
The family lives with their puppies and dogs in the beautiful countryside of Neenah, Wisconsin. With a three-acre parcel of land, the dogs and pups have more than enough space to play and roam freely.
Janece fell in love with dogs at a young age. Her mother was also a dog breeder, so she was involved in the breeding program.
At age 10, she was already familiar with the process of whelping puppies and showing dogs in conformation and obedience classes and competitions.
After finishing college, getting married, and having kids, she decided to pursue her lifelong dream of becoming a good, quality breeder.
Janece conducted thorough research and consulted many professionals before she started this breeding program. She chose to breed Goldendoodles after she had an encounter with them and fell in love with their smartness, cuteness, and wonderful personalities.
She believes there is no reason to be a breeder unless you are trying to enhance the temperament and genetics of the breed. Not only does this family strive for exceptional genetics, but temperament also plays a key role in their breeding program.
In addition to producing and raising healthy, happy, and socialized puppies, Janece is a mentor to many new breeders who want to do things the right way.
She is an ethical breeder and is keen to raise more of her kind. Other than this, she encourages potential customers to visit her home to see her puppies and dogs.
Goldendoodle Breeder Information:
2. Copperstone Farm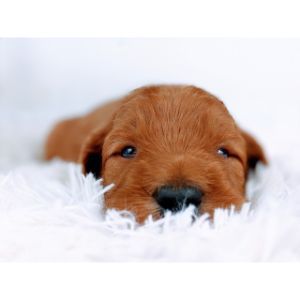 Copperstone Farm is one of the top breeders of Goldendoodle, Standard Poodle, and Bernedoodle puppies in Wisconsin.
If you are looking for friendly, lovely, and darn cute puppies, this is one of the best breeders to consider. The farm is family-owned and is located in Central Wisconsin.
However, distance has never been a barrier for those looking for quality puppies, as the family delivers their puppies to Illinois, Minnesota, Indiana, Ohio, Missouri, Iowa, Michigan, and the entire United States.
Copperstone Farm is state licensed and inspected, so rest assured you are dealing with a law-abiding breeder.
Michele is the mastermind behind Copperstone Farm. She raises the dogs with her husband, Erik, and their eight beautiful children. All their dogs and puppies live in their home as family members.
The family has a hobby farm a few miles away, and the dogs love traveling with them to the farm every day. For proper socialization and exposure, the pups are raised around cats, chickens, goats, sheep, cows, and horses.
Many family and friends also bring their kids and pets to camp at the breeder's farm so the pups are well-socialized with people, farm animals, ATVs, and tractors.
The family is committed to breeding great therapy and family dogs. Their goal is to breed loving, smart puppies that are easily trained. They also raise their dogs to excel at agility, show, hunting, and therapy.
Hence, you can depend on this breeder for puppies suitable for various spheres of life. Studying the unique traits and personalities of each pup is the secret to pairing puppies with the right families.
To ensure all the puppies get the proper care and attention they deserve, Michele breeds occasionally. So you have to contact her to join her waiting list.
Goldendoodle Breeder Information:
3. Kinnickinnic Goldendoodles
Kinnickinnic Goldendoodle is a military family-owned breeding program founded in St. Croix Valley of Wisconsin. They breed and raise their puppies near the Kinnickinnic River, famously known as "the Kinni."
One unique thing about this family is that they raised their breeding dogs themselves. They specialize in producing home-raised Goldendoodle puppies from health-tested sires and dams.
Despite raising their breeding dogs themselves, they still conduct extensive health checks when the dogs are ready to start producing puppies. They test them for various health conditions, including elbows, eyes, hips, and heart.
You can visit their home to see their parent dogs as well as their health and DNA reports. If you cannot visit the kennel, they can send the health test results alongside your puppy when they are ready to go home.
The puppies are also vet checked to ensure they are free of congenital health problems. Your puppy will come with a health report and a two-year health guarantee against genetic defects.
Kinnickinnic Goldendoodles strive for excellence in the care of their puppies and dogs. That includes updated immunization, strict selective breeding, and annual physicals. They ship and deliver their puppies nationwide for an additional fee.
Goldendoodle Breeder Information:
4. Cedar Lake Doodles
What separates the authentic breeders from mediocre is their commitment to the health of their puppies. Cedar Lake Doodle is a highly respected breeder who cares a lot about the health and well-being of their puppies, even when they leave for their forever homes.
This small, in-house family breeder is located in southeast Wisconsin. Breeding and raising doodles is what this family loves doing; it is not a hobby but a passion for them. They specialize in four sizes of Goldendoodle:
Standard

Medium

Mini

Petite
In addition to producing various Goldendoodle sizes, you can depend on them for a wide range of colors, including:
Chocolate

English cream

Merle

Black

Phantom

Sable
All their puppies are whelped and raised in their home and treated as esteemed family members. They ensure the pups get the best of everything, including quality care, love, and attention.
Cedar Lake's goal is to breed only healthy and happy puppies with sweet temperaments. To ensure they produce the healthiest pups possible, all their dogs are health-tested by the OFA.
They also took their health testing to the next level by genetically testing the sires and dams to ensure they are free of genetically hereditary diseases.
Cedar Lake socializes its puppies from the day they are born. In 2014, they introduced early potty training and a bio-sensor program to their breeding program; all their pups go through both programs before leaving for their forever homes.
Goldendoodle Breeder Information:
Conclusion For Best Goldendoodle Breeders In Wisconsin
When looking for the right Goldendoodle breeders in Wisconsin, check the breeder's credentials to ensure they are licensed and registered. We also recommend checking their ratings on Google and social media platforms like Facebook.
Genuine breeders have their dogs checked for underlying or pre-existing genetic health conditions and will not hesitate to show you the health certificates of their dogs. We considered all these factors and asked the right questions when creating this list for you.
You will also like:
For more information about the Goldendoodle Breed, check out the video below: