Cat rescues in Arizona are giving cats and kittens a second chance for health, safety, and happiness.
The Grand Canyon State and its desert climate can be a challenge to feral and stray cats since they can easily get overheated or dehydrated on a hot summer day.
Many of these programs offer trap-neuter-release programs for feral cats that are not used to being around people.
Other articles you would like: Best Bernedoodle Rescues In The USA and Adopt A Cockapoo – Best Rescues In The USA.
Benefits of Adopting Rescued Cats
When you adopt a cat or kitten from a cat rescue in Arizona, you'll see benefits in your home and community. Among them are these:
Saving a Cat's Life
Adopting a rescue cat will extend the life of that feline by giving it a safe and loving home. The fees you pay for adoption at a cat rescue will go toward helping other cats. Cat rescues and sanctuaries give homes to cats that may be hard to adopt.
Improving Your Health
Pet ownership is healthy for you, too. Having a cat as your new best friend will likely lower your blood pressure and boost your mental health. The purring of a cat is said to be calming for humans and even to promote healing.
Teaching Children How To Care for a Pet
Adding a rescued cat to your family will teach your children valuable lessons in responsibility and loving and caring for animals.
Having a New Best Friend
Cats can be affectionate and playful pets that the whole family will love. Adding a cat to your family through an Arizona cat rescue will be a decision you'll be happy you made.
Finding a New Cause
Once you've adopted a cat from a nonprofit working to save cats and kittens, you may be inspired to join their cause by volunteering or making a donation.
Top Cat Rescues in Arizona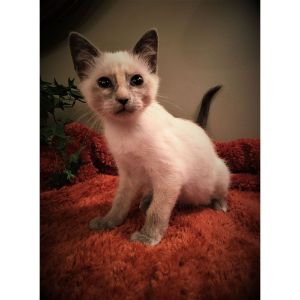 Among the nonprofit groups helping cats and kittens in Arizona are these shelters and sanctuaries.
1. Cool Cats Rescue
Cool Cats Rescue, a no-kill shelter, helps animals that are often overlooked. These include feral and stray cats and kittens, cats that have conditions such as cleft palate, and felines that might need a little extra patience and care.
Helping in Cool Cats Rescue is a network of foster pet parents, trainers, veterinarians, and volunteers.
The nonprofit organization partners with other cat rescues, assistance programs for veterans and the homeless, and a program for working cats, or mousers. Cool Cats Rescue provides its cats with spaying or neutering and traps, neuters, and releases feral cats.
Cool Cats Rescue Details:
2. AZ CLAWS Animal Rescue
AZ CLAWS' mission is saving cats through rescue and rehabilitation, and 100 percent of cat adoption fees go toward supporting AZ CLAWS Animal Rescue's operations. Cat adoption through AZ CLAWS offers cats a fur-ever home.
Adoption and foster care forms are available on the AZ CLAWS website. They'll start you on your way to give a cat or kitten a new home and life.
AZ CLAWS Animal Rescue Details:
3. Desert Cat Rescue and Sanctuary of Arizona
With adoption programs as well as spay and neuter vouchers, Desert Cat Rescue and Sanctuary of Arizona works to provide homes for cats in the Tucson and Green Valley areas.
Each cat or kitten available for adoption has all its medical care including vaccinations and is microchipped.
Among Desert Cat Rescue and Sanctuary of Arizona's programs is their Senior Companion Program which helps senior citizens with the cost of veterinary care, food, and cat litter so they can take home a feline friend.
Desert Cat Rescue and Sanctuary of Arizona Details:
4. Halo Rescue
Helping cats find homes in the Phoenix area is Halo Rescue, which served 3,412 shelter dogs and cats in 2021.
Halo's website includes canines and felines up for adoption, and the nonprofit also encourages spaying and neutering and provides pet care education.
Halo is accepting walk-ins for cat adoption, and showings are on a first-come, first-served basis. Foster cats and kittens are available online.
Halo Rescue Details:
5. Fearless Kitty Rescue
The cats and kittens at Fearless Kitty Rescue often find fur-ever homes or are in foster care, but other feline residents live at Kittyville, Fearless Kitty's adoption center where cats roam free.
This lets them socialize with other cats and Fearless Kitty volunteers.
Founded on the goal of helping every cat and kitten have a happy, healthy, fearless life, Fearless Kitty is a nonprofit funded by donations and run by volunteers.
They work to provide cats with veterinary care, microchipping, and a healthy lifestyle leading to a new home.
Fearless Kitty Rescue Details:
6. Safe Haven for Animals
A no-kill shelter in which euthanasia is the last resort in case of severe illness, Safe Haven for Animals has no limit on the time a cat can spend at their shelter.
Safe Haven for Animals provides veterinary care, socialization, and spaying and neutering so you can give a cat or kitten a new lease on life and be sure your new feline friend is healthy.
Safe Haven for Animals Details:
7. Hermitage Cat Shelter and Sanctuary
A cage-free cat sanctuary and no-kill shelter, Hermitage Cat Shelter opened in 1965 as Arizona's first no-kill rescue. Hermitage Cat Shelter and Sanctuary often takes in cats that are considered difficult to adopt.
Cats and kittens at Hermitage get state-of-the-art veterinary care at the sanctuary's medical suite, which lessens the stress on ill and injured cats. Spaying and neutering are done on-site, and adoptions are welcomed at the shelter.
Hermitage Cat Shelter and Sanctuary Details:
8. AZ CARE Animal Shelter
AZ CARE, or AZ Center for Animal Rescue and Education is a nonprofit shelter for all breeds of dogs and cats.
Dedicated to reducing euthanasia through education, spaying, neutering, and adoption events, AZ CARE has a network of foster homes that provide shelter for cats and dogs who are waiting for their fur-ever homes.
Education programs include youth programs to encourage the next generation of Arizonans to help end the pet overpopulation epidemic.
AZ CARE Animal Shelter Details:
9. Arizona Humane Society
In 2013, Arizona's Maricopa County was one of the worst places for pets, but the Arizona Humane Society has changed that. Since then, the nonprofit organization has lowered the number of euthanizations by more than 83 percent.
The Arizona Humane Society's emergency animal medical technicians are in the Phoenix area every day to rescue abused pets and wounded strays and take them to the organization's trauma hospital.
The largest shelter-based trauma hospital for animals in the Southwest. More than 11,000 stray pets get care there every year.
Arizona Humane Society Details:
10. Friends for Life Animal Rescue
Friends for Life Animal Rescue helps the homeless and stray cats and dogs in the Gilbert, Arizona, area.
By spaying and neutering, feral and stray cats and educating the public on the problem of pet overpopulation, Friends for Life is reducing the number of homeless pets.
Cats and dogs are available for adoption through Friends for Life, and the nonprofit also offers community help such as trap-neuter-release, spaying, and neutering at affordable prices, and resources for pet owners faced with high veterinary bills.
Friends for Life Animal Rescue Details:
Conclusion For "Best Cat Rescues in Arizona"
Cat rescues in Arizona save the lives of thousands of felines throughout the state. Supporting these cat rescues not only gives cats and kittens a chance at a better life but will improve your emotional and physical health as well.
Arizona's animal lovers have fought for decades to reduce the rate of euthanasia in shelters for dogs and cats.
Pet owner education about the importance of spaying and neutering, trap-neuter-release programs for feral cats, and encouraging pet fostering and adoption have made Arizona a better place to be a cat.
You will also like:
For more information about the Cats, check out the video down below: