Are you on a mission to find Bernedoodle breeders in Arizona to adopt a healthy and adorable dog? If so, then you've come to the right guide.
Bernedoodles are one of the most popular dogs in the United States, and rightfully so; a cross between a Bernese Mountain Dog and a Poodle – these creatures are goofy, loyal, gentle, and intelligent.
Bernedoodles are family pets; they're fond of children and adore their owners. However, Bernedoodles aren't the type of dogs that can be left alone for too long, as they can get quite destructive.
So, if your lifestyle requires you to be out all day, you might want to reconsider getting a Bernedoodle. These creatures may be the most adorable dogs you've seen, but they're also high-maintenance.
However, if you're imminent on a Bernedoodle being the right pet for you, the next step would be to find yourself an ideal dog breeder to adopt from.
Choosing a dog breeder requires some effort – you will need to research dog breeders, contact them, even fill out applications and give interviews. Some dog breeders may have waiting lists you must sign up for and wait for your puppy.
Before you scroll further down this guide, check out these other animal-related articles: Ferrets for Sale in Arizona – Top Breeders and Best Horse Rescues in Arizona.
1. Grand Canyon Bernedoodles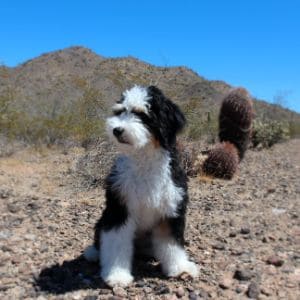 One of the best Bernedoodle breeders in Arizona – Grand Canyon Bernedoodles pride themselves in providing dog enthusiasts with healthy and happy puppies that would make a wonderful part of any family.
All of their puppy parents have undergone complete genetic DNA testing, come with a two-year health guarantee, are nano-chipped, up-to-date on their shots, and have a 30-day health package.
So, you can rest assured that you will get a healthy puppy and purchase your Bernedoodle without any concerns.
All the puppies are raised with the utmost care and attention from the owners. The breeder begins early neuro-stimulation at three days old (the expert-recommended age).
The program introduces manners, basic commands, potty training, car rides, and grooming at a young age.
The breeder does everything possible to ensure the puppies have a comfortable and fabulous life while waiting for their forever home.
You can view the puppies that are currently available here.
To adopt a puppy from Grand Canyon Bernedoodles, you will first need to fill out an application and submit the waitlist fee; the waitlist fee is applied towards the final fee of the puppy and is non-refundable.
Lastly, you pay the remaining payment to take your puppy home.
Your puppy will come home with a puppy pack, toy, current food, vet records, health guarantee, 30 days of health insurance, and microchip registration. You can fill out a puppy application form here.
The puppy pricing is as follows:
Micro Bernedoodles: $3500 – $4500
Mini Bernedoodles: $3500 – $4000
Small standard Bernedoodles: $3500 – $4000
Pricing may vary based on gender, color, physical traits, markings, and genetics. Contact the breeder to learn more.
Grand Canyon Bernedoodles Details:
2. Arizona Poolside Bernedoodles
If you're looking for Bernedoodle puppies for sale in Arizona, look no further than Arizona Poolside Bernedoodles.
Owned by a small family, they're a dedicated breeder committed to producing and raising the highest-quality puppies.
They breed the F1 Bernedoodle momma inside their home. This allows the breeder to give their utmost care, attention, and love to one litter at a time.
They also strive to socialize the puppies at a young age with their cat and child around. So, the puppies can adjust to every environment easily and become more friendly and outgoing.
Their puppies are highly-intelligent, loving, playful, and friendly and make excellent service, therapy, and assistance dogs.
Arizona Poolside Bernedoodles have proven healthy bloodlines, with the pet parents being pure-blooded, AKC registered and genetically tested.
Moreover, the puppies undergo a neurological simulation program to get used to human interaction and not get anxious around loud noises and being handled.
The puppies are also raised within the breeder's home, where their needs are properly met.
They're doggy door trained and come with a two-year warranty so that you can take your puppy home without any concerns for its health.
The puppies are up-to-date on their vaccine shots, dewormed, and vet-checked by a licensed veterinarian before purchase.
You can view any upcoming litter here. If you're interested in purchasing any puppies, contact the breeder to be a part of their waiting list.
You must pay a $200 non-refundable deposit that will apply to the puppy's final price to get on their waiting list. The puppies can be taken home at 8 weeks old.
Arizona Poolside Bernedoodles Details:
3. Oasis Bernedoodles
Oasis Bernedoodles specializes in raising and training high-quality Bernedoodles that make great therapy, service, and family dogs.
Bernedoodles are available in standard, medium, and mini sizes and come in tricolor, merle, sable, and phantom colors.
To view the currently available puppies, click here. If you find a Bernedoodle you'd be interested in adopting, you will need to fill out a puppy application form.
The application will help Oasis Bernedoodles ensure the puppy you adopt will make the right fit for you.
Once your application has been reviewed, a non-refundable deposit of $500 will be required to reserve your puppy. This deposit is applied towards the final price of your puppy.
If you're on the waiting list at Oasis Bernedoodles, you will receive regular pictures and videos of the puppies until you can take them home to keep you in the loop!
Your puppy will come with a two-year health guarantee, medical records, vet examination, age-appropriate vaccine shots, deworming, a sales contract, and a little bag of puppy food.
And a scented puppy blanket that smells like home to make your four-legged BFF comfortable.
The prices for the puppies start at $3000. The prices may vary depending on generation, size, patterns, and colors. Merle puppies start at $4000 and up.
You can contact the breeder for the pricing of any specific puppy you'd be interested in adopting.
Oasis Bernedoodles Details:
4. AZ Paradise Bernedoodles
Located in Peoria, AZ Paradise Bernedoodle is one of the best Bernedoodle breeders in Arizona.
They're a small family breeder who adores the puppies under their care and spends several hours training them to grow up to be excellent pets.
Their dogs are intelligent, loving, caring, and playful. Moreover, Bernedoodles are also hypo-allergic, so if you're prone to allergies, AZ Paradise Bernedoodles will make the ideal pets for you!
Their training program includes the early neurological simulation program and also receives misty method potty training. This helps puppies learn the different areas to sleep, eat, and play.
You can view the upcoming puppy litter here. The puppies have a two-year genetic health guarantee, vaccine shots, and deworming. They also receive a complete vet examination before being adopted.
You can contact the breeder with any queries or questions regarding the adoption process through the contact details mentioned below.
AZ Paradise Bernedoodles Details:
How to Choose Bernedoodle Breeders in Arizona
If you're considering bringing a precious Bernedoodle puppy into your home, you must ensure the puppy comes from a legitimate breeder.
As exciting as getting a new puppy may be, don't fall prey to a scam and select the wrong breeder.
The right breeder will have certain important qualities such as prioritizing the puppies' health, temperament, and fitness under their care. Some other qualities your preferred breeder should include are the following:
Reputation: A legitimate dog breeder will always have a good reputation and be known for producing good-quality, healthy, and happy puppies. You can learn more about the reputation of the puppy by checking online reviews or testimonials. Check for reviews on Google and social media, or read testimonials from previous clients on the breeder's website if available.
Experience: You must choose a breeder with sufficient experience in breeding the dog breed you're interested in, as experience will ensure the breeder knows about the breed and how to raise it well.
Socialization and Training: A good dog breeder will ensure the puppies under its care are well-socialized and regularly interact with children and others. Moreover, consider choosing a breeder with training programs for its puppies, such as an early neurological simulation program.
More Information About the Bernedoodle Puppies in Indiana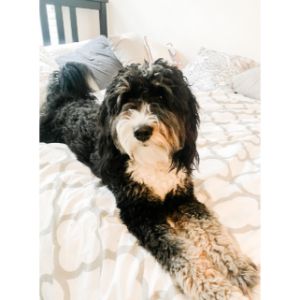 Bernedoodles, as adorable as they may be, require attention and care from their owner. Some information you must know about Bernedoodle includes:
Exercise Needs: Bernedoodles aren't exactly a highly-energetic breed. They require moderate exercise for around 30-60 minutes a day. You can take your Bernedoodle for a walk, jog, or yard play.
Grooming Needs: Bernedoodles are high-maintenance dogs that will require professional grooming and a haircut every 2-3 months. Since Bernedoodles do not shed, regular grooming is necessary for their well-being. Otherwise, their coat will keep getting longer, resulting in mites and dirt getting trapped.
Temperament and Characteristics: Bernedoodles are known to make the perfect family of dogs. This is because of their loving and affectionate temperament. They're also easy-going, obedient, and adore a chill day at home.
Cost of ownership: Bernedoodles on an annual basis should cost you around $2000, according to DogPricing
Frequently Asked Questions
How often do you bathe a Bernedoodle?
Bernedoodles generally need baths every month or so due to their thick coat.
How intelligent is a Bernedoodle?
These dogs are very smart, much like their poodle parents.
Do Bernedoodles have high anxiety?
They can have social or separation anxiety, but fortunately, this is easily resolved.
Where Are the Best Bernedoodle Breeders in Arizona?
Bernedoodles are surely a precious dog breed that is a treat to be around. With several breeders producing and raising Bernedoodle puppies in Arizona, it shouldn't be difficult for you to finalize a breeder.
All the breeders mentioned above are reliable and can be trusted to deliver high-quality Bernedoodles you would love to raise!
We wish you the best of luck in bringing a Bernedoodle home!
If you find this guide, "Best Bernedoodle Breeders in Arizona," informative and helpful, you can check out these other dog-related articles from our team:
Before you find a Bernedoodle puppy for sale in Arizona, you can learn more about this dog breed by watching "Bernedoodle Dogs 101: Is a Bernedoodle Right for You?" down below: