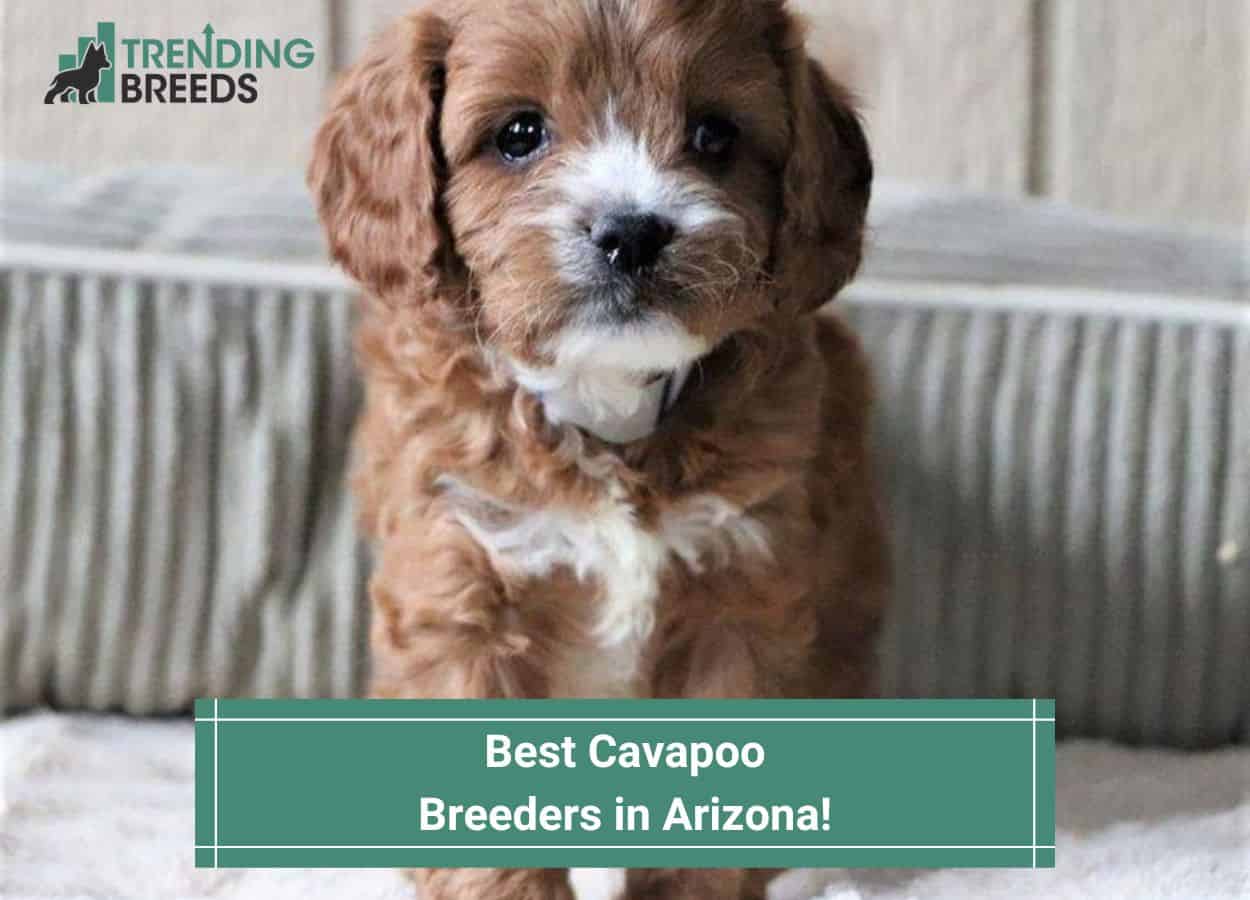 Are you searching for Cavapoo breeders in Arizona? For quite some time now, Cavapoos have captured the attention of dog enthusiasts worldwide.
These charming little dogs are born from the union of Cavalier King Charles Spaniels and Poodles.
The Cavapoo is a relatively newer dog breed; in the 1990s, breeders intentionally crossed the Cavalier King Charles Spaniel with the Poodle to create a hypoallergenic, low-shedding companion dog with a gentle nature.
The Cavapoo is recognized today for its affectionate nature and for being an exceptional therapy dog. Even though it is a sought-after dog, there aren't many reliable breeders raising Cavapoo puppies in Arizona.
People, especially first-time pet owners, may find it challenging to discover ethical breeders in the state.
Get ready to discover the top four breeders offering as we unveil our highly anticipated list! Careful selection criteria were used to choose these breeders, including reputation, experience, and the quality of parent dogs.
Prepare to encounter some of the most delightful and full of joy dogs you have ever laid eyes on!
Before you scroll further down this guide, check out these other animal-related articles: Best Horse Rescues in Arizona and The Best Rabbit Rescues in Arizona.
1. Arizona Desert Doodles
Welcome to Arizona Desert Doodles, where the love for doodle dogs knows no bounds!
This Arizona-based Cavapoo breeder, founded by the amazing Amy Johnson, aims to unite people through the happiness of their furry companions.
When two of her girls were diagnosed with cancer, Amy began breeding dogs, which became her family's therapy.   Seven years later, the girls have grown up and become involved in the breeding business.
All the breeding dogs are part of the family and live in the Johnsons' home. They receive the utmost care and affection, making happy, healthy puppies perfect for families.
And let's not forget about Lexie, the original doodle, who has been working with Arizona Desert Doodles and Amy since the beginning.
She knows firsthand how much Amy cares for every puppy and person who enters the door. Amy truly sets Arizona Desert Doodles apart with her passion and love for what she does.
Arizona Desert Doodles is the premier dog breeder in the heart of Phoenix, offering Cavapoos, Sheepadoodles, and Bernedoodles.
You can be confident that the puppy you're bringing home is secure, content, and healthy thanks to a one-year health guarantee, current vaccinations, deworming, microchipping, and a welcome home bag.
But the fun doesn't end there! When you adopt their Cavapoo puppies for sale in Arizona, you get access to the eight-week Puppy Experience, which includes plenty of perks for you and your new furry friend.
Reserve your future best friend now with a $500 deposit refundable until you have picked your puppy!
So why wait? Join the Arizona Desert Doodles family today and bring home your new best friend!
Cavapoo Puppy Details:
Generation: F1 and F2
Size: Mini and Standard
Arizona Desert Doodles Details:
2. The Paw Palace
Our next option is The Paw Palace, the destination for all pet lovers! Here in Tucson, Arizona, Karie has been running her business since 2010 with a passion for animals that goes beyond just a profession.
She treats every puppy like a new family member until they become a part of yours.
At The Paw Palace, you will find the healthiest and highest quality puppies available.
All puppies come with their current shots, worming, microchip, pedigree papers depending on breed, a free vet check, and a one-year congenital warranty. Moreover, they are also very well-socialized with other animals, kids, etc.
If your new furry friend does happen to become ill within 48 hours after purchase, no worries! Karie is very knowledgeable about the types of illnesses that young dogs may contract.
At The Paw Palace, they understand that purchasing a puppy is a big decision, so they want to ensure you have different options for purchasing your new pet.
They offer various payment options, including cash, PayPal, all major credit/debit cards, etc. Karie also offers cash, military, law enforcement, senior citizen, and veteran discounts to make it easier for everyone to get the pet they want.
The Paw Palace has an A+ rating with the Better Business Bureau in Arizona, ensuring you deal with a business you can trust.
All puppy viewings are by appointment only. You can even place a deposit on any puppy to hold them until you are ready to take them home.
At The Paw Palace, a minimum half-down deposit is required to purchase or hold a puppy. All puppy deposits are 1/2 down and non-refundable but are transferable to any puppy within 30 days.
So, what are you waiting for? Make an appointment at The Paw Palace today, check out their Cavapoo puppies in Arizona, and find your new furry best friend for life!
The Paw Palace Details:
3. Heidi's Cavapoo & Cockapoo Puppies Arizona
If an affectionate and loving forever companion is what you desire, then look no further than Heidi's Cavapoo & Cockapoo Puppies Arizona!
Even though they don't have a formal website, they have a popular Facebook page with over 2,000 likes and 2.4K followers.
Additionally, Heidi is always approachable by phone, email, or Facebook message if you need to.
As a hobby breeder, Heidi takes great pride in raising Cavapoos and Cockapoos in her Arizona home. She keeps her program small, so litters are limited and highly sought after.
So if you're interested in adopting a Cavapoo, you must contact Heidi and get on the waiting list. But trust us; it's worth the wait!
One unique thing to note about Heidi's Cavapoos is that she requires all new owners to purchase a specific type of dog food.
Although it might sound strange, this clause in the contract is intended to protect your new furry friend's wellbeing.
Heidi recommends PawTree, a boutique-style mail-order dog food that will keep your Cavapoo's tail wagging.
All current Cavapoo puppies for sale in Arizona are ready to go to their forever homes, but there won't be any more litter until spring 2021.
If you want to be notified of future litters, reach out to Heidi and get on the waiting list.
And if you are lucky enough to be selected to bring home one of her adorable Cavapoo puppies, remember to ask Heidi about pickup and shipping.
So what are you waiting for? Contact Heidi's Cavapoo & Cockapoo Puppies today and find your new best friend!
Heidi's Cavapoo & Cockapoo Puppies Arizona Details:
4. Puppys N Love
Our last selection is a staple name in the Cavapoo world. Puppys N Love is one of the top Cavapoo breeders in Arizona!
Puppys N Love offers a variety of Cavapoo puppies for sale. And let us tell you, these puppies are happy and healthy! Puppys N Love does not tolerate puppy mills.
They have strict protocols to ensure they partner with the most reliable breeders. So you can rest assured that your new furry friend was raised with love, respect, and high attention, and personal care.
But Puppys N Love is more than just a breeder. They are puppy lovers, and their relationship with you continues beyond the day your puppy comes home.
They provide a one-year congenital health warranty and will do their best to ensure your new family member is healthy from the moment you take them home.
All of their puppies are socialized early; they grow up interacting with children and other dogs.
Moreover, the breeder also gives all puppies basic training, making it easier for new owners to train their pups. Each puppy is taught the basics of a potty, kennel, and behavioral training.
Their Cavalier and Cavapoo puppies are adopted quickly, so don't hesitate to contact one of the best Cavapoo breeders in Arizona to reserve your fur-ever friend today or if you have any questions.
At Puppys N Love, they believe that every puppy deserves a loving home, and they can't wait to help you find your new best friend!
Cavapoo Puppy Details:
Generation: F1 and F2
Size: Mini and Standard
Puppys N Love Details:
Location: 42733 Phoenix, Arizona, United States
Phone Number: 602-321-5568
Website: Puppys N Love
How to Choose a Cavapoo Breeder in Arizona?
So the decision is final, and you are considering a Cavapoo as your new best friend? Congratulations, you've made a great choice!
These adorable little pups are the perfect combination of a Cavalier King Charles Spaniel and a Poodle, and they make amazing, loyal, and affectionate family pets.
But how do you choose the right Cavapoo breeder in Arizona? We have some tips to help you make an informed decision.
Find a trustworthy breeder: A trustworthy breeder will have a spotless facility, healthy, well-cared-for dogs, and open breeding procedures.
Check reviews and ratings: Look for breeders with good reviews and ratings from previous customers. You can figure out their reputation and the caliber of their puppies from this.
Ask about health testing: Ask the breeder about any health testing they have done on the puppies and their parents. A responsible breeder will perform necessary health tests and provide documentation.
Visit the breeder: If possible, visit the breeder in person to see their facility and meet the puppies and their parents.
By following these tips, you can find a reputable Cavapoo breeder in Arizona who can provide you with a healthy and happy new addition to your family. Happy puppy hunting!
Frequently Asked Questions
Do Cavapoos get jealous?
Most Cavapoos do very well with other dogs, but if they feel they aren't getting enough attention, they may act jealous.
Are Cavapoos good for seniors?
Cavapoos make for good pets for older adults, because of their loving nature.
Why does my Cavapoo cry at night?
Your puppy might have separation anxiety. It might need to go to the bathroom, or it may need more attention.
Where Are the Best Cavapoo Breeders in Arizona?
Congratulations! You now have all the information you need to find the perfect Cavapoo breeders in Arizona.
There's always a perfect Cavapoo breeder out there for you. Remember to conduct research, obtain references, and trust your instincts.
Remember that your new furry pet will turn into a long-term family member. Therefore, you should be patient, take time, and refuse anything less than the best.
With a smidgen of luck and affection, you'll find the ideal Cavapoo breeder in Arizona, and your family will be complete.
Go ahead and take the leap and welcome a brand-new pet into your life!
If you find this guide, "Best Cavapoo Breeders in Arizona," informative and helpful, you can check out these other dog-related articles from our team:
Before you find a Cavapoo puppy for sale in Arizona, you can learn more about this dog breed by watching "10 Facts About the Cavapoo/Cavoodle | Dogs 101" down below: