Cavapoos are a popular hybrid dog breed known for their friendly nature and cuteness. These cute dogs are a cross between the Poodle and Cavalier King Charles Spaniel. They are highly sought after because of their affectionate nature, intelligence, and hypoallergenic coat. If you are looking for good Cavapoo breeders in San Diego, then you are in luck. San Diego is home to many respected breeders committed to producing well-socialized, healthy, and happy puppies.
However, the city has only a few breeders dedicated to producing only Cavapoos.
In this article, we will review some Cavapoo breeders in San Diego and other reputable Cavapoo breeders in California that ship their puppies to customers in San Diego.
Before you close a deal with a breeder, call and interview them to learn more about their breeding processes. We recommend visiting their breeding location to see where your new puppy is bred and raised (if possible). Without further ado, here are the best places to buy Cavapoo puppies in San Diego and nearby counties.
The 4 Best Cavapoo Breeders in San Diego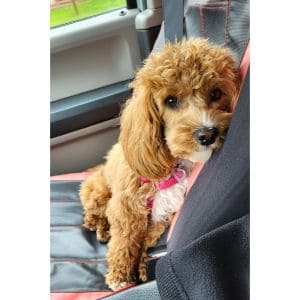 Before you scroll further down this guide, check out these other Cavapoo-related articles: Top Cavapoo Breeders in Michigan and Top Cavapoo Breeders in Missouri.
1. Blue Diamond Family Pups
Blue Diamond Family Pups is the go-to breeder for many dog lovers looking for poodle mixes.
This family-owned breeding program has an excellent reputation for breeding and raising Cavapoos with exceptional temperament and health. Health, temperament, and conformation are their top priorities in the breeding program.
To produce the healthiest puppies possible, this family conducts various health tests for all their sires and dams before adding them to the breeding program. Their wealth of experience in this field helps them choose the right sire and dam pair to produce beautiful, intelligent, happy, and healthy Cavapoo puppies.
All their puppies come from genetically tested parents and are tested by a licensed vet to ensure they are free of genetic defects before going home. Blue Diamond Family Pups produces both F1 and F1b Cavapoos in various colors.
This family also works with other reputable Cavapoo breeders that meet their strict genetic testing and breeding criteria. They do everything possible to provide their customers with healthy and happy puppies that will be a great addition to their homes rather than a burden.
Most of their F1 Cavapoo puppies are known to be low-shedding and semi-hypoallergic. We recommend you opt for the F1b puppies if you want a completely hypoallergenic and no-shedding pet.
They dedicate a lot of time to working on their temperament. Their goal is to produce calm and sweet dogs with a loving temperament. Another focus area of this breeding program is socialization.
They spend time socializing and playing with the puppies daily. They introduce them to kids and other pets.
Blue Diamond Family Pups has a page dedicated to available puppies. However, if you don't see any available puppies or one that pulls your attention, you can call or email them for information about upcoming litters.
This family delivers puppies to many cities in California, including San Diego. They can deliver your puppy to your doorstep. In addition to ensuring your puppy is vet-checked, healthy, and socialized, Blue Diamond Family Pups sends them home with a one-year genetic health guarantee.
Your puppy will be up-to-date on all vaccines and microchipped upon arrival.
To crown it all, the family offers lifetime support, meaning you can always reach out to them if you have questions or need help with your new family member.
Blue Diamond Family Pups Details:
2. Valley Cockapoos
Valley Cockapoos is based in Tracy but delivers its puppies to all cities and counties in California.
As the name implies, Valley Cockapoos specializes in breeding and raising Cockapoos. However, the breeders occasionally breed Cavapoos and Labradoodles.
You can visit their website or call to check for a Cavapoo or ask to be informed when they are available.
Valley Cockapoos made it to our list because of their excellent reputation in this field and how they take their breeding program seriously.
Their puppies' health, temperament, and conformation are their utmost priority. They use only the healthiest and genetically sound sires and dams in the breeding program. The AKC registers all their sires and dams. In addition to being AKC-registered, most of their purebred parents belong to champion bloodlines.
They breed their puppies according to the highest breeding standards set by professional Doodle breeders worldwide. The family breeds not just for health and temperament but for appearance, as their goal is to produce health, well-tempered, and beautiful puppies.
All their Cavapoos are bred and raised in a family environment surrounded by kids, meaning your new puppy will arrive well-socialized. In addition, they expose the puppies to various indoor sounds, like the vacuum cleaner, TV, things falling, and more.
Valley Cockapoos created a Puppy Care page to help customers raise their new pets. You will learn about general puppy care, crate training, and house training on this page. Besides providing you with a basic puppy care program, this family offers all their customers a lifetime of support and guidance. This means you can always contact them if you have questions or need help raising your puppy.
The family encourages potential clients to go through their testimonial page and contact them if they have any questions before buying a puppy from them.
Valley Cockapoos Details:
3. Silicon Valley Goldendoodles
As the name implies, Silicon Valley Goldendoodles specializes in producing and raising Goldendoodles. However, the breeder also produces Cavapoos and other doodles.
It is one of the most sought-after Cavapoo breeders in California. Silicon Valley Goldendoodles is in San Jose but ships and delivers puppies to San Diego and other cities.
Silicon Valley Goldendoodles is owned by a retired International Certified Dog Groomer – Travis. Travis has worked with many dog breeds in his profession.
Travis has over 20 years of experience breeding Poodles, Doodles, and Schnauzers. He started this breeding program as a hobby out of a passion for Doodle and Poodle mixes. Today, Silicon Valley Goldendoodles has grown to become a very successful business.
Travis runs the breeding program with his family, and they pride themselves in raising quality, family-friendly dogs and service dogs that make excellent companions. Travis adheres to strict international crossbreed standards to produce healthy and premium-quality puppies.
They breed their dams a maximum of two times yearly to ensure they are always healthy and in good shape. This often results in a long waitlist but also ensures their dogs are not overbred and receive all the attention they deserve.
Silicon Valley Goldendoodles also offers other services like dog training. They have online programs to help pet owners train their puppies from home.
You can also opt for their Assistive Therapy Program if you want your dog to be trained for therapy purposes.
Silicon Valley Goldendoodles Details:
4. Cee Cee's Puppy Place
Cee Cee's Puppy Place is located in Central San Joaquin Valley, California but delivers puppies to San Diego and other cities.
They are one of the most respected breeders in the state, thanks to their high breeding standards and exceptional puppies. Cee Cee's Puppy Place is owned and managed by a few retired dog lovers.
They started the breeding program in 2006, giving them over 17 years of experience. One thing that has helped them grow significantly over the years is their adherence to strict breeding programs.
They adhere to the highest industry standards to produce puppies with exceptional temperament, health, and conformation.
Cee Cee's Puppy Place takes the dogs and puppies as family members, and they treat them as such. They raise them in the comfort of their home and spend quality time with them daily.
Cee Cee's Puppy Place has six female Cavalier King Charles Spaniels and one Poodle stud, producing a few litters yearly to meet their customers' demands.
They usually have a long waiting list because of the quality of the puppies they produce. We recommend you jump on the next available list if you want a puppy from them.
All their puppies undergo training and socialization classes at a very tender age to prepare them for their new families. This means your new friend will come home socialized, potty-trained, and crate-trained.
Cee Cee's Puppy Place Details:
Frequently Asked Questions
How much should I expect to pay for a Cavapoo?
Cavapoos may cost anywhere between $1500 and $4000.
Do Cavapoos bark a lot?
Cavapoos don't bark as much as other dogs, but this varies from individual to individual.
Are Cavapoos hard to look after?
They are not hard to look after, but they do need some training.
Where Are the Best Cavapoo Breeders in San Diego?
When looking for the best Cavapoo breeders in San Diego, it is important to do your findings and ask plenty of questions.
Read testimonials and ask for references to speak with previous customers to know how their dogs are doing.
Choosing the right breeder is essential, as your puppy's health and well-being depend on it. Contact the breeders listed here, ask questions, and visit the breeding location (if possible) before finalizing the deal.
If you find this guide, "Best Cavapoo Breeders in San Diego," informative and helpful, you can check out these other dog-related articles from our team:
Before you find a Cavapoo puppy for sale in San Diego, you can learn more about this dog breed by watching "Cavapoo – The Ultimate Top 10 Pro's and Cons Guide" down below: