Cavapoos are a charming and adorable designer breed. They inherited many wonderful traits from their parents – the Poodle and Cavalier King Charles Spaniel. If you are looking for the best Cavapoo breeders in Tennessee, you've come to the right place.
Cavapoos are known for their hypoallergenic coat and friendly and affectionate nature, making them an excellent choice for people with allergies.
When buying a Cavapoo puppy, it is essential to research and find a reputable breeder committed to the health and well-being of their puppies and dogs.
Look for a Cavapoo breeder who health tests their sires and dams and offers a health guarantee for the puppies. In addition, ensure you ask about their training and socialization practices, as this significantly impacts the puppy's temperament.
To help make your puppy buying experience smooth and quick, here's a compiled list of the best Cavapoo breeders in Tennessee.
The 4 Best Cavapoo Breeders in Tennessee
Before you scroll further down this guide, check out these other animal-related articles: Best Vizsla Breeders in Tennessee and Best Horse Rescues in Tennessee.
1. Kathy's Cavapoo
Two renowned breeders, Kathy and Jan, own and run Kathy's Cavapoo in Tennessee. Kathy and Jan met through their love for horses over four years ago. Since then, they have been almost inseparable.
Their love for animals led to the establishment of Kathy's Cavapoo – one of Tennessee's most popular Cavapoo breeders.
Kathy and Jan have been breeding and raising Cavapoos for over three years. They love what they do and would go the extra mile to provide their customers with the healthiest and happiest puppies possible.
The partners have another friend, Tammy, who assists the breeding program. Tammy also has two of the breeding dams in her care. Their pricing and contact address are not on their website.
You have to call to know the exact location of their breeding program and the pricing of their puppies.
Buying a puppy from this breeder has many benefits. One of the benefits is 30 days of Trupanion health insurance. The insurance prepares you for the unexpected for the first month of bringing your new friend home.
In addition, all puppies from this breeder go home with a one-year health guarantee to protect against genetic defects. The health guarantee is to assure you that you are buying health-tested and genetically sound puppies.
All their sires and dams are tested for genetic issues to ensure no hereditary health condition is passed on to the puppies. Socialization is another important aspect of their breeding program.
They ensure the puppies are well-socialized before joining their new families.
Kathy and Jan introduce the puppies to various sounds, sights, and environments. They also expose the puppies to children and other pets to ensure they are well-rounded.
The exposure and training make it easy for the puppies to move to a new home without being overly anxious or stressed.
Another good thing about buying a Cavapoo puppy from Kathy and Jan is that they can deliver your new friend to your home. They also work with puppy flight nannies to deliver puppies outside Tennessee.
Kathy's Cavapoo Details:
2. Allison Hollow Kennels
Located in Carthage, TN, Allison Hollow Kennels is one of the go-to breeders for people looking for healthy and socialized Cavapoo puppies.
Allison Hollow is a responsible dog breeder committed to breeding quality and health-tested pets. The breeding program is licensed by the USDA, so rest assured you are dealing with a reliable breeder.
Allison Hollow Kennels is a family-owned breeding program. The family has been breeding Cavaopoos, Schnoodles, and other dog breeds for over 20 years.
The health and well-being of their dogs and puppies are their topmost priority.
They do everything possible to produce healthy, beautiful, and well-socialized puppies. The family has an excellent strategy for choosing the right sires and dams for the breeding program. Producing healthy and beautiful puppies goes beyond conducting health tests.
Besides health, temperament and friendliness are other traits they consider when choosing sires and dams for their breeding program. Their kids play and spend a lot of time with the puppies, ensuring they are well-socialized before going home.
Apart from temperament, health, and quality, people patronize this family for their affordable puppies.
Their puppies are affordable and come with a one-year genetic health guarantee. The family also offers a $100 discount to veterans, first responders, and returning customers. Another thing we love about this family is that they provide after-sale support.
The family contacts customers periodically to know how their puppies are doing. You can call for guidance and support if you have issues with raising the puppy.
Allison Hollow Kennels Details:
3. Cavapoo R US
A husband and wife team owns and manages Cavapoo R US. They are 100 percent dedicated to the breeding program and have many years of experience in this field. Their goal is to produce healthy puppies that will live long and happy lives with their families.
One unique thing about this family is that they genetically test their breeding dogs yearly at the University of Tennessee. The health of their breeding dogs is of utmost importance to them, as they believe only healthy dogs can produce genetically sound and healthy puppies.
They have breeding dogs with strong, champion pedigrees. Cavapoo R US focuses more on the health, training, and socialization of their puppies.
There is high demand for this breeder's puppies, so we recommend you join their waiting list once available.
You can follow them on social media or contact them directly to show interest and ask to be informed when planning a litter.
All their puppies go home with a one-year health guarantee to protect against genetic issues. This family-owned breeding program also caters to the needs of their customers outside driving distance from their kennel.
They can ship your puppy to you for an additional fee of $350. The fee covers a crate, airfare, and other items.
This family takes quality seriously, as it plays a huge role in the longevity of the puppies. All their puppies are raised in a home environment, making it easy for them to blend into their new homes.
Another unique thing about this family is that they monitor the puppies closely to guarantee correct weight gain, calcium levels, and good health.
They sleep next to each new litter of puppies after they are born to give them all the attention, love, and care they need.
Their puppies and adult dogs enjoy the best food suitable for their age, size, breed, and health needs. They also enjoy premium quality vet care and are vaccinated and dewormed before going home.
Cavapoo R US Details:
4. Tail Wagging Puppies
Established in 1988, Tail Wagging Puppies is one of the oldest Cavapoo breeders in Tennessee.
The breeding program was founded by Carolyn Lowe, but she recently handed it over to Clarissa Meador. Clarissa is now the new owner and operator of Tail Wagging Puppies, and she runs the program with her husband, Marty.
Clarissa has many years of experience breeding and raising Cavapoos and other dog breeds. One thing we love about this family is that they do not shy away from questions.
You can call them to ask questions about their puppies. They are always ready to answer your questions and tell you everything you want to know about their breeding program and puppies.
Visitors are also welcomed to the farm to see their adult dogs and breeding environment. Tail Wagging Puppies claims not to be a puppy mill, and they allow clients to ask questions or visit the kennel to make sure their claims are valid.
However, their response rate is a bit slow, because they receive many calls and emails daily.
We also love this family for its competitive pricing. However, their pricing varies for females and males- the females are more expensive than the males.
A $300 non-refundable deposit is required to secure a puppy in each litter. Getting a puppy from this breeder can take up to six months. However, it is worth the wait, as they take their time to make sure you go home with a healthy, happy, and well-socialized puppy.
They can deliver your puppy to you wherever you are in Tennessee. The family also ships their puppies to clients outside the state.
However, they prefer customers to pick up their puppies in person so they can meet them and see where their puppies are raised.
All their puppies are vaccinated and dewormed before going home. They also go home with a one-year genetic health guarantee.
Tail Wagging Puppies Details:
Frequently Asked Questions
What is the best cut for a Cavapoo?
Most dog groomers recommend the Teddy bear cut for Cavapoos, since it keeps fur out of their eyes and ears.
How often should a Cavapoo be bathed?
Most Cavapoos do well with a bath every two-three weeks.
Can you leave a Cavapoo alone all day?
You probably shouldn't leave a Cavapoo alone for more than six hours. These dogs prefer to have company.
Where Are the Best Cavapoo Breeders in Tennessee?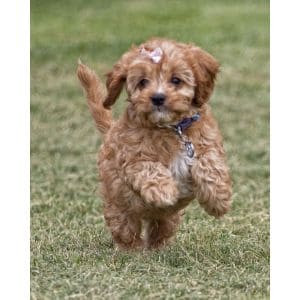 Tennessee is blessed with many Cavapoo breeders, but the quality of puppies they produce differs.
If you are looking for a healthy, happy, and well-socialized puppy, you should look for a reputable breeder that conducts health and genetic testing on their adult dogs and puppies.
Choosing a breeder that will provide you with all the support you need when raising your new friend is also essential. Choose a breeder that offers lifetime support for their pets.
If you find this guide, "Best Cavapoo Breeders in Tennessee," informative and helpful, you can check out these other dog-related articles from our team:
Before you find a Cavapoo puppy for sale in Tennessee, you can learn more about this dog breed by watching "7 Reasons You SHOULD NOT Get a Cavapoo" down below: