If you are a first-time dog owner or looking for a sensitive dog that fits the temperament of your house in New England, check out our top 5 Bernedoodle breeders in New England to find a lifetime friend.
A combination of a Bernese Mountain Dog and a poodle, the Bernedoodle has the best traits from both parent breeds.
Bernedoodles make one of the most loyal, smart, and playful pets that make a home in their owner's heart.
Their docile and harmless nature makes them perfect around children, but their playfulness matches the energy of the adults in the house.
Bernedoodles have a teddy-bear-like appearance because of their shaggy fur, making them remarkably adorable and cuddly.
This fur is not just for aesthetics; it allows them to deal well with cold temperatures. However, depending on their coat, the grooming needs and hypo-allergenicity varies.
If you're to welcome this adorable breed into your home, look at the top breeders selling Bernedoodle puppies in New England without further ado.
Before you scroll further down this guide, check out these other dog-related articles: Goldendoodle Puppies In New England and 6 Best Bernedoodle Haircut Ideas! (2023).
1. New England Bernedoodles
New England Bernedoodles is one of the Bernedoodle breeders in New England that specializes in breeding mini F1 Bernedoodle puppies.
They breed the Australian Labradoodle and Bernedoodles, allowing you to choose the dog that best fits your house.
All the parent dogs are OFA tested for hip, elbow, and eye issues and other diseases to ensure the health of their Bernedoodle puppies for sale in New England.
The dogs are DNA tested as well to ensure safety from genetic diseases. They ensure that this hybrid breed is bred in a smaller size to protect them from congenital health issues such as elbow or hip dysplasia.
All the puppies are socialized early to be easygoing with their new families.
Raised among children and other puppies, New England Bernedoodles has a 6-acre facility where puppies can play and run outdoors.
However, getting a Bernedoodle from New England Bernedoodles can be an expensive affair as the price of their Bernedoodle puppy begins from $3,950.
They can deliver your puppy for free if it is only a 4-hour drive near Keene, NH.
If you live in another state but are set on having a Bernedoodle from their facility, they can accommodate you through flight nanny delivery for an additional $650.
Bernedoodle Puppy Information:
Generation: F1 Bernedoodles
Size: Mini
New England Bernedoodles Details:
2. Northeast Kingdom Doodles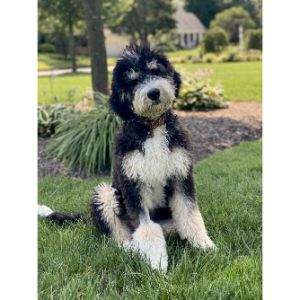 Second on our list is the Northeast Kingdom Doodles, a reputable breeder that raises healthy Bernedoodle puppies in New England while ensuring they are brought up in a safe environment.
When transitioning from one house to another, Bernedoodle puppies can experience separation anxiety.
Northeast Kingdom Doodles raises their dogs by giving them exposure through positive behavioral reinforcement and early neurological stimulation to make this transition easy,
If you don't want to miss out on how your puppy is growing up, the breeder's 24/7 webcam facility allows you to watch your puppy after you've made the deposit.
Moreover, you can also visit their facility to meet the puppy you want to take home.
They breed F1 generation Bernedoodles in black, white, and tricolored wavy coats that can fully grow up to 40 to 65 pounds.
All the dogs at Northeast Kingdom Doodles are health tested and come with OFA joint certifications and genetic tests.
To buy a puppy, you must pay a non-refundable deposit of $500. The total cost of purchasing a puppy from Northeast Kingdom Doodles is $3500.
In case you can't come to pick up your puppy and would want to have them delivered, that will cost you extra.
If, for any reason, you will have to return your puppy, NEK has you covered on that and can make arrangements for a return.
Bernedoodle Puppy Details:
Generation: F1 Bernedoodles
Size: Mini and Standard
Color: Black, white, and tri-colored
Northeast Kingdom Doodles Details:
3. Harmony Hill Doodles
Paying particular attention to raising puppies with an easygoing temperament, Harmony Hill Doodles sell each puppy with a 2-year health guarantee and a lifetime of support.
They are raising first-generation F1 and second-generation F1B Bernedoodles.
The parent dogs are health tested to ensure a healthy progeny. They do not operate a kennel, so they only allow those who have secured their deposit and are on the waiting list.
Deposits are non-refundable, but if, within three days of being adopted, the puppy tests positive for a disease,
Harmony hill doodles will offer you a refund and take the puppy back. All the puppies are sold with a spaying/neutering contract.
No puppy has a breeding right, and the price is $3000. Moreover, to secure a puppy, you must make a non-refundable deposit of $500.
If you can't afford to own a puppy, their guardian program allows you to have it for free, but you are expected to provide the necessary care. However, these dogs may have to be returned only for the time of breeding.
The litters produced from these guardian dogs have their care and medical cost covered by Harmony Hill Doodles.
Bernedoodle Puppy Details:
Generation: F1 and F1b Bernedoodles
Size: Standard
Harmony Hill Doodles Details:
4. Sterling Brook Doodles
Specialists in matching you with the puppy with a temperament that suits your house, Sterling Brook Doodles is a renowned Bernedoodle breeder in New England.
Each of the Bernedoodle puppies for sale in New England by Sterling Brook Doodles comes with their complete first round of immunization and a health guarantee for the first year of the puppy's life for any congenital disabilities.
However, you must provide the veterinary records within seven days of testing to be eligible for any refund.
If your puppy has any health issues within three days of being adopted, the puppy can be returned and replaced with another puppy, depending on availability.
Sterling Brook Doodles are breeding mini and standard-sized F1, F2, F1B, F2B, and F3 Bernedoodle puppies in various coat colors such as chocolate Tri-color, Merle, Phantom, etc.
The price for puppies varies from $2800-$4500 depending on the color of the puppy.
When you purchase your puppy from Sterling Brook Doodles, you are not getting 'just' the puppy as each puppy comes with 30 Trupanion pet insurance, a puppy toy with the litter scent, NuVet multivitamins, and a microchip.
To make it easy for you to get the basics of raising your puppy, each puppy comes with an information folder and breeder support.
Their facilitation for their puppies doesn't end here. To ensure the health and happiness of their puppies in their new homes, they offer new owners all the support they would need.
You may avail of their virtual puppy training package and puppy preparation package to care for your puppy in the best ways possible.
Bernedoodle Puppy Details:
Generation: F1, F2, F1B, F2B, and F3 Bernedoodle
Size: Standard
Color: Chocolate tri-color, merle, phantom, and more
Sterling Brook Doodles Details:
5. Massachusetts Bernedoodles and Goldendoodles
Last on our list of the top 5 Bernedoodle breeders in New England is Massachusetts Bernedoodles and Goldendoodles, a breeder with ethical and transparent breeding practices.
A standard Bernedoodle at Massachusetts Bernedoodles and Goldendoodles begin from $6200, a mini Bernedoodle price starts from $6500, and micro and tiny Bernedoodle puppies are $7000 and above.
All their deposits are non-refundable, and they give out puppies on a first-come, first-serve basis.
If one of their puppies has caught your heart, you must act quickly before it's too late.
If you are not available to pick up your puppy, they safely deliver it through their employees as they do not hire any third party to ensure your cherished pet's health and safety.
They offer a 24/7 webcam facility to see your pup grow.
Their turn-key trained puppies will save you from the hassle of training your puppy. They are already acquainted with basic crate training and obedience commands and socialize with other animals.
Absolutely against the idea of puppy mills and ensuring ethical breeding, Massachusetts Bernedoodles come with their basic immunization and health certificate with further immunization or health routines required.
Massachusetts Bernedoodles and Goldendoodles Details:
Frequently Asked Questions
What is the most desirable Bernedoodle?
The tri-color Bernedoodle is one of this breed's most desired colors.
How hot is too hot for Bernedoodle?
A Bernedoodle is going to struggle in temperatures over 75 degrees.
How do I keep my Bernedoodle fluffy?
If you brush your Bernedoodle at least three times a week, their coats will stay fluffy and curly.
Where Are the Best Bernedoodle Breeders in New England?
If you have decided to adopt a puppy from any of the Bernedoodle breeders in New England, research the breeders thoroughly before deciding.
Remember that Bernedoodle puppies are high-end dogs that require you to invest your time and money.
If this breed fits your heart and pocket, getting a puppy who can be your lifelong friend will be nothing less than a reward.
If you find this guide, "Best Bernedoodle Breeders in New England," informative and helpful, you can check out these other dog-related articles from our team:
Before you find a Bernedoodle puppy for sale in New England, you can learn more about this dog breed by watching "Bernedoodle Dogs 101: Everything You Need To Know – Is It the Right Dog for You?" down below: