Seeking a reputable breeder for French Bulldog puppies in the US? We've made it easy by compiling a list of the top breeders in the country.
The popularity of French Bulldogs has skyrocketed in the last two years. As of 2023, they have become the most common type of dog in the US.
Considering their diminutive stature, cuteness, and friendly nature, it's not hard to see why they're as popular as house pets.
It's not simple to track down a French bulldog breeder selling purebred French Bulldogs in good health. Finding genuine breeders in a sea of puppy mills and backyard breeders requires extensive investigation.
In addition to the names of the breeders, addresses, phone numbers, emails, and other necessary information is included in the description of each breeder.
Equipped with this information, you can choose a reliable breeder in no time!
Before you scroll further down this guide, check out these other dog-related articles: Best Basenji Breeders in The USA and Adopt a Cockapoo – Best Rescues in The USA.
1. French Bulldogs Inc.
Jacksonville, Florida, is home to French Bulldogs Inc—a well-reputed breeding program owned by Nataliya Safronova.
Safronova has been breeding and exhibiting French Bulldogs in conformation shows for the past 11 years.
She is well-versed in bringing new puppies into the country from outside, and her dogs' pedigrees attest to their European ancestry. She's offering for sale the most perfect French Bulldog pups you'll ever see.
The puppies at French Bulldog Inc. can run and play in their 24′ by 24′ playpens.
Moreover, the breeders take the puppies out daily to play in the yard supervised. The pups for sale here are raised in a humane environment.
The health of every puppy sold by French Bulldogs Inc. is guaranteed for an entire year. Puppies are given all necessary vaccinations at the appropriate ages, and owners are given all necessary health certifications.
The health guarantee, health certificates, and pedigree documents offered with the puppies should put your mind at ease about the puppy's health.
With their extensive focus on health, high-quality dogs, and an ethical breeding environment, it isn't a surprise that this holds the first position in our list of breeders selling French Bulldog puppies in the US.
French Bulldogs Inc. Details:
2. PuppySpot
We recommend PuppySpot, a network of responsible dog breeders, as the best place to find a French Bulldog.
Instead of spending 6+ months at an individual breeder, you can obtain your French Bulldog much sooner if you have access to a network of breeders.
If PuppySpot is confident that your dog will live a long and healthy life, they provide the longest health guarantee we've ever seen (10 years).
The American Kennel Club approves of them and uses USDA standards in picking their breeders.
To give you an idea of their stringent policies, only ten percent of French Bulldog breeders who apply to sell puppies through their website have their applications approved.
PuppySpot's private airline is USDA-approved, so the company can ship puppies anywhere in the United States.
This means you won't have to spend time looking for a local breeder because your puppy will be delivered directly to you in a safe manner.
PuppySpot Details:
3. French Bulldogs LA
French Bulldogs LA is one of the most famous breeders known for their healthy and beautiful French Bulldog puppies for sale in the US.
This French Bulldog breeder in California cares most about producing healthy puppies with good temperaments. That is to say, their goal is to provide Frenchie fanatics with happy, healthy, and socialized puppies.
French Bulldogs LA has been breeding French Bulldogs for more than ten years now, and what sets it apart from other breeders in the vicinity is that they consider their dogs family members.
Their puppies are treated like family members and not commodities, so they grow into super-loving dogs.
French Bulldogs LA doesn't put its dogs and puppies in kennels at night. Instead, all canines sleep in the breeder's home. In addition to providing a healthy raw food diet, housebreaking, and socialization training, the breeder provides the best possible care for its puppies.
All of the Frenchies are vaccinated against the most frequent canine diseases.
All puppies for sale at French Bulldogs LA have been registered with reputable organizations like the American Kennel Club and the Continental Kennel Club (CKC), so you know they're of high quality.
French Bulldogs LA Details:
4. BlueHaven French Bulldogs
BlueHaven French Bulldogs is a highly reputable breeder located in California. They specialize in breeding French Bulldogs with excellent temperaments and sound health.
With a focus on quality rather than quantity, BlueHaven provides a loving and caring environment for their dogs, ensuring they are well-socialized and given proper veterinary care.
BlueHaven French Bulldogs Details:
5. Royal Blue Frenchies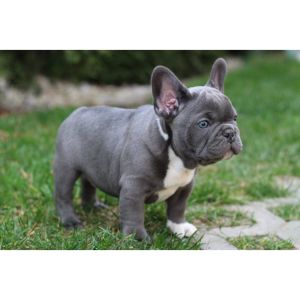 Based in Florida, Royal Blue Bulldogs is a breeder known for producing top-quality French Bulldog puppies with exceptional pedigrees for sale in the US.
They are committed to breeding for health, temperament, and conformation, and their dogs undergo extensive health testing.
Royal Blue Bulldogs provides lifetime support to their puppy owners, making them a trusted choice for French Bulldog enthusiasts.
Royal Blue Frenchies Details:
6. Coronado Crown French Bulldogs
Coronado Crown French Bulldogs is another distinguished French Bulldog breeding facility in San Diego, California.
The breeders behind this operation fostered several dogs before deciding that French bulldogs were their favorite and dedicating themselves to breeding this breed. French Bulldog puppies raised in this setting receive the same high-quality training as Royal Empire-bred dogs, contributing to their positive temperaments and friendly personalities.
Therefore, we strongly recommend this breeder whether you want a dog for companionship or to train for a dog show.
Because the breeders at Coronado Crown are dog lovers, they get to pick who buys their French Bulldog puppies.
They are quite selective about who they place their puppies with and only accept applications from responsible pet owners.
They need you to keep them informed about the dog frequently.
They ask that you contact them if you can no longer care for the dog. They are adamant that none of their upcoming French Bulldog puppies will ever be sent out to bad homes.
Coronado Crown French Bulldogs Details:
7. Tato's Frenchies Breeder
Tato's Frenchies is a Florida business based in West Palm Beach. Another small, family-run business, this one specializes in breeding French Bulldogs and thus can afford to give its future puppies the best possible start in life.
French Bulldogs of all ages, from pups to breeding pairs, share a huge backyard where they can run around and relax on their bed. All the bulldogs have their own toys and mating partners, and the puppies get lots of attention from the humans who care for them.
The health of all Tato's Frenchies, whether mixed-breed or purebred, is guaranteed for an entire year.
If a veterinarian finds the puppy unhealthy for any cause (not only genetic ones), they will return your money within 48 hours.
Our research shows that no puppy has ever been returned because of a concern for its health.
Tato's Frenchies is a fantastic, family-run business that uses a variety of pricing structures (as well as some simple financing alternatives) to place their adorable puppies with caring families—another fantastic Florida-based choice for French Bulldogs.
Tato's Frenchies Breeder Details:
8. Sullybee French Bull Dogs Breeder
Since getting their first French Bulldog in 2008, the founders of Sullybee French Bulldog—dog enthusiasts for over 50 years—have dedicated themselves to breeding and exhibiting the French Bulldog breed.
Before they started commercial dog breeding, the breeders held extensive sessions with other French Bulldog breeders in the USA and specialists to ensure they had a thorough understanding of the breed.
Therefore, Sullybee French Bulldogs has a history of producing top-tier canine athletes.
Sullybee only breeds on rare occasions and conducts pre-breeding health exams to ensure their breeding stock is genetic disease-free.
Among these are examinations of the hips, the spine, and the patella. They also demand that the canines be tested for hyperuricosuria, canine myopic retinal degeneration, and immature hereditary cataracts.
Because of how the breeder cares for their French Bulldog puppies and adults, they require prospective buyers to go through a strict evaluation process.
While the process is lengthy, the good part is that you know the purebred puppy you're adopting comes with a spay/neuter agreement and restricted AKC registration.
Sullybee French Bull Dogs Breeder Details:
9. Champion Pups
Champion Pups is a breeder that is always an integral part of any conversation about French bulldogs in the US.
Located in Los Angeles, Champion Pups is highly recommended as one of the best French Bulldog breeders in the US, especially in California.
Champion Pups is well-known because of its extensive background in dog breeding, especially in show dogs.
As the name suggests, the company is run by a family who breeds French Bulldogs in California from a line of champions.
Champion Pups is home to many dogs that have gone on to become show winners in the United States and throughout the world.
This newfound capability allows the dog breeding business to cater to customers from all around the globe.
Champion Pups Details:
10. Melzano Frenchies
Regarding well-bred French Bulldog puppies in the US, Melzano Frenchies in San Diego, California, is your best bet.
The Frenchies they produce are well-bred and made for living with humans. Brandon, the breeder, is committed to raising well-adjusted, contented, and healthy French Bulldog puppies.
All of the puppies are also exposed to other animals, such as cats and birds, and are well-socialized.
Melzano Frenchies are bred for health and temperament, not for quantity. Find a reputable French Bulldog breeder in California who has experience with raising and socializing French Bulldogs.
This breeder meets all the requirements, and the puppies are treated like family members.
Puppies from Melzano's Frenchies are AKC-registered and come with a 30-day money-back guarantee, a health guarantee, deworming, and immunizations.
We also recommend checking out their website because it contains useful information.
Melzano Frenchies Details:
How to Choose French Bulldog Puppies in the USA?
When searching for a French Bulldog breeder, there are several important factors to consider. Here are some key aspects to look for:
Reputation and Experience
Research the breeder's reputation and longevity in the industry. Look for breeders with a positive track record and who are well-regarded within the French Bulldog community.
Online reviews, testimonials, and referrals from other French Bulldog owners can provide valuable insights.
Ethical Breeding Practices
A reputable breeder will prioritize the health and well-being of their dogs.
They should follow ethical breeding practices, which include genetic health testing for hereditary conditions common in French Bulldogs.
Ask the breeder about the health screenings they perform on their breeding dogs and request documentation to verify the results.
Socialization and Temperament
A responsible breeder will ensure that their puppies receive proper socialization from an early age.
They should expose the puppies to various stimuli, environments, and human interaction to promote healthy development and positive temperament.
Inquire about the breeder's socialization practices and their efforts to raise well-adjusted puppies.
Health Guarantees and Support
Reputable breeders will provide health guarantees for their puppies.
Ask about the breeder's policies regarding genetic health issues and what steps they take to address any health concerns that may arise after you bring your puppy home.
A good breeder should offer ongoing support and be available to answer questions or provide guidance throughout the dog's life.
Breeding Standards and Pedigrees
Inquire about the breeder's knowledge and adherence to breed standards set by recognized kennel clubs.
They should be able to provide information on the lineage and pedigrees of their breeding dogs, demonstrating a commitment to maintaining and improving the breed's qualities.
Frequently Asked Questions
What is a micro-Frenchie?
A mini Frenchie is a normal French Bulldog that got bred down to a smaller size.
Are Frenchies smart?
All bulldogs are not exactly known for their intelligence, but they do make loving family pets.
Do Frenchies try to talk?
Frenchies will try to mirror conversation in social settings. They bark, yap, and yip to get attention.
French Bulldog Puppies – Top Breeders in the USA
When searching for French Bulldog puppies in the US, it's crucial to find a reputable breeder that prioritizes the health and well-being of their dogs.
The breeders mentioned above consistently demonstrate their dedication to breeding high-quality French Bulldog puppies that conform to breed standards.
By choosing a responsible breeder, you can have confidence that your new furry family member will be healthy, well-socialized, and a joy to have in your home.
Remember, responsible breeders genuinely care about their dogs' well-being and the future homes of their puppies.
Researching and choosing a reputable breeder will significantly increase your chances of finding a healthy, well-bred French Bulldog puppy that will become a cherished family member.
If you find this guide, "French Bulldog Puppies – Top Breeders in the USA," informative and helpful, you can check out these other dog-related articles from our team:
Before you find a French Bulldog puppy for sale in the USA, you can learn more about this dog breed by watching "French Bulldog: The Pros and Cons of Owning One" down below: