If you're looking for the best French Bulldog puppies in Illinois, then this guide has everything you need to know!
The French Bulldog is an utterly adorable flat-faced dog. Also called the Frenchie, clown dog, and frog dog, this domestic breed is the perfect companion dog.
Physique-wise they are small and muscular with a short and wrinkled coat that is usually brindle, fawn, or cream-colored.
French Bulldogs are very playful and friendly, making them one of the most popular dog breeds worldwide. They have bat-like ears and dark round eyes, which are typically black but can be brown or blue as well.
Other articles you would like: Goldendoodle Puppies Breeders In Illinois and English Bulldog Vs. French Bulldog
French Bulldog Puppies For Sale in Illinois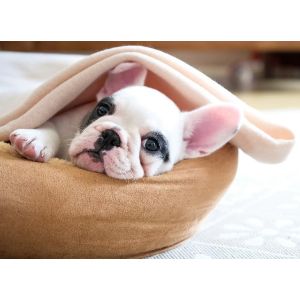 Most French Bulldog breeders in Illinois are dedicated to providing healthy and happy puppies that uphold the high standards of the breed.
However, a few puppy mills and backyard breeders have damaged the integrity of the business by producing low-quality puppies bred unethically. These breeders are just in it for the money; they don't care about the health and temperament of their dogs.
Therefore, it's of the utmost importance to find breeders that care about the dogs they rear. To help you find the perfect Frenchie puppy in Illinois, we've compiled a list of three of the best breeders in the state.
They follow the highest standards and ensure their customers are matched with the perfect pup.
So, if you're looking for a lifelong companion that will give you never-ending affection and loyalty every day, read on for some of the best Frenchies in your area!
1. Alliss French Bulldogs
Our first reliable breeder of French Bulldog puppies in Illinois aims to provide customers with the highest-quality Frenchies. Alliss French Bulldogs are a part of the breeder's family, and their goal is to find loving and caring homes for every one of them.
The breeder has researched extensively into pedigrees and is always trying to improve their upcoming litters.
Moreover, they don't simply sell their puppies to anyone; the breeder takes time to ensure the prospective pet parents are the right match for their puppies before finalizing a deal.
All puppies at Alliss French Bulldogs are put on a deworming schedule from two to eight weeks. They are given their puppy boosters at two weeks, after which they are allowed to go outside and interact with strangers.
They are seen by a licensed vet at six weeks for a thorough health examination and are also microchipped. The puppies are well-socialized with children and other animals and desensitized to household stimuli.
The puppies are sent home with a food starter bag, complete health record, and a blanket/toy with their littermates or mom's scents. In addition, they provide a one-year health guarantee that covers debilitating genetic disorders.
French Bulldog Breeder Information:
2. South Prairie Frenchies
South Prairie Frenchies takes great pride in raising well-tempered and healthy French Bulldogs. All their breeding dogs are of the highest quality, and the breeder also seeks confirmation to uphold the traditions of selective practices.
They are always willing to answer any questions that customers might have before or after making a purchase and invite you to their farm to witness firsthand their breeding facility.
The breeder ensures that all their adult dogs are tested and registered with the OFA so that the resulting puppies are of superior health and will give many years of companionship.
The puppies are continuously handled and monitored, so you can be sure they're pre-spoiled and pampered before going off to their forever homes. The breeder also prioritizes diet and exercise.
To prevent any health issues and infections, the breeder gives all puppies age-appropriate vaccinations, proper dewormings, and thorough physical examinations via a licensed veterinarian.
Once you're ready to take your puppy home, you'll be given a complete health record, AKC registration, a pet bed, dog food, and a toy collar.
French Bulldog Breeder Information:
3. Toal's Puppies
Toal's Puppies is a family-owned AKC licensed breeder with 12 years of successful breeding experience. All their puppies are born and raised in their home to guarantee they are well-socialized and pre-spoiled.
They breed only the finest AKC Champion Bloodline French Bulldog puppies and carefully train them to become perfect household pets and the center of attention for their family and loved ones.
Moreover, the breeder is highly focused on their undying love for Frenchie puppies and is devoted to eliminating behavioral problems and genetic diseases that are commonly seen with inconsiderate mass breeding and puppy mills.
All the puppies are well-socialized with adults and other pets and regularly handled by members of all ages of the family to make sure their transition from the breeding facility to their new home is as seamless and successful as possible.
All the puppies come with AKC registration, a health certificate from the breeder's credited vet, and are vaccinated and dewormed.
The breeder also provides a health guarantee, and in case the puppies become ill, the breeder offers to replace them and provide a refund.
French Bulldog Breeder Information:
How to Choose French Bulldog Breeders in Illinois?
Choosing breeders that raise French Bulldog puppies for sale in Illinois can be quite a challenge, especially with all the substandard businesses and online pet stores marketing low-quality animals.
This article has provided you with a list of the best breeders in the state, but if you're researching on your own, make sure the breeder looks after the following aspects:
Personal Information and Registration: Authentic breeders always disclose their registration and personal information, such as their website, contact number, email, social media channels, etc.
Temperament: Good breeders make sure their animals are compassionate and well-tempered. They ensure their puppies and dogs are friendly with children, adults, and other pets.
In addition, they are trained to adjust and adapt quickly to different environments without being stubborn or aggressive.
Trainability: Dedicated breeders train their puppies early on to listen to instructions and perform basic and advanced tasks. They also teach basic mannerisms and how to respond to simple commands.
Grooming: Apart from mental and physical training, breeders must also look after the appearance of their animals. They must ensure the puppy's coat is brushed regularly, they are bathed regularly, and their nails are cut and filed.
Activity/Exercise: Once immunized, good breeders take their puppies for walks outside and make sure they get adequate exercise. This also provides the opportunity to expose them to strangers and different environmental stimuli.
More Information About French Bulldog Puppies in Illinois
The French Bulldog is a cross between local Ratters and the Toy Bulldog. This breed originated in the 1800s in Nottingham, England, and was then taken to Normandy, France, where it gained popularity among writers, painters, and the elite.
Frenchies are among the world's most popular companion dogs. They feature good temperaments, are not barkers, and are reasonably easy to train.
Their funny personalities have earned them the name 'clown dog,' but don't be fooled – they are very intelligent, observant, and excel in non-sporting events.
In terms of health, French Bulldogs often suffer from obesity if not given adequate activity and exercise. Hip Dysplasia, Luxating Patella, and breathing problems are relatively common among this breed.
They also have difficulty regulating their body temperature since they have a single short coat, so they must be kept in a climate-controlled environment and monitored for heat stroke.
Moreover, they are prone to allergies caused by insect bites or food.
Physique-wise, a French Bulldog's normal height is about 11 to 12 inches, and they usually weigh about 20 to 28 pounds. They have a lifespan of about 11 to 13 years. The average litter size of a Frenchie is generally three puppies.
Conclusion For "French Bulldog Puppies in Illinois – Top 3 Breeders"
French Bulldogs are loveable and enthusiastic dogs that will make you feel special every day. They become extremely loyal lifelong companions, and raising a Frenchie will bring you nothing but tons of joy and laughter.
So, if you're ready to adopt a French Bulldog puppy and bring light and happiness into your life, contact the French Bulldog breeders on our list today!
The three AKC-registered breeders have invested their time, energy, and hearts into breeding the happiest and healthiest French Bulldog puppies for loving customers – we're sure you'll find your perfect pup with them!
You will also like:
For more information about the French Bulldog Breed, check out the video below: