Today we are going to talk about the best Goldendoodle puppies in Illinois and you find a reputable breeder. The Goldendoodle, a Golden Retriever and Poodle mixed breed, has become one of the most popular companions and family pets.
This breed has the Poodle's intelligence and hypoallergenic coats and the Golden Retriever's calm temperament and friendliness.
Goldendoodles are known for their obedience and trainability, making them one of the best choices for those looking for a lifetime companion.
Other articles you would like: Doodle Dog Tick Removal – Goldendoodles and Doodle Dog Burr Removal – Goldendoodles
Goldendoodle Breeders In Illinois
However, the importance of buying your Goldendoodle puppy from a good breeder cannot be overemphasized.
Reputable breeders always go the extra mile to ensure you are getting a healthy, behaviorally, and physically stable puppy that is highly sociable and with a great temperament.
To help you find the perfect Goldendoodle puppy, we have listed and reviewed the most reliable Goldendoodle breeders in Illinois.
We carefully chose these breeders based on several criteria, including experience, reputation, health testing, health guarantees, etc. The first step to identifying a competent breeder is their availability and willingness to answer your questions.
If a breeder refuses to answer your question about the breed, their puppies, dogs, and the entire breeding process, it means they have something to hide.
The breeders on this list passed this test and others, so you can trust them to provide you with a healthy puppy. Here's our list of breeders you can trust in Illinois.
1. Central Illinois Doodles
Central Illinois Doodles is a well-renowned breeding program owned and operated by John Jess. John is a highly committed breeder with a passion for his dogs.
There is no better person to breed and raise your puppy than a person who grew up with dogs and is well-experienced in breeding and raising them. John grew up with dogs all his life.
When he grew up, he embarked on a journey to find the best companion for his own family. His search was not as fruitful as he expected because he had difficulty finding reputable doodle breeders with high breeding standards and an excellent reputation.
John decided to start breeding and set a new standard for other breeders in the state. While he was a "large dog breed" person, he discovered that many families love smaller dogs that are hypoallergenic and asthma/allergy-friendly.
That is how this great establishment was born. Since then, John has been breeding and raising the healthiest and happiest Goldendoodle puppies possible.
He has built an excellent reputation as one of the most respected and responsible breeders in the United States, committed to ethical and good breeding practices.
At Central Illinois Doodles, you will only find exceptional puppies that are healthy, friendly, and shed less. John and his family work hard to ensure the puppies are free from congenital issues.
All their Goldendoodle puppies in Illinois are health tested to ensure they are genetically sound. They provide exceptional care for all their dogs, feeding them with the best dog foods and treats.
John crosses his Golden Retrievers with smaller Poodles to produce the perfect size dogs for any family. Bernedoodles are also part of the mix. Central Illinois Doodles is also a premier breeder of Bernedoodles.
They produce and raise high-quality F1 and F1B Bernedoodles. Temperament is another vital thing John considers in his breeding program. Only dogs with loving temperaments are bred to ensure the puppies have sweet temperaments.
The Early Neurological Stimulation and Puppy Culture protocols he adopts also help with good temperament, socialization, and good behavior.
Goldendoodle Breeder Information:
Address/Location:

780 N CR 60 E Arthur, Illinois 61911

Phone Number:

217-549-7589

Website:

Central Illinois
2. The Paw Pad Doodles
The Paw Pad Doodles is the responsible breeder of Goldendoodles and Bernedoodles. Christine and Keith Phillips are the owners and operators of this esteemed breeding program. This couple has been married for over 30 years; they have five 5 and 15 grandkids.
They started this breeding program in 2003 out of a passion for doodles. Christine and Keith started The Paw Pad Doodles along with their two kids, but they have now grown to a staff of 16.
Some of their children and grandchildren are part of the breeding program. Their grandchildren are the "official puppy socializers."
The Phillips are proud of their establishment, putting smiles on the faces of many families by providing them with quality, healthy, and happy puppies. Over the years, this breeding program and its facility have not remained the same.
The family is always working hard and thinking of new ways to better serve their dogs, puppies, and clients. With their state-of-the-art facility, the dogs and puppies live and grow up in a serene, healthy, and clean environment.
The facility is super neat, well-organized, and well-equipped with toys, beds, and other things to keep the dogs and pups active and happy.
Another unique thing about this breeder is that they produce various sizes of Goldendoodles. They offer four sizes of puppies, including:
They also produce different generations, including F1, F1b, F1bb, F2b, and F3. Hence, they always have a puppy for everyone, even those with chronic allergy issues. The Phillips family welcomes clients to their homes when their puppies are ready to leave.
You can visit to see your puppy, their parents, and where they are bred and raised. If you are not able to ask them all the questions you have over the phone or email, you can ask them when you visit.
Goldendoodle Breeder Information:
3. Island Grove Doodles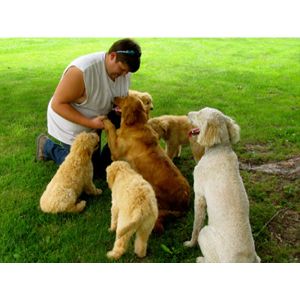 Goldendoodle and Bernedoodle are two breeds that go along very well. These dogs have similar traits, which is why you can find them together in most breeding programs. Island Grove Doodles raises both Goldendoodles and Bernedoodles.
Kristine and Ryan are the owners of Island Grove Doodles, and they both have years of experience breeding and raising puppies. Ryan grew up breeding and raising Golden Retrievers with his dad.
When he got married to Kristine, one of their top priorities was to have dogs roaming their home and playing with their kids.
Fortunately, their dream came through and they are now one of the most reliable breeders in Illinois. Their emphasis is on quality in health, temperament, and looks.
All their adult Goldendoodle in Illinois are chosen based on those traits, so they will give birth to the best puppies possible. Their breeding dogs have health clearance for congenital defects and elbows, heart, and hip problems. Adequate planning has helped them achieve great results over the years.
Each litter is well planned with the intent of improving the breed. Island Grove invests in their dogs and puppies because they want them to have a good life and become excellent companions and family pets.
Kristine and Ryan have been breeding for over a decade now, and they are so happy with the life path they've chosen. In addition to growing their dog family, this awesome couple has added four beautiful kids to the mix.
Goldendoodle Breeder Information:
4. Cherry Lane Doodles
Cherry Lane Doodles is the last entrant on our list of the best Goldendoodle breeders in Illinois. If you are looking for a Goldendoodle puppy that will not have you visit the vet weekly, this is one of the best places to buy one. At Cherry Lane, all puppies come from genetically, PennHip, and OFA health-tested pedigrees.
Their top priority is breeding good-natured, healthy Goldendoodle puppies with exceptional temperaments. All their breeding dogs are tested to ensure they are free of chronic health conditions.
To ensure you get a well-behaved puppy, this family-owned and operated breeding program raises their puppies with an accumulation of Midwoofery & Puppy Culture, Avidog, and Badass Breeder (BAB) Curriculum.
All their Goldendoodle puppies for sale in Illinois are raised with Early Neurological Stimulation to aid emotional resiliency. In addition, the family uses the BAB Evaluation Method to assess the temperament of their puppies before assigning them to their various families.
Cherry Lane is also featured on Good Dog for its responsible breeding practices with a rating of "Excellent."
Goldendoodle Breeder Information:
Conclusion For Best Goldendoodle Breeders In Illinois
When looking for a Goldendoodle Puppy in Illinois, it is easy to fall prey to the tempting pictures of cute little puppies. However, you need to apply caution in your search and don't get carried away to avoid buying unethically bred puppies.
All the breeders reviewed here are reliable, ethical, and have an excellent reputation. They adopt the best breeding practices and ensure their puppies are perfectly healthy and well-socialized before leaving.
You will also like:
For more information about the Goldendoodle breed, check out the video below: