Today we are going to talk about the best Goldendoodle puppies in Georgia and help you choose the correct breeder. If you are looking to buy a well-bred, healthy, and happy Goldendoodle puppy in Georgia, we can help.
The Goldendoodle breed is very famous, and so are its breeders in various states, including Georgia. Many love this breed because they are hypoallergenic, non-shedding, and have a mild temperament.
Other articles you would like: US Goldendoodle Breeders – A Complete List By State and Goldendoodle Owner Interviews
Goldendoodle Breeders In Georgia
Finding reputable Goldendoodle breeders in Georgia is somewhat challenging, and you need to do some findings on the Goldendoodle Association of North America to find ethical breeders.
The best breeders pay the price to adhere to the health testing and high breeding standards required by the GANA. Cutting corners and adopting illicit breeding standards is the way of backyard breeders, and the last thing you want is to buy a puppy from them.
In this guide, we will list and review some Blue Ribbon GANA Goldendoodle breeders that love and care about their dogs and puppies. They are also well-experienced and provide health guarantees for all their puppies.
Without further ado, here are the safest and best places to buy this dog breed in Georgia.
1. Mustard Seed Ranch
Regardless of the generation, color, or size of the Goldendoodle puppy you want, Mustard Seed Ranch has got you covered. These professional breeders are well-grounded in the process of producing and raising this breed.
They produce quality multi-generational red and apricot Goldendoodles puppies, preparing them to be excellent family members and service dogs.
Mustard Seed Ranch is a quality breeder of health-tested Goldendoodles serving Georgia, Florida, South Carolina, North Carolina, Tennessee, Alabama, and other states.
This breeding program is owned and managed by a blended family of seven children and six grandchildren. All their puppies are born, raised in their home, and handled daily by their children and grandchildren.
This family believes that healthy puppies come from only healthy parents, so they do everything possible to ensure their breeding dogs are perfectly healthy.
All their Goldendoodle puppies in Georgia are DNA and genetically tested to ensure they do not pass any congenital hereditary issues to the puppies. In addition to health testing the parent dogs, this family maintains their health by feeding them the best foods available.
Premium foods with human-grade ingredients are what their dogs and puppies enjoy, ensuring they get all the essential vitamins and minerals they need to live a healthy and happy life.
All their breeding and retired dogs are also on year-round heartworm and parasite control. To eliminate potential allergy issues in this breed, Mustard Seed feeds its dogs with grain-free and non-poultry formulas.
As required, the puppies are dewormed at two, four, six, and eight weeks of age. They receive their first shot at five weeks of age and the second at seven weeks.
Mustard Seed works with a professional vet that examines the puppies before they go home. The vet also administers their first heartworm and flea preventative right after the health check. All puppies from this breeder go home with:
A health record

Care sheet

Food supply

A toy

Blanket

A two-year health guarantee
Goldendoodle Breeder Information:
2. FarmDoodles
Puppies need a lot of attention, care, love, nourishment, and exercise to live a healthy and happy life. With over 20 acres of land, FarmDoodles provides its puppies and dogs with more than enough space to play, exercise, roam, and explore freely.
FarmDoodle is an in-house family breeder located in the heart of North Georgia. The family specializes in raising multi-generation and F1B Standard Goldendoodles who are not only cared for and loved but also health-tested.
At Farmdoodles, puppy-raising is a family affair. The entire family gets involved in the breeding program, playing their unique roles in the growth and development of the puppies.
In a bid to ensure the puppies get the highest care, love, attention, and socialization possible, this family breeds only twice a year. By producing a limited litter of puppies yearly, the few produced pups are attended to like kings.
All the pups and dogs are treated like part of the family, helping to shape them for their new families.
Over the years, this family has studied and learned the best approaches to raising healthy, happy Doodles. The Puppy Culture is part of their breeding program, and they incorporate it in every litter they raise.
Early Neurological Stimulation is also part of the program to ensure the puppies are well-adjusted, socialized, and ready to transition to their new homes. All their puppies are introduced to behavior training at a young age, so you should be expecting a well-mannered puppy.
Every developmental stage of the puppies is very important to this family, and they take care to train, socialize, and stimulate them. The family is 100 percent dedicated to their puppies, pouring their hearts into every litter they raise.
The care, love, and attention also extend to the adult dogs. Their breeding dogs are placed in guardian homes where they are cared for by dog-loving, responsible families.
None of their adult dogs are in a kennel environment. Each breeding dog is health tested and examined before breeding.
Goldendoodle Breeder Information:
3. Heaven On Earth Goldendoodles
If appearance is one of your top priorities when looking for a Goldendoodle puppy in Georgia, Heaven on Earth Goldendoodles is one of the best breeders to consider.
They specialize in providing families with healthy and beautiful Goldendoodle pups with playful and smart demeanors. Unlike many breeders out there, Heaven on Earth is licensed and inspected by the Georgia Department of Agriculture.
Mary Hofmann is the mastermind behind this renowned breeding program, and she runs it with her family. Heaven on Earth is a Blue Ribbon Breeder with the Goldendoodle Association of North America – a symbol of excellence and responsibility.
Mary has a lot of experience breeding and raising doodles. She sees all their dogs and puppies as family pets, and they live indoors with the family. The family resides on two acres of property, and the dogs/puppies are free to roam, play, and run around.
Mary ensures all her Goldendoodle puppies for sale in Georgia are well-socialized and semi-trained before leaving for their new families. She socializes them daily with kids, adults, and other animals. She also exposes them to everyday family life, so your new baby will not find many things strange in your home.
Six of their breeding dogs live with them while the rest are in guardian homes where they are loved by their families. Mary scrutinizes the dogs properly before adding them to the breeding program.
She ensures they pass all the health and genetic tests, including elbow, hips, heart, and eye. In addition, they practice Early Neurological Stimulation on all their puppies, giving them the best start in life.
Goldendoodle Breeder Information:
4. Atlanta Doodles And Poodles
Atlanta Doodles and Poodles breeds and raises their puppies in their home. It is a mother and daughter duo breeding program, and their collective knowledge and experience have significantly contributed to the success of the program.
The duo has found joy in learning about, breeding, and raising Goldendoodles. Medical professionals and close friends also help and contribute to the growth of the breeding program.
All their Goldendoodle puppies in Georgia are treated like family members; they are given all the care and attention they deserve. They are raised in a loving home with a lot of space and land to play in.
Health, temperament, and socialization are the cores of this breeding program. The family ensures the puppies are perfectly healthy by breeding only health-tested dogs. Good temperament is another check box every dog must tick before joining the breeding program.
Socialization starts from the moment the puppies are born. They are socialized with kids, various environments, sounds, sights, and other pets.
To make adoption much easier for their customers, this family offers delivery services. They can ship or deliver your puppy to you in or around the state.
Goldendoodle Breeder Information:
Conclusion For Best Goldendoodle Breeders In Georgia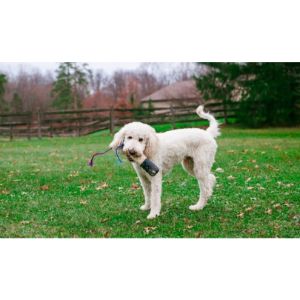 The demand for Goldendoodle puppies is very high in Georgia, so you need to exercise patience if you want a healthy and happy puppy. The best Goldendoodle breeders in Georgia always take their time to make sure everything is done right.
If you want a quick puppy, you might go home with leftovers from backyard breeders. You can contact any breeder here, ask the necessary questions, and join their waiting list. You need to be patient and allow them to breed and raise quality, healthy puppies for you.
You will also like:
For more information about the Goldendoodle breed, check out the video below: