Designer breeds are getting more popular as each day passes because of how adaptable they are to our modern lifestyle. Cockapoo pups can adjust to small apartments and don't shed at all, which is why we have a list of the best Cockapoo puppies in Georgia for you.
They are also quiet and intelligent. For this reason, you can keep them in your apartments without getting notices from the building owner!
Other articles you would like: Goldendoodle Puppies In Georgia and Cavapoo Puppies In Georgia
Cockapoo Breeders In Georgia
If you live in Georgia and you want to have one of these little angels at home, then go through our list of the best Cockapoo breeders in Georgia today!
As per the highest recommendations, and judging countless factors, these are the most recommended cockapoo breeders for your budding family! Take a quick look at them to know a little about their facility and their contact information.
1. A & J's Love Our Pups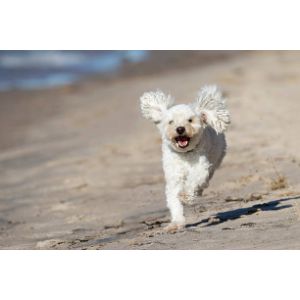 The first thing you notice when you visit the website of this breeder is that it is legally licensed by the State of Georgia. This is good news for those of you who worry about adopting puppies from illegal sources. You don't have to worry about that here!
You are not adopting pups that have been raised in shelters or mills. Instead, all the Cockapoo pups in this center grew up in a loving home environment, which is why they all possess healthy mental and physical health!
Besides, these puppies are also registered with the American Kennel Club. Hence, when you pick them up, you will be handed their registration papers, health guarantee, and other relevant medical certificates!
Just so you know, you have to be on the waiting list if you are serious about getting a new Cockapoo pup in your Itfact, it will be hard to get one without doing so because there are so many people waiting in line to become Cockapoo parents!
To find out more about the prices, deposit fund, payment, and pick up, visit the A & J's Love Our Pups website! Better hurry!
Cockapoo Breeder Information:
2. Jerries Pet Place
State licensed and inspected, Jerries Pet Place is another breeding center that you can trust to adopt a Cockapoo puppy. All the puppies in the care of this center are registered with the American Kennel Club, Canadian Kennel Club, and Designer Breed Registry.
Besides, all the puppies are 1st generation puppies and are usually genetically sound. You can get more confirmation about this after looking at their medical certificates and even asking the breeding center about it.
The more you dig about Jerries Pet Place, the more you will find out how professional this plThisct, this center has been around rearing and selling puppies for 30 years!
Moreover, the puppies are ready for adoption by 8 weeks of age. By then, they are given all the essential shots, health checkups, and deworming.
To reserve a puppy with the center, you have to make a deposit of $200 which is non-refundable. Then, you can pay the rest of the cost in cash when you pick up your precious little one!
Cockapoo Breeder Information:
3. Okeelillovers
Okeelillovers is another breeding center in Georgia that offers incredibly cute and healthy Cockapoo puppies for adoption. The center is also known to rescue animals. So, if that is what you are after, make sure to inform the center about it!
You can visit the puppies any time after getting an appointment with the breeding center. At present, all the Cockapoo puppies at its disposal are all 1st generation.
You can find pups in various shades, like apricot, chopartye, parti, black, buff, red, champagne, and even a mix of them!
Moreover, delivery is available in areas that are close to the center, for example, Florida, Alabama, and anywhere in Georgia. Besides, the pups are reared with healthy schedules for bath, play, sleep, meals, and cuddling.
As a result, they can adjust very easily to the human lifestyle no matter which home they find themselves in! Did you know the babies start bathing from 4 weeks of age and then are dried with a hair dryer?
More importantly, all the pups are registered with the Canadian Kennel Club, are current on deworming, vaccinations, crate trained, paper trained, and treated for heartworms.
Cockapoo Breeder Information:
4. Sherry's Poos
Sherry's Poos is a breeding center located 100 miles north of the Florida line and 100 miles south of Macon, Georgia. The pups grow up on the 7-acre farmland, which is an ideal place to make childhood memories in!
The breeding center specializes in rearing 1st generation Poodle and Cocker Spaniel hybrid, and 2nd generation Cockapoos to Cockapoos.
Having said that, getting a Cockapoo pup is an ideal choice for people who suffer from allergies and want a cute little companion that doesn't bark a lot!
Besides, the owner of the center wants to rear pups that are sociable, healthy, trainable, smart, and loving. For this reason, she applies training programs to ensure that the babies possess these qualities when they go to their forever homes!
If you have fallen for a Cockapoo pup at Sherry's poos, then you can get in touch with the breeder for a reservation as soon as possible! The owner is willing to meet you within 100 miles of the center if you have trouble the way to the center.
Licensed and inspected by the State of Georgia, rest assured that this center will follow the right protocols in the puppy adoption process. You will receive all the necessary paperwork and additional information while at it for sure!
Cockapoo Breeder Information:
Factors To Look For While Adopting Cockapoo Puppies In Georgia
When choosing a Cockapoo breeder in Georgia, there are several factors that you need to consider. We are going to discuss all those factors below:
· Treats Pets as Part of the Family
A good breeder should always treat Cockapoo puppies as if they were a part of the family. You can determine the way they treat the pups by how they talk about them, and also by observing their living conditions.
Most breeders on our list ensure that the pups are getting the love and care they need from the day they arEvenct, even the parent dogs are treated like a part of the fam!
· Clean and Well-Maintained Area
On top of how the pups are treated by the breeders, you should also observe the hygiene of the area where the pups are raised.
Ideally, they should be kept in a clean environment with all necessary facilities at hand, like a play area, toys, beds, blankets, potties, and food.
· Provides Professional Veterinary Care
Cockapoo breeders must have good relationships with professional veterinary seItfact, it is better if they have a vet close to the center. Infant pups are vulnerable when they are born. For this reason, having a vet close by helps them for daily check-ups.
· Has All the Appropriate Paperwork
Licensed and inspected centers will always have the appropriate paperwork to prove their rights to operate as Cockapoo breeders. Upon request, they will show you their documents if you have doubts!
Moreover, when you purchase a puppy from them, they will give you all registered paperwork related to the pup, including health guarantees, vet examinations, vaccinations, hereditary records, and so on.
· Allows Visits and Bonding
Although visiting the center in person may be hard if you are living far from Georgia, it is still an important part of puppy adoption. Generally, a center will have multiple litters ready for adoption.
Now, you have to make sure that you and the pup have a good bond to ensure that you two will get along in the future! Often, when people reserve puppies after looking at a few pictures and videos. But this takes away the chance for the baby and the new parent to bond.
Furthermore, what you see in photos and videos may appear different from what is there in real life. That is why do yourself a favor and make attempt to see the pups in person before adopting them!
What You Can Ask Breeders Of Cockapoo Puppies In Georgia
Puppy adoption is not as easy as it seems. There is a lot for you to learn as a new parent. For that reason, we have come up with a few questions for you to get started!
How often should the puppy be groomed and bathed?
When is the right time to trim their nails?
How do I know that my puppy is healthy by looking at their poops?
Can I have a look at the medical records of the puppy's parents?
How many hours of exercise should my puppy get?
Conclusion For Best Cockapoo Breeders In Georgia
Before you adopt a Cockapoo puppy, make sure that you are ready. Because it is a big responsibility, and you have to take care of the doggo for the rest of its life.
Once you are completely sure that you can handle that, call one of our top breeders to discuss the rest!
You will also like:
For more information about the Cockapoo Breed, check out the video below: