Today we are going to talk about the best Goldendoodle puppies in Colorado and help you find a good breeder. Goldendoodles are excellent companions and family pets because they are friendly to kids, adults, and other pets.
In addition to being lively and friendly, these adorable dogs are generally light-shedders, making them an excellent option for dog lovers with allergy issues. So, where can you find these awesome companions in Colorado?
Other articles you would like: Dog Food For Goldendoodles For Optimal Nutrition/Health and US Goldendoodle Breeders – A Complete List By State
Goldendoodle Breeders In Colorado
Buying a new puppy is a serious business and pet parents need to know how to shuffle between breeders to find the most reliable ones.
Choosing the right breeder is of utmost importance because your puppy's long-term health and well-being depend on it.
You should always patronize a reputable breeder to get a Goldendoodle puppy that won't have temperament issues and genetic health conditions.
To help you find your dream puppy, we have listed and reviewed some well-experienced and reputable Goldendoodle breeders in Colorado. Keep reading to see our top picks.
1. Aspen Hill Doodles
Without any doubt, home-raised puppies have a better temperament and are socialized than those raised in kennels. Aspen Hill Doodles is a professional breeder who raises Goldendoodle puppies in their home.
They specialize in home-raised and loved Goldendoodle puppies. Aspen Hill is a family breeding program with more than 35 years of breeding experience.
They started raising Golden Retrievers 35 years ago and later added Goldendoodles to the mix. All their dogs are raised to be companion animals, treating them like members of their families.
Aspen Hill's thorough screening process is one of the reasons behind their healthy puppies. They screen their dogs for various health issues, including elbows, hips, heart, and eyes.
Their Goldendoodle puppies in Colorado also pass several genetic tests before joining the breeding program. Temperament is another thing they assess.
All their breeding dogs are carefully chosen for temperament to ensure they give birth to only well-tempered puppies. Their breeding program consists of only the best and healthiest dogs.
They produce various generations of Goldendoodles, including F1 and F1B. Aspen does not accept applications until they are sure they will have puppies available. They always notify potential customers a week before the opening of the application process.
However, they do not have a notification system, so you have to keep checking the website for current information. Their litters are in high demand, so you want to jump on the list immediately when applications are open.
Their puppies are basically placed as companion animals. Hence, they require their customers to surgically spay/neuter them before they reach six months of age. One thing we love about this family is that they allow visits.
You can visit their home to see their dogs/puppies and the environment your new baby is bred and raised in.
However, they prioritize the health of their puppies and dogs, so they take every precaution to protect them. Visits are only allowed when the puppies take their first shots and a week before going home.
Goldendoodle Breeder Information:
2. Elite Doodles
Located less than two hours north of Denver, Colorado, Elite Doodles is one of the best places to buy this dog breed in Colorado. It is a family-owned and operated breeding program backed by several decades of experience.
The family specializes in producing medium and mini Goldendoodles, all of which are raised in their home. All their puppies are whelped, raised, and cared for in their home like family members.
Kathryn spearheads the breeding program, and she treats the dogs and puppies like her personal pets and companions.
The puppies from this breeder receive a lot of love, care, and attention until they are placed in their forever homes. At Elite Doodles, you will only find healthy, well-rounded, loved, and adjusted puppies.
Transitioning has never been an issue for the puppies from this breeder, thanks to their immense training and socialization programs. Kathryn ensures the puppies are trained and well-prepared for a smooth and seamless transition to their new homes.
Socialization is another stronghold of this breeding program, as they ensure the puppies are well socialized before going home. They socialize the pups with children, other pets, sights, sounds, and various environments.
Hence, rest assured you will welcome home a pet that is already conversant with everyday family life.
This family has been breeding and raising puppies for more than 28 years, and you will greatly benefit from their experience when you go home with one of their puppies.
They will share their experience with you and guide you throughout your puppy-raising journey.
In a bid to ensure every litter yields perfectly healthy and well-tempered puppies, Elite Doodles carefully screens its breeding dogs for the proper characteristics and temperament, choosing only the very best for the breeding program.
Elite Doodles raises their Goldendoodle puppies for sale in Colorado to be perfect family companion dogs, equipping them with all the necessary skills they need to thrive in any family.
Goldendoodle Breeder Information:
3. High Mesa Doodles
Breeding Doodles since 2008, High Mesa Doodles is a highly experienced Goldendoodle breeder in this state. It is a small family breeder located in beautiful Montrose, Colorado.
In their 10-acres property lies an ideal family environment for the growth and development of their puppies. All their pups are raised in their home and treated as family members.
The family started breeding mini Goldendoodles in 2008 and added mini Bernedoodles to the mix in 2015.
Known for their wonderfully unique and dynamic traits, Bernedoodles are a great addition to this family, as they are the most-famous cousins of Goldendoodles.
This family's major concern is pairing you with a problem-free, healthy Doodle of your choice. From birth, they spend quality time with the puppies to know their unique characters and personalities.
That helps them match the pups to the right families (but you also have to provide them with the necessary information to make the pairing perfect).
Health is of utmost importance to High Mesa Doodles, so they do everything possible to ensure their puppies are perfectly healthy, not just after birth but several years down the lane.
Their dogs are of extremely high standards, with exceptional personalities and temperaments. High Mesa carefully selects its dogs for their health, temperament, and personalities.
In addition to producing healthy puppies, High Mesa invests a lot in the training of their puppies. In August 2019, they added Early Neurological Stimulation to their breeding program.
With this, rest assured your new puppy would come home well trained and socialized. They will blend seamlessly into your family like they've known you for a long time.
Goldendoodle Breeder Information:
4. Amber Goldendoodles
Amber Goldendoodles are masters in breeding and raising quality Goldendoodle puppies. If you are looking for the perfect service dog or family pet, they are one of the few breeders you can trust.
Amber Goldendoodles is a family breeding program that specializes in breeding health-tested dogs to produce perfectly healthy puppies. Health is of utmost importance to this family, and all their breeding dogs pass through rigorous health tests before joining the program.
For your peace of mind, this family sends their puppies home with a health guarantee to protect against congenital defects. Their goal is to provide you with a charming and high-quality companion that is easily trainable and willing to please.
You can rely on them for various puppy sizes and generations, as they produce multi-generation Goldendoodles.
Residing in Erie, Colorado, this family breeds all their dogs in their home. They believe that a loving, peaceful home environment is the best place to raise puppies.
An environment has an impact on the temperament and behavior of a puppy, so they ensure their Goldendoodle puppies in Colorado are raised in the best environment possible.
Their primary goal is to raise kind, playful, smart, and calm puppies and place them in dedicated, loving, and responsible homes. With almost a decade of experience, Amber Goldendoodles know the right approaches to raising the kind of puppies they desire.
Goldendoodle Breeder Information:
Conclusion For Best Goldendoodle Breeders In Colorado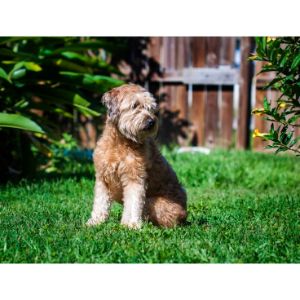 To ensure that you buy a well-socialized, healthy, and well-adjusted puppy, always buy from reputable Goldendoodle breeders in Colorado, such as those listed here. Puppies from reliable breeders are expensive, but they are worth it.
Buying a cheap puppy from puppy mills or backyard breeders will cost you more in the long run as you will spend a lot of money on vet bills and might still not correct the genetic abnormalities associated with such pups.
You will also like:
For more information about the Goldendoodle Breed, check out the video below: