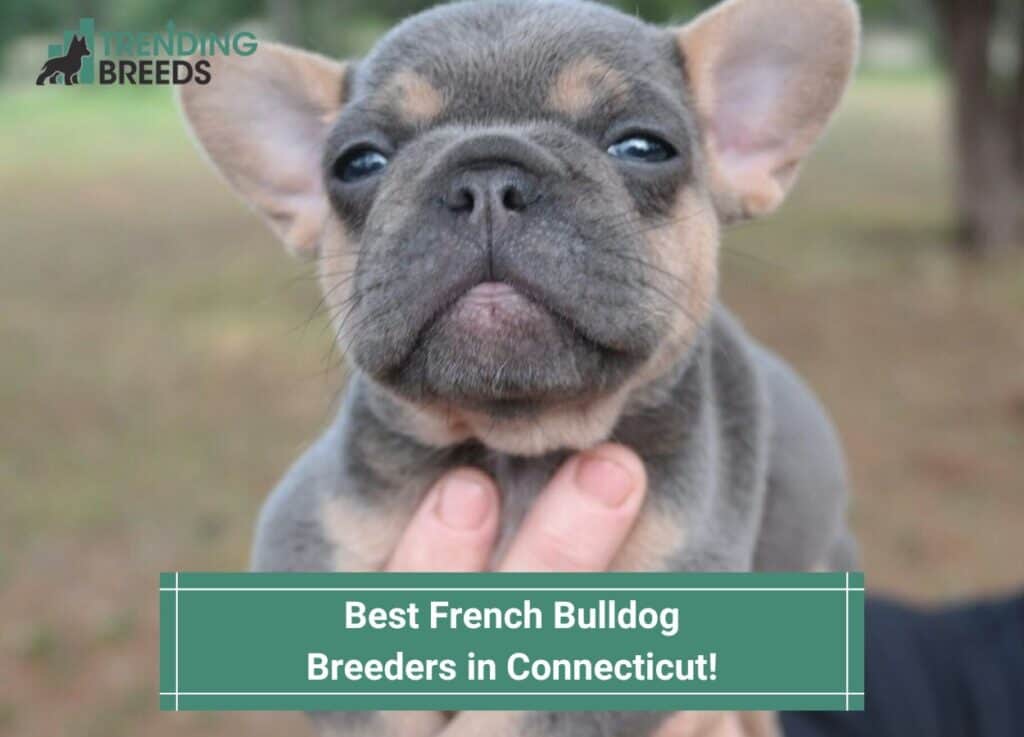 French Bulldogs, also known as Frenchies, are domestic dogs that originated in France. These dogs make excellent family pets and companions. The best French Bulldog breeders in Connecticut help dog lovers get a healthy French Bulldog to cherish.
They are highly sought-after and loved by many because of their affectionate and charming personalities and unique appearance.
Because of their popularity, the breeding space is flooded with dozens of French Bulldog breeders. Finding a French Bulldog breeder in Connecticut is easy, but finding a reputable breeder that prioritizes their puppies' health and socialization is challenging.
The numerous options also make it challenging for potential buyers to choose the right breeder.
Our list comprises breeders who conduct genetic health tests for their sires and dams before breeding.
However, we recommend you do your findings about these breeders and visit their breeding facility before making any financial commitment. Without further ado, here are some of the best places to buy this dog breed in CT.
The 4 Best French Bulldog Breeders in Connecticut
Before you scroll further down this guide, check out these other French Bulldog-related articles: Best French Bulldog Breeders in Indiana and Best French Bulldog Breeders in Iowa.
1. Rolling Hills Bulldogs
Rolling Hills Bulldogs portrays itself as Connecticut's premier bulldog breeder. Interestingly, they have lived up to that title for years by producing Frenchies with exceptional temperament and health. Rolling Hills Bulldogs is owned by a family that is very passionate about their dogs.
Located in the Northwest corner of Connecticut, Rolling Hills Bulldogs is the favorite Bulldog breeder of many pet lovers because of how they breed and treat their pets.
The family is committed to raising well-behaved, healthy Frenchies that make great family pets and companions.
All their breeding dogs are part of their family and are treated as such. The breeding dogs undergo various health examinations to ensure they are healthy and sound before being added to the breeding program.
After adding them to the program, the family tests the dogs every six months to ensure they are in good shape.
One thing we love about this family is that they are open and transparent. They are ready and available to answer your questions about their breeding program, adult dogs, and puppies. The family also welcomes prospective clients to visit at any time. You can visit and see their breeding facility to make an informed decision.
Rolling Hills Bulldogs breeds for quality, not quantity. As such, they produce only a few litters to which they can give all their time, love, and attention.
The family also spends much time socializing their puppies; they understand the importance of early socialization for Frenchies.
This family breeds AKC-registered, show-quality puppies from genetically sound parents.
They have a list of all available puppies on their website. Prospective customers must join a waiting list to secure a puppy in an upcoming litter.
Before going home, the breeder ensures the puppies are dewormed and up-to-date on vaccinations. Your new friend will receive a one-year health guarantee to protect against congenital defects.
Rolling Hills Bulldogs Details:
2. Frenchies CT
Frenchies CT is owned by an avid dog lover who has been selling Frenchies for over five years.
He runs the breeding program with this family to provide French Bulldog lovers with well-bred, healthy, and happy puppies.
The owner strives to preserve the breed quality, choosing only the best and healthiest sires and dams for the breeding program.
All their breeding sires and dams are genetically tested to minimize the chances of passing hereditary health issues to the puppies. After birth, the puppies are also vet-checked to ensure they are healthy and free of congenital health issues.
Frenchies CT aims to produce clever, healthy, and polite puppies that would be a great addition to your home. The family focuses on early training and introduces the puppies to Early Neurological Stimulation (ENS).
They crate-train the puppies to help prepare them for their new home. They also do the housebreaking job for potential owners by ensuring the puppies get used to everyday family activities.
Before going home, their puppies are introduced to various sights, sounds, and environments for proper socialization.
One thing we love about this breeder is that they always update their website with available puppies. If there are no available puppies when you check, you can contact them for the date of an upcoming litter.
If you have little to no experience with caring for French Bulldogs, you can greatly benefit from the expertise and experience of this breeder when you buy a puppy from them.
They provide a lifetime of support and guidance for all their customers. You can contact them whenever you have a question or issue raising your puppy.
To assure you that you are buying a healthy and well-bred puppy from genetically sound parents, this breeder offers a one-year genetic health guarantee for all their puppies.
Frenchies CT Details:
3. Frenchies of Mystic
Frenchies of Mystic also made it to our list because of their excellent reputation in the breeding space.
We highly recommend this breeder if you are looking for a great place to buy well-socialized and healthy puppies with outstanding temperaments.
Frenchies of Mystic is a family-owned, licensed boutique breeder in the quaint town of Mystic, Connecticut.
Their ultimate goal is to produce Frenchies that meet the highest standards for health, temperament, appearance, and bone structure.
The family is incredibly proud of the exceptional quality of the puppies they produce. They believe their puppies are an outstanding representation of this breed. Every little of puppies is planned thoroughly to help maintain this breed's quality and produce the healthiest puppies possible.
They carefully plan every litter to enhance their own well-established and champion bloodlines. In addition to producing outstanding puppies, this family provides lifetime support. They will provide the essential information to raise your new pet without issues.
Even when your puppy becomes an adult, you can contact them for guidance or inquiries.
Another thing we love about this breeding program is that they prepare the puppies for the transition to their new home. They socialize and train them to make the transition as smooth as possible.
Frenchies of Mystic does not ship their puppies or sell them to third parties. They encourage all prospective clients to pick up their puppies themselves.
This will allow you to visit their breeding location and see where your puppy was bred and raised. You can also chat one-on-one with the breeders to learn more about this breed or their breeding practices.
Frenchies of Mystic Details:
4. Bittersweet Farm
Bittersweet Farm is a breeder of fine-pedigreed French Bulldogs and Jack Russell Terriers.
The breeding program is managed by Larry and Shauna Perry, two passionate breeders with many years of experience up their sleeves.
Their breeding program is in Bethany, Connecticut, but they welcome Frenchie lovers from various counties and neighboring states.
Lance and Martha started this breeding program over 35 years ago. It started as a hobby but grew into a business years later. They handed the farm to their daughter, Shauna Perry, who continued the legacy.
If you are looking for a well-behaved puppy to add to your active lifestyle, Bittersweet Farm is one of the best places to get one. Larry and Shauna spend quality time socializing and training the puppies.
They ensure the puppies are potty and crate trained before going home.
They also teach the puppies voice and hand signals for lying down, staying, and sitting. Your puppy will have a solid training foundation before coming home.
Shauna Perry is very knowledgeable about this breed, and you will greatly benefit from her wealth of knowledge when you buy a Frenchie from her.
Their family-farm-raised, heart-warming puppies are ready to go to their forever homes at eight weeks old.
The puppies go home dewormed and up-to-date on all vaccinations. All their puppies are AKC registered and go home with a one-year genetic health guarantee.
You can browse their website for a list of available puppies or contact them for information about their upcoming litter.
Bittersweet Farm Details:
Frequently Asked Questions
What is the highest paid for a Frenchie?
The most expensive Bulldog puppy ever sold went for $15,000.
Can you breed 2 Merle Frenchies?
You can breed 2 Merle Frenchies, but there is about a 25 percent chance that the puppy will be Merle.
Why is Merle so expensive?
Merle-colored puppies are expensive because they are hard to produce yet popular with buyers.
Where Are the Best French Bulldog Breeders in Connecticut?
Connecticut is blessed with many professional breeders. However, the numerous options out there make it challenging for people to separate the wheat from the chaff.
Choosing the right breeder is essential because your puppy's health depends on it. You can trust the breeders here, as they have a great wealth of knowledge and experience about this breed.
You can also learn a thing or two about Frenchies from them before and after patronizing them.
If you find this guide, "Best French Bulldog Breeders in Connecticut," informative and helpful, you can check out these other dog-related articles from our team:
Before you find a French Bulldog puppy for sale in Connecticut, you can learn more about this dog breed by watching "French Bulldog Pros And Cons | The Good AND The Bad!!" down below: