The French Bulldog has been increasing in popularity in recent years, and it's no surprise. They're cute, funny and playful, and above all, squishy! If you live in the Hoosier state, you might be wondering what are the best French Bulldog breeders in Indiana.
French Bulldogs are small, so they'll fit into any housing situation. They make great family dogs, and they're quite food motivated, so they're easy to train, eager to please, and easy to groom. 
There are many things to recommend about these smushy-faced darlings, not least of which is their affectionate and loyal temperament. They love to be on a lap or next to their favorite person on a couch cushion.
One drawback of owning a Frenchie is leaving them on their own. French Bulldogs are devoted companion dogs who can suffer separation anxiety when left alone for too long.
They do much better when they can be in a home where there is always a person to hang out with.
If you've decided to bring a French Bulldog into your life, you'll want to find a reputable breeder focusing on producing happy and healthy dogs.
If you live in Indiana, you're in luck. We've compiled a list of French Bulldog breeders in Indiana.
Many of them serve the Tri-State area as well. We don't recommend puppy mills or those pet stores or services that source their puppies from puppy mills.
We seek out only those ethical home and small kennel breeders passionate about French Bulldogs and want to provide you with healthy puppies.
No matter where you live, most breeders have some nanny, shipping, or delivery service to get your Frenchie puppy home to you. Here is the list of French Bulldog breeders in Indiana. 
Before you scroll further down this guide, check out these other French Bulldog-related articles: Do French Bulldogs Do Well At Home Alone? and Are French Bulldogs Born With Tails Or Are They Docked?.
1. Hoosier Bulldogs
Hoosier Bulldogs is located in Muncie, about 45 minutes outside of Indianapolis. They breed and raise AKC French Bulldogs, focusing on producing happy and healthy dogs on their 42-acre farm.
Their French Bulldog breeding pairs are healthy and genetically tested to ensure that your French Bulldog puppy is of only the best quality and pedigree.
These adorable smooshies don't come cheap. A view of the Hoosier Bulldogs website shows prices from $5,000 up to $9,500.
The care and quality they put into these dogs, the champion bloodlines, and years of experience command a hefty price tag.
If you're interested in purchasing a French Bulldog puppy, look at the website for the available pups, and fill out a contact form to start the process.
Hoosier Bulldogs Details:
2. Fernlyn French Bulldogs
This breeder of adorable Frenchies has a WordPress website that is in process and seems to show all her puppies and breeding pairs on social media. She's on Facebook, TikTok, and Instagram in addition to the AKC Marketplace.
We recommend that you inquire via Facebook, as it shows that the breeder, Jennifer Holmes, responds privately to inquiries regarding breeding and puppies. Her Facebook states that she also offers stud service to approved dogs. 
There is no mention of a waiting list or pricing information regarding Fernlyn's French Bulldogs on Facebook.
However, there are pictures and videos of some good-looking Frenchies on all of her social media platforms. 
Fernlyn French Bulldogs Details:
3. Family Puppies
Family Puppies is, as stated, a family breeder of several small breed dogs, including French Bulldogs. They're raised and socialized by the breeder's family to help ensure they make great family dogs for you as well. 
A deposit of either $150 or $450 is required to reserve a French Bulldog pup, depending upon the final price of the dog.
Use the contact form on the home page to let the breeder know you are interested in one of their adorable Frenchie puppies. 
There is also valuable breed information on the website regarding the French Bulldog breed to help you make an informed choice on the French Bulldog puppy you are considering purchasing. 
Family Puppies Details:
4. Spencerman Bullies & Brussels
Located one hour south of South Bend, Indiana, and just a couple of hours from Chicago is Spencerman Bullies & Brussels.
They are a home breeder of AKC quality French Bulldog puppies. Spencerman has over 20 years of experience in breeding quality, healthy, happy Frenchies. 
A tour through the website shows adorable Frenchies in all color combinations and "fluffy" Frenchies. 
They have a contact form on the "Breeding" tab of the website where you can inquire about starting the process of reserving a French Bulldog puppy for your very own. 
Prices start at $3,500 and go to $9,000 for lilac-colored dogs. The fees also increase if you wish to purchase breeding rights.
They offer discounts for military and public service professionals (doctors, nurses, and teachers) and returning customers.
Spencerman has planned breeding for puppies arriving in May of 2023. So get your notice of interest quickly if you wish to reserve a Frenchie puppy from this future breeding. 
Spencerman Bullies & Brussels Details:
5. RickJenn Frenchies
RickJenn Frenchies aspires to be the best breeder of French Bulldog puppies in central Indiana.
They do genetic health testing on their dogs and offer their customers a rare lifetime genetic health guarantee.
This breeder goes above and beyond to ensure that the Frenchie you get best fits your home and family.
The puppies they produce are well-socialized and personality tested, as well as being exposed to outside stimuli and other people and animals. 
The first step to getting a RickJenn Frenchie is to get on the waitlist. The deposit of $500 will go towards the final price of your puppy. Remember that RickJenn is the elite breeder in this area.
The full price of a French Bulldog puppy begins at $5,000 and goes up from there.
Contact the breeder via the form on the website to begin the process and get information about purchasing a Frenchie from RickJenn Frenchies.
RickJenn Frenchies Details:
6. Fabulous Frenchies
Fabulous Frenchies are French Bulldog breeders that specialize in rare color genetics. Their puppies are produced and raised on their 4-acre property in Goshen, Indiana.
Their dogs are genetically tested, and your puppy will be up to date on vaccinations and deworming and will go home with a one-year health guarantee.
They have a stringent application process, and a deposit is required to reserve a puppy.
That amount is $500 for a standard-colored puppy and $1,000 for a specialty-colored puppy.
The balance of the price is due by the time the puppies are eight weeks of age. The final price for a French Bulldog puppy from this breeder begins at $3,000 and goes up to $10,000. 
Fill out the form on the website to begin applying to purchase a puppy from Fabulous Frenchies.
Fabulous Frenchies Details:
7. Midwest Frenchie Kisses
Midwest Frenchie Kisses has some adorable French Bulldog puppies available for sale. They are located in Central Indiana and are dedicated to producing healthy and happy companion dogs for your home and family.
This French Bulldog breeder raises the puppies in their home with their children and other animals to provide you with the most well-rounded, socialized, well-adjusted puppy you can find.
There is no information on pricing on the website for these adorable Frenchies.
They ask that you submit the contact form on the website to get information on how to pay your deposit and get on the waiting list for a Midwest Frenchie Kisses puppy.
Puppies go home up to date on vaccinations and de-worming and with a one-year health guarantee. 
Midwest Frenchie Kisses Details:
8. Hellberg's Homegrown Frenchies LLC
Hellber's Homegrown Frenchies is in southern Indiana and are home breeders of AKC-registered French Bulldogs.
They also offer stud service. All of their puppies are raised in the home and go to their buyers well-socialized and "pre-spoiled."
Homegrown Frenchies do genetic and health testing on their breeding pairs and do their best to ensure you get the highest quality companion dog that is a good fit for your home and family.
Pricing starts at $4,000 to pet homes with no breeding rights and limited AKC registration. For full breeding rights, the price starts at $6,000 and will vary depending on the litter.
The website has a live chat feature, and the breeders also invite you to email them or fill out the contact form to get the process of reserving a French Bulldog puppy started. 
Hellberg's Homegrown Frenchies LLC Details:
9. Frenchies Loveshack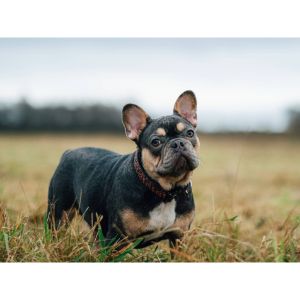 Frenchies Loveshack Breeds Standard and exotic French Bulldogs and raises them like family.
Pricing starts at $1,900 for standard colors and at $4,000 for exotics; you can pay up to $10k for one exotic. There's a chart on the site that breaks it down for you.
Contact them via the website form for information about reserving a French Bulldog Puppy from Frenchies Loveshack. There are litters planned for Spring 2023, so reserve your pick now. 
Frenchies Loveshack Details:
Frequently Asked Questions
Why are Frenchies so expensive?
French bulldogs are expensive because it is difficult to breed them. Frenchies require artificial insemination and c-sections when they give birth.
How long do Frenchies live?
If taken care of well, French Bulldogs can live up to 14 years.
Why do French Bulldogs have a short lifespan?
French bulldogs suffer from breathing issues and have a tendency to get overheated, just like their larger counterparts, the English Bulldog.
If you find this guide, "Best French Bulldog Breeders in Indiana," informative and helpful, you can check out these other dog-related articles from our team:
Before you find a French Bulldog puppy for sale in Indiana, you can learn more about this dog breed by watching "French Bulldog – Top 10 Facts" down below: