Cats make wonderful companions, but sadly many find themselves without a home or family. Thankfully, you can find several cat rescues in Connecticut dedicated to saving cats from a wide selection of unfortunate circumstances.
So, if you're interested in adding one to your family, why not consider adopting one over buying from a breeder? Besides saving extra money, you'll be giving a cat a second chance at life.
Other articles you would like: Italian Greyhound Adoption and Samoyed Adoption.
Why Do Cats Wind Up in Shelters or Rescues?
Despite being the second-most popular pet in the United States behind dogs, over 3.2 million cats end up in shelters every year.
Most cats wind up in shelters and rescues for many reasons, such as:
Allergies

Neglect or abuse

Accidental litters

Health or issues

Behavioral issues with people or other pets

Owners moving to a new property that doesn't permit pets

Their previous owner dying

Unaffordable pet expenses
The 12 Best Cat Rescues in Connecticut
Finding the best places offering cats for adoption can be challenging, especially if you have a busy schedule. Many cat rescues aren't breed-specific, unlike plenty of dog counterparts, so you're bound to find a wide selection of cats for adoption.
We compiled this list of the best cat rescues in Connecticut to help you simplify your search for helping a feline in need.
1. Kitty Harbor, Inc.
First up on our list of cat rescues in Connecticut is Kitty Harbor, Inc. Since 2005, this excellent non-profit, no-kill cat sanctuary has rescued and rehomed abused and neglected felines across southeastern Connecticut and western Rhode Island.
Although Kitty Harbor doesn't offer free cats for adoption, their adoption fees cover their medical care. In addition, all adoptable cats undergo thorough testing for Feline Leukemia Virus and Feline Immunodeficiency Virus.
Kitty Harbor, Inc. Details:
2. The Greater New Haven Cat Project, Inc.
The Greater New Haven Cat Project, Inc. is another one of the top volunteer-operated cat rescues in Connecticut that you should consider if you're interested in getting a cat.
Besides providing low-cost spaying and neutering for feral and stray cats through their "Trap-Neuter-Return" program, they prioritize finding loving forever homes for cats and kittens.
This non-profit rescue limits adoption services to Connecticut residents, with a particular emphasis on those living near New Haven County.
Cat adoption application screenings can take up to two weeks before you're given the opportunity to meet the rescue's foster cats or kittens.
The Greater New Haven Cat Project, Inc. Details:
3. Paws Cat Shelter, Inc.
If you live near Windham County, the best place you can find rescue cats is Paws Cats Shelter, Inc. This non-profit no-kill shelter has rescued and rehomed over 900 cats and kittens since 2011.
Paws Cat Shelter offers foster programs for pregnant felines, mothers with kittens, and special needs cats.
The average adoption fee varies by age, but you can expect cats eight years or older to cost less than kittens younger than a year old. All cats receive up-to-date vaccinations, get spayed or neutered, and get tested for FeLV and FIV.
Paws Cat Shelter, Inc. Details:
4. Pitter Patter Feline Rescue, Inc.
Pitter Patter Feline Rescue, Inc. primarily focuses on finding new homes for adoptable foster kittens rescued from feral cat colonies instead of the usual surrendered cats. They also vaccinate and spay or neuter feral cats.
Their cat adoption policy requires interested adopters to be Connecticut residents living within 30 minutes of Stamford. Anyone interested in their younger kittens must adopt them as a pair.
Pitter Patter Feline Rescue, Inc. Details:
5. The Animal Haven
Residents in New Haven County can contact The Animal Haven about their cat adoption services if they want to add a new companion to their family. The organization helps homeless, abandoned, and surrendered cats of any age.
All adoptable cats and kittens are spayed or neutered and receive up-to-date vaccinations, including rabies and feline distemper. The Animal Haven usually reaches out to applicants within two weeks if they're eligible for one of their cats.
The Animal Haven Details:
6. Protector of Animals
Since 1975, Protector of Animals has consistently been one of the most dedicated cat rescues in Connecticut supporting abandoned, abused, and stray cats.
Most adoptable cats reside in the organization's main facility, while kittens stay in volunteer foster homes.
Protector of Animals provides age-appropriate vaccinations, external and internal parasite treatments, and spaying or neutering for each cat in their care.
They also inform potential adopters about each cat's background or if an individual feline requires specific care.
Protector of Animals Details:
7. Hearts United Cat Rescue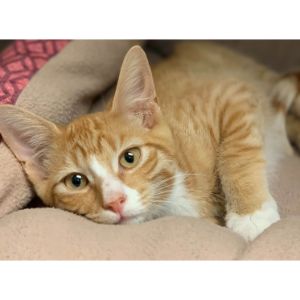 Hearts United Cat Rescue is a non-profit, no-kill group that places abandoned and stray cats in compatible permanent homes with loving families.
The rescue's cats remain in foster homes across central Connecticut until they find their forever family, allowing them to get accustomed to life as a house pet.
Eligible adopters must be at least 23 years old, possess a valid driver's license or state ID with their address, and have approval from their landlord, if applicable.
Hearts United Cat Rescue Details:
8. Whiskers Pet Rescue
Whiskers Pet Rescue is a non-profit organization supporting abandoned, neglected, abused, and injured cats.
Each cat's adoption profile lists if they have special needs and if they're good around kids, dogs, or other cats.
Senior citizens over 65 can participate in Whiskers Pet Rescue's Senior-to-Senior Forever Foster Program if they reside in Southbury and surrounding towns.
If the organization deems them eligible for the program, adoption fees for senior cats over 12 get waived.
Whiskers Pet Rescue Details:
9. Forgotten Felines
If you're looking for cat rescues in Connecticut near the Connecticut River, consider stopping by Forgotten Felines for a new family companion.
Since 1992, this rescue has matched their cats with new loving homes. They also have several volunteers who participate in fostering.
Their main facility has several spacious rooms for their cats to explore and a few covered catios where they can look at the outside world safely.
Connecticut residents interested in adopting a cat or kitten can apply online. All cats in their care receive up-to-date vaccines, get spayed or neutered, and are tested for FeLV and FIV.
Forgotten Felines Details:
10. Connecticut Cat Connection
Connecticut Cat Connection is a volunteer-run, non-profit, no-kill organization committed to finding loving homes for abandoned, abused, stray, surrendered, and impounded cats and kittens.
The organization reviews every submitted application to ensure that each cat gets matched with a compatible family. This process usually takes a few days or two weeks before eligible new owners set up an appointment to bring their cats home.
Their cat adoption fees vary based on the age of the cat and whether you adopt only one or a pair. Connecticut Cat Connection accepts one-time and recurring donations to provide funds and supplies for their felines.
Connecticut Cat Connection Details:
11. Friends of Felines
If you're searching for a well-regarded non-profit cat rescue organization in Fairfield County, look no further than Friends of Felines. The group focuses on finding forever homes for homeless and neglected cats.
Unfortunately, this rescue organization doesn't accept out-of-state applications.
All interested adoption applicants must be 21 or older. Like other cat rescues in Connecticut, the adoption fee for each adoptable cat varies by age and whether or not you decide to adopt a bonded pair.
In addition to vaccinating, health testing, and spaying or neutering cats, Friends of Felines microchips their adoptable cats.
Friends of Felines Details:
12. Better Days Rescue Fund
Located in Litchfield County, Better Days Rescue Fund is a small non-profit focused on saving and rehoming abandoned cats with special needs.
Their facility has plenty of indoor rooms for cats to lounge around and play, while a spacious fenced yard with trees is a lovely spot to climb.
If you're interested in submitting an adoption application, you'll need to include vet references and prepare for a home visit from the rescue's volunteers.
Then, after they determine if you are eligible, you can schedule when you and your family will meet with the cats they think are the best fit for you.
Before you take your new pet home, the rescue will give your cat a wellness exam and up-to-date vaccinations and get them microchipped.
Better Days Rescue Fund Details:
Conclusion For "Best Cat Rescues in Connecticut"
Adding a cat to your family is an exciting experience, so why not make it extra special by bringing one home from one of the many cat rescues in Connecticut?
We hope this list of rescues can help narrow down your top options in your search for a new feline friend for your home.
You will also like:
For more information about Cats, check out the video down below: