When adding a new pet to your family, choosing the right breeder is paramount. Not only will this ensure that you will get a happy and healthy puppy, but it also helps to support responsible breeding practices. The best French Bulldog breeders in Oklahoma produce affectionate and adorable dogs that make excellent companions.
If you are in Oklahoma and looking for the best place to buy French Bulldog puppies, it is essential to do your findings to choose a reputable breeder. A good French Bulldog breeder is knowledgeable about this breed, transparent about their breeding practices, and provides adequate care for their dogs.
They also prioritize their puppies' health and well-being while ensuring they are socialized and vaccinated before going home.
Finding a breeder registered and recognized by a reputable organization like the AKC is also important. When looking for the best Frenchie breeder in Oklahoma, ask for referrals from friends or vets, read reviews, and visit the breeder's facility.
After considering all these factors and consulting some experts, we have compiled a list of some trustworthy French bulldog breeders in Oklahoma. Read on for their reviews and contact details.
The 4 Best French Bulldog Breeders in Oklahoma
Before you scroll further down this guide, check out these other French Bulldog-related articles: Best French Bulldog Breeders in Iowa and Best French Bulldog Breeders in Indiana.
1. Crosstimber Frenchies
Crosstimber Frenchies is a reputable breeder with almost two decades of experience. It is a family breeding program providing Frenchie lovers access to happy, beautiful, healthy family pets and companions.
All their puppies are registered with the AKC and bred according to the AKC's standards for this breed.
French Bulldogs are an adorable breed but are susceptible to specific health conditions. Their squashed faces, one distinctive feature they are well-known for, usually lead to BOAS – brachycephalic obstructive airway syndrome.
This condition results in heavy breathing and painful rasping in most Frenchies. Unfortunately, this condition has no treatment and can affect a dog's quality of life. Frenchies with this condition are prevented from exercising and playing; it also affects how they eat.
The only way to ensure your Frenchie does not have this condition is to work with a responsible breeder health test their sires and dams before breeding. This breeding program knows the importance of health testing their breeding dogs, as it is the key to producing healthy puppies free from congenital disorders.
Crosstimber Frenchies are tested for various health conditions associated with this breed. They also partnered with NuVet to ensure their puppies do not lack the nutrition they need to grow healthy and strong.
As a home breeder, Crosstimber Frenchies raise all their pets with exposure to various parts of the house. The breeder also allows the puppies to explore the outside world in their large and beautiful garden.
This breeder also understands the importance of early socialization for Frenchies.
As such, they expose the puppies to visitors, kids, and other pets. They socialize and interact with them daily to increase their exposure and friendliness.
Another thing this breeder is good at is building relationships. They build solid customer relationships and are always there for them and their new pets.
You can still call them for inquiries or guidance years after the purchase.
Crosstimber Frenchies Details:
2. JJG Frenchies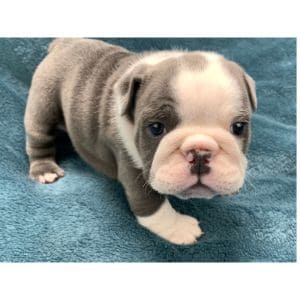 JJG Frenchies is one of the most experienced French Bulldog breeders in Oklahoma.
Randy and Elizabeth Honeycutt own the breeding program, and the couple has been breeding Frenchies for over two decades.
They started JJ Frenchies in 1997 and have bred and raised hundreds of Frenchie Bulldogs.
Randy and Elizabeth started this breeding program to promote their love for the breed through responsible and healthy practices.
Combining breed experience and years of research, the couple works tirelessly to provide healthy, happy French Bulldog puppies for families and individuals.
One unique thing about this family is that they don't hide what they know about this breed.
They are always happy to share their knowledge with you to promote the breed. When you buy their puppy, you will benefit from their knowledge and experience about this breed.
JJG Frenchies is located in Collinsville, but they have puppies across Oklahoma and other states.
This family is dedicated to the health and improvement of the Frenchie breed and aims to produce puppies with outstanding temperament and structure.
All their breeding dogs are tested for basic genetic disorders, and the puppies go home with a genetic health guarantee.
In addition, the puppies are raised in a climate-controlled and hygienic environment to promote good health.
Randy and Elizabeth pay more attention to the health of their puppies than their performance in the show ring.
As such, they breed their pets with a slightly longer muzzle that helps prevent health conditions caused by the breed's crushed face and small nose.
The family also ensures the puppies are well-socialized and handled to allow a smooth transition to their new homes.
They socialize and interact with the puppies daily, exposing them to kids, pets, and various environments. Your new pet will come home well-socialized and blend into your family seamlessly.
Their website contains everything you need to know about their breeding program. You can also call them to learn more about their breeding standard, puppies, and breeding dogs.
JJG Frenchies Details:
3. Premier French Bulldogs
Located in Chandler, OK, Premier French Bulldogs is an AKC breeder dedicated to producing healthy, happy, and well-socialized puppies.
This family breeder has more than four decades of experience with Frenchies. They have been breeding and raising quality Frenchies with exceptional personalities and temperaments for over 40 years.
Premier French Bulldogs is a member of the AKC "Bred with H.E.A.R.T." program, so rest assured you are dealing with a well-recognized and reputable breeder. The primary focus of this breeder is health, type, and temperament.
They breed well-balanced, outgoing, and healthy Frenchie puppies that will be a joy to show and live with. Premier French Bulldogs have produced many show champions over the last four decades. Their dogs also make excellent family pets and companions.
This family does not breed fad colors not approved by the National Breed Club. Fad-color Frenchies are not allowed in AKC events and are susceptible to genetic health issues.
All their puppies go home with AKC-limited registration papers (not for show or breeding). You can contact them privately if you want show or breeding rights.
Premier French Bulldog is a member of the Oklahoma Green Country French Bulldog Specialty Club and Northeast Oklahoma All-breed Kennel Club. They adhere to the breeding standards of these organizations while maintaining a strict selective breeding program.
This breeder conducts DNA and OFA health testing for all their breeding dogs, staying current with breeding practices and dog health advances.
As an ethical breeder, Premier French Bulldogs aims to preserve this breed by following the breed standard.
Premier French Bulldogs Details:
4. Bullworth French Bulldogs
Bullworth French Bulldogs is an AKC Breeder of Merit whose puppies have the advantage of superior genetics.
Rick Wilson, a highly experienced, passionate breeder and Frenchie lover, owns and manages this breeding program.
The breeder has a comprehensive puppy imprint training program helps them produce well-behaved, well-socialized, and happy puppies.
This breeder produces and raises French Bulldog puppies that are good with the following:
Children
Seniors
Dogs
Cats
Families
All their puppies are from AKC-registered, health-tested, and DNA-certified champions.
In addition, Rick offers a one-year health guarantee against life-threatening genetic defects. All their puppies go home microchipped, vaccinated, and dewormed.
Bullworth French Bulldogs prioritizes the long-term health of their puppies over things like the profitable fade of dilute genetic colors.
They also offer lifetime after-sale support, meaning you can always rely on them for guidance and support when raising your new pet.
Puppies sold as companions and pets are offered with AKC limited registration. You can contact them especially if you want the puppy for show or breeding prospects.
Besides health, Rick also focuses on temperament when breeding. He chooses only good-tempered and well-behaved dogs for the program.
His strict selective program helps him produce good-tempered puppies that are playful, gentle, friendly, and outgoing.
Bullworth French Bulldogs have a dedicated blog to teach you many things about this breed. You will learn puppy care, socialization/training tips, and more.
Before leaving for their forever homes, the puppies are introduced to crate and potty training. They are well-equipped for a seamless and quick transition to their new homes.
Bullworth French Bulldogs Details:
Frequently Asked Questions
What is the average cost of breeding a French bulldog?
These dogs cost around $5000 to $9000 to breed, deliver, and raise a litter.
How much is a stud sperm for a French Bulldog cost?
It will cost anywhere from $2000 to $6000 to procure the insemination, depending on the line that the dog comes from.
How long are French bulldogs pregnant?
French Bulldogs gestate for around 63 days, or two months.
So Where Are the Best French Bulldog Breeders in Oklahoma?
Finding a reputable French Bulldog breeder in Oklahoma is essential for ensuring you bring home a happy and healthy puppy.
By doing your findings and choosing a breeder who prioritizes the health and well-being of their puppies, you can feel confident in your decision to add a Frenchie to your family.
You can rely on the breeders listed here for healthy, well-bred, happy, and well-socialized French Bulldog puppies.
If you find this guide, "Best French Bulldog Breeders in Oklahoma," informative and helpful, you can check out these other dog-related articles from our team:
Before you find a French Bulldog puppy for sale in Oklahoma, you can learn more about this dog breed by watching "10 Important Facts about French Bulldog Every New Mom Should Know" down below: