If you're interested in adding a unique dog breed to your family, why not consider the Basenji? Although this breed is shy and quiet around strangers, they're pretty affectionate and energetic with people they trust.
Unlike other dog breeds, they make yodel-like noises to communicate instead of barking. They also showcase a few cat-like behaviors, like climbing or grooming themselves.
Since Basenjis usually have one heat cycle a year, finding Basenji puppies for sale can be challenging. Thankfully, you can find several reputable Basenji breeders across the country who prioritize each pup's health before giving them to their new families.
Other articles you would like: Basenji Coat Colors and Why Don't Basenji's Bark?
The Best Basenji Breeders in The USA
We compiled a list of some of the best Basenji breeders to help you streamline your search for the perfect puppy.
1. Meisterhaus Whippets and Basenjis
First up on our list of the top Basenji breeders in the country is Meisterhaus Whippets and Basenjis. Since 1992, this small kennel, owned by Tad Brooks and Joseph Hurt, has bred AKC-quality Basenjis for companionship and showmanship.
He also breeds Whippets and is a proud member of the Louisville Kennel Club and the Basenji Club of America.
Tad and Joseph's breedable dogs undergo health and temperament evaluations before producing any Basenji puppies.
They get tested for several eye issues, displaced hip development, and Fanconi syndrome, where the renal tubules of a Basenji's kidneys fail to reabsorb nutrients and release them into their urine.
Meisterhaus Whippets and Basenjis Details:
2. Eldorado Basenjis
Since 1993, Eldorado Basenjis has offered happy and healthy Basenji pups for anyone in the New England region.
Breeders Pam Geoffroy and Sheila Lund raise their Basenjis in a stable home environment to ensure proper socialization and introduction to life as a family pet.
Most of their dogs get tested for Fanconi syndrome and several genetic hip and eye issues.
They prioritize improving the breed to ensure healthier litters have specific traits that meet the American Kennel Club's breed standards, including square bodies with long legs and outgoing temperaments.
Their puppies usually go to their new homes after nine to 10 weeks and have up-to-date health and pedigree records. This Basenji dog breeder also offers retired breeding dogs for adoption occasionally.
Eldorado Basenjis Details:
3. Triforce Basenjis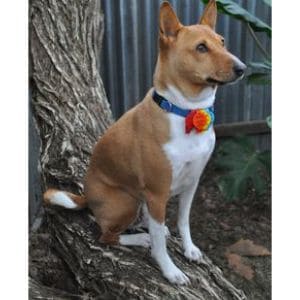 Triforce Basenji prioritizes improving the breed while preserving its core characteristics. Carla Ghilardi is a Basenji breeder who raises her pups in her home to get them accustomed to life with their new families.
Her breeding facility also received recognition from several organizations, including the AKC, Barn Hunt Association, and The International Dog Shows.
She gets her breedable dams tested for Fanconi syndrome, progressive retinal atrophy—an eye condition resulting in gradual vision loss—and other genetic health issues before producing litters.
If you're interested in any of Carla's Basenji pups for sale, you can fill out an online puppy application and get placed on her waiting list.
The puppies go to their new homes when they're 10 weeks old with a one-year health guarantee, up-to-date vaccinations and deworming, and OFA eye test records.
Triforce Basenjis Details:
4. SkyHi Basenjis
Located about an hour north of Denver, SkyHi Basenjis is a trustworthy breeder that prioritizes each dog's temperament.
We consider Laurie and Jack Stargell some of the best Basenji breeders because of their dedication to the breed. They have worked with Basenjis since 1986 and produce one litter yearly.
Their breeding program prioritizes picking Basenjis with sound temperaments to ensure they get passed down to future puppies.
In addition, the puppies undergo a temperament test at seven weeks before placing them with a compatible family. Breedable Basenjis also get tested for Fanconi syndrome and genetic hip and eye issues.
Laurie and Jack raise their Basenji puppies in their home until they're ready to enjoy life with interested new owners. They also encourage eligible applicants to visit their farm after the puppies arrive to help with early socialization.
SkyHi Basenjis Details:
5. Harmony Hounds
If you live in Southeast Georgia, one of the best Basenji breeders in the area is Harmony Hounds, a family-owned and operated breeder about two hours away from Alma.
Dayna Johnson raises her Basenji puppies with her family on an 87-acre farm, giving them plenty of space to roam, play, and exercise outside her house. She also breeds Basset Hounds.
Her Basenjis undergo rigorous health and temperament checks before getting used for breeding.
The puppies also get socialized with children, adults, and other animals. Her puppies are available in four AKC-recognized colors: chestnut red, black, tricolor, and brindle.
All puppies go to their new homes with up-to-date deworming and vaccinations, a one-year health guarantee, and limited AKC registration. She also offers shipping services for puppies, typically $1 per mile from the buyer.
Harmony Hounds Details:
6. Nocturnal Kennels
Nocturnal Kennels is a family-owned and operated kennel near the border of Northern North Carolina and Virginia.
James and Sarah Lee raise their puppies on 23 acres of fenced property, typically letting them reside in their home and spacious, climate-controlled kennels. James and Sarah also breed Miniature Dachshunds.
They begin socializing their Basenjis with people, cats, and other farm animals early. They also get them accustomed to grooming, using the bathroom outdoors, and getting held.
Before producing any litters, their breedable sires and dams get tested for Fanconi and PRA.
Each Basenji for sale gets placed on a spay or neuter contract, gets its dew claws removed, and has limited AKC registration.
If you're interested in one of Nocturnal Kennels' puppies, you can contact James or Sarah and set up an appointment to meet the puppies and their parents.
Nocturnal Kennels Details:
Things To Consider When Searching for Basenji Breeders
If you're looking for Basenjis for sale near you, there are several things you need to consider when narrowing down the best Basenji dog breeders.
Since most Basenjis live up to 12 or 16 years, you'll need to ask your breeder several questions before deciding if they're the right breed for your home and lifestyle.
Experience With the Breed
Most reputable Basenji breeders should have plenty of experience raising and working with the breed.
Their knowledge of this breed is an essential resource for first-time Basenji owners with questions about their behavior, health, and caring requirements.
Consider reaching out to breeders with recognition from several Basenji-centric organizations, such as the Basenji Club of America.
High Puppy Prices
The average price range for Basenji puppies for sale is between $1,200 and $2,000 per pup. However, we recommend searching for breeders selling puppies for at least $2,000 that are guaranteed healthy.
The prices can vary from breeder to breed for several reasons, such as the Basenji's once-yearly heat cycle period, breed demand, coat color, health coverage, and the breeder's location.
If you see any newspaper or online ads that say "Basenji puppy sale" or "Basenji puppies sale" with listings under $1,000, consider searching elsewhere since low prices are a red flag for unethical puppy mills that prioritize profit over their pups' wellbeing.
Health Testing Policies
Reputable breeders typically get their sires and dams tested for several genetic health issues to ensure they don't get passed down to their litters each year.
Although many breeders prioritize producing litters with limited health issues, some parents can be potential carriers of breed-specific health problems.
Examples of health issues Basenjis can develop over time include:
Many Basenji breeders offer genetic health guarantees for each puppy they sell and get them dewormed every few weeks until they're ready to go home.
Some breeders might place their puppies on a specific diet to ensure proper development and growth before going to their new homes.
Limited Litter Production
Consider reaching out to Basenji breeders who offer limited litters for sale. Basenjis have one heat cycle yearly instead of every six months like most dog breeds, so you can expect breeders to sell only a few puppies to interested buyers.
Suppose a breeder has several breedable dams on their property or in a guardian home. In that case, they should carefully select one who's compatible with a sire to produce an ideal litter, switching between different dogs during each cycle.
Focusing on one litter each gives the breeder more freedom to focus on each puppy instead of multiple pups from separate litters.
Transparent Visitation Policies
Reputable Basenji breeders tell their customers about their facility's visitation policies if they're interested in meeting the puppy's mother.
Some breeders only permit visitors when the new owners come to take their puppies home, while others don't permit on-site visits to prevent the pups from contracting outside diseases.
In-person and digital meetings are a great way to see the type of setting the breeder raises their dogs in and check out the conditions of the puppy's mother.
Transparent Communication
Trustworthy Basenji dog breeders always keep in touch with customers with questions before or after bringing their puppy home. They create puppy contracts highlighting everything a new Basenji owner should expect when buying one of their puppies.
In addition, many breeders offer return policies if any owner can't care for their Basenji for numerous circumstances.
How Long Does It Take To Bring a Basenji Puppy Home?
The time it takes to bring your new Basenji puppy home can vary, depending on where you look. If a breeder offers Basenji puppies for sale on their website, you can expect to bring them home after 10 weeks.
You can apply for their waitlist if they don't have puppies available. The average wait time on a Basenji breeder's reservation list is about one year because of the breed's unusual heat cycle.
Breeders take a few days or weeks to evaluate each application they receive before choosing the most eligible applicants for their litters. After the puppies arrive, the breeder gives each new owner updates about their puppy through social media or email.
Conclusion For "Best Basenji Breeders in The USA"
You can find several trustworthy Basenji breeders across the United States offering healthy, happy puppies that offer years of excellent companionship.
Although it can be challenging to choose the best one, many offer plenty of insight about raising the breed. They also prioritize producing litters that meet AKC standards and improve the breed overall.
If you're ready to take on the responsibility of raising this lively yet high-maintenance breed, we hope this list can help you narrow down your top options.
You will also like:
For more information about the Basenji Breed, check out the video below: