If you're looking for ferret breeders in the USA, you're at the right place. We understand how this social and playful animal can make everyone want to have one of their own.
Ferrets are a popular pet in the country, especially for people who look for an affectionate fur friend that doesn't require a lot of space and can be kept indoors.
They are the perfect pets for individuals who live in apartments and enjoy unique personalities in their pets.
Having a pet ferret requires commitment when it comes to time and resources.
They need a proper diet, regular veterinary care, and a suitable environment according to their age and temperament.
In addition, they need regular interaction with their owner to create a strong bond, which they thrive on. They also need space around the house to explore and play until they tire out.
Before getting a ferret, you must thoroughly research its specific needs and see if it matches your lifestyle.
Moreover, in some states and cities of the USA, it is illegal to own a ferret, and you should confirm your local laws before getting them as a pet.
Finally, it is essential to evaluate the merits of each breeder before choosing one. You should consider their breeding practices, socialization program, and cleanliness or safety of the environment.
Here are some of the most reputable breeders with ferrets for sale in the USA; let's have a look:
Before you scroll further down this guide, check out these other animal-related articles: Best Mini Horse Rescues in The USA and Best Guinea Pig Rescues in The USA.
1. Middle Earth Ferretry
Kentucky-based Middle Earth Ferretry is a small hobby breeder specializing in breeding Standard, Angora, and EU Polecat hybrid ferrets. Maintaining quality, temperament, health, and structure are their primary concerns.
As a result of its well-established breeding practices, Middle Earth Ferretry has gorgeous ferrets with affectionate and entertaining personalities.
This breeder spends a lot of time and energy carefully choosing the best bloodlines and seeking excellent, loving homes for their ferrets.
The breeders at Middle Earth Ferretry are American military veterans who live with their families and various pets, including cats, horses, dogs, and donkeys.
They live on a large farm on the outskirts of Kentucky, breeding and rearing superior-quality ferrets.
They care for, cherish, and give their pets the attention they deserve since they consider them a part of their families.
They've been around ferrets as pets for almost two decades and are affiliated with numerous ferret-related groups.
Including the Angora Ferret Enthusiast, the American Ferret Association, the Heart of Ohio Ferret Association, and the Ferret Breeders Network.
The prices of the ferrets vary according to their type; standard ones cost $450, EU Hybrid is $475, Quartet Angora is $500, Half Angora is $550, Semi Angora is $575, and Full Angora is $600.
These prices include their pedigree with the previous three generations.
When you adopt a ferret from MEF, it will have received its first shot of distemper vaccination, fecal float, and wellness exam done by a licensed exotics vet.
It will also have a microchip and bag with a small supply of their favorite food, a blanket, and a hammock with their toy and paperwork.
You can reserve your preferred ferret by depositing a non-refundable fee of $100 when the ferret babies turn five weeks old.
Usually, the kits are ready to go home when they are around eight to nine weeks old, but it depends on their personal growth, development, and health.
There is a waiting list for people interested in purchasing the ferrets, and you can register by filling out the application form online.
Middle Earth Ferretry Details:
2. PVO Ferrets
Next on our list of breeders of a ferret in the USA is PVO Ferrets from Ohio, run by Ron and Pam VanOverloop. They have been breeding ferrets since the 1990s and believe it to be a fulfilling and life-changing experience.
They specialize in breeding imported and local bloodlines, including Angora, especially in blond shades. Practicing standards of breeding ferrets, they strive to maintain quality, health, and temperament.
About ten years ago, PVO started importing bloodlines from other countries, which gave these ferrets an exotic touch.
They strive to breed the best animals, ensuring their health and well-being. All their ferrets are loved and cared for since birth and given proper attention and nutrition to help them nourish and grow.
They do not offer their pets on a first come, first serve basis. Instead, each application undergoes a rigorous process, carefully screening each potential owner.
They consider the lifestyle, living situation, number of family members, and other pets in the family, along with many other factors.
They are responsible for matching these precious ferrets with caring owners who will love and care for them earnestly.
PVO Ferrets Details:
3. Scarlett's Happy Dookers
Scarlett's Happy Dookers from Ohio is a breeder with more than thirty years of experience. They have an American Ferret Association license and have judged multiple ferret shows worldwide, in countries like Japan and Russia.
Scarlett's ferrets make excellent pets, with comical antics and innocent faces that are enough for endless enjoyment. They have had a hundred ferrets at a time and have less than sixty breeding ferrets.
The ferrets at Scarlett's Happy Dookers have received several awards. Nine won the AFA's Specialty Ferret of the Year title, while five won the Breeder, Alter, or Adolescent Ferret of the Year award.
On their website, you can find images of these lovely ferrets. They are all ADV-free. And undergo monthly health tests.
Scarlett's Happy Dookers ferrets are loved, respected, and cared for as members of their families. The breeder produces them in various shades, including chocolate, champagne, dark sable, roans, and black roan mitts.
The breeders are proud to work to preserve their genetic diversity, conformation, and general well-being. Also, they mix from various bloodlines, including American, English, German, New Zealand, Hungarian, and Finnish.
Selective breeding is practiced, and each mother ferret is bred only once a year and for three years. Then they retire, live happily playing and lazing around with mates, and are also up for adoption on the website.
The kits live in their cages and playpens in the garage for safety.
Though a camera is set up to monitor them, the garage has heating and air conditioning for their comfort. Their ferrets are available for purchase seasonally, from spring through summer.
If you want to buy, complete the application form on the website.
Scarlett's Happy Dookers Details:
4. Fuzzy Ferrets
Fuzzy Ferrets is a small ferretry located in Alaska. They have produced a limited number of kits yearly for over two decades.
They are also involved in rescuing ferrets from difficult situations of neglect and ignorance. Their foremost priority is the well-being and welfare of ferrets nationwide.
At Fuzzy Ferrets, the breeder follows standard breeding practices and focuses on breeding for conformation, longevity, temperament, and health of the ferrets.
They believe in quality over quantity, and with years of experience in this business, they know how to maintain it. Their ferrets make excellent and reliable family pets and have good show potential.
All of them are hand-raised with lots of love and care in the ferrets and treated like family members.
The breeder looks for an owner who can provide the same affection to them along with a safe and healthy environment to grow and nurture.
They also offer to ship the kits to different states, but the potential client has to qualify in the application process.
Fuzzy Ferrets Details:
5. Black Dragon Ferretry & Shelter
Last on our list of ferret breeders in the USA is Black Dragon Ferretry and Shelter in Iowa.
It is a breeding program run by true ferret lover who prides themselves in breeding the most beautiful-looking ferrets in the country, along with providing shelter and boarding services to them.
The director, Jen, practices selective breeding from many outstanding and original pedigrees. It all started in the summer of 1997 when she opened a shelter, and since then, have rehomed more than 300 ferrets.
She is also a licensed veterinary technician, which allows her to understand the specific needs of animals better.
This breeder also owns forty-two ferrets, dogs, cats, cockatiels, and a turtle. They all live together with love, care, attention, and proper nutrition. These ferrets have also won multiple awards making national history.
This breeder has assembled and worked with some of the most excellent pedigrees in the ferret community, including bloodlines from worldwide.
She breeds them for temperament, conformation, and color, by putting long hours of research, thought, and effort into each breeding. All her kits are excellent family companions and love to socialize.
The prices of ferrets vary for many reasons, but it mostly depends on whether they are privately bred retired show ferrets or shelter ferrets.
Shelter ferrets are priced at $100 for two-year-olds, $75 for five-year-olds, and $50 for older ones.
A discount is offered on adopting a pair or ferret with special needs. Privately bred ferrets also have different prices ranging on their color, show career of parents, gender, bloodline, and other factors.
The cost of purchasing a ferret with heavy foreign origins is $225 for females and $275 for males. Light foreign bloodlines are for $175 and $225. Some kits range from $125 to $150, too.
Black Dragon Ferretry & Shelter Details:
Alternatives for Ferret Breeders in the USA
If you cannot find a trustworthy breeder, we recommend adopting one from a well-known ferret rescue in your area. Here is one such rescue that you can consider:
6. Ferret Dreams
Ferret Dreams is a reputable rescue organization and a team of breeders of ferrets in Colorado.
They have a mission to rescue abused, abandoned, surrendered, sick, and neglected ferrets in Colorado and its neighboring states.
This rescue has been operating since 2005 and has a lot of knowledge and experience with this exotic animal. To date, more than two thousand ferrets have been rescued by this organization.
They are a no-kill shelter and take in all domestic ferrets regardless of their medical condition, health, or age. They are licensed charitable organizations with 501(c)(3) status.
They have a team of volunteers who are sincere and passionate about ferrets. They graciously work for their welfare and consistently develop ideas to improve their well-being.
The adoption fee for ferrets unde1-year-old is $250; for those in the age bracket of one to three years, it is $200; for four to five-year-old ferrets, it is $150; and for those over the age of six, it is $100.
They have a care package with free hammocks, hanging cubes, cover sets, beds, bowls, and toys. If you want to apply, visit their website to complete the application form.
Ferret Dreams Details:
How to Choose the Best Ferret Breeders in the USA?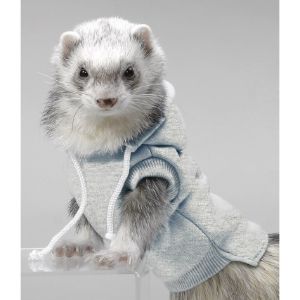 It is essential to choose the breeder wisely because a reputable breeder prioritizes the health and welfare of ferrets above anything else. Here are some things to look for when selecting a ferret breeder:
1. Socialization
Socializing ferrets at a young age is extremely important so they don't misbehave with other pets or nip at their owners.
A good breeder spends time doing so for the sake of the happiness and development of the pet. You can inquire about their socialization program and meet the ferrets to see if they're comfortable around people and pets.
2. Good Health
A reputable takes good care of the ferret's health and would willingly provide you with their medical documents and records to show that they have received medical care and checkups from registered veterinarians.
You can also look for signs of good health in ferrets by checking their weight and the shine of their coats and eyes.
3. Clean and Safe Environment
Visit the breeder's facility to ensure that it's well-maintained. It should be clean and hygienic, with plenty of space for the pets to run around. Some breeders keep them in cages; check if they are clean and have good air conditioning.
4. Breeding Practices
Compare the breeding practices of different breeders and see if they meet the requirement and standards of breeding ferrets.
If they act responsibly and ethically, they will provide information about the bloodlines of the ferrets. You can see how it affects their health and how you can help them breed specifically.
5. Reviews and Testimonials
It is necessary to check with previous customers and clients of a breeder, read their reviews and seek their testimonials.
It will help you better understand the breeder's reputation and if their ferrets are as excellent in quality as they claim them to be.
More Information About Ferrets in the USA
Domesticated ferrets were first bred in Europe as rabbit and rodent hunters. Their slender bodies are covered with thick fur coats, which gives them a distinctive appearance.
They are delightful creatures who enjoy associating with people and having fun with other animals. You can teach them new tricks and make them walk on a leash with ease.
Ferrets are a huge responsibility and commitment, requiring similar care as any other pet. They are small and perfect for apartment life but still need plenty of space to explore and play around.
It is best to educate yourself as much as you can about them if you want to adopt one.
Also, you can research the ferret breed that best suits your way of life. Knowing what kind of toys, bedding, food, or cage you can obtain would be helpful.
Whether purchasing a privately-bred ferret or adopting one from a shelter, you will enjoy having one in your life. When socialized correctly and on time, they make excellent family companions.
They can be mischievous, but it only adds to their charm. You are responsible for keeping them happy, occupied, and healthy by regularly vaccinating them.
Frequently Asked Questions
What states sell ferrets?
All states except for California and Hawaii have legalized ferrets as pets.
Do ferrets know their names?
Ferrets do recognize their names. They are intelligent animals.
What do ferrets like to sleep in?
Ferrets enjoy hammocks, cardboard boxes, and little places to snuggle and hide.
Where Are The Best Ferret Breeders in the USA?
In conclusion, owning a ferret is a blessing in itself. These tiny beings bring endless joy and entertainment, keeping you hooked on their unique personalities.
However, be sure to do thorough research before choosing a breeder.
We have mentioned some of the best ferret breeders in the United States, which may help you find the perfect little companion for yourself!
If you find this guide, "The Best Ferret Breeders in the USA," informative and helpful, you can check out these other animal-related articles from our team:
Before you find a Ferret for sale in the USA, you can learn more about this animal by watching "Ferrets As Pets" down below: