Are you and your family considering adopting a pet rabbit?
While adopting from rabbit breeders seems like the best choice, getting your new pet from a local rabbit rescue in New Jersey can help to rehome bunnies that have otherwise been abandoned by prior owners.
Other articles you would like: Best Rabbit Rescues In The USA and Best Rabbit Rescues In Pennsylvania.
Why Do Rabbits End Up in Shelters?
Many causes result in rabbits coming to local shelters. Most rabbits end up in shelters because owners surrender them to the entity outright because they cannot care for them or do not wish to do so.
The original owners may be moving to a different location and unable to take the rabbit with them as well.
Rabbits are number three in line amongst the most popular domestic pets in the country following cats and dogs in the top two rankings.
Bunny adoptions spike in preparation for the Easter holiday and then rabbit abandonments increase once Easter is done.
Essentially, some pet owners deem rabbits as seasonal pets and then are ignorant that domestic rabbits do not have the same survival skills as wild rabbits.
Despite the spike in abandonment after the Easter holiday, bunnies left to fend for themselves is a year-wide issue. Most times people do not do the right thing and take them to local shelters to surrender.
The Top 8 Rabbit Rescues in New Jersey
Rabbits in need in New Jersey get rehomed thanks to rescues based throughout the state. If you are ready to adopt a rabbit today, try one of these top eight rabbit rescues in New Jersey.
1. Hug-a-Bunny Rabbit Rescue, Inc.
Originating in 2007, Hug-a-Bunny Rabbit Rescue, Inc is a nonprofit volunteer-based organization on a mission of rescuing rabbits in need of a new home.
They have partnered with local animal shelters to find rabbits in need on the streets and in local forests nearby.
Domestic rabbits do not know how to fend for themselves like wild rabbits. Hence, this rabbit rescue and its partners are always on the lookout for domestic rabbits who are hungry and scared so that they can be brought into the shelter to feed and rehome them.
Hug-a-Bunny Rabbit Rescue does not have a physical location, but they have volunteers and foster homes throughout the Waldwick area. If you are interested in becoming a foster parent for an adoptable rabbit, contact them today!
Hug-a-Bunny Rabbit Rescue, Inc. Details:
2. Mini Lotus Rabbitry
Mini Lotus Rabbitry does more than rescue rabbits and rehomes throughout the South Jersey area.
They provide year-round photography services where you can take a picture with their rabbits for Easter, a birthday celebration, or a general "just because" surprise.
If you already own a pet rabbit, you can take him or her to Mini Lotus Rabbitry for the pet groomers to groom their nails and brush their fur. This service can take about an hour to do for the best results in proper rabbit care.
According to their Facebook page, adoption rates vary. Contact them to begin the adoption process today or to ask about their photography or grooming services.
Mini Lotus Rabbitry Details:
3. Safe Haven Rabbit Rescue
The Global Federation of Animal Sanctuaries verified Safe Haven Rabbit Rescue as a notable rabbit rescue in New Jersey in September 2021. The rabbit rescue had to go
You can help the rescue by purchasing one of their bunny-themed handbags, wallets, apparel, or notecards.
All proceeds benefit the money it takes to care for the rabbits in the rescue. Purchase merchandise online or go to the shelter to buy the items directly to take home after visiting.
Check their website for local bunny-themed events fun for the whole family and community where all proceeds benefit the rabbit rescue. Events like a Bunny Spa and the Bun-nanza are some of the fun events Safe Haven Rabbit Rescue hosts.
Safe Haven Rabbit Rescue Details:
4. Wild Baby Rescue Center Inc
Wild Baby Rescue Center is a special kind of rabbit rescue in New Jersey.
They are licensed to rescue and care for Eastern cottontail rabbits amongst other animal species such as deer, raccoons, opossums, muskrats, fisher cats, minks, flying squirrels, chipmunks, and more!
Any little Eastern cottontail rabbits or other baby animal species found abandoned in the wild with no mother to protect them are taken to the Wild Baby Rescue Center.
They are nursed back to health and receive one-on-one attention from local volunteers well-versed in caring for and training wildlife to assimilate to behaviors in their natural habitat.
Once they are of age to be released, volunteers return them to the wild for a more fulfilling life beyond the shelter as adults.
More than 10,000 animals have received treatment at Wild Baby Rescue Center Inc since 2004. While you cannot adopt rabbits that are wild, you can still donate to the center to help the initiative!
If you see a wild rabbit in need of care, contact a wildlife rehabilitation specialist at the center today!
Wild Baby Rescue Center Inc Details:
5. Willy's Wabbits
Willy's Wabbits is a local rabbit adoption shelter with a nice ring to the name. We bet it has you thinking of when you used to watch Saturday morning cartoons and hear Elmer Fudd call Bugs Bunny a "wabbit" on Looney Toons.
Nonetheless, Willy's Wabbits is a rabbit rescue that originated a few years ago and the owner's name is Willy.
He works with local animal shelters and pet stores to find rescue rabbit candidates in danger of euthanization and rehome them for a more fulfilling life. Owners surrender their rabbits directly to their animal rescue as well, so they can rehome rabbits in need.
They hold mini auctions on rabbit-themed cups, bowls, pillows, decor, and more, whereas all proceeds directly benefit the operation of the rabbit rescue and caring for the rabbits.
For more information on their auctions to purchase merchandise and support them, check their Facebook page!
Willy's Wabbits Details:
6. South Jersey Rescue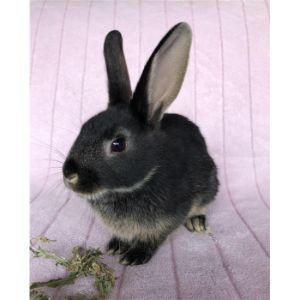 South Jersey Rescue shelters dogs, cats, rabbits, and other animals in need of rehoming. They are a much smaller nonprofit animal rescue than compared to other locations, but they continue to save the lives of animals in need around the South Jersey area.
You can browse available animals up for adoption on their website. If you are specifically looking for rabbits, you would have to visit the "Other" section as they do not have a designated browsing section like cats and dogs.
No Place like Dog Home Sitting from Gibbstown sponsors South Jersey Rescue. Potential sponsors can petition for interest on the South Jersey Rescue website.
Check their website and social media pages for more information on upcoming community events where all proceeds benefit the shelter. Common events are Paws for a Cause during Adopt a Shelter Dog month annually in October.
South Jersey Rescue Details:
7. Tribbles Rabbit Rescue
Tribbles Rabbit Rescue recognizes that there are not as many rabbit rescues throughout New Jersey.
Lori Mills started this rabbit rescue after seeing how many shelters are dedicated to the needs of cats and dogs and how few rescues have the space or time to work to rehome rabbits.
Their mission is to find and rescue rabbits at risk of abandonment, slaughter, and neglect to find them new homes with owners that give them the best of care, nurturing, and love during their lives.
Those interested in adopting rabbit babies will not have to wait long as turnaround time only takes a couple of weeks once they enroll at the shelter.
Check their Petfinder link below to view the current rabbits up for adoption. You can donate directly to the shelter via PayPal, purchase something from their Amazon wish list, or become a monthly paid member of their Patreon.
Tribbles Rabbit Rescue Details:
8. Kind Heart Rescue And Placement
Kind Heart Rescue is a local nonprofit animal rescue that cares for and rehomes rabbits. In business for more than 30 years, they are one of the rabbit rescues in New Jersey with the most experience.
If you cannot adopt a rabbit, you can sponsor them to help with care costs before they go to their forever home. When you shop Amazon Smile, 0.5% of your purchase goes to Kind Heart Rescue and Placement.
Kind Heart Rescue And Placement Details:
Conclusion For "Best Rabbit Rescues in New Jersey"
Rabbits need loving, caring homes just like their popular counterparts, dogs and cats. Adopting a rabbit is a great first-pet option for children starting to learn pet owner responsibilities for the first time.
Get in touch with one of the local rabbit rescues in New Jersey to help a furry, hoppy friend find their forever home today!
You will also like:
For more information about Rabbits, check out the video down below: