If you're looking for the best German Shepherd puppies in Maryland and its vicinity, we've got you covered!
As the name suggests, German Shepherds originated in Germany in the late 1800s. Many believe that the German breeders wanted a dog with loyalty, strength, speed, and intelligence for herding; hence they bred the GSD.
German Shepherds are known to be one of the most famous dog breeds. They are loyal, courageous, and have the best-guarding instincts.
Obedient and easy to train, German Shepherds are excellent dogs for first-time owners or families with small kids.
The playful nature of the German Shepherd makes it a great family dog, even though it belongs to the herding dog group.
Moreover, due to their exceptional sniffing capabilities, German Shepherds are considered great military dogs, and they are used for search-and-track missions for narcotics and explosives.
According to a canine psychologist – Stanley Coren, the German Shepherd is the 3rd most intelligent dog breed, with an IQ of 60. Moreover, after Labradors and Golden Retrievers, German Shepherds rank as the most used guide dogs.
Popularized in the United States in the 1900s, German Shepherds are still one of the most popular dog breeds nationwide.
Therefore, it's not surprising that you'll find many German Shepherd breeders in Maryland, but you must do your homework before making your final selection.
Always opt for authentic breeders to ensure you get a healthy and well-trained puppy. This blog post lists 4 trustworthy GSD breeders in and around the state.
The Best German Shepherd Breeders in Maryland
Other articles you would like: Best Havanese Breeders and Labradoodle Breeders By State
1. Applejack K-9 Academy & Kennel
Established in 1987, Applejack K-9 Academy is run by the Ramsey family. The founder and trainer, Douglas Ramsey started his journey with a Gold Retriever, then moved on to German Shepherds and dreamed of creating a training facility.
He purchased a property with his wife Beth, and dedicated his life to making his dream a reality. Doug died in 2017, and his sons now take his legacy forward. The facility provides breeding, training, and boarding services.
The Applejack Academy provides open indoor/outdoor runs, infrared heating, and skylight facilities.
All dog breeds are bred and trained to become obedient homely dogs. Additionally, the breeding program concentrates on health, temperament, and confirmation.
You can apply for a free evaluation if you wish to enroll in dog training. The training program focuses on the dog's attitude; it includes behavior modification & obedience, family protection, off-leash training, and advanced tracking courses.
Behavior modification helps address the dog's aggression, separation anxiety, and excessive chewing problems.
The pricing details for all available courses are as under:
Obedience: $1200- $2000 (Basic and Intermediate Level)
Protection: $5000 (Personal/ Family)
Boarding: $35 per night/dog
The academy offers a special discount of $100 on the Basic Training Package for military personnel, Multiple dogs, Juvenile Dogs (under 6 months), and Rescue dogs.
The boarding and training of dogs are done for 7 working days. The prerequisites for this include immunization for Rabies, Bordetella, DHPP, and Canine Influenza, along with shot records. The owner provides the dog with food.
Moreover, the team teaches a 13-command routine to the dog. After completion of this course, your dog may receive weekly group lessons. The group schedule can be checked on the website. You can sign up with the breeder and book a reservation.
Applejack K-9 Academy & Kennel Details:
2. Misty Ridge Animal Resort & Boarding Kennel
Misty Ridge is a one-stop dog shop; they breed high-quality German Shepherds and provide professional training and luxury boarding services.
Located on a high ridge with acres of ground, the breeder raises exceptionally healthy and well-tempered GSDs.
Their boarding services include exercises, fun amenities, accommodation, training, grooming services, bath, ear cleaning, and nail trims. Additionally, the kennel provides boarding and Limo services for its guests.
The founder- Joyce Burdette, has a great affinity for dogs. She is a woman of great vision, a recognized breeder, and a dog trainer.
She's been working for the last thirty years, accommodating dogs, cats, bunnies, and birds. This training facility is built with high specifications to ensure the well-being of all pets.
When it comes to their breeding program, they are second to none!
Misty Ridge owns a range of German Shepherds pedigrees, such as SCHH, IPO, KKL, and VA1. All the puppies are OFA-certified and tested clear for Degenerative Myelopathy (DM).
Information on all breeding females and males can be viewed on their website. Joyce provides a health certificate for each dog, with a guarantee against hip dysplasia and congenital problems.
You also get an updated shot history and a registration form to enlist your dog as a purebred German Shepherd.
Misty Ridge Animal Resort & & Boarding Kennel Details:
3. Von Dansu German Shepherds
When searching for renowned German Shepherd puppies for sale in Maryland, Von Dansu German Shepherds will always pop up first. It is an AKC-registered breeder where all the dogs at fed and raised at their mini farm.
Their focus is the production of fine German Bloodlines. Von Dansu German Shepherds take great pride in breeding pedigrees showing VA1s, SGs, SCHH3s, KKL1s, and IPOs.
The team works diligently to meet customers' needs, earn their trust, and deliver the best service.
A natural breeding approach is adopted to attain the pure characteristics and versatility of the breed.
Each puppy is well-socialized so that it adapts to living environments. The breeder also offers training classes to teach obedience and agility to the dog.
According to the clients' testimonials, Von Dansu German Shepherds is a highly recommended breeder. The quality, professionalism, and reliability of their services are guaranteed.
To reserve a puppy, you must fill out a form, which is then sent to the email address below.
Von Dansu German Shepherds Details:
4. Golden Ridge Farm German Shepherds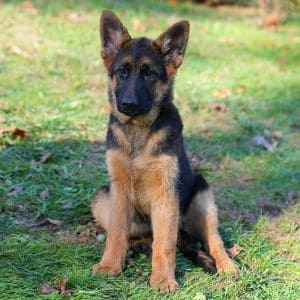 Golden Ridge Farm is the last on our list of breeders that offer German Shepherd puppies in Maryland.
Situated at Upperco, Maryland, Golden Ridge is proud to breed and import West German Show Line German Shepherds.
The puppies of this breed are intelligent, confident, and possess excellent temperaments. They are grown to standards and registered with AKC and SV.
Through years of successful breeding, Golden Ridge has gained immense popularity and cherishes a great bond with its clients. They have also imported female European German Shepherds for breeding, with V (Excellent) rating.
Additionally, all puppies get regular health checkups and get treated for fleas, ticks, and worms throughout the year. They are vaccinated, tested, and screened for Hip & Elbow disease, DM, and cardiac abnormalities.
You can inquire about the available puppies for sale, the process of adoption, and all puppy-related ones through the provided helpline. You may also reserve a spot on the waiting list to book your choice of puppy.
Since Golden Ridge is an in-home breeder, they only allow visits through appointments.
The dog purchased from them comes with 30 days of Trupanion pet insurance, a puppy care package, health insurance, and a Puppy Culture training certificate.
Golden Ridge Farm German Shepherds Details:
More Information About German Shepherd Puppies in Maryland
The owner of a German Shepherd must know about the diseases common in the breed. These are:
Degenerative disc disease
Elbow and hip dysplasia
Bloating
Hemophilia
Cataracts
Epilepsy
It is also vital to share that this breed sheds a lot throughout the year. Therefore, if you are allergic to dog fur and dander, you must consider another breed.
Moreover, bathing a double-coat German Shepherd could be challenging; clip your dog's hair regularly to make it manageable. You can also opt for professional groomers.
Another significant info to consider before purchasing your dog is that male dogs are considerably more aggressive than females.
This shows that if you wish to get a puppy for your family, you may consider a female. For protection and guard duties, male German Shepherds are a better option.
German Shepherd Puppies in Maryland – Top 4 Breeders
German Shepherd is a handsome and athletic dog, ideal for companionship, protection, and service. If you wish to adopt German Shepherd puppies in Maryland, please do your homework on the breed and the breeders.
German Shepherd is a loyal and versatile breed, but it cannot be bred by any breeder. Choose breeders that have at least 5 years of experience raising GSDs.
Moreover, they are full of energy and can become stubborn and aggressive if untrained; therefore, choose a breeder with a well-established training and socialization program.
Additionally, they are high-maintenance dogs that shed a lot; therefore, people with allergies must take caution.
Finally, German Shepherds don't like living in small apartments and may also suffer from separation anxiety. Therefore, consider a GSD if you live in a house with a yard, a farm, or an apartment near a dog park.
Despite being expensive, you'll find that the German Shepherd is one of the best pets. However, it is only worthwhile if you choose the right breeder.
The breeders mentioned above are the best in the state and have years of experience raising healthy and happy GSDs. We hope that you found a puppy and were able to connect with a reputable breeder!
You will also like:
For more information about the German Shepherd Breed, check out the video below: