If you've been searching for the best Cavapoo puppies in Tampa, you're in luck!
The Cavapoo is a precious dog breed that has been a favorite family pet for a while.
A cross between the popular Cavalier King Charles Spaniel and the adorable Poodle – Cavapoos are outgoing, playful, and extremely affectionate.
A Cavapoo will light up any room it enters with its friendly energy. Cavapoos are also the kind of dogs that thrive on human companionship. They'll enjoy their playtime at a park and at home alike as long as their owner is next to them!
Like every other dog breed, Cavapoos also come with a few challenges.
For example, they're likely to inherit certain hereditary health problems from their parents, such as mitral valve disease, hip dysplasia, progressive retinal atrophy, and more.
However, most genetic diseases commonly found in Cavapoos can be completely avoided if you pick a reliable breeder that strictly adheres to the code of ethics while breeding puppies.
Before you scroll further down this guide, check out these other Cavapoo-related articles: Best Cavapoo Breeders in New England and Best Cavapoo Breeders in Colorado.
1. Blue Diamond Family Puppies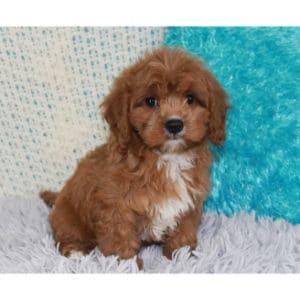 One of the best options to consider is the Blue Diamond Family Puppies. It has exactly what you're looking for!
All the F1 and F1b Cavapoos raised by Blue Diamond come from genetically tested parents and are healthy, active, and happy puppies.
The breeder specializes in breeding Cavapoos and also has different colored puppies available. These include white, apricot, and red-colored puppies.
Moreover, the puppies are also well-socialized, so they do not have issues adjusting to their forever homes, especially homes with children or other animals.
Every puppy is also examined carefully as soon as it is born to ensure they're healthy.
All the puppies under the care of Blue Diamond Family Puppies are vaccinated, microchipped, and dewormed. So, you can be assured you will only receive the healthiest puppies!
Moreover, the puppies are also temperament tested by an independent puppy trainer. The prices for the Cavapoos start at $2995.00.
If you would be interested in purchasing a Cavapoo from the Blue Diamond Family Puppies, you can view the Cavapoo puppies for sale in Tampa here.
Although Blue Diamond Family Puppies is not located in Tampa, they can deliver your Cavapoo to your doorstep.
To kickstart the adoption process, you must contact Blue Diamond Family Puppies directly through the contact details mentioned below.
Blue Diamond Family Puppies Details:
2. Robin's Pups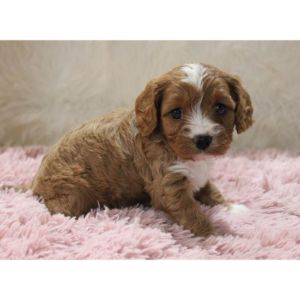 Robin's Pups is where you will find some of the best Cavapoo puppies in Tampa.
With over 20 years of experience raising and working with dogs, Robin's Pups know how to provide high-quality puppies that light up every home they visit.
They breed Maltipoos, Malshipoos, Cavapoos, Shihpoos, and Cockapoos.
Located in Hudson, Florida, north of Tampa – Robin's Pups is a small licensed kennel with many Cavapoos available, including an F1b Cavapoo puppy, a Chocolate sable puppy ideal for people with allergies, and more.
Robin's pups do everything within their power to ensure the good health and stable temperament of their puppies.
The puppy parents are also carefully selected and properly looked after so that they can produce healthy and active puppies.
Moreover, the puppies are raised in an ideal environment. The puppies have a 1000 sq. ft. home with heat, air conditioning, and plenty of areas to run around and play in.
You may click here if you'd be interested in purchasing a Cavapoo from Robin's Pups.
The puppies will come to you with their vaccine shots done, dewormed, a one-year health guarantee, and a Florida health certificate so you can adapt your puppy without any concerns regarding its health.
You can also view any information about the upcoming Cavapoo litters here. These adorable Cavapoo puppies range from $1995 to $2500.
Since Robin's pup does not have the option to fill out an online application form for adoption, you will need to reach out to them personally to know more details about how you can kickstart the adoption process.
You can contact Robin's Pups through the contact details mentioned below.
Robin's Pups Details:
3. Crockett Doodles
Looking for Cavapoo breeders in Tampa? Look no further than Crockett Doodles.
Crockett Doodles is dedicated to providing precious home-raised puppies to great families who can provide them with the utmost love and care.
Since Crockett Doodles did not want to start a kennel, they decided to work with close friends to find partner homes to raise their puppies.
They started with breeding Goldendoodles and have now extended their range to several other breeds to provide Tampa with a variety of adorable puppies to choose their pets from.
Crockett Doodles has Cavapoos available in all the colors you could wish for.
These colors include red, Blenheim, apricot, caramel, and cream Aussidoodle. They breed F1, F1b, and sometimes Multigen Cavapoos and mini Cavapoos at home.
These puppies are home-raised and also well-socialized. If you would prefer to adopt your Cavapoo from Crockett Doodles, click here to view the currently available puppies.
You can fill out the adoption application online to kickstart the adoption process. Crockett Doodles also has a refundable deposit fee (minus the 9% processing fee), a feature not many other breeders offer.
All the puppies under the care of the breeder are vaccinated and dewormed. You can contact the breeder for any other queries through the contact details mentioned below.
Crockett Doodles Details:
4. Bailey & Bella Cavapoos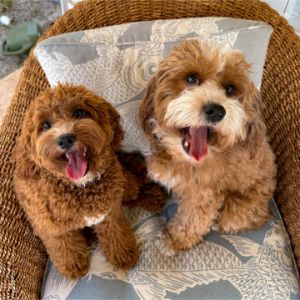 The last breeder on our list raising Cavapoo puppies in Tampa is Bailey & Bella Cavapoos, a breeder that breeds and raises healthy Cavapoo puppies with excellent temperaments.
They raise their puppies by following the early neurological stimulation program at 3 days old to develop stronger heartbeats, better immunity to disease, more tolerance to stress, and other traits that can enable them to live healthier and more active lives.
The puppies are home-raised and provided with the utmost affection and care, with every puppy receiving individual attention.
They also receive potty training and crate training so that their future owner does not have to spend time training these precious creatures and can start bonding time immediately!
Moreover, the puppies are up-to-date on their vaccinations, microchipped, dewormed, and have a one-year genetic health guarantee.
To adopt your Cavapoo puppy from Bailey & Bella Cavapoos, you must contact the breeder directly to begin the adoption process.
Bailey & Bella Cavapoos Details:
How to Choose Cavapoo Breeders in Tampa
Whenever you're in the dog market looking for a dog breeder, you're likely to come across countless breeders – with every breeder claiming to breed high-quality puppies, how do you know which one to pick?
While many breeders work tirelessly to breed and raise healthy puppies, some backyard breeders also try to trick the system and are more concerned about their profits rather than the welfare of the animals under their care.
While some may even have their hearts in the right place, they lack the knowledge and experience to breed and properly raise puppies.
So, here are some features we think every ethical breeder must have:
Health & DNA tests: Check if the breeder gets DNA and health tests for the parent dogs. DNA tests allow one to better under their dogs and whether the dogs' offspring will be more prone to inheriting certain health defects from their parents. While many breeders in the market ensure to undertake this practice, some backyard breeders and puppy mills do not. Therefore, you must choose your breeder wisely.
Is the Kennel Clean and Comfortable: Ethical breeders also ensure their puppies are raised in secure, clean, and safe conditions and receive regular training and socialization. So, choosing a good breeder means getting a quality puppy.
Encourages Facility Visits: Before adopting a puppy from any breeder, ask them if they allow potential buyers to visit the facility where the dogs are bred and raised. If they do not, it is a red flag, and you must look for another breeder for obvious reasons!
Veterinary Records: The breeder must be able to provide you veterinary records of the puppy concerned. This ensures the puppy has been receiving regular vet checks, and the breeder keeps a check on their health. Moreover, you must also ask for any records providing the dogs have been vaccinated and dewormed.
References: If there are no social media reviews or testimonials from previous clients on the breeder's website, consider asking them for references from the owners of any of the breeder's previous litters. If they're unable to do so, walk away!
More Information About Cavapoo Puppies in Tampa
Before bringing a Cavapoo home, here are some facts you must know about this adorable breed:
Exercise Needs: Just like their parent breeds, Cavapoos are high-energy dogs. They will need at least 40 to 50 minutes of exercise every day. You could split this into walks, indoor playtime, or dog sports.
Grooming Needs: although Cavapoos are low-shedding or even non-shedding dogs, they still require regular grooming to keep their gorgeous coat healthy and clean. You should expect to give your Cavapoo a quick brush daily and bathe and blow-dry his coat every 12 days.
Does Not Like Alone Time: Cavapoos are one of the dog breeds that are highly prone to experience separation anxiety. Cavapoos adore companionship and do not like spending time on their alone. So, you must spend most of your day with your Cavapoo or at least make sure someone else is always home with your puppy when you're away. Otherwise, your puppy may develop depression and anxiety.
Frequently Asked Questions
Do Cavapoos bark a lot?
This answer will depend on the dog. However, they are not known to be noisy or chatty.
Do Cavapoos go on walks?
Cavapoos will need longer walks–typically around 40 minutes per walk twice a day.
Where should a Cavapoo sleep?
Cavapoos like being near their owners, so we recommend putting a crate in your room or training them to sleep on the bed.
Cavapoo Puppies in Tampa – Top Breeders
Since Tampa does not have many breeders that breed and raise Cavapoos, you must look around nearby cities or consider getting your Cavapoo shipped or delivered.
However, whichever option you choose, choose your breeder wisely!
All the above-mentioned breeders have been carefully selected to help you find your ideal Cavapoo breeder are fully dedicated to producing healthy and happy puppies!
If you find this guide, "Cavapoo Puppies in Tampa – Top Breeders," informative and helpful, you can check out these other dog-related articles from our team:
Before you find a Cavapoo puppy for sale in Tampa, you can learn more about this dog breed by watching "Cavapoo Pros And Cons | Should You REALLY Get A CAVAPOO?" down below: