Aussiedoodles are one of the most intelligent breeds out there, which makes sense, given they are part Australian Shepherd and part poodle. If you're looking for the best Aussiedoodle breeders in Georgia, you've come to the right place.
Both parent breeds are known to be highly intelligent, so naturally, a combination of the two would result in a little genius.
This intelligence makes them easy to train and a desirable breed for new dog owners, assuming they are ready to handle the fur challenge tied to this breed.
Here is our list of Aussiedoodle breeders in Georgia – but before we get into that, here are some small factoids about the breed.
Before you scroll further down this guide, check out these other dog-related articles: Cavapoo Puppies In Georgia and Goldendoodle Puppies In Georgia.
The Average Cost of an Aussiedoodle Puppy from a Breeder in Georgia
The average cost of an Aussiedoodle puppy from a breeder in Georgia ranges from $500 to $5000. This price can be further broken down based on the three AKC-recognized size variants:
Toy | $1500 – $5000+
Medium | $1000 – $2500
Standard | $500 – $2000
These prices are the average, and there are outliers on both sides of the range.
For example, there have been sales run by breeders selling a puppy for half off on the low end, for $250.
On the flip side, some puppies have parents with a high degree of pedigree, among other desirable factors, that lifted their asking price as high as $25,000.
Some Questions To Ask A Breeder
During any transactional agreement between two people, questions are used to determine where the other person stands.
This rule holds for adopting a puppy from a breeder, so to help you out, we've come up with a few basic starter questions that you should ask a breeder:
What size do you expect the Aussiedoodle puppy to get when fully grown?

This question helps determine whether the puppy is standard, medium, or toy-sized.

Have they been crate/potty trained?
What brand of puppy food should I buy?
Are there any medical conditions that they have that I need to look out for?
Can I meet their parents and siblings?
These are only a few questions to get you started – there are many others we're certain you can think of. After all, who knows best about what you are uncertain about than you?
The breeder expects these questions – they'll be suspicious and unlikely to let the puppy go into your hands if you show up with cash and don't ask questions. They will also have a few of their own ready, so you'll need to be prepared to answer them.
Usually, it's about who is living with you and what kind of housing you have. Some will go the extra mile to ask about your job or health.
These questions aren't meant to pry but to determine if you'd be a reliable owner who won't return to them with the puppy demanding your money back.
Common Traits of the Aussiedoodle Breed
General Demeanor: [Very Friendly]
An Aussiedoodle is often very friendly, intelligent, and playfully gentle. They are great with kids and are quite sensitive to our emotions.
They will comfort you when you feel down, which is reinforced by the fact that Aussiedoodles often serve as therapy dogs.
Fur Maintenance: [High]
The Aussiedoodle is a notoriously high-maintenance dog when it comes to its fur.
They shed seasonally and will need daily brushing to keep the hair under control. Additionally, we highly recommend grooming them monthly, opting for a professional groomer where possible.
When brushing, you'll want to be careful around their eyes, ears, tail, and butt areas, as they are highly sensitive.
Energy Levels: [Very High]
Aussiedoodles are very high-energy dogs. They will practically run circles around you as you walk. Daily walks and plenty of play time will be needed to keep this energy level under control.
They do not usually channel this energy into barking – which typically only happens when the Aussiedoodle feels barking is necessary.
Drooling: [Low, Until they drink water]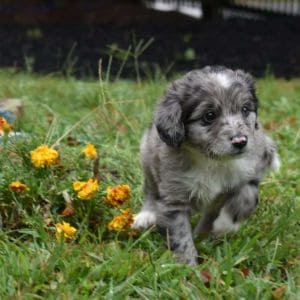 Technically, the Aussiedoodle doesn't drool all that much. However, their faces are like furry sponges, so when they drink water, that fur sops up the water and drips slowly.
You can combat this by training the Aussiedoodle puppy to wipe its face on a rag after drinking or grooming its facial hair short.
Aussiedoodle Puppies For Sale by Breeders in Georgia
And now, let's get into the actual breeders in Georgia dealing in Aussiedoodles!
1. Big Doodle Dreams
First up on the list is Big Doodle Dreams. Owned by Robin Crubaugh, this breeder does not breed on a large scale.
Instead, they are a family of passionate doodle lovers looking to make extra money.
Robin initially got into breeding from her first Aussiedoodle, Max, who she intended to be a service dog for her three autistic children with anxiety issues.
Max was housebroken from day one and quickly learned basic commands like sit, down, stay, and come.
If you'd like to see the puppy on video, she'll happily get on a video call and show you the puppies, even before they are ready.
If you are interested in the puppy, a $300 deposit will hold a puppy until you visit, meet the puppies and parents, and choose a puppy. Robin will not ship the puppies to you, so you'll need to come to her to get the puppy yourself.
Other ways of getting in touch with Robin can be found below:
Big Doodle Dreams Details:
2. Joker's Red Rose Farm
Next up is Joker's Red Rose Farm, owned by Rachel. Unlike the first one on this list, this breeder takes a more business-like approach to their breeding practices, quickly getting down to the brass tacks on their website.
That isn't to say there isn't personality behind them, only that their website is optimized to get their puppies adopted as quickly as possible.
Depending on the litter and breeding rights, this breeder charges anywhere from $1200 to $4500 for a puppy.
Of course, it's on the cheaper side if they are neutered. To reserve a puppy, Rachel requires a $500 deposit, which is non-refundable.
Deposit Payment Methods:
Deposits can be transferred to other puppies until the puppy reaches four weeks old. Joker's Red Rose Farm has an upcoming litter of F1 Standard Aussiedoodles and two litters of F1 Miniature Aussidoodles coming in 2023.
If you visit them later than that, you'll need to refer to their upcoming litter page to see what is available.
Here's how you can get in touch with Joker's Red Rose Farm:
Joker's Red Rose Farm Details:
3. Distinctive Doodle
The third addition to our list is Distinctive Doodle, owned by Jennifer. Jennifer and her family take a more scientific approach to breed, utilizing techniques like:
The ENS method (Early Neurological Stimulation)
As a result of her approach, the Aussiedoodle puppies offered by Distinctive Doodle are familiar with and are comfortable around children.
In addition, they already know a few basic commands, like sit, a testament to the intelligence of this breed and the breeder's methodology.
She finds it essential that her puppies end up in a "forever home," where they are safe and secure in the family.
Jennifer will attempt to remain in contact with you as your puppy grows to see how it adapts to its new life and will answer any questions you may have.
Ready to get in contact with Distinctive Doodle? Here's how to contact Jennifer:
Distinctive Doodle Details:
4. Abounding Grace Doodles
Finally, we have Abounding Grace Doodles, owned by Laurie Trocheck, a veterinarian, as the last addition to our list of Aussiedoodle breeders in Georgia.
Laurie has been breeding for a relatively short time, but her vet experience allows her to care for the puppies she breeds properly.
In the past, she bred horses, so she isn't new to breeding itself – plus, she has a host of co-workers she can ask if she isn't sure about something.
The Abounding Grace Doodles website contains helpful information about the dogs she breeds, so you can reference it even if you don't ultimately adopt a puppy from Laurie.
If you're ready to get yourself an Aussiedoodle from this breeder, here's how to get in contact with Laurie:
Abounding Grace Doodles Details:
Frequently Asked Questions
Should I get an F1 or F1b Aussiedoodle?
If you have major dog allergies, you should get an F1b Aussiedoodle. Otherwise, it doesn't matter.
Are F1 or F1B more expensive?
F1 Aussiedoodles are a little more expensive, given their purebred background.
Are Aussiedoodles hard to potty train?
These dogs will need a little more patience and love when it comes to pottytraining. But they are intelligent dogs so they will quickly learn.
What Are the Best Aussiedoodle Breeders in Georgia?
And that about wraps up our list of Aussiedoodle breeders in Georgia! We hope that you were able to find the Aussiedoodle puppy of your dreams from these breeders.
Before you go, could you give them a little scratch behind the ear for us? Thanks!
If you find this guide, "Best Aussiedoodle Breeders in Georgia," informative and helpful, you can check out these other dog-related articles from our team:
Before you find an Aussiedoodle puppy for sale in Georgia, you can learn more about this dog breed by watching "Aussiedoodle Dogs 101: Everything You Need To Know – Is It the Right Dog for You?" down below: