The basenji is a medium-sized and highly intelligent dog. Short-haired, the basenji doesn't carry the dog smell that most breeds are known for having. It's an excellent choice for anyone looking to adopt a family pet which is why we have a list of the best Basenji breeders in Georgia.
Bred in the congo to hunt small prey animals, the basenji is in high demand for hunters in the United States, but also as a family pet due to how loyal they are and good around humans.
But if you feel like you're up to the challenge, a basenji is a unique companion and an excellent addition to your family.
Other articles you would like: Basenji Breeders In Ohio and Basenji Breeders In Massachusetts
The Right Dog for You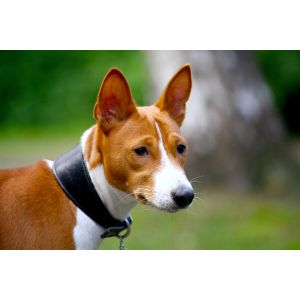 Basenjis are intelligent dogs who enjoy outwitting the people who work with them.
This intelligence makes them somewhat challenging to train, but for someone that wants wit in a dog, that can be worth it. It's kind of like raising a teenager; they'll try to sneak out and be a little bit rebellious.
You have to make a basenji respect you, but once they do, they'll be fiercely loyal to you.
They also don't bark, though they do make noise, making them ideal companions for more urban areas with closer neighbors who might complain about the sound a barking dog would make.
The noises Basenjis make might not be loud, but they are communicative and are sure to help you form a tight bond with your pet.
Basenjis are good with children, and though they require a lot of attention, they don't necessarily need a lot of space and are suitable for apartment life.
As long as you're prepared to spend a reasonable amount of time with your dog, it should be pretty simple to help it adjust to your living arrangements.
Does the Basenji sound like a dog you can handle? Read on to learn more about the breed, and the best Basenji breeders in Georgia you can choose from to pick up your new puppy.
Mind the Time of Year
Almost all Basenjis are born in late autumn or early winter, so when you adopt one, it will probably happen around spring.
Be prepared to be patient! Most of the time, when you find a reputable breeder, they will have you on a waiting list.
However, a good addition to your family that will last for years is worth waiting several months for the right one to come along, especially if you have your heart set on a basenji.
You may also want to mind the weather around you–though if you're in Georgia, this might not be as much of an issue.
Basenji are perfect hot weather dogs, but they don't handle the cold quite well due to their short coats and having been initially bred in Africa.
The Breeders
If you're looking for reputable breeders in Georgia, look no further.
We all know the problems and pitfalls associated with pet stores and the puppy mills that supply to them, but a reputable breeder puts the animal's health first and ensures that they go to a good home.
The price tag is a little bit higher, but that just makes sure you're supporting an ethically sourced dog that will be far less likely to have health problems later in life.
Of course, searching for the right breeder can be a headache in its own right, especially if you're trying to find a specific breed within a certain distance of yourself.
Of course, if you're looking for a basenji, we've taken some of the mystery out of the search. Here is a list of the best basenji breeders in Georgia.
1. Harmony Hounds
Located in Southern Georgia, Harmony Hounds is honest and upfront about the downsides to a basenji and just as candid about the benefits. They have an application list and pups available in early 2023.
The fact that their webpage is up to date and current is a good sign, even amongst dog breeders, so you know for sure that they're active and when the next litter will be available.
They require the interview process to be done first before they can put you on their list for you to make a downpayment. As a result, they sometimes have a waiting list before they have dogs available, but Harmony Hounds is worth the wait in every way.
The pups from Harmony Hounds are American Kennel Club registered, socialized with children, and have all their shots. Harmony Hounds does everything you could expect a breeding kennel to do for you, from health testing to papers.
All this information is so neatly organized on a single page that it speaks volumes of how much they know about what a serious applicant should be looking for.
Of the breeders on this list, Harmony Hounds comes the most recommended. You really couldn't ask for more.
Harmony Hounds Details:
2. Sherwood Basenjis
Sherwood Basenjis is located near Atlanta and operates from a Facebook page that updates regularly enough to know that they're currently in business. Looking through their posts, you can see they care about their dogs' well-being.
The critical thing to Sherwood is that the pup finds a home that it will stay with and be loved by for its whole life, more so than whether the dog will win at a dog show.
Although they don't have as much information upfront, and navigating their page is a little more complex than the above entry, Sherwood Basenjis feels approachable.
Like the dog breeder next door. If you inquire with them, you get the feeling that they won't judge you for doing so and will get all of the information you need with a minimum of fuss.
Sherwood Basenjis Details:
3. Sugar Sweet Georgia Puppies
Sugar Sweet deals in several different dog breeds, and though they don't have the Basenji readily up front on their website, they do have a page regarding the breed, which suggests they sometimes do.
Depending on the time you read this and visit, they might have them again.
The website might be a bit difficult to navigate and not intuitive, but they have a good gallery and a somewhat professional setup, which suggests they would be just as easy to work with directly.
Sugar Sweet Georgia Puppies Details:
4. Sienna Basenjis
Based out of Marietta, Georgia, though their website seems to be all but defunct, they come well recommended and can still be contacted by e-mail and phone.
They might be a better option than a more city-based breeder if you live in the Marietta area.
Sienna Basenjis Details:
5. Kenseth Basenjis
This one is based out of Jasper, Georgia, and has a defunct website but perfectly functional phone and e-mail address to inquire about recent litters.
If you live in the Jasper area, it might be worth checking with Kenseth before committing to traveling a long distance to one of the other kennels on this list.
Kenseth Basenjis Details:
6. The Basenji Club of America
Although not directly a breeder themselves, if for some reason none of the above options will work for you, they do have a program for connecting would-be dog owners with breeders in their area at the Basenji Club of America!
There's a link to e-mail a breeder liaison, who is a fixer of sorts but for dogs.
The Basenji Club of America Details:
7. Basenji Rescue and Transport (BRAT)
While they don't breed puppies, BRAT does rescue Basenji's from tough situations and helps put them in safe, stable homes. If you don't want to raise a puppy, but would rather pick up an older, already-trained dog, BRAT is worth checking into. 
BRAT is also an excellent resource for anyone considering taking in a basenji, regardless of how you mean to do that.
They also provide an honest look into what keeping a member of the breed looks like. If you're on the fence about whether or not you want to bring a basenji into your home, this is the place for you. 
Although we've touched a little bit on what Basenjis are like as pets, BRAT has a whole section about taking a look at whether or not you will be equipped to handle a canine companion with the unique needs the breed has.
Basenji Rescue and Transport Details:
Conclusion For "Best Basenji Breeders in Georgia"
There are a lot of factors that go into whether or not you should adopt a basenji. If you've thought it all the way through and you know you can meet the unique needs of this breed, one of the breeders above can help you find the perfect dog to join your family.
When adopting your new puppy, check out the best basenji breeders in Georgia.
You will also like:
For more information about the Basenji Breed, check out the video below: