The Vizsla is a fun and energetic breed that makes a fabulous family pet. They'll get along with your kids and your other pets, and they're just as happy curled up at your feet as they are running the trails with you! Are you looking for vizsla breeders in Georgia? This is the guide for you!
Before you adopt a vizsla, consider your lifestyle. The dogs need at least two hours of exercise each day to stay healthy and out of trouble! Are you ready to provide this for your dog? 
As you decide whether a vizsla is right for you, you'll also want to consider whether you'd like a puppy or adopt a deserving dog from a shelter. Unfortunately, hundreds of vizslas are placed in shelters each year.
These dogs need a loving home like yours; check out local shelters or vizsla rescues if you'd like to make a difference in the life of a sweet vizsla today!
Before you scroll further down this guide, check out these other dog-related articles: Best Aussiedoodle Breeders in Georgia and Goldendoodle Puppies In Georgia.
1. Vista Ridge Vizslas
Vista Ridge Vizslas is first on our list of the top vizsla breeders in Georgia. The family-run kennel has over two decades of experience with the breed, and they've chosen to specialize in vizslas in their breeding practice.
They're located in Rincon, Georgia, just thirty minutes north of Savannah, but they serve the entire population of Georgia.
You'll need to apply to adopt a dog from this breeder, and the application is available on their website.
Let the husband and wife team know about your experience with dogs, your lifestyle, and your physical home. If the kennel thinks you're a good match for one of your puppies, you'll be contacted about the next steps. 
OFA health testing is conducted on each parent, and you can be certain that your dog comes from a healthy set of dogs!
You can view info about your pup's parents on the Vista Ridge Vizslas website. Your puppy will come with a health guarantee.
A deposit is required to hold a puppy, and the breeder will set the final price of your dog. The cost of your dog is based on his characteristics, and your deposit will be deducted from this total. 
Vista Ridge Vizslas Details:
2. Canis Magnus Kennels
Canis Magnus Kennels is located in Gillsville, north of Athens and Atlanta. They're another small-scale, family-run business specializing in vizslas, German shorthaired pointers, bloodhounds, and braccos.
Of course, it's the vizslas you're interested in, so click the link to learn about available dogs!
The team updates available and upcoming litters on their site, and puppy prices will be listed.
Limited registration is available for an additional fee so. For example, you may pay around $800 for a puppy without paperwork or up to $3,000 for a puppy with AKC registration.
Breeding rights are not available now – you'll need to spay or neuter your dog as per your adoption contract. 
To begin the adoption process, you must reach out to the breeder. Get to know each other, and answer the breeder's questions about your home, lifestyle, and family.
Once you're given the green light, you'll be asked to place a deposit on your dog.
Canis Magnus puppies are raised in a large kennel and are given plenty of socialization.
Rest assured that your pup will arrive at your home happy and healthy, ready to get along with your kids and other spayed or neutered animals you own. 
Canis Magnus Kennels Details:
3. Blaythorn's Wirehaired Vizslas
Blaythorn's Wirehaired Vizslas is located in Acworth, Georgia, and they're next on our list of the top vizsla breeders in Georgia. This is a small breeder that only offers puppies very occasionally.
Make sure you bookmark the Blaythorn's website and check back frequently for the availability of puppies. 
View information about each dam and sire on the team's website, then peek at the puppies waiting for a home like yours.
Email is the kennel's preferred contact method – if you're interested in one of the kennel's little pups, shoot over a message to begin the adoption process!
Your puppy will have been nose-to-tail vet-checked and given a clean bill of health before being sent home with a new family.
You'll be required to spay or neuter your dog when he or she is old enough. Speak to the kennel directly about applicable health guarantees for your puppy.
Blaythorn's Wirehaired Vizslas Details:
4. Vizsla Club of Metro Atlanta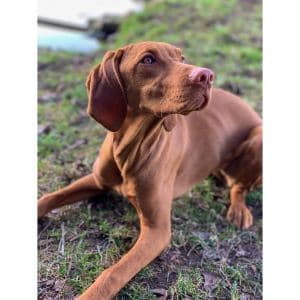 The Vizsla Club of Metro Atlanta is precise as its name would imply: a club for vizsla breeders, owners, and enthusiasts in the Atlanta area.
The club meets monthly – contact them for information about attending a "trial" meeting! You'll meet fellow fans of the breed and decide whether membership is right for you.
You can find vizsla breeders in Georgia through the VCMA, but you can also learn quite a bit about the breed by exploring the resources!
If you're unfamiliar with vizslas, read through the resources on the VCMA website. Then, connect with a breeder near you to begin the adoption process. 
The easiest way to find a breeder near you is to contact the organization. They can refer you to one or more breeders in your area known to be reputable and responsible.
Always interview the kennel team to ensure your dog is coming from a healthy and safe environment before you adopt. 
Health guarantees and breeding rights will vary from breeder to breeder, as will the cost of dogs. You'll get the full details on pricing, deposits, and health information when you connect with a breeder.
Vizsla Club of Metro Atlanta Details:
5. Vizcaya Vizslas
Vizcaya Vizslas is next on our list of the top vizsla breeders in Georgia. They're located in Bowman, close to the South Carolina border, and are accessible to Athens and Augusta residents.
The kennel is an AKC Gold Breeder of Merit – you can be sure your dog is safe and sound while in Vizcaya's care! You can learn more about the AKC's breeding programs on their website. 
Parent dogs are screened for genetic and temperament issues before they're permitted to produce litters. This increases the likelihood that you'll bring home a healthy dog who will be a lifelong companion.
Tails are no longer docked, so your puppy's wiggly bottom will be in full swing when you pick her up!
Your dog will be vet-checked, vaccinated, and wormed when it's time to go home.
The kennel asks that buyers work on their puppy's name before pickup – AKC registration papers will be ready to go home with your dog if you do so!
Vizcaya Vizslas Details:
6. AKC Marketplace
The vizsla is one of the 200 breeds recognized by the American Kennel Club, which sets breeding standards for kennels in the United States.
The non-profit permits kennels registered as members to post their breeding and stud services, so you can find vizsla breeders in Georgia just by checking the website!
When you find a member breeder, you can be certain your puppy will come from a safe and happy kennel.
Facilities are inspected from time to time, and there are specific requirements each kennel must meet before membership is approved.
To find your puppy, choose your breed and view the results that populate. Breeders closest to you will appear first. Click the kennel's name for more information about pricing, available registration, and more. 
You'll need to contact each kennel directly to make adoption arrangements. Some breeders will require an application, while others will ask that you place a deposit on your dog.
Many of these breeders are very small, family-run operations, so check back frequently, as puppies may only become available a few times each year. 
AKC Marketplace Details:
7. Sassafras Vizslas
Last on our list of the best vizsla breeders in Georgia is Sassafras Vizslas. They're situated in Canton, Georgia, and they have specialized in the breed for over twenty years.
The team's experience allows them to test and breed for genetic wellness and temperament, increasing the likelihood that you'll adopt a healthy lifetime companion.
View pictures of the parents online, then contact the kennel to make adoption arrangements. You'll be asked to participate in an interview – the kennel team wants to know about your lifestyle, experience with dogs, family, and home. 
Once you're approved to adopt, you'll be asked to place a deposit. This will hold your place on the pick list when puppies are available!
Sassafras Vizslas is an AKC Breeder of Merit; your dog will be vaccinated, wormed, and vet-checked before joining your household. Ask the kennel about breeding rights and the availability of a warranty for your dog's health.
Sassafras Vizslas Details:
Frequently Asked Questions
What is the average life expectancy of a vizsla?
Vizslas live anywhere from 12-15 years.
Do Vizslas have a dog smell?
Vizslas have a short coat, so they do not smell.
Can vizslas be left alone?
Vizslas are social animals and get nervous and destructive when you leave them alone.
Where Are the Best Vizsla Breeders in Georgia?
The best vizsla breeders in Georgia know that this breed isn't for everyone! They're high-energy dogs that requires a lot of exercise, but they're smart and loyal companions when given the right attention. 
Does the vizsla appeal to you? Great! Check out the breeders on our list to begin your search for an active, loving, and affectionate companion. 
If you find this guide, "Best Vizsla Breeders in Georgia," informative and helpful, you can check out these other dog-related articles from our team:
Before you find a Vizsla puppy for sale in Georgia, you can learn more about this dog breed by watching "Before You Buy a Dog – HUNGARIAN VIZSLA – 7 Facts to Consider! DogCastTV" down below: