The best vizsla breeders in Illinois know that these large dogs are full of energy but also crave one-on-one attention.
For that reason, most breeders will take their time matching their puppies with the families best suited for their personalities!
Do you dream of owning a pup that will hike, bike, and swim with you? A dog that will curl up with you at the end of the day?
A vizsla may be right for you! We've compiled a list of the best breeders in the Land of Lincoln so you can begin your search for a vizsla today. 
Before you scroll further down this guide, check out these other animal-related articles: Goldendoodle Puppies Breeders In Illinois and Best Horse Rescues in Illinois.
1. Hunt'm Up Vizslas
Hunt'm Up Vizslas is first on our list of the top vizsla breeders in Illinois. The kennel is family-run, and your vizsla puppy will get loads of personal attention.
Not only will your pup be healthy and ready to join you in the field, but he'll also be socialized and prepared to meet the other family members.
Dogs are sold as pets and hunting dogs – speak to the breeder about the available training options. 
Fill out a puppy questionnaire on Hunt'm Up's website, then wait for the team to contact you.
The kennel owners will want to know more about how your family operates daily, so be sure you let them know about your work schedule, activity level, and other pets in your household. 
Once you're approved to adopt, you can discuss details with the breeder. Hunt'm Up will disclose deposit and pricing information, which may vary based on your dog's characteristics.
Remember that the Hunt'm Up crew doesn't update their website frequently. You'll need to contact them directly. 
Your dog will be checked by a vet and given vaccinations and wormers. In most cases, you'll be required to spay or neuter your dog, as the puppies are sold as companions and hunting dogs. 
Hunt'm Up Vizslas Details:
2. Sizzleville Vizslas
Sizzleville Vizslas is based in Rockford, Illinois, a beautiful community about 90 minutes from Chicago.
This kennel specializes only in vizslas, and they're members of the Vizsla Club of Illinois, the Vizsla Club of America, and the National Vizsla Club.
They're also an AKC Breeder of Merit, so you can be certain your puppy will be raised in humane, healthy, and safe conditions. 
When you're ready to adopt from Sizzleville, select the "puppies" link. The newest babies will be posted on this page, and you can choose the one you'd like to adopt!
Your dog will be very well socialized with the kennel's many visitors, and dogs are raised in a home environment.
That means your companion will be accustomed to the sights and sounds of everyday life when he comes home with you.
In addition to socialization, your dog will be given ample time to learn and explore outdoors – supervised – while he grows old enough to join a new family.
Of course, attention is given to your dog's health, and your dog will be vaccinated and wormed; all necessary precautions for outdoor play will be taken.
Sizzleville Vizslas Details:
3. Countryside Kennel & Resort
Countryside Kennel & Resort is in the Peoria area, but there's a Kentucky location, too! No matter which kennels you choose your puppy from, you'll deal with a caring, loving, and knowledgeable team.
Transportation for your puppy is available from Kentucky to Illinois for an additional fee – speak with the breeder about the cost of this service.
You can set your expectations high when you adopt from Countryside Kennel & Resort. Your puppy will have been seen by a vet, of course, but he or she will also have begun training.
When he joins your household, your pup will be ready to finish obedience and crate training. 
In addition to raising happy and healthy puppies, Countryside Kennel & Resort owns an adorable little YouTube channel!
Check out the breeder's videos to see new puppies in action as they learn, play, and interact. Once you've decided this is the right breeder, contact them to begin adoption!
Countryside Kennel & Resort Details:
4. Freedom Vizslas
Freedom Vizslas is in Roscoe, and they're next on our list of the top vizsla breeders in Illinois.
Like many other breeders, Freedom Vizslas raises their puppies as household family members, so your puppy will be ready to be included in your daily activities! 
Pictures are available on the website when new puppies are born, and you'll want to contact the breeder as soon as you know you'd like to adopt.
They'll work with you to match you with a dog that's perfect for your lifestyle and personality! The kennel team knows each pup's personality well, so you can be sure that your dog will be a quick companion!
As is true for all responsible breeders, Freedom Vizslas will vet-check, vaccinate, and deworm your dog before he or she is released to you. Ask the kennel about the possibility of obtaining breeding rights.
In most cases, dogs are sold as companions only, and you must spay or neuter your pup. 
Please remember that this is a family breeder, and litters are only produced a few times yearly. It's best to put your name on the list of interested buyers as soon as possible. 
Freedom Vizslas Details:
5. Wegler Vizslas
Wegler Vizslas is a family-owned business that's been in operation for a decade. The team specializes in – and shows – beautiful, sleek vizslas that you'll find irresistible!
This may be the perfect breeder for you and your family if you're located in northern Illinois!
Check out the moms and dads on the Wegler website, then contact the team to determine availability.
You'll be asked to participate in an interview process to be matched with the right dog for your lifestyle. Once approved, you can place a deposit to hold your place on the pick list. 
Dogs are AKC-registered and come with a health guarantee, and your puppy will be sold as a pet. That means limited AKC registration is available; you'll need to speak with the team directly if you're interested in breeding your dog.
If you already have a vizsla, great! Stud services are available. Learn more about sires on the Wegler Vizslas website if this is a program you're interested in.
Wegler Vizslas Details:
6. Vizsla Club of Illinois
If the above breeders don't work out for you, contact the Vizsla Club of Illinois.
This club is dedicated to promoting high standards of breeding and care for vizslas, and members must agree to adhere to those standards.
Your dog will come from a healthy and genetically sound pedigree, and most member-breeders offer health guarantees.
There are seven breeders on the Vizsla Club of Illinois list. Members are added as they're screened and accepted.
Find the breeder that's closest to you or the one you find the most appealing, then use the kennel's preferred method of contact to get in touch.
All dogs are vaccinated and wormed in time for pickup, but your health guarantee, breeding rights, and pricing will vary.
The breeder sets each price; Vizsla Club of Illinois is a third party and will only act as a liaison between you and the breeder if trouble arises. 
Vizsla Club of Illinois Details:
7. Busch Vizslas
Busch Vizslas is next on the list of the top vizsla breeders in Illinois. The husband and wife team calls Winnebago home, and so does your new vizsla puppy!
Until you decide that one of these quality babies is right for your family, that is.
Busch Vizslas does not ship puppies, so you must be prepared to pick up your dog outside Rockford. It's worth the drive to visit this breeder, though.
They offer lifetime support for your dog and even host events throughout the year for dogs to meet other vizslas! Use these events to get to know other vizsla enthusiasts and to catch up with the breeders. 
You'll be required to place a $100 refundable deposit to hold your dog, but that deposit is deducted from the total price of your puppy.
Your dog comes with AKC registration papers, vet records, and plenty of goodies to get you started on raising a happy little companion.
Busch Vizslas will take your puppy back if your vizsla doesn't work out for any reason. Their goal is to find loving homes for each dog – if you and your puppy aren't a good fit, the breeder will find a home that's a better match. 
Busch Vizslas Details:
Frequently Asked Questions
What are the quirks of a vizsla?
These dogs are curious and playful. They can steal snacks from your plate or hide your shoes.
Can vizslas jump fences?
Vizslas are dogs bred for agility and hunting to jump over a six-foot-high fence. They will need a secure backyard or constant supervision.
What dogs were bred to make a vizsla?
These dogs are believed to be descended from the Transylvanian hound, the Turkish yellow dog, and the German Shorthaired Pointer.
Where Are the Best Vizsla Breeders in Illinois?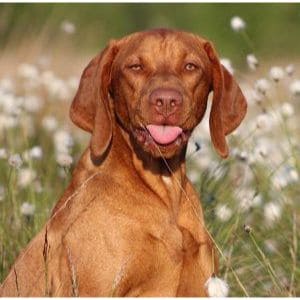 If you're looking for an active, loyal, and affectionate dog, a vizsla may be a good option for you! Your pup will require plenty of exercise, but vizslas are smart and relatively low-maintenance.
In other words, they're perfect for families with busy lifestyles and a love for outdoor activities.
Use this list of the best vizsla breeders in Illinois to begin your search for your new puppy.
Interview each kennel to get to know their breeding and care practices, then place your deposit! Your new vizsla puppy will be ready to join your family before you know it!
If you find this guide, "Best Vizsla Breeders in Illinois," informative and helpful, you can check out these other dog-related articles from our team:
Before you find a Vizsla puppy for sale in Illinois, you can learn more about this dog breed by watching "Vizsla – Top 10 Facts" down below: