If you're interested in adopting wildlife, you'll be disappointed with policies concerning wildlife adoption which is why we have a list of the best wildlife rescues in San Antonio for you.
However, you can still check out some of the superb wildlife rescues in San Antonio, which help little critters of all species be healthy and happy in their natural habitat. 
Other articles you would like: Best Horse Rescues In Georgia and Cane Corso Adoption.
What Is a Wildlife Rescue?
A wildlife rescue, also called a sanctuary or rehabilitation center, takes in sick, injured, or orphaned wild animals intending to release them back into the wild one day. These places may rescue wildlife of all sizes and species.
Some sanctuaries around the world help rehabilitate elephants and tigers, while smaller rescues adopt wildlife like squirrels, opossums, and raccoons in need.
An organization rescuing wildlife may be a massive outdoor sanctuary, or an indoor shelter, depending on what kind of wildlife they help.
Can You Adopt Wildlife?
Literally, no, you can not usually adopt animals in wildlife rescues. However, you can often symbolically adopt wildlife, meaning you make donations for the animal's welfare. Many wildlife rescues in San Antonio double as charities.
In rare cases, you may be permitted to adopt small mammals, such as rabbits. But most animals in these rescues are not adoptable wildlife. Remember, the goal of these rescues is to rehabilitate the wildlife so they can re-enter their natural habitat.
6 Wildlife Rescues in San Antonio
Below are six stellar wildlife rescues in San Antonio, Texas, to donate to, visit, or become a member of. 
1. Texas Wildlife Association
The Texas Wildlife Association, or TWA, is a statewide organization helping all wildlife across Texas. It's super close to San Antonio, located in the lower part of the state, where there is an array of unique species.
The association not only helps animals, but they protect property rights, hunting heritage, and conservation efforts to help balance the relationship between human civilization and wildlife.
The TWA recognizes the immense resource wildlife is, and how vital it is we protect nature.
This wildlife rescue is one of the largest in the country, protecting animals and nature from deserts to islands and everything in between.
If you want to help this organization flourish and succeed, you can become a member, where you get updates and provide monthly or annual donations!
You can become a subscriber to their monthly magazine with news, insights, and updates on any problems concerning native Texan wildlife.
Along with animals in need, the organization also prides itself on maintaining the habitats so unique plants can live happy lives.
Texas Wildlife Association Details:
2. Wildlife Rescue and Rehabilitation
The Wildlife Rescue and Rehabilitation Center in San Antonio has been saving animals since 1977, boasting over four decades of meaningful work.
For residents of San Antonio, this is one of the best rescues where you can symbolically adopt wildlife and learn about these incredible animals.
One of their most important teachings is that these wild animals are not pets, and they try to prevent wildlife adoption, which could harm the animal, the owner, and society.
Along with several indoor shelters around Texas, they also have a massive 212-acre property where wildlife critters in rehab can roam and learn to live in nature again.
The volunteers and staff at the WRR are compassionate and dedicated to helping all animals, big and small.
If animals cannot be fully rehabilitated to the point they can safely reenter their original habitat, they will remain on the property and live out their lives in safety.
Luckily, the majority of the animals are successfully rehabilitated and returned to the wild! The WRR has helped more than 200,000 animals find safety and health.
Wildlife Rescue and Rehabilitation Details:
3. San Antonio Audubon Society
The San Antonio Audobon Society, or SAAS, is an organization dedicated to boosting awareness concerning the endangerment of certain Texas species.
They educate the general public about the preservation, protection, and propagation of all wild animals.
The San Antonio Audobon Association focuses on helping small and large birds. They will assist any animal in need if they have the appropriate resources.
When you become a member, you can participate in scheduled field trips, educational programs, conservation efforts, and other activities that help wild animals.
This organization was founded in 1954 as a nature club, which quickly turned into a wildlife rescue where the safety, health, and comfort of wild animals became their top priority.
San Antonio Audubon Society Details:
4. Southern Wildlife Rehab
The Southern Wildlife Rehab or SWR is one of the smallest wildlife rescues in the San Antonio area, but still important and impactful. For folks in San Antonio who find wildlife in distress, they can easily contact Southern Wildlife Rehab for assistance.
They educate people on migration patterns and wild animal behavior to expect and how to react. They also help people understand how important each species is to the Texas ecosystem. They can even help endangered insects!
They fight against groups that target specific species for hunting and warn people of the irreversible effects of extinction. While this organization operates locally, they report on global news concerning animals and conservation.
Every dollar you donate to SWR goes to helping the animal, and it's such a small organization that they appreciate every donation, no matter how big or small.
The organization has a rich history of helping animals, and as membership grows, it can do more and more for the animals in Texas.
Southern Wildlife Rehab Details:
5. Friends of Texas Wildlife: Wildlife Rescue
Friends of Texas Wildlife is a sanctuary near San Antonio that helps many of the animals in the area. They take in several species, such as hawks, owls, raccoons, opossums, deer, and squirrels.
While they mostly rehabilitate mammals, they will help any creature in need! Friends of Texas Wildlife is one of the best educational resources on Texas wildlife and conservation.
They have a summer camp for kids to learn about the importance of these animals and how they can do their part to protect the environment.
If you want to do more to help your local wildlife than just donate money or learn about them, you can become a volunteer and work with the animals!
This non-profit organization promotes the co-existence of wild animals with humans, as there is space for everyone to be happy and healthy.
Check out the educational and awareness programs if you want to learn more about Texas wildlife or donate to help support the organization.
You'll be happy to know that 100% of all donations support the native Texas wildlife, and the animals receive care and attention 24/7.
Friends of Texas Wildlife: Wildlife Rescue Details:
Location: 29615 Highland Blvd, Magnolia TX 77354
Phone Number: 281-259-0039
Social Media:

Facebook
6. Last Chance Forever, Inc.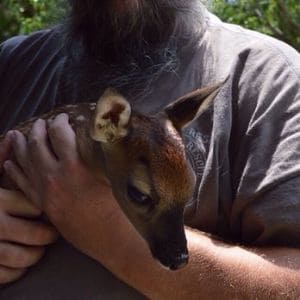 Last Chance Forever, Inc. is one of the most unique wildlife rescues and sanctuaries in the country. They specifically help birds of prey, acting as a conservancy for these magnificent animals.
Also called the LCF, this organization came about in 1978 with the mission to rehabilitate sick, injured, and orphaned birds of prey.
They also educate the public on these extraordinary birds, explaining how they are an integral part of the Texan ecosystem and need protection.
The educational programs give presentations to children, civic organizations, and individuals who want to know more about these flying creatures.
Over 500,000 people watch this educational program annually, so this organization is making a significant impact!
The organization focuses on helping birds of prey but makes it clear that any wildlife in need is welcome at its facility. With trained veterinarians and passionate volunteers, they have the resources and knowledge to care for most species.
Decades ago, there were bounties placed on hawks due to livestock killings. This bounty is a prime example of the problems the LCF aims to tackle, as they know the menacing reputation associated with many birds of prey.
But they firmly believe a wild species of beautiful birds should not be exterminated due to their instincts.
You can donate to Last Chance Forever, Inc. or one of its associated organizations to help save these mighty birds.
Last Chance Forever, Inc. Details:
Conclusion For "Best Wildlife Rescues in San Antonio"
You may be disappointed to learn you can't adopt wildlife. However, symbolically adopting wildlife can make a difference in these animals' lives.
Rescuing wildlife in Texas is important to work, and you can help the volunteers care for these animals through generous donations.
The wildlife rescues in San Antonio, Texas, both public and private, do wonders caring for the animals and helping them integrate back into nature. The six wildlife rescues on this list are magnificent organizations dedicated to helping wildlife in Texas thrive.
You will also like:
For more information about Wildlife Animals, check out the video down below: