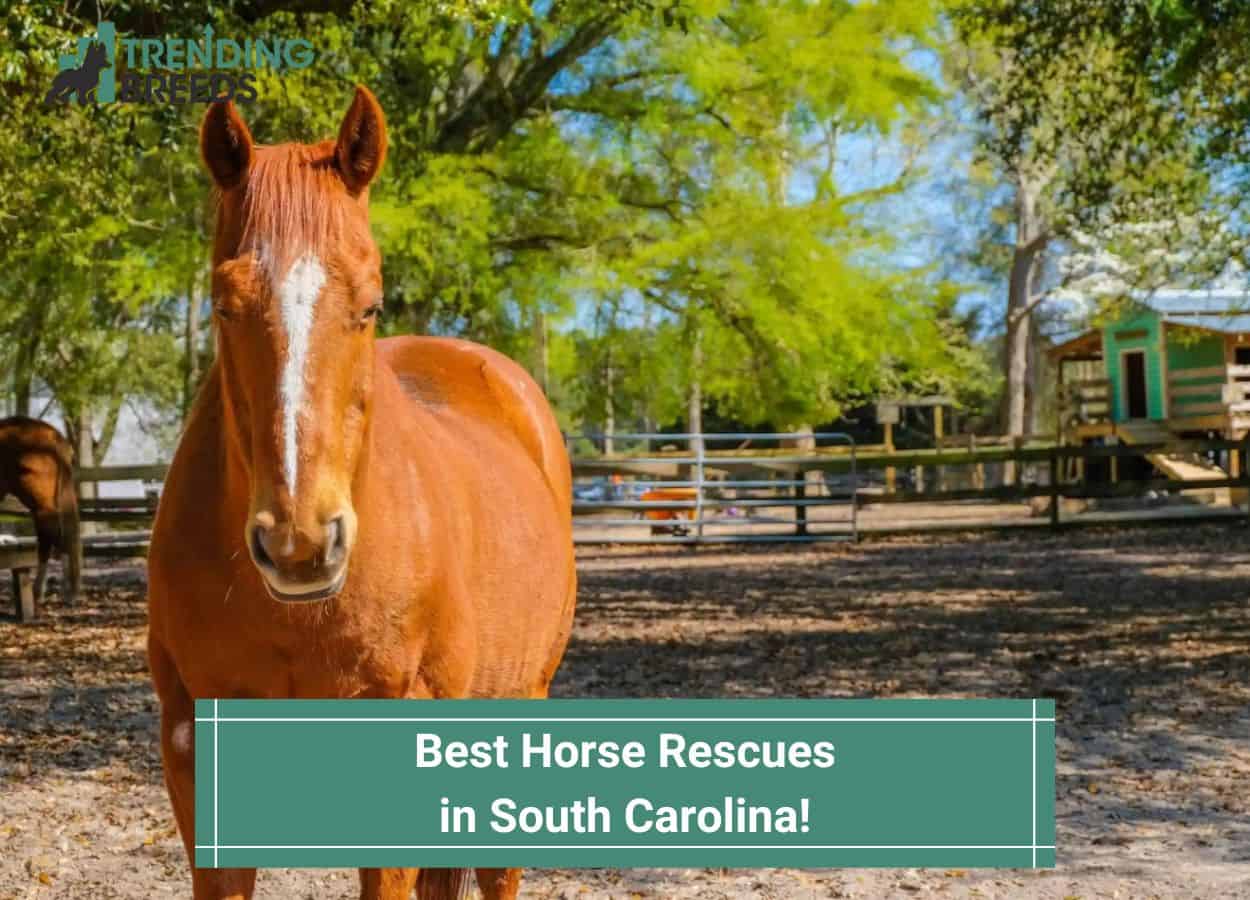 Horses make lovely companions and have been a part of human history since ancient times. Additionally, horses are majestic creatures and make up wonderful friends for people who offer them a proper place to live and the necessary care. If you're looking for horse rescues in South Carolina, we have one of the most comprehensive lists on the internet.
Check out these other articles: Mini Horse Rescues in the USA and Horse Rescues In Georgia.
Why Do Horses Need To Be Rescued?
Due to their beauty, people can get caught up in awe and forget that these animals need a ton of attention to living a comfortable life.
That attention translates into both physical and economic sacrifices one must make. Thus, people end up regretting their decision to buy/get one in the first place and they end up homeless.
Horses are also the top animal when it comes to sports like races and rodeos. Breeders try to manage the conditions to create the perfect horse and they end up overbreeding horses that are of no use to them sadly.
If you're looking to adopt a neglected or abandoned horse, check out the horse rescues in South Carolina below. We also have an article on horse rescues in North Carolina if you want to check some nearby.
1. Equine Rescue of Aiken
First on the list of horse rescues in South Carolina is Equine Rescue of Aiken. Since 2006, Equine Rescue of Aiken has grown into one of the biggest horse rehabilitation centers in South Carolina.
The rescue has saved many horses, donkeys, and mules and placed more than 1,400 animals into new homes through adoption programs.
Equine Rescue of Aiken is a no-kill shelter and will never euthanize any animal unless it's necessary due to illness or injury.
The shelter provides temporary housing for about seventy horses at any time. In addition, they take care of all horses in their sanctuary by providing them with food and medical treatment until they can locate a suitable home.
They are an all-volunteer group with no paid staff members and mainly rely on contributions to support their work.
Equine Rescue of Aiken Details:
2. H.O.P.E. Acres Rescue
The horse rescues goal is to save injured horses and provide them with a place to call home. H.O.P.E.
Acres Rescue offers these adorable creatures a second chance at life by educating the public, forming coalitions at the county and state levels, finding them loving homes, and recruiting dedicated volunteers.
The rescue strives to educate South Carolina horse owners that horse cruelty and neglect are more widespread than they think and the things they can do to help stop it.
In addition, the horse rescue promotes responsible, knowledgeable horse ownership through a volunteer program and community engagement.
H.O.P.E. Acres Rescue gives people the resources they need to become better horse owners and urges anybody with queries about the health and welfare of their horses to contact them.
Their adoption process requires a farm visit, an examination by a veterinarian, the submission of at least two references, and the presence of another horse in the prospective owner's home.
H.O.P.E. Acres Rescue Details:
3. Big Oaks Rescue Farm
Big Oaks Rescue Farm is dedicated to finding homes for unwanted, neglected, and abused horses in South Carolina.
The rescue accepts horses of all ages and breeds. In addition, they have a foster-to-adopt program where the foster cares for the horse until it can find a forever home.
The horse rescue also has a no-kill policy which means that if they cannot find someone to take care of an equine, they will not euthanize them. Instead, they keep the horses in their care until another option becomes available.
Furthermore, Big Oaks Rescue Farm educates the community members and publicizes the importance of caring for and protecting animals.
The organization believes that avoiding future abandonment and mistreatment is possible through information dissemination.
Their policy dictates that no animal can go to its forever home before spaying, neutering, vaccination, worming, and microchipping.
Big Oaks Rescue Farm Details:
4. Flying Changes Equine Rescue
Flying Changes Equine Rescue aims to protect horses and promote their welfare by saving those in danger, giving them a haven, or finding new homes.
The rescue believes each horse has an intrinsic value, whether it is to find a new permanent home, learn a new skill, become a riding companion, or find a haven to spend the rest of their days.
All equines undergo veterinarian evaluation before placement into their program.
Flying Changes Equine Rescue provides each horse with current vaccinations, necessary medical care, deworming, farrier work, and professional training to prepare them for adoption into their new forever homes.
The rescue also educates the public on proper horse care to ensure they don't become future neglect victims. Since they aim to find their horse's permanent homes, they thoroughly scrutinize all prospective adopters.
Flying Changes Equine Rescue Details:
Other articles you would like: Best Horse Rescues In Michigan and Top Horse Rescues In Maine.
5. Hasty's Haven Horse Rescue
Hasty's Haven Horse Rescue aims to save as many horses as possible from situations of neglect, abuse, and abandonment by placing them in permanent, loving homes.
The staff ensures that the horses receive the best care regarding nutrition, veterinary attention, and affection.
Although the rescue's main objective is to place the horses in the finest possible new home, they always act in the animal's best interests. Horses that aren't fit for adoption due to age or health issues remain at the facility.
Everyone who wants to adopt one of their horses must go through the proper process. The horse adoption process is thorough and ensures the horse goes to a loving home.
Hasty's Haven Horse Rescue has a comprehensive set of prerequisites prospective adopters must satisfy before taking a horse with them. The requirements ensure that the animal will remain healthy and flourish in its new surroundings. This horse rescues is located in Liberty, South Carolina.
Hasty's Haven Horse Rescue Details:
6. Deer Creek Ranch and Horse Rescue
Deer Creek Ranch and Horse Rescue prioritize providing veterinary care for horses that have been mistreated or are otherwise in need. The rescue also takes in orphaned horses or those whose owners can't keep them due to financial constraints.
The organization operates on the principle that humans have a moral duty to assist animals harmed by heartless individuals.
Deer Creek Ranch and Horse Rescue hope to improve horse lives in South Carolina by fostering better understanding between horse owners and authorities.
In addition to providing food, hay, and water, the rescue supplies horses with the necessary veterinary and farrier treatment. After receiving treatment, they put horses in homes where they undergo vigorous vetting and regular health checks.
Contact the rescue's management if you want to donate or rescue horses.
Deer Creek Ranch and Horse Rescue Details:
7. Palmetto Equine Awareness & Rescue League
Last on the list of horse rescues in South Carolina is Palmetto Equine Awareness. Since 2005, Palmetto Equine Awareness & Rescue League has been rescuing horses from neglectful situations and giving them a second chance at life.
The foundation works to save abused horses who, without their help, would not have survived. It also provides care for senior horses so they can live out their twilight years in comfort and security.
The rescue has a foster program, where they take in horses that need more care than just being in a stable until they find a permanent shelter.
Palmetto Equine Awareness & Rescue League's primary focus is rehabilitation toward adoption, after which they put their horses through training programs designed to make them safe around people.
In addition, the organization strives to eradicate the mistreatment and indifference toward horses by encouraging responsible horse ownership through training and disseminating relevant information to the public.
When authorities or animal control take animals into custody, the rescue works with the local authorities to transport the horses safely to a facility.
Where they can be examined, given medical treatment, and fed until they can be adopted or placed in a rehabilitation program.
Furthermore, the rescue offers to handle cases of apparent neglect, including assisting owners liable for negligence in learning about horses' specific dietary and medical requirements.
The rescue's objective is not to confiscate animals and take legal action against their owners. Instead, they aim to collaborate with authorities, animal control, and humane organizations.
Palmetto Equine Awareness & Rescue League Details:
Conclusion For "Best Horse Rescues in South Carolina"
If you have the time and space, you should consider adopting horses. Horse rescues are always looking to find homes for their horses, and if you're willing to take on the responsibility of caring for one, they can make excellent companion animals.
There're many horse rescues in South Carolina, and most offer free adoptions with an adoption contract that spells out responsibilities.
Before adopting a horse, it's essential to research the organization to know the type of care your new animal needs. We hope the above horse rescues in South Carolina will be an inspiration to adopt horses.
You will also like:
For more information about Horses, check out the video down below: