While looking for a Cane Corso puppy can be exciting, there are important things to consider before choosing a breeder.
We've curated a list of some of the best Cane Corso breeders with puppies for sale in South Carolina to help make your search more productive.
Known for its intimidating looks, the Cane Corso is a versatile breed. Cane Corsos are excellent family companions, pets, and guardians, and are often used for police tracking.
With appropriate training, these dogs can be well-tempered, calm, and reserved. However, Cane Corsos are demanding and they can require a professional trainer to get the best results.
Early training and socialization are important for this breed, as it helps to set them on the right path.
As such, you should buy your Corso puppy from a breeder that introduces their puppies to early socialization and training exercises, laying a solid foundation to enable you to continue training your puppy.
Besides early training, the breeder should also focus on health and run DNA tests for the sires and dams before breeding.
This helps to prevent the common health issues associated with large breeds like the Cane Corso, such as joint issues.
Before you scroll further down this guide, check out these other Cane Corso-related articles: Best Cane Corso Breeders In Indiana and Best Cane Corso Breeders in Georgia.
1. Relic Cane Corso
Despite being based in South Carolina, Relic Cane Corso has dogs all over the United States, thanks to their high-standard breeding program and excellent puppies.
Relic Cane Corso strives to produce quality puppies with the best temperament, health, conformation, and drive possible.
One of the reasons they are the favorite of many Cane Corso lovers is that they offer ground transport to North Carolina and Georgia. Flight nannies are also available for international and domestic flights.
Another thing we love about this breeder is that they are always ready to answer your questions. You don't need to buy or reserve a puppy to qualify to ask about this breed, their puppies, or their program.
You can always contact them to know more about their operation and how their puppies are raised.
Customer support does not end after you receive your puppy.
All customers enjoy a lifetime of support, guidance, and advice from the breeder, and they will also guide you through the settling-in process of your new family member.
Relic Cane Corso is a member of the Cane Corso Association of America (CCAA), so all their dogs are bred in accordance with the organization's standards.
They are also members of the AKC Breed with H.E.A.R.T. Program and the Alliance of Therapy Dogs.
This breeding program is owned by a husband and wife team devoted to producing healthy, happy Corsos and creating long-lasting relationships with their new families.
Ryan and Sarah have been producing quality Corso puppies since 2007.
Sarah is a licensed veterinary technician and her dogs greatly benefit from her professionalism.
Her customers also benefit from her professionalism, as she shares a lot of information about Corsos and how best to care for them.
Relic Cane Corso Details:
2. Vulcan Cane Corso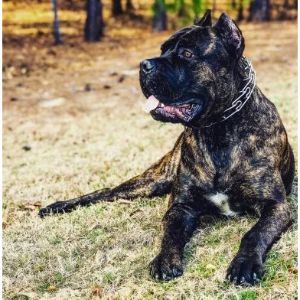 Moving on, we have Vulcan Cane Corso, a well-respected breeder with many years of experience.
This breeding program made it to our list because it is owned by a prestigious family that is dedicated to providing other families with loving, healthy, and good-tempered Cane Corsos.
Vulcan Cane Corso is located in beautiful Columbia, South Carolina. Like the aforementioned breeder, VCC welcomes buyers from surrounding states.
They have dogs scattered all over the country, thanks to their excellent reputation and high breeding standards.
This family has chosen to focus on conserving this breed's unique traits, which has made it a loyal family member and protector for decades. All their dogs are born in their home to facilitate socialization.
By raising the puppies in the home, they are able to pay close attention to their temperament from day one.
The entire family is involved in the breeding program, including the kids. The kids socialize, play, and interact with the puppies daily.
They also introduce them to adults and other pets to ensure they are friendly and have a smooth transition to their new homes.
Vulcan Cane Corsos chooses quality over quantity, so they only produce what they can care for at a given time.
Their puppies enjoy a lot of attention, love, and care. Each puppy also gets personalized attention, which helps with temperament evaluation and training.
All puppies are from DNA and health-tested parents, and they are all vet-checked before going home.
Vulcan Cane Corsos also ensures the puppies are dewormed every two weeks and brought up to date on vaccines.
This breeder also provides nationwide shipping, meaning you can buy their puppies regardless of where you are in the United States.
Vulcan Cane Corso Details:
3. Mid-Carolina Corso
Mid-Carolina Corso is a relatively new breeder program owned and managed by a family in South Carolina.
The family has been involved with breeding Corsos since 2018 but has had experience with this breed long before they started the program.
What began as a love for Cane Corso has evolved into a fulfilling and life-changing experience.
The family's priority is ensuring the well-being and health of all their puppies from birth until they leave for their forever homes.
Their care and support do not end when the puppies leave, as they provide support and guidance for all customers for the lifetime of their puppies.
All their puppies go home with AKC registration papers. They're microchipped, vaccinated, dewormed, tail-docked, and have a two-year genetic health guarantee.
Parents are health-checked and DNA-tested before being joining the breeding program.
The breeders take every cautionary measure to ensure no genetic traits are found in the puppies. The parents are also hips and cardio tested — two common issues associated with this large breed dog.
Their available puppies are not listed on their website, so you have to contact them for current or upcoming litters.
Temperament is another strong focus. Their sires and dams are temperament-evaluated to ensure they produce only well-tempered puppies with exceptional traits.
Mid-Carolina Corso Details:
4. Avalanche Cane Corso
Avalanche Cane Corso is run by Kim and Lee Chapman and their kids. The children assist in the care of the dogs and puppies, playing with them daily to boost their socialization skills.
They consider all their dogs and puppies as part of their family, and they are all treated as family members.
Kim and Lee did a lot of research on this breed before purchasing their first Corso. They attended various dog shows to see the breed in action.
The couple also bought books and courses about Corsos, how to raise them, and what to expect from them. They also learned about their nature, aggression, temperament, size, and trainability.
During their research, they were impressed by the loving and loyal nature of this breed, as these traits came up in all their findings.
They learned a lot about the characteristics of this breed and aim to preserve these traits in their puppies.
Health, temperament, agility, and strength are the vital traits they consider when choosing their breeding stock. All their breeding dogs are health-tested and declared free of genetic defects.
They are also hips and elbow tested to ensure they are free of joint issues that could be passed to the puppies.
Lee and Kim also work hard to make Avalanche Cane Corso Kennel a memorable place where families come to visit.
They enjoy walking families around the kennel, so they can see where their puppies are bred and raised. All their Corsos are registered and the puppies go home with health guarantees.
Avalanche Cane Corso Details:
Frequently Asked Questions
Is a Cane Corso a good family dog?
While Cane Corsos are affectionate with families and children, their large size makes them better suited toward older kids.
What is the lifespan of a Cane Corso?
A typical Cane Corso will live for nine to 12 years.
Do Cane Corsos bark a lot?
Cane Corsos are moderate barkers, meaning they don't just vocalize to alert their owners.
Conclusion for "Cane Corso Puppies in South Carolina – Top Breeders"
Cane Corsos are protective and loyal dogs with exceptional traits. Being a large breed dog, Corsos are susceptible to certain health conditions, including joint issues.
However, the best breeders are able to avoid these issues in their puppies by testing the sires and dams before adding them to the breeding program.
Hence, you should always work with the best breeders if you want a puppy without any health issues or genetic defects.
For guides similar to this list of breeders with Cane Corso puppies for sale in South Carolina, check out:
If this guide helped you find Cane Corso puppies for sale in South Carolina, watch "Cane Corso | Italian Mastiff Dogs 101: Everything You Need To Know – Is It the Right Dog for You?" down below: