Cane Corso puppies can be very expensive. So, there's a good chance you won't be able to find Cane Corso puppies for sale under $500. However, some of the following breeders might come close.
More importantly, they're all reputable breeders who will provide information about the breed, the health of the puppies, and more. If you find Cane Corso puppies for sale under $500 with some of them, that's a bonus.
Other articles you would like: Are Cane Corsos Hypoallergenic? and Does A Cane Corso Shed?
1. Jasstime Cane Corso
Jasstime Cane Corso are just hobbyists, but they get a lot of joy out of finding good homes for their Cane Corso pups when they're born.
They don't breed for show, and they don't breed for money. Instead, they want to find good families for their dogs.
They're located in Perris, CA, and their dogs come from reputable bloodlines. The dogs are healthy and well-socialized before they go to their new homes.
Jasstime Cane Corso has been breeding Canes Corso for many years now, and they have a lot of experience with this breed. They know what makes these dogs unique and use that knowledge to help new owners find the perfect puppy for them.
The best thing about Jasstime is that they care about their dogs' health and happiness as much as their own.
They're very careful about screening potential adopters to ensure that the dogs will be cared for properly and loved unconditionally by their new owners.
Customers love them because they offer a great experience from beginning to end, from when you reach out about a puppy until you bring him home.
Jasstime Cane Corso Details:
2. Mad River Cane Corso
With the birth of their first litter of Cane Corso puppies in 2006, Darrel and Darlene Hamren established Mad River Cane Corso. Over the years since, Mad River Cane Corso has expanded to become a leading American breeder.
Mad River Cane Corso produces high-quality, healthy, well-socialized puppies. Their goal is to produce strong and healthy dogs with excellent temperaments.
They guarantee that their puppies will pass a veterinary checkup and be up to date on vaccinations and deworming.
They will be microchipped as well, with registration falling on the buyer. Moreover, a 26-month health guarantee against HD is included with every puppy purchase.
At Mad River Cane Corso, you can choose from various puppies from various litters. Depending on what you're looking for in your dog breed, there are many different colors and sizes.
Customers love how friendly their dogs are and how easy they train because they were raised with people around them all day long, so they know how to behave around humans even if they don't know them yet.
They care deeply that their customers are satisfied with purchasing their puppies, so they work hard to provide excellent service.
Finally, Mad River Cane Corso puppies are healthy, well-socialized, and raised in a loving environment by experienced breeders who care about the future of this rare breed.
Mad River Cane Corso Details:
3. Dal Cielo Cane Corso
Dal Cielo Cane Corso is one of the top breeders of Cane Corso puppies in Los Angeles, CA. They have been breeding rare breed dogs for many years now, including Cane Corsos.
They believe that every puppy deserves a loving home where they will be taken care of and be able to thrive.
Dal Cielo Cane Corso is one of the best Cane Corso breeders because they take pride in their dogs' health and well-being.
They get to know each puppy and its parents before they are born to ensure that the puppies will be happy and healthy when they go home with their new families.
They have a strong, loving bond with their dogs and take pride in the quality of their puppies. The pups from Dal Cielo Cane Corso are raised in a home environment and are socialized regularly to become well-rounded adults.
Their customers love the Dal Cielo Cane Corso puppies because they're healthy and well-socialized, which makes them great additions to any home.
Dal Cielo Cane Corso Details:
4. Senza Tempo Cane Corso Texas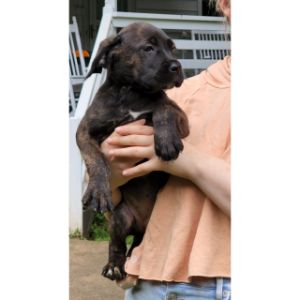 Senza Tempo Cane Corso is a small breeder of Cane Corsos in Richmond, VA. They have been breeding Cane Corsos since 2016 and are a great choice for someone looking to purchase a puppy or adult dog.
The breeders at Senza Tempo Cane Corso want to produce dogs that will be amazing family pets and show dogs. In addition, the breeder aims to produce quality dogs that will thrive in any environment.
Their dogs are bred with care and love, making them excellent companions for families and individuals.
Senza Tempo Cane Corso has received many positive reviews from customers who have bought puppies over the years. Customers love the temperament of these dogs because they are calm yet playful with kids and other animals in the home.
They also love how healthy these dogs are and how much time it takes to mature, so they don't have any puppy behavior issues when they get older!
Senza Tempo Cane Corso Texas Details:
5. Royal Guardian Cane Corso
Royal Guardian Cane Corso is a family-owned kennel located in Willis, Texas. They are known for their commitment to the breed and community support. Their dogs are trained from puppyhood, and they also offer classes for owners.
They promise to be there for you and your family for the duration of your puppy's life, answering any questions and addressing any concerns you may have. They also provide great customer service and are incredibly friendly.
Royal Guardian Cane Corso is great because they are willing to do whatever it takes to ensure their customers are happy and treat each one like a special family member.
They provide excellent care for their dogs before and after birth to ensure healthy puppies and happy owners.
The breeders will deliver directly to your house if you live in Texas or one of the surrounding states. They want you and your new Cane Corso puppy to have the best possible start in life together. But there's a fee for this special delivery service.
Customers love Royal Guardian Cane Corso because they offer great quality dogs. They also have an excellent reputation as breeders.
Royal Guardian Cane Corso Details:
6. LaFaccia Cane Corso
LaFaccia Cane Corso is a small hobby breeder in Montebello, New York. They have been breeding for more than years and have produced over now.
They specialize in bringing the best Cane Corso puppies to your home, so you can enjoy your new dog for many years.
What makes LaFaccia Cane Corso special is their experience and knowledge of this breed. They have been working with these dogs for quite some time, so they know what it takes to ensure your puppy is healthy and happy.
LaFaccia Cane Corso's dedication to the welfare of their puppies extends well beyond the time they spend in their care.
They follow up on each puppy until they are old enough to go to their new homes and continue checking in on them as they grow into adults.
Customers love how committed LaFaccia Cane Corso is to providing quality puppies at an affordable price point and how much effort they put into caring for each puppy before they are placed in a home.
LaFaccia Cane Corso Details:
7. Fidecore Cane Corsos
Fidecore Cane Corsos is a family-owned and operated breeder in Illinois. They have been dedicated to the breed for over a decade now.
Additionally, the breeders are passionate about providing the best quality Cane Corsos for sale with all the health testing, socialization, and training that goes into raising a healthy puppy.
What's great about Fidecore Cane Corsos is that they provide a lifetime of support for their puppies with unconditional love. They're known for being honest, trustworthy breeders who provide excellent customer service.
They believe that their puppies are the best around because they are raised with love and care in their home. Each puppy is cared for meticulously until it is healthy and content before it is released to its new family.
Customers think Fidecore Cane Corsos is a top-notch breeder who provides quality puppies with all of the guarantees you would expect from any reputable business.
They have a great reputation for being honest and reliable, which has helped them to flourish over time and build up a solid client base of happy clients.
Fidecore Cane Corsos Details:
Finding Cheap Cane Corso Puppies on Marketplaces
Cane Corso dogs are rare, and because of that, they are more expensive than other breeds. They are typically priced between $800 and $1,200, with top-quality dogs going for as much as $2,000 or more.
However, there is a chance you can find Cane Corso puppies for sale under $500 on marketplaces. Just make sure there aren't any red flags about the dog's lineage and health, and they accept returns if a pup doesn't settle well in your home.
Two of the most popular marketplaces are:
PuppySpot
PuppySpot is an online marketplace for dogs and puppies. They have a wide variety of breeds, including Cane Corsos. You can get in touch with breeders if you need more information or want to buy a puppy from them.
NextDayPets
NextDayPets is another great option for finding affordable Cane Corso puppies. Their website features listings of puppies from all over the country and helpful information about each specific breed and raising your new puppy.
Conclusion For "Cheap Cane Corso Puppies For Sale – Top 7 Breeders!"
It will take some time to find if you are looking to find Cane Corso puppies for sale under $500. The breed is rare, and most breeders only have a few puppies available at a time, so they tend to be on the expensive side.
But it isn't impossible, especially if you're willing to look on marketplaces. You might have to fork out a little more than that, but it would still be cheaper than the average price range.
You will also like:
For more information about the Cane Corso Breed, check out the video below: