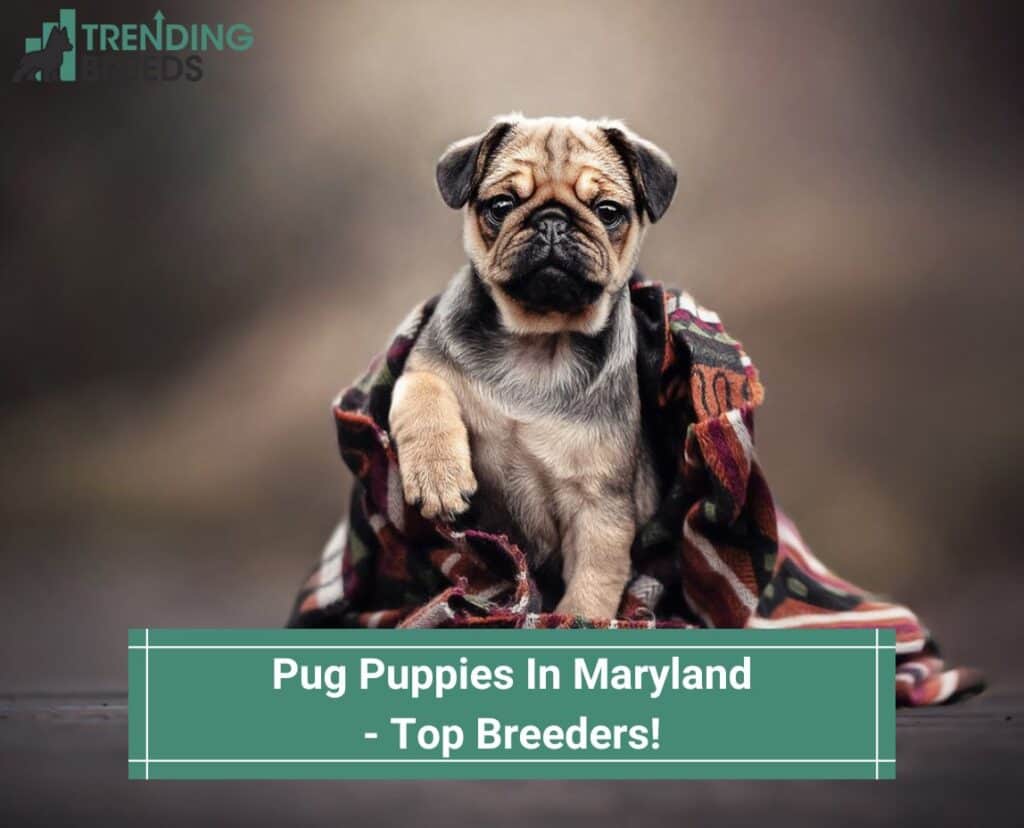 Easily recognizable by its cute puppy face, the Pug is an alert, intelligent, active dog breed. If you're looking for pug puppies in Maryland, there are some top-notch breeders nearby.
Other articles you would like: How To Ensure Your Puggle Gets Along With Other Dogs and How Long Do Pugs Live?
Pug Breeders In Maryland
Always make sure to do your research before investing in a dog like a pug. These fun, adorable dogs make for great family pets, but unscrupulous puppy mills can produce very unhealthy puppies that can lead to heartache and outrageous vet bills.
These breeders below have committed to putting the health of their dogs before profit.
1. Pony Tails Kennel
Pug puppies from Pony Tails Kennel are high-quality and a great place to start your search for a new puppy from a Maryland breeder.
Piny Tails Kennel has over fifteen years of relevant breeding experience and focuses on small batches to maximize quality.
This is a family-owned in-home breeder, and currently, due to COVID-19 restrictions, they aren't accepting visitors to their facility.
Fortunately, however, this breeder does keep good photo records of each parent and litter, and you can watch your Pug puppy grow up.
Pony Tails Kennel ensures that trustworthy veterinarians physically examine each puppy. All puppies are given their first shots and undergo a rigorous worming program.
They offer a 72-hour thrive guarantee and a one-year genetic defect guarantee. They back these guarantees with genetic testing and limited AKC registration.
Pug puppies are socialized by children, adults, and other animals to prepare them for the outside world. This breeder takes pride in maintaining excellent familial relations with all parents and puppies and treats all animals like family.
Pug Breeder Information:
2. Pugs by T&N
Another great Pug puppy breeder found in Maryland is Pugs by T&N. This breeder has Pugs of most colors in their breeding program but specializes in the masked Pug.
This Pug type has a characteristic black mask and can be ideal for showing, although this breeder has limited AKC registration contracts.
Pugs by T&N has great reviews, and everyone is happy with the Pug puppy they have brought home. This ethical breeder takes care of the genetic testing early, starting with the paired parents.
A veterinarian has examined all the puppies provided through this breeder, and all puppies are wormed and given their first series of shots.
Although there is not a lot of information about the intimate details of the breeding program, Pugs by T&N do have several methods of contact, so it is advised you reach out to ask them any further questions you may have.
Pug Breeder Information:
3. Farmstead's Puppy Paradise
If you are looking for a semi-rare batch of Pug puppies through a reputable breeder, check out Farmstead's Puppy Paradise. While Pugs aren't the specialty for this breeder, some reviews rave about the Pugs they have received here.
It doesn't seem like the Pug litters often happen here, though other breeds are this breeder's main focus. This breeder holds over 25 years of breeding experience.
Every puppy comes with their first series of vaccinations. They also undergo a vigorous worming regimen and are rechecked during a physical exam. Puppies are genetically tested through this breeder, and health and temperament are the focus.
Pug puppies come on limited AKC registrations with strict spay/neuter contracts.
Pug puppies do well with love and socialization, and this breeder at Farmstead's Puppy Paradise socializes all puppies regularly. They start early with this process, and the Pug puppies are socialized by children, adults, and other animals.
If you have any other questions about when they will have their next litter of Pugs, it is wise to call them and get on a waiting list.
Pug Breeder Information:
4. Maryland Puppies Online
It is hard to find a reputable Pug breeder in Maryland because it is so tiny, and many Pug breeders don't ship their pups.
Maryland Puppies Online doesn't send their puppies either, but they try to meet people to get their new puppy as long as it is within a local range.
Maryland Puppies Online is a breeder with several different breeding programs, with demand being the highest turning point for pairing.
All puppies that go through Maryland Puppies Online are genetically tested. All puppies come with a one-year health guarantee against genetic defects. Pug puppies will be wormed and will have had their first shots.
Health is a priority to this breeder, so you can expect a healthy dog to come home with you.
Early neurological stimulation and early socialization are crucial to the success of Pug puppies. Maryland Puppies Online is a breeder that takes care to socialize each batch of puppies and begin early activities to ensure their future success.
Pug puppies do well with training, including crate training and potty training.
Pug Breeder Information:
5. Howling Hill Kennel
Although Maryland has a few great breeders for Pug puppies, Maryland is a small state, and the surrounding areas can hold some great Pug puppy breeders.
One such great breeder is at Howling Hill Kennel, where they specialize in AKC-registered Pugs. All of the puppies through the last reputable breeder on our list for Pug puppies in and around Maryland are genetically sound and healthy.
Pugs are offered in various colors on AKC limited registrations on strict spay/neuter contracts. The puppies come with their first sets of vaccines and are wormed thoroughly. They receive health exams before leaving for their new homes.
All Pugs are offered with microchips and lifetime registration for safety.
Pug puppies do best with early neurological stimulation and socialization; this breeder recognizes this. They constantly interact with their parents and puppies and treat them all as if they are a part of the family.
This type of socialization can prepare Pug puppies for their new life away from their early beginnings with their parents and the breeding facility.
Pug Breeder Information:
How To Choose a Pug Puppies Breeder In Maryland?
Pug puppies should be purchased from a reputable breeder. Please use this list if you live in Maryland or the surrounding area and are looking for a Pug puppy. Many talented breeders produce Pug puppies in Maryland.
You should seek out dog breeders who share your goals for the pet you want in your local area, downsizing the need to ship a puppy from long distances.
You should meet your breeder in person before making a deposit and not over the phone or via video call. Scammers and puppy mills frequently take advantage of unsuspecting buyers and provide sick animals without any guarantee or assistance.
After you take your puppy home, reputable breeders often provide comprehensive information from the beginning to the end of the life of the Pug puppy.
More Information About Pug Puppies In Maryland
Pug puppies, though small, are friendly, adorable, and intelligent. Even when they reach adulthood, Pugs generally remain relatively healthy. Pugs are excellent pets, but you should research the breed before getting one.
Doing so will ensure the dog has the most optimal living conditions.
Generally, Pugs are smaller, super-smart, and energetic dogs with high intelligence and energy levels.
In the latter stages of their lives, some Pugs are prone to developing specific health problems, such as sinus issues, breathing problems, hip disorders, joint pain, and eye and teeth issues.
When choosing a breeder, look for one who guarantees that all Pug puppies are genetically tested before they are sent to their new homes. Throughout a dog's lifetime, he will inevitably develop health issues.
The Pug breeder, however, would instead take the time to ensure that the puppies produced by their breeding program are intelligent, strong, and given the best opportunity for healthy development.
Best Pug Breeders In Maryland
If you are looking for a lovable Pug puppy in Maryland, you have come to the right place. Here is a list of the top 5 Pug puppy breeders in Maryland that offer a comprehensive range of reliable and trustworthy breeders.
Some kennel clubs restrict the color of the Pug breed to four shades at most. However, some of the breeders on this list specialize in all colors of Pug.
It may seem daunting to choose from so many Pug breeders in Maryland. Do your research and contact breeders to determine if Pugs are a suitable breed for you.
Pugs are lively, energetic animals that require regular grooming and veterinary care to remain healthy. If you purchase a Pug puppy from a breeder, ask if they will help you with any transition you may be experiencing.
You will also like:
For more information about the Pug Breed, check out the video below: