It is generally true that puppies of the Pug breed tend to be cute and usually attractive as adults, which makes them highly desirable. If you're looking for Pug puppies in California, check out this list of breeders.
Other articles you would like: Goldendoodle Puppies In California and Cavapoo Puppies In California
Pug Breeders In California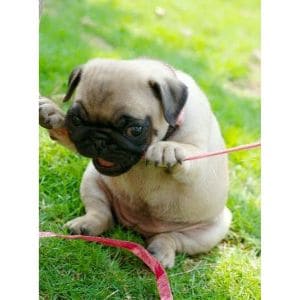 1. A Bit Pugish
If you are looking for a trustworthy Pug puppy breeder in California, then A Bit Pugish is worth checking out. They offer AKC and UKC registerable Pugs that are healthy and free of genetic defects.
Pug puppies are kept for eight weeks, and this breeder refuses to ship the puppies and would instead meet the new prospective owners.
Pug puppies at A Bit Pugish are all socialized very early and offer early neurological stimulation to form solid foundations for the pups to mature and develop.
Early potty training is started, as well as the use of a doggy door at this breeder's in-home facility. Puppies are frequently socialized with adults, children, and other animals throughout the process.
All Pug puppies receive checkups, worming treatments, and their first sets of vaccinations before they go home at eight weeks or older. Puppies are sold on a strict spay/neuter contract to protect the dog's health and the breed's genetic lines.
Pug Breeder Information:
2. Gold Country Pugs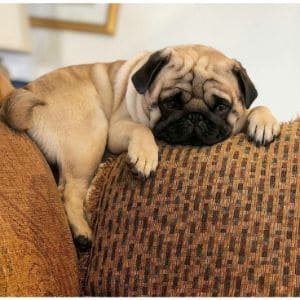 At Gold Country Pugs, they provide high-quality Pug puppies in very small batches. This is a reputable breeder in California, and they take pride in their program.
It is a small hobby breeder, but their reviews are incredibly positive for the litters they do have. Gold Country Pugs is a trustworthy and reputable breeder specializing in AKC-registered Pugs that are healthy and genetically sound.
All Pug puppies from Gold Country Pugs are genetically tested and given the appropriate exams before they are allowed to go home at eight weeks. All puppies are given worming treatments and their first set of vaccines.
Pug puppies also come with microchips and registration for their new owners. There is a strict spay/neuter policy should you wish to get a Pug puppy from this breeder.
All puppies from this breeder are socialized with kids, adults, and other animals. There are strict crate training routines as the breeder wants their Pug puppies to be safe until they have all necessary vaccines.
Currently, this breeder does not have any litters planned until next year, and they don't provide their phone number.
A great way to reach out to Gold Country Pugs is through their email or Facebook page; they will be happy to answer any questions you may have or take names for their waiting list for next year.
Pug Breeder Information:
3. Caravelle Pugs
If you are looking for a great, reliable Pug puppy breeder in California, then Caravelle Pugs is a great place to look.
Caravelle Pugs breeds high-quality Pugs sold to others on strict spay/neuter policies and limited AKC registration, as some parents are show dogs and must have their papers protected.
The Pugs from Caravelle Pugs come from high-quality parents and are worth the limitations of having them as a companion breed.
This breeder acknowledges that Pugs have health problems in their genetics at times, and although they do their best, they cannot always guarantee that their dogs are problem-free.
Caravelle Pugs does its best and has genetic testing for the parent dogs of each litter. Deposits are unnecessary with this breeder as careful consideration and interviews are done with each potential buyer.
All puppies come with their first vaccinations and have been through worming treatments. Socialization is a massive process for these pups, and early neurological stimulation exercises.
Early training is a must, as the Pug can have a stubborn streak, and the breeders at Caravelle Pugs like to get a head start on the process.
Pug Breeder Information:
4. Tesoro Pugs
Pug puppies at Tesoro Pugs are exceptional dogs, as this breeder of Pug puppies in California only has a few litters a year.
Most of the litters come from Championship bloodlines, although this breeder isn't one to simply specialize in Pugs just as show dogs. The Pug can be a great companion animal, so this breeder also has Pugs just for that purpose.
Although this breeder does not breed massive amounts of Pug puppies all the time, this is a bonus as a breeder because they can take the time to care for each puppy one-on-one.
This is incredibly important when younger so the Pug puppies can become well-adjusted, whether as a show dog or a companion animal. This breeder only sells its Pugs as companion animals with limited AKC and UKC registrations on a strict spay/neuter policy.
All puppies through Tesoro Pugs are genetically tested and given regular exams in their first few weeks. These puppies receive their first vaccines and come with a one-year health guarantee.
Pug Breeder Information:
5. Blaque Pug
Blaque Pug might be the last on the list of the top five Pug puppy breeders in California, but this breeder takes its program very seriously. Currently, Blaque Pug breeds in small batches of carefully picked Pugs with black masks on their faces.
This is a high-quality standard of an AKC show dog, and this breeder prides itself in creating magnificent Pugs.
Though there is not much information available on their website about vaccinations, worming, or training, there is an email and a phone number that you can use to reach out with your questions.
Clearly, they prefer to go by strict standards here, and you can expect that they have spay/neuter policies and limited AKC registrations.
Pug Breeder Information:
How To Choose a Pug Puppies Breeder In California?
When looking for Pug puppies, a reputable breeder is essential. This list will be useful if you live in California or the surrounding area and are looking for a Pug puppy!
The fact is that many great breeders in California produce adorable and healthy Pug puppies. Finding a breeder close to you who also aligns with your needs for the pet you want would be ideal.
You should always meet your breeder before sending money for a deposit by phone or video. Scammers and puppy mills frequently steal money from unsuspecting buyers or provide sick dogs without any guarantees or help.
The most reputable breeders will provide thorough information from the beginning to the end, even after you bring your puppy home!
More Information About Pug Puppies In California
Pug puppies are cute and friendly little dogs. Typically, Pugs mature into well-rounded adults, most relatively healthy even when reaching adulthood. If you are considering getting a Pug, you must research the breed.
This will ensure you can provide the most suitable living conditions for the dog.
Pugs are generally described as robust small dogs with a high level of intelligence and a lot of energy.
During the later stages of their lives, some Pugs may develop health issues, such as sinus issues, breathing problems, hip diseases, joint pains, and issues with their eyes and teeth.
The most effective way to avoid getting a sick puppy is to find a reputable breeder who ensures all their Pug puppies are genetically tested.
Although all dogs have the potential to develop health issues at some point in their lifetime. A
Pug breeder will ensure that the litters produced by their breeding program are intelligent, strong, and given a good foundation for healthy growth and development.
Best Pug Breeders In California
You have likely come to the right place if you live in California and want to find a lovable Pug puppy to bring home.
The list of the top 5 Pug puppy breeders in California provides a selection of reputable and trustworthy breeders where puppies can be purchased. Some kennel club breeding standards may allow the Pug to breed only in four colors.
However, some of the breeders on this list specialize in all shades of Pug.
It may be challenging to pick from the many Pug breeders in California since there are so many. You shouldn't hesitate to research and make calls to determine if a Pug is a suitable breed for you.
It is important to remember that Pugs are lively and energetic animals that require proper grooming and vet care to remain healthy.
Look for a breeder who will support you even after you take your Pug puppy home so that you have help during any transitions you may experience with your new Pug puppy.
You will also like:
For more information about the Pug Breed, check out the video below: