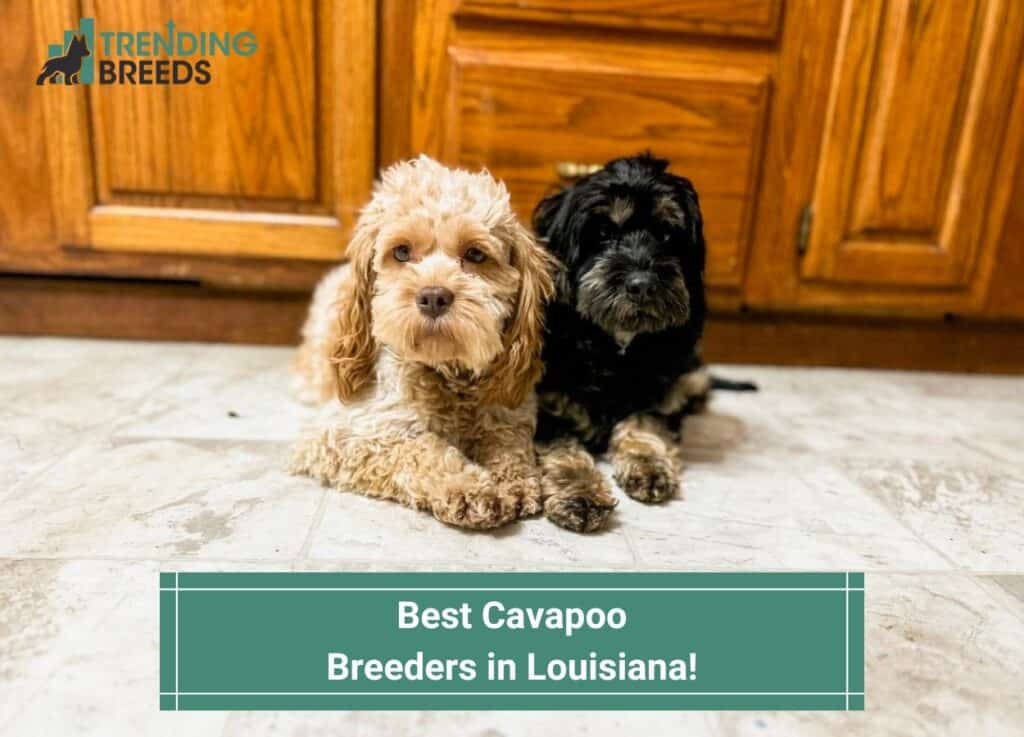 If you are based in Louisiana and are interested in buying a small breed dog, our guide on the best Cavapoo breeders in Louisiana will be a read that is worth it to help you make your decision.
Cavapoos are super intelligent small-breed boutique dogs that are a hybrid of Cavalier King Charles Spaniel and Poodle. They are an adorable bundle of joy showing their owners love and affection.
They thrive on interaction and are extremely sensitive yet smart dogs that are easy to train.
They make the best pets for those with allergies because of their hypoallergenic coat. Their easy-going temperament makes them great for both children and adults alike.
Cavapoos are cuddly little buddies that make great therapy dogs, but this attachment, if not nourished, can cause these little cuties separation anxiety. Their sweet and mellow demeanor asks for attention.
Although little, Cavapoos require an equal amount of care and training as large breed dogs would do.
Before you scroll further down this guide, check out these other Cavapoo-related articles: Cavapoo Puppies In Georgia – Top Breeders and Cheap Cavapoo Puppies for Sale Under $1000 – Top Breeders.
1. Precious Posh Puppies
Number 1 on our list is Precious Posh Puppies. Their breeding practices ensure that the parents for breeding are either from Champion bloodlines or certified therapy dog bloodlines. They make sure that the parents have been checked for common genetic issues.
All the Cavapoo puppies for sale in Louisiana at Precious Posh Puppies are sold on a strict spay/neuter contract, and at times, if needed, they may spay or neuter the puppy.
Before they give their puppy to a buyer, they ensure that the home they are going to is in the best interest of their puppies. The starting price point for their Cavapoo puppies is $2500, and they are usually smaller than the average Cavapoos in the market.
However, they make the best for those who suffer from allergies as their Cavapoos are carefully bred for a non-shedding poodle coat.
Their Cavapoo pups have received their first two sets of vaccination and come with a two-year health guarantee against genetic diseases to ensure their puppies go into their new homes with the best health.
Before you are handed your puppy, they have been health evaluated and are on a deworming and flea prevention schedule.
The puppies are fecal tested for diseases and are also put on heartworm prevention. To help you cover the puppy's medical expenses, each puppy comes with a 30-day Trupanion medical insurance.
To reserve a spot on their waiting list, you must make a $500 non-refundable deposit that will count towards your final payment.
Precious Posh Puppies Details:
2. Bebo & Company
Bebo and Co. ensure they have your trust and will outright tell you to do a background check on them through multiple channels. They do not just guarantee you their breeding practices but also their puppies.
All the puppies at Bebo and Co. come with a year's health guarantee from birth against any congenital defects.
If there is an unfortunate occurrence of this sort, they will ensure that your puppy is replaced once you provide them with a report within 7 days of diagnosis.
Run by a grooming parlor owner for 20 years, Bebo and Co. are known for who they are.
To know about the breeder and their facilities, you are open to visiting once you have discussed it with them.
Although they are based in Louisiana, they can deliver your puppy if you are in a different state but remember, the expense for delivery is what you'll have to deal with.
They want to ensure the puppy is the right fit for your house according to their temperament and nature.
You can meet with the puppy once you have selected the puppy you want. If available, they'll make sure you have been acquainted with your new buddy before you make a deposit.
Bebo & Company Details:
3. Grassy Ridge Kennels
Grassy Ridge Kennels is counted among the premier Cavapoo breeders in Louisiana. They are a family-operated kennel specializing in breeding pure and designer dogs.
Their main emphasis is breeding for health and socializing puppies so they can adjust well in their new homes.
Their dogs are registered with several organizations, and all their adult dogs hold dual registration.
Holder of the 5-star breeder status from The American Canine Association (ACA), Grassy Ridge Kennels keeps their dogs DNA tested.
Their primary goal is to raise happy and healthy puppies and ensure they do their best; Grassy Ridge Kennels has a climate-controlled state-of-the-art facility with two veterinarians on call 24/7.
They are a licensed and USDA-inspected facility.
They do not offer stud services, nor do they allow you to visit the facilities as it puts the health of their dogs in danger, and anything that is not in the best interest of their dogs is strictly not happening.
Grassy Ridge Kennels ticks all the boxes if you are looking for Cavapoo puppies in Louisiana. If you are based elsewhere, they have you covered for that too.
They offer delivery all over the United States, Alaska, and Canada. The cost for flight delivery ranges from $350-$400. To ensure that the puppy has reached you safely, they also monitor the flight for you.
All their puppies come with a one-year health guarantee against genetic diseases, but this guarantee may be void if you do not take your puppy to a veterinarian within 72 hours of having them.
Grassy Ridge Kennels Details:
4. The Poodle Place
Breeders of multiple Poodle and Doodle breeds, The Poodle Place also has Cavapoo puppies in Louisiana. They specialize in pedigree and healthy dogs, paying special attention to their color.
They are approved and inspected by AKC, and all their dogs are health tested for genetic disorders to ensure the puppies are born free of any health issues.
The puppies have dedicated a special whelping room so that they are raised with security and safety.
In the initial weeks, they focus on their puppies' training and socialization so they can adjust well in their new homes.
Each puppy has a different price, which varies depending on the sex, size, and color.
Depending on your request, the poodle place will have your puppy microchipped for $10 and registered with the AKC with an additional charge starting from $19.50 for basic registration.
The Poodle Place wants to offer you the best of their breeds and ensure their puppies are cared for in the best ways possible.
They offer 24/7 support so that all your concerns are dealt with and you can do your best to care for the puppy's needs.
The Poodle Place Details:
5. Red Stick Kennels
The fifth and final on our list of Cavapoo breeders in Louisiana is Red Stick Kennels; for them, their puppies' health is no joke.
Their number one priority is to ensure that their dogs are raised healthy, for which they conduct health testing for over 200 genetic diseases. Their puppies come with an additional 30-day free Trupanion Health Insurance.
Apart from health, their dogs' looks and temperament are not compromised either. They match you with your puppy through their temperament.
They plan the litter accordingly to ensure that their puppies are well-socialized and have an easy-going temperament.
As a small family breeder, they train their puppies with Puppy Culture Curriculum, which allows them to develop trust with their owners and encourages healthy development.
All the puppies are dewormed and have had their age-appropriate vaccinations before they are handed to you.
The puppies are examined for health by the veterinarian and come with a health report that you can get checked by your veterinarian.
Their puppies are microchipped using Fi Nano microchips which have lifetime registration and do not require any annual or monthly fees.
Moreover, their puppies are given one health guarantee against any congenital or genetic disease.
At six weeks, the puppies have been exposed to handling and exposure exercises and are tested for temperament through Volhard Aptitude temperament testing.  
The puppies are already on crate training, making it easier for you to pick on their training routine.
Red Stick Kennels Details:
Frequently Asked Questions
Is a Cavapoo a calm dog?
Cavapoos are not naturally calm dogs. They need exercise regularly to remain relaxed.
How often should you wash a Cavapoo?
Long haired dogs like Cavapoos will need frequent baths, but no more than once every two weeks.
Can Cavapoos eat scrambled eggs?
Cavapoos can eat eggs of all kinds.
Where Are the Best Cavapoo Breeders in Louisiana?
Cavapoos are small-breed dogs, and they make the most adorable little friends.
On our list of best Cavapoo breeders in Louisiana, you will find breeders with their plus points and particular points of focus, such as health, temperament, and genetic testing.
Depending on what you are looking for in your new pet, make sure that you select the breeder accordingly.
We wish you luck in finding a breeder that fits your needs and for you to enjoy this process of having a 'fur-ever' friend.
If you find this guide, "Best Cavapoo Breeders in Louisiana," informative and helpful, you can check out these other dog-related articles from our team:
Before you find a Cavapoo puppy for sale in Louisiana, you can learn more about this dog breed by watching "Cavapoo Puppies | Things You Should Know Before Getting a Cavapoo Puppy" down below: