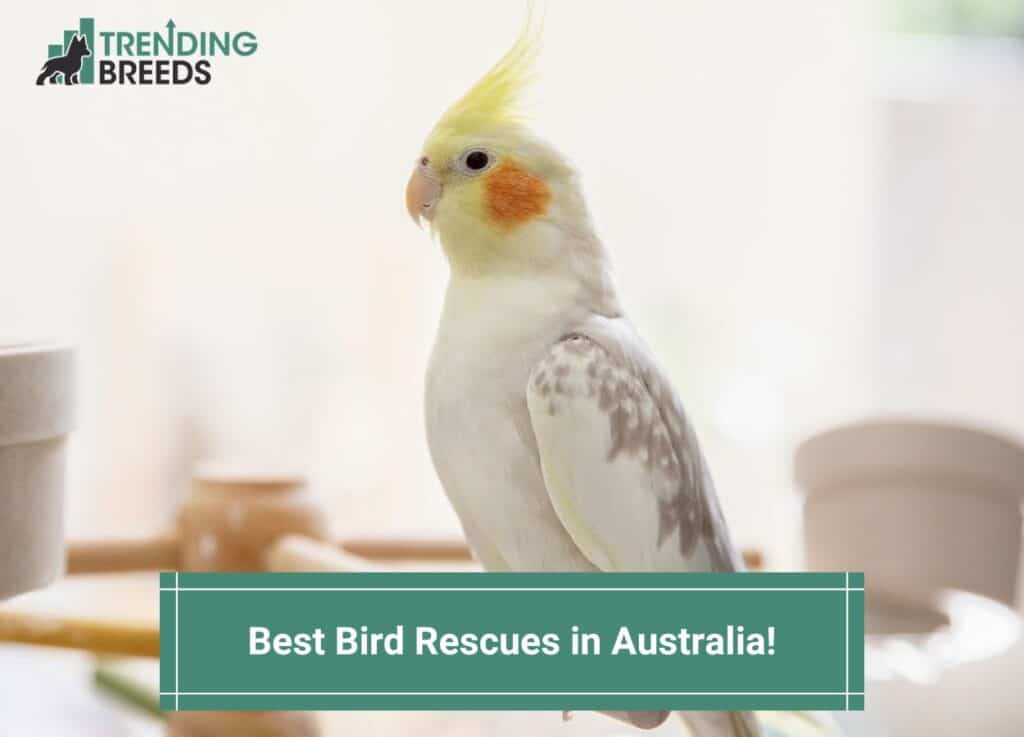 Australia is rich in bird life. From coastal sea birds to birds of prey, and taking into account the many and varied species found in the country's vast interior, there are over 800 known species of birds. If you're looking for some of the best bird rescues in Australia, check out our list below!
Australia has a large conservation effort nationwide to preserve habitat and make it possible for these birds to thrive.
However, when humans and wildlife cross paths, some incidents and accidents usually find the birds and wildlife on the losing end of the confrontation.
Happily, there are several bird rescues in Australia, along with the RSPCA, that are dedicated to rescuing, rehabbing, and both rehoming domestic animals and birds and returning the wild ones to their habitat. 
Companion (domestic) birds are a multi-billion dollar industry in Australia, and the overbreeding of companion birds poses a huge problem for rescues.
We've compiled a list of bird rescues in Australia for wild and domestic birds. They are working tirelessly to rescue, rehab, return or rehome birds nationwide.
Other articles you would like: Best Rabbit Rescues In Colorado and Best Horse Rescues In Pennsylvania.
1. Wildlife Rescue Australia
Wildlife Rescue Australia is a national rescue organization that saves all kinds of wildlife, including birds. WRA is a voluntary non-profit organization that is dedicated to the well-being of all wildlife native to Australia. 
They were originally based in Coffs Harbour, NSW, but they have become a national organization within the last decade.  They have an extensive network of rescuers and carers nationwide available 24/7 via their phone numbers. 
Take a look at the articles on the website to learn more about how to handle different animals and birds in rescue situations.
WRA stresses that you must contact the call centre for emergency rescues and only use the form on the website to volunteer or donate. Using the call centre allows WRA to activate rescuers in your area to assist with transport, veterinary care, and rehab. 
Wildlife Rescue Australia Details:
2. Bird Rehoming Services
Bird Rehoming Services is dedicated to rescuing, rehabbing, and rehoming companion birds. They are based in Melbourne, Victoria.  Most birds that come into this rescue are not abused or purposely neglected.
Rather, they are most often surrendered by their owners as they realize they are not able to manage the care and upkeep of their companion birds or don't have the time needed to invest in taking care of them.

Bird Rehoming Services takes care of the birds' nutritional and veterinary needs and makes sure they are in the peak of good health. All the while, they are networking and searching for the perfect home for the bird.
The average captive bird will be rehomed five times before finding the best fit where it can live and thrive.

This organization has many years in the companion bird industry and works tirelessly to educate the public and counter the rampant overbreeding that is the hallmark of the industry. 
Bird Rehoming Services Details:
3. Parrot Rescue Centre
Parrot Rescue Centre in Queensland is a rescue, rehab, and rehome/adoption rescue. Due to health and safety precautions, they don't allow the public to view the birds in person. Their adoption service is 100 percent online. 
At this time, their rehome service is temporarily closed due to short staffing issues. They still have the adoption program. This organization does extensive screening and interviews to ensure you are the best fit for the bird you wish to adopt.
They also allow virtual adoption or sponsorship, where you contribute to supporting a chosen bird that remains at the sanctuary.
To contact Parrot Rescue Centre, please fill out the online form and submit it for a reply. The website has an extensive FAQ section to help you learn what's needed to properly care for your parrot and educate yourself to be a better bird owner.
Parrot Rescue Centre Details:
4. Raptor Recovery
Raptor Recovery is a branch of our first entry, Wildlife Rescue Australia. This dedicated raptor bird rescue cares for birds that come to them from all circumstances around the country, including individuals, bird rescues, and zoos.
Usually, these birds have been injured or become ill and were fortunate enough to be found and delivered to a veterinarian or zoo to be treated. 
Once they're ready to rehab, they go to Raptor Recovery until they can return to the wild.
The website contains information, photos, and case studies of raptor birds. The case studies show the varied circumstances that these birds can find themselves caught up in.
Raptor Recovery does a wonderful job of rehabbing these magnificent birds of prey and returning them to their habitat. Raptor Recovery has an amazing team of veterinarians and rehabilitation specialists that work with the birds.
A great team of photographers and PR specialists take ambassador birds out to give talks and seminars to educate the public and future generations of conservationists on the dangers that raptor birds face in modern times.
Raptor Recovery Details:
5. A.W.A.R.E. – Aussie Wildlife Animal Rescue Rehab & Emergencies
AWARE is a non-profit wildlife rescue located in the Peel area. They have an extensive volunteer team of rehabilitators specializing in various species of mammals and birds.
They are licensed rehabilitators and work with veterinarians and conservationists. They also attend additional training to keep up with the latest knowledge and trends in treating, caring for, and rehabilitating wild creatures and birds. 
AWARE's national network provides emergency rescue services, transport, veterinary care, and rehabilitation nationwide. They aim to rescue, rehab, and release the animals in their care back into their wild habitat. 
If you have a bird emergency, contact them via the phone number on the website.
You can also find different ways to donate, volunteer and get involved in your region with this remarkable organization and add your help to save animals and birds nationwide.
A.W.A.R.E. – Aussie Wildlife Animal Rescue Rehab & Emergencies Details:
6. Birds Wires
Wires is the largest native wildlife rescue organization in all of Australia. They are based in NSW but are a national rescue with strategic partners all over the country that Wires supports and assists in their rescue and rehabilitation efforts. 
This organization rescues over 100,000 animals and birds per year in Australia. They are on call 24/7/365 to lend support and participate in emergency rescues nationwide.
Wires invites everyone to partner with them by volunteering, donating, or sponsoring their efforts via their online portal, as they currently support hundreds of conservation and preservation efforts and projects to benefit birds and wildlife nationwide.
If you have a wildlife emergency, call the number or fill out the "Report a Rescue" form on the website. 
Birds Wires Details:
7. RSPCA
The RSPCA of South Australia rescues birds as well as other small animals. They have a bird adoption program for the many birds they rescue.
From farm birds, such as chickens and ducks, to companion birds, such as parrots and cockatiels, all birds are given health checks and are carefully vetted before they are released to their new adoptive homes. 
The RSPCA of South Australia has emergency and cruelty hotlines to report neglect and birds in trouble. They invite you to get involved by volunteering, donating, fundraising or sponsorship to invest in this worthwhile rescue organization. 
If you're looking to adopt a bird from the RSPCA, you should regularly check the website to see what is available for adoption. 
RSPCA Details:
8. Australian Seabird Rescue
Due to the decline in food supplies for seabirds and shorebirds in Australia, these species are more likely to get entangled with fishing gear or be involved in boat strikes.
The Australia Seabird Rescue rescues injured or exhausted birds and rehabs them at their facility in New South Wales.
They rehabilitate these birds and do their utmost to restore them to health and back to their habitat to contribute to and increase these falling populations. 
This rescue also involves sea turtle and sea snake conservation and rescue, as well as birds.
They provide tours and ongoing education for the public on how to avoid harming these fragile ecosystems and minimize the human impact on the habitat for the seabirds and shorebirds of Australia.
Australian Seabird Rescue welcomes you to donate to them or sponsor their work.
As well as touring the facility and attending their educational presentations regarding the conservation and preservation of the region's sea turtles, snakes, shorebirds, and seabirds. 
Australian Seabird Rescue Details:
Frequently Asked Questions
What to do with an injured bird in Australia?
If you have found a bird that needs medical care, you should either take it to a vet or a wildlife rescue in your area. If you can't do that yourself, contact a wildlife rescue and let them know where the bird is and what it needs.
Can you save abandoned baby birds?
If you see an abandoned baby bird, check around to see if its nest is nearby. If it is, place the bird gently in the nest. If you can't find it, leave the baby bird or move it to a shaded area close to its original spot. Watch to see if the parents return.
What can I feed a baby bird that has lost its mother?
Nestlings can survive on sugar water given every half hour, or small worms fed to them through tweezers. Eventually, as they get older, you will need to transition to bugs or worms.
You will also like:
You can learn more about birds by watching "Starter Birds | WHAT'S A GOOD FIRST BIRD? WHAT BIRD SHOULD YOU GET?" down below: